Here we will discuss the redwood trees California, before which have a look about a look at California, the golden state, offers some of the most beautiful and spectacular sights and this charming state has all, magnificent sandy beaches, snow-capped mountains, idyllic farmlands, and best redwood groves, with interesting, multicultural cities. So if you are searching for places to see redwood trees in California then have a look of this content.  
The trees in California that people call "redwoods" are two distinct species, both of them are best described in superlatives like tallest, biggest, most massive, and magnificent.
Sometimes giant sequoias grow only in California's Sierra Nevada Mountains near the state's eastern border. The most massive living things can reach 280 feet tall and 23 feet across. The largest of them rise more than 300 feet tall and spread across 30 feet.




Coastal redwoods are the tallest living things on our planet, growing 300 to 350 feet tall and 16 to 18 feet across which is as tall as a 36-story building. You can find them in redwood forests near California from the northern border down to Big Sur.
Redwood forests are so plentiful that you'll find almost a dozen parks with "redwood" in their name, along with a national park and few regional ones, the redwood forests listed below are the best places to see them.
Best Places to See California's Redwood Forests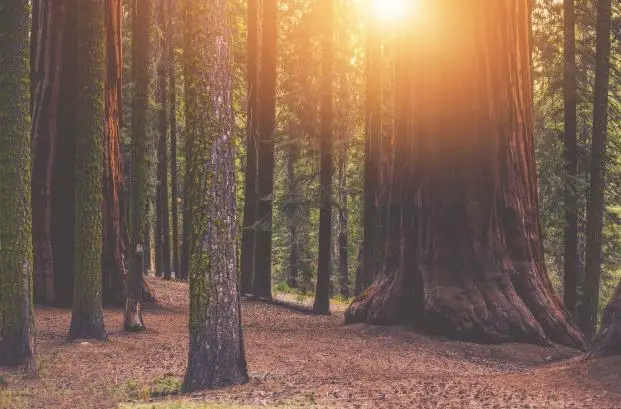 If you want to get the redwood experience, try reading a little bit about the redwood forest before you visit so you can better appreciate it. This list is in order from north to south.
Prairie Creek Redwoods State Park: Located between Crescent City and Eureka, this redwood forest park is home to a drove by Roosevelt Elk.
Redwood National Park: Several redwood forest parks in one, it preserves half of the remaining old-growth redwood forests.
Muir Woods National Monument: only 12 miles north of San Francisco, Muir Woods is an easily accessible redwood forest with well-groomed trails most anyone can manage.
Get: Top 10 California Ski Resorts
Yosemite National Park: The Mariposa Grove is Yosemite's largest redwood forest and has specimens of giant sequoias. It's 4 hours drive from east of San Francisco.



Big Basin Redwoods State Park: In the mountains south of San Francisco, it's much less crowded than Muir and has tent cabins where you could spend the night in the middle of the redwood forest.
Petrified Redwood Forest: Nature has turned this redwood forest to stone. It's situated just west of Calistoga at the north end of Napa Valley.
Sequoia National Park: This is the place to visit if your goal is to see the very biggest giant sequoia trees.
Don't miss: Best Time to Visit California
Giant Redwood Trees in California
1. Giant Sequoia Redwood Trees in Yosemite National Park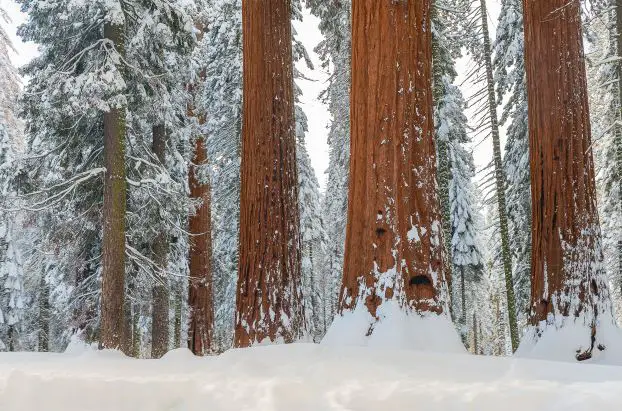 Yosemite's Mariposa of Giant Sequoias is the national park's largest redwood grove. It contains nearly 500 mature trees. You can see them from the road and parking area if you want to have more fun to get out and walk among them. Most visitors choose a 0.8-mile hike from the parking lot to the Grizzly Giant and California Tunnel Trees, which has around 500 feet of elevation gain.
The grove is situated near the south entrance to Yosemite, about an hour's drive south of Yosemite Valley. The road to it may be closed From November through April because of snow.
On summer days, the small parking area closes when full. To avoid that, you can have free Wawona-Mariposa Grove shuttle. Yosemite National Park is around  4-hour drive east of San Francisco.
Read Further: Best Skiing and Snowboarding Resorts in California




2. Giant Sequoia Redwood Trees in Sequoia National Park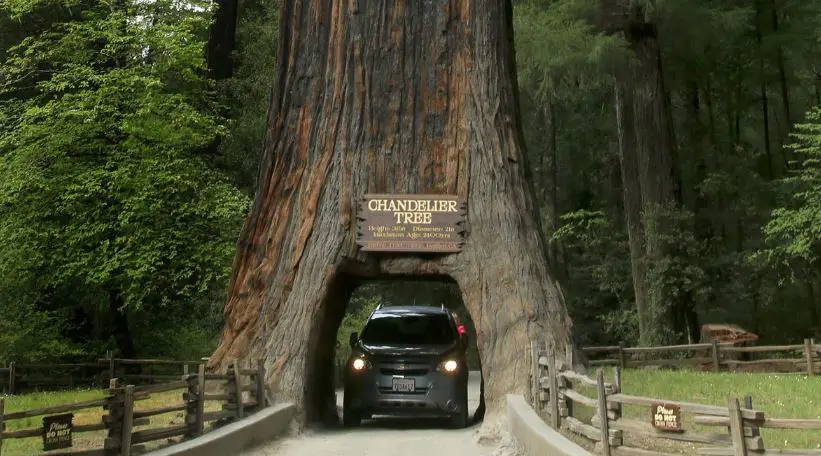 If your goal is to see the biggest of the giant sequoia trees then you must visit the Sequoia National Park. This national park contains 18 of the 30 largest specimens of Sequoiadendron giganteum in the world.
Sequoia is where you'll find the world's most huge tree, General Sherman—and the only slightly smaller General Grant Tree. Not only they are big, but old, too. Scientists estimate that they're between 1,800 and 2,700 years old.
The General Sherman Tree might not be the largest only but also the most impressive-looking giant sequoia tree. You'll find it in Giant Forest along with nine of the 30 largest giant sequoias. The famous drive-through Tunnel Log is also on Crescent Meadow Road, cut through a fallen tree.
3. Coastal Redwoods in Muir Woods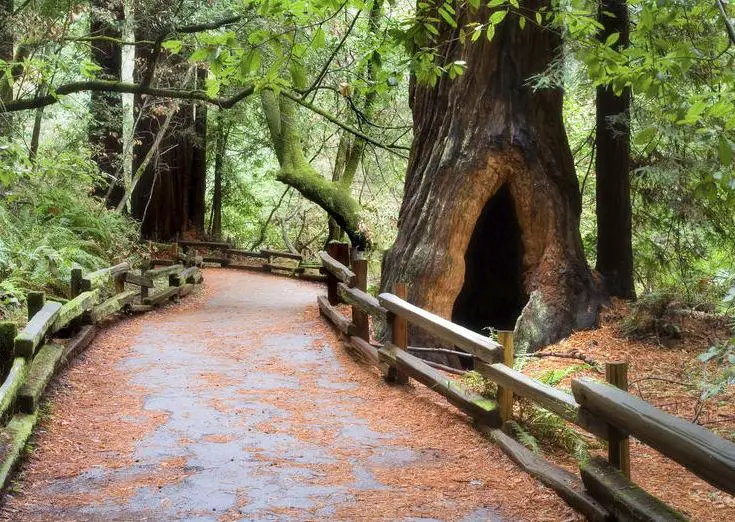 Many San Francisco visitors who want to see California's "Big Trees" usually visit Muir Woods as it provides the best redwood trees in California. It is quite a pretty, easily accessible redwood forest, with three well-groomed hiking trails which anyone can manage. Rangers also give frequent guided walks which will help you to learn about the redwood forest.
Know this before you go: Muir Woods' trees are the coastal redwoods. They're tall, but they're not massive as you are looking for. Muir Woods can be overcrowded, and during its busiest times, you need to take a shuttle bus from Sausalito to get there.




Discover:  California Vacation Ideas
4. Coastal Redwoods in Prairie Creek Redwoods State Park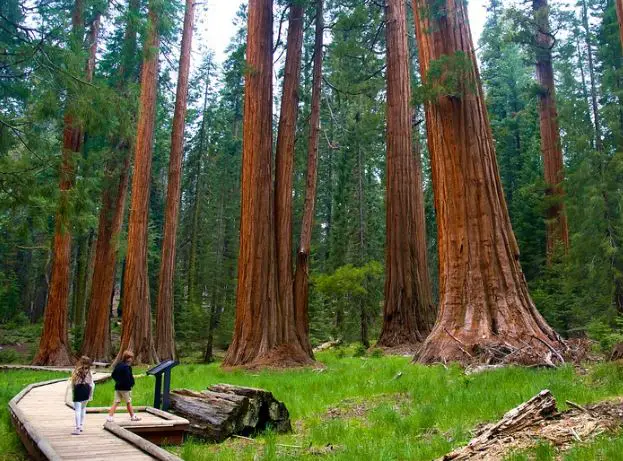 The redwood trees at Prairie Creek are coastal redwoods and the tallest living things on earth. They've existed along the northern California coast for 20 million years, fed by winter rains.
Sometimes Prairie Creek seems almost magical. On summer mornings, it is cloaked in fog, the old-growth trees soaring through it into the sunlight.
This park is also home to a drove by Roosevelt Elk and is close to Redwood National Forest in northern Humboldt County, between the towns of Arcata and Crescent City.
5. Coastal Redwoods in Big Basin Redwoods State Park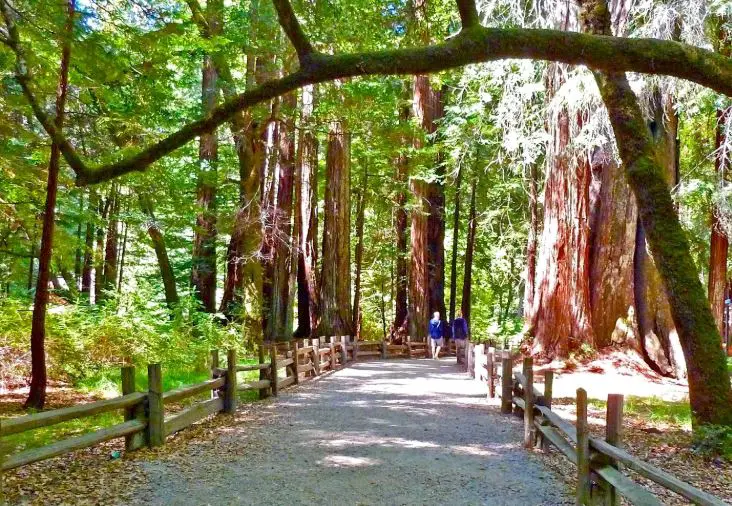 Some people say Big Basin is the best place to see the coastal redwood trees than the more popular Muir Woods. As it is much less crowded than Muir and has some fine tent cabins where you can spend the night in the middle of the redwood forest.




Big Basin is situated in the mountains about 65 miles south of San Francisco, between San Jose and the town of Santa Cruz.
Some Related Post:
So far here we discussed the best places to see redwood trees in California as mentioned above also we have explained briefly about the redwood trees in California and redwood groves. This article provides sufficient information regarding the giant redwoods in California, after reading this content kindly share your views in the comment section.
The post Some Places to See Redwood Trees in California | Redwood California appeared first on World Tour & Travel Guide, Get Travel Tips, Information, Discover Travel Destination | Adequate Travel.