California is a tourist destination place, with weather that has something for everyone, from sun worshippers to snow bunnies. The best time to visit California really comes down to what you want to see and do. It provides you with the proper information related to California best time to visit. Here's some general information to help you to visit California.
When to Go in California
Weather and Seasons
California's weather is so varied that it's almost impossible to generalize the state.
Much of California has a Mediterranean climate with warm, dry summers and mild, wet winters. On the coast, the daily average high temperature hovers around 70°F/21°C and up but occasionally spike to 80°F 27° C or more on hottest summer days, freezing temperatures are rare, even in winter. The state often hugs the coast from roughly Monterey north, usually, during summer months, it often burns off by midday before rolling at dusk. Farther inland, summers are hot and dry, winters are cool and wet, with occasional blue days and temperatures cold enough to freeze and not much more than that. At higher altitudes, the weather reflects more of a four-season cycle, with beautiful summers, striking fall color, and cold, snowy winters which is followed by snowmelt springs. As you cruise this site, kindly check out the average temperature by season for the regions and destinations you are considering.
Best Time to Travel California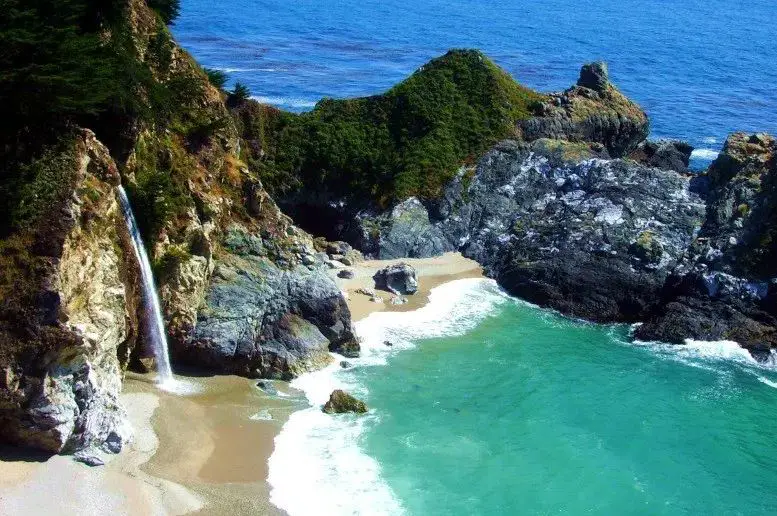 Summers
Most visitors head to California during the peak summers during June to August, when you can expect the biggest crowds at California top attractions, and high-season rates at lodgings and resorts. But even in the middle of summer, it's possible to hop off the beaten path and have forests, fields, and beaches almost to yourself.
If you love the high country, you need to wait until summer to access the highest roads and trails through the Sierra Nevada, as well routes into forest areas around the Mount Shasta and Lassen Peak, state's tallest volcanoes.
Get: Romantic Things to do in California



Springtime
Springtime ie from March to early May is one of California's most beautiful times of the year. Although still, it can be cold at higher elevations, temperatures are comfortable and fresh throughout the state. Hillsides are covered with lush green grass and wildflowers. California's deserts, awash with poppies, paintbrush, and other desert blooms, are pleasant during the spring than during the scorching heat of summer. During these months, you'll encounter the shorter lines and better deals. Many of the state's best places to visit are still operating at a slower pace, and hotels often charge low-season rates until June.
Autumn
Autumn is from September to November brings mild weather and, in some parts of the state, spectacular foliage. This is a great time to visit California's best wine regions during grape harvest time, known as "the crush" generally from August to October. The San Francisco and North Coast regions are shrouded in fog during summer, typically see some of their sunniest days during "Indian summer," ie from September to October.  You can look for downhill runs for skiers and boarders, terrain parks, cross-country and snowshoe trails, and ice-skating rinks.
Get: Street Foods in California 
Time to Hit the Ground and Explore the Golden City
 
Endless sunshine, amazing cities, best-in-class theme parks, incredible natural treasures, no matter which things to do in California and see on your next vacation, California has it. But here's the best part: California has all the iconic destinations you've dreamed of, plus a countless number of incredible track experiences. With our exclusive trip itineraries, you can visit the landmarks like Yosemite, then follow a wine road or visit the craft brewery. Top theme parks, secret beaches, the city finds all, in easy-to-follow road trips which visit every corner of the state. So start dreaming about your next California visit—and dream big.
Best time to visit California to Avoid Crowds




California's pleasant summer weather, the time between Memorial Day and Labor Day is high time to visit virtually everywhere except for desert areas such as Palm Springs and Death Valley, where sizzling temperatures daunt all the hardiest bargain hunters. Naturally, prices are highest at this time, and they can drop before and after that period.
Many Californians think the best time to travel the state is during autumn ie from late September to early December crowds drop off and shoulder-season rates kick in, and winter rains have yet to start looming.
Some Related Post: 
Here we have provided you the best time to visit California. This article will help you a lot if you are required to know the best season to visit California,  Kindly read on our other articles as well, there you will get all the traveling tips for California and some other related items over there. Regardless of when you decide to visit California, there are things to do and amazing places to eat. Suggest you view regarding this content in the form of comments.
The post Best Time to Visit California | When to Go California appeared first on World Tour & Travel Guide, Get Travel Tips, Information, Discover Travel Destination | Adequate Travel.