California ski resorts range from big mountain feel to a small local atmosphere. Heavenly it is one of the world's largest ski resorts set on Tahoe Lake's south shore with magnificent views. Mammoth has around 300 days of sunshine so sunscreen is the part of your ski gear. Even with all that sunshine, Mammoth has 400 inches of snowfall plus with it's the peak at 11,053 feet it's the highest summit elevation in the state so hope these ski resorts in California will help you a lot. Therefore have a look at these highly recommended best ski resorts in California.
Top 10 Ski Resorts in California
1. Squaw Valley and Alpine Meadows
In Northern California's Sierra Nevada Mountains overlooking the bright emerald-blue Lake Tahoe, this premier resort boasts the longest ski runs in North America. Squaw Valley hosted the 1960 Olympic Winter Games that has been known for its advanced terrain and excellent ski conditions. Great weather with an average of more than 300 sunny days a year. Plus plenty of powder snow blankets usually at least 450 inches in the winter season.
A ticket to Squaw Valley includes entry to the neighboring Alpine Meadows ski resort, which is an only 15-minute shuttle bus ride away. Together, these two ski areas include around 6,000 acres of skiable terrain and 270 runs accessed by 42 lifts. Skiers of all abilities will find enough runs to suit their skills without repeating any trails. Intermediate trails represent the majority of runs, with 43 percent of slopes at both resorts, while 25 percent of the runs are green, and 32 percent of the runs are black diamonds that only experts can handle.
Address: 1960 Squaw Valley Rd, Olympic Valley, CA 96146, USA
Hours: daily 9:00 am – 4:00 pm
Longest run: 3.2 miles (5.1 km), Mountain Run
2. Heavenly Ski Resort
As breathtakingly beautiful as the name suggests, Heavenly Mountain Resort is one of the best ski resorts in California. About a three- to four-hour drive from San Francisco, it features 34 miles of groomed trails covering 4,630 skiable acres, which makes it the largest ski resort in the Lake Tahoe area. Situated at the border of California and Nevada, at elevations reaching up to 10,067 feet the resort overlooks the crystalline waters of Lake Tahoe surrounded by snow-capped mountains. Heavenly's stunning views are as much an attraction as the fantastic powder-coated slopes. Sometimes skiers stop midway through a run to take in the sensational panoramas.
Visit: Beautiful Places in California




3. Mammoth Mountain Ski Area
About five-hour and a 30-minute drive from Los Angeles, Mammoth Mountain Ski Area in the Eastern Sierra boasts skiing and snowboarding opportunities. The setting in the Sierra National Forest, plentiful sunshine, and perfect powdery conditions make Mammoth a desirable ski destination. With a peak 11,000 feet in elevation and abundant annual snowfall, Mammoth is one of the first ski areas to open every year. The season extends until May and sometimes all the way until the 4th of July. Another bonus for visitors, the Mammoth Lakes has many lodging options and top-notch restaurants.
4. Northstar Ski Resort
Northstar is a family-friendly ski resort in Lake Tahoe, thanks to its kids' activities, ski school, and a wide offering intermediate runs. The ski resort covers around 3,170 acres, with 100 well-groomed trails which are accessed by 20 chairlifts. The majority of the runs are intermediate, among which 13 percent are beginner runs, and 27 percent are advanced and the longest run stretches for 1.4 miles. Blessed with the sunny weather and seasonal snowfall, the ski slopes at Northstar are blanketed with fluffy powder snow. At times when the snowfall is light, the resort uses snowmaking machines to improve its conditions. The village is convenient for shopping, dining, and lodging, with the selection of restaurants and hotels ranging from casual to upscale.
Address: 5001 Northstar Dr, Truckee, CA 96161, USA
Read More: Best Time to Visit California



5. Kirkwood Ski Resort
Kirkwood has a different, feel since it's farther away from the hubbub of Tahoe City and South Lake Tahoe than the other Tahoe resorts. Perched on the Sierra Crest peak, is appreciated for its peaceful, alpine scenery and challenging, diverse terrain. Kirkwood has the finest powder-snow conditions in Lake Tahoe. Because of the high elevation, the snowfall is more plentiful and drier, that allows for better control while skiing even on the steepest runs. Kirkwood is suited for experienced skiers, who are able to take on the resort's legendary black diamonds. More than half of the resort's 86 runs are advanced and expert, and even the intermediate runs are slightly more difficult here than other resorts' typical intermediate runs. Only 12 percent of the runs are rated to be at the beginning level.
Address: 1501 Kirkwood Meadows Dr, Kirkwood, CA 95646, USA
6. Sugar Bowl Resort
Quaint and small-scale in feel, this stunning ski resort is loved for its charming ambiance and wonderful powdery slopes. True to its name, Sugar Bowl holds the claim to the most snowfall of any resort in the Lake Tahoe area. The resort is closest Tahoe ski area to San Francisco, only a three-hour drive away if traffic and weather permit. Plus there's parking near the slopes, which makes it an easy day trip. Those staying overnight will feel pampered at Sugar Bowl's old-fashioned European-style lodge that features ski-in, ski-out accommodations and a fine-dining restaurant which serves the gourmet cuisine in an elegant setting. The 1,650-acre ski area is sheltered from the wind, that makes a pleasant ski experience. The runs cover four mountain peaks of Donner Summit, winding through spacious glades which are surrounded by the dense pine forests, with spectacular mountain views at every turn. With 12 lifts which provide access to 98 trails, Sugar Bowl has slopes for all ability levels. Most of the runs are of  intermediate level, while 38 percent are advanced runs and 17 percent are beginner "bunny hills." Group lessons and private lessons are also available for adults and children learning how to ski.
Get: California Vacation Ideas
Address: 629 Sugar Bowl Rd, Norden, CA 95724, USA
Phone: +1 530-426-9000




7. Big Bear Mountain Resort
Big Bear Mountain Resort is  California ski resorts in Southern California's San Bernardino Mountains, one of the few ski areas in California which are not found in the Sierra Nevada Mountain Range. The San Bernardino Mountains reach higher than the 8,000 feet in elevation, high enough to get outstanding snowfall which is close to the Pacific Ocean, only a two-hour drive from Los Angeles if traffic allows. Big Bear Mountain Resort at Big Bear Lake includes two major ski areas: Bear Mountain, with 748 acres of skiable terrain, and Snow Summit, with 240 skiable acres. Most of the runs are intermediate and beginner. The family-friendly 240-acre Snow Summit resort has even more intermediate trails, as more than 60 percent of the resort's 31 trails are blue runs rated for mid-level skiing ability. Both Bear Mountain and Snow Summit offers ski lessons taught by the certified professionals. Bear Mountain has the largest area in Southern California, which is mainly dedicated to ski and snowboarding classes.
Read More: Best Cities To Visit in California
Address: 43101 Goldmine Dr, Big Bear Lake, CA 92315, USA
Phone: +1 844-462-2327
8. Yosemite Ski & Snowboard Area
California's oldest ski resort is surrounded by some of the most glorious scenery in the Central Sierra mountain range, near the attractions of Yosemite National Park. About a four-hour drive from San Francisco, Yosemite Ski & Snowboard Area is less crowded and much more affordable than many of the Tahoe ski resorts. This ski area includes downhill ski slopes, as well as terrain reserved for the cross-country skiing, snow tubing, and snowshoeing.
Address: 7082 Glacier Point Rd, Yosemite National Park, CA 95389, USA
Phone: +1 209-372-1000




9. Mt. Shasta Ski Park
A snow-capped volcanic peak that soars to 7,500 feet, Mount Shasta is a truly Top Rated California Ski Resorts and awe-inspiring sight in Northern California. The Mt. Shasta Ski Park is found at the foot of this legendary peak, between the cities of Mount Shasta and McCloud. Most of the hotels, lodges, and restaurants are located in the town of Mount Shasta, but the nearby towns of McCloud and Dunsmuir also have a good selection of lodging and dining options. Mt. Shasta Ski Park holds 425 acres of skiable terrain with 32 downhill ski trails. Most of the runs are intermediate with the remaining 20 percent beginner and 25 percent advanced level and the longest run extends for 1.75 miles. Cross-country skiers will enjoy the many scenic trails. For seasoned skiers, one of the most interesting things at Mt. Shasta Ski Park is exploring beyond the groomed trails. The ski park allows the skiing led by an experienced guide. In the off-trail backcountry area, skiers may stop the ski park's rustic cabin to take a break and warm up by the wood-burning stove.
Visit: Romantic Places in California
Address: 4500 Ski Park Hyway, McCloud, CA 96057, USA
Number of trails: 32
10. Mt. Baldy Resort
Mt. Baldy is the closest ski resort to the Los Angeles metropolitan area just a one-hour drive if traffic permits. A favorite for expert skiers, Mt. Baldy is predominantly covered with the advanced-level black-diamond and double-black-diamond runs. There are a handful of beginner only and intermediate trails. However, the resort has a Learning Center that provides ski lessons to children and adults.
Address: 8401 Mt Baldy Rd, Mt Baldy, CA 91759, USA
11. Mountain High Resort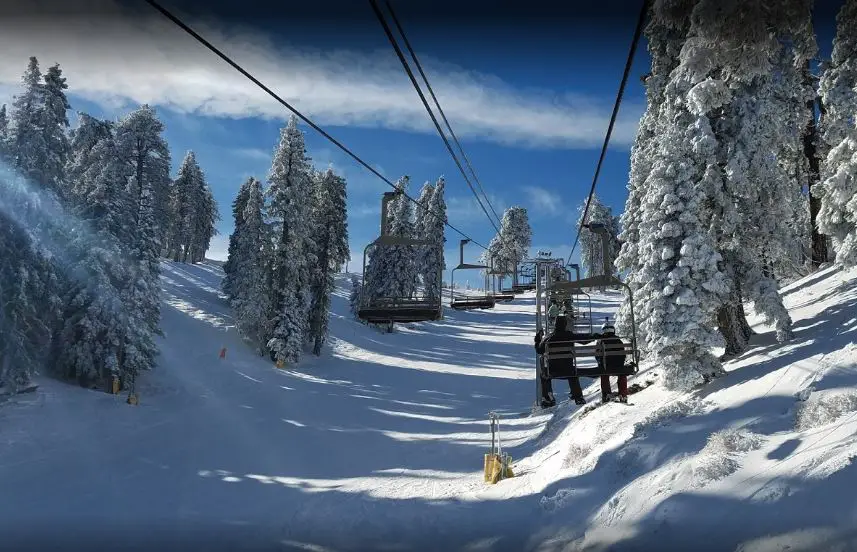 About a 1.5-hour drive from Los Angeles ie 80 miles away, this award-winning resort is the most popular ski area in Southern California. Mountain High ski resort is tucked in the Big Pines region of the San Gabriel Mountains, part of the Angeles National Forest. Three ski resort is available to skiers, with the same entry ticket. The West Resort offers a wide variety of runs, including the technical trails used for contests. During peak season, West Resort is open after-dark, seven nights a week. Well suited for those who are interested in learning how to ski, North Resort features 70 acres of beginner-level runs. The overall 290 acres of skiable terrain at Mountain High's three resorts is serviced by 16 lifts which lead to 59 trails with 25 percent beginner runs, 40 percent intermediate runs, and 35 percent advanced runs.
Address: 24510 CA-2, Wrightwood, CA 92397, USA
Don't Miss: Snowboarding Resorts in California
Here we have mentioned all the best ski resorts in California which could help you to gather information regarding California ski resorts and if you are planning your trip to California then kindly concerned to our other blogs too which could be beneficial while planning your vacation and share your views as per this content.
The post Best Ski Resorts in California | Top 10 California Ski Resorts appeared first on World Tour & Travel Guide, Get Travel Tips, Information, Discover Travel Destination | Adequate Travel.