There is something so mouth-watering about Indian food. No one can ignore it, whether you are in India or overseas. So if you are planning a trip to Amsterdam, be confirmed of having great meals, as there's plenty of exemplary Indian Restaurants in Amsterdam. Indian food has to attract aroma, variety and complex flavors that make all the senses come to life Amsterdam's best Indian Restaurant includes much appetizing Indian food. There are many choices when it comes to the places to have the best Indian food, varying from laid-back curry houses to fine-dining founding. 
List of Indian Restaurants in Amsterdam, Netherlands 
1) Tulsi Indian Restaurant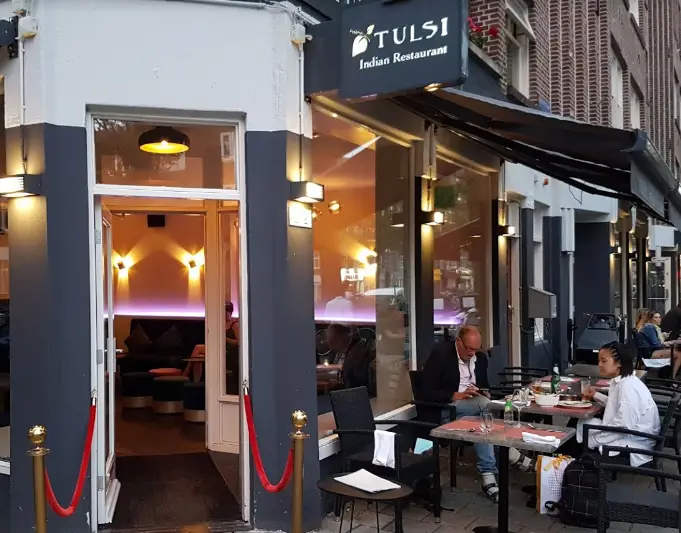 Tulsi Indian restaurant is a fine dining restaurant situated at Van Woustraat, Amsterdam. They gladly receive you to come to unravel, get around and share marvelous times with your family & friends. This is more than a 20-year-old fine dining restaurant and is a complete balance of sugar, spice, and everything nice! The Restaurant is known for its iconic Indian starters, street food and chaat, the restaurant affirm to give its guests and Indian food lovers an extraordinary experience. Popular items on the menu are; Chola Bhatura, Golgappas, aloo Tikki, aloo papri chaat.
Address: Van Woustraat, Amsterdam
Read more: Best Christmas Markets in Amsterdam
2) Saravanaa Bhavan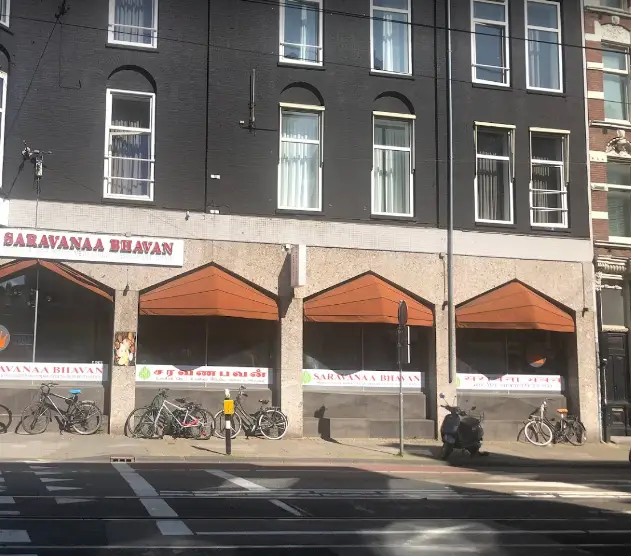 If you want to delight your Indian palette while you are in Amsterdam, then Saravanaa Bhavan is where you need to be. One of the best South Indian restaurants in Amsterdam, It's a branch of an international brand, concentrating on South Indian cuisine. They provide a huge menu. Their pride is the dosa. The food served over here is very credible and also the price is great. It is an impeccable destination for some simple yet extravagant Indian culinary experience
Address: Stadhouderskade 123-124, 1074 AV Amsterdam
3) Mayur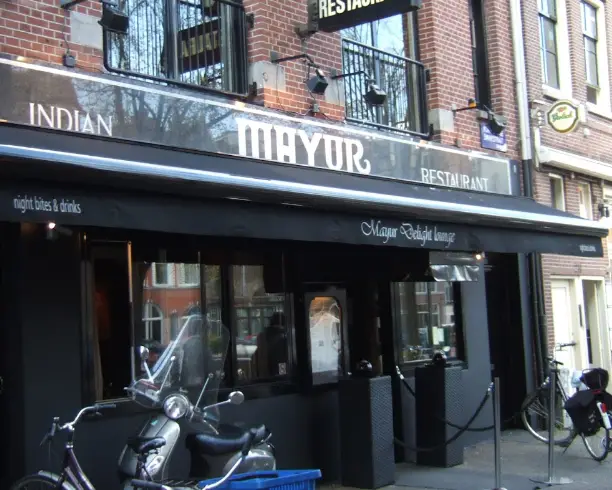 This Indian Restaurant was started in the early 1980s, Mayur is one of the primeval cheap Indian restaurants in Amsterdam. The menu features a varied collection of appetizers, curries, and mouth-watering side dishes. It defines itself as being one of the few restaurants that use halal elements. In addition to accuracy and quality, Mayur also gives relatively cheaper prices to its customers. The interior is quite amazing with fine dining which is quite stylish and traditional
Address: Korte Leidsedwarsstraat 203, 1017 RB Amsterdam
Read more: Best Brunch Spots in Amsterdam
4) India Roti Room
This charismatic Restaurant bases its menu around exemplar, fragrant dishes from the Indian subcontinent, that are spiked with fresh, colorful Indian spices. Most of the dishes at India Roti Room have rice as an embellishment and there are many kinds of Indian bread accessible along with the restaurant's mains and starters, including naan, roti, and kulcha. So if you want an ideal complete meal with custom Indian spices, India Roti Room is the best place to go, as they serve the most heavenly Indian meal in the entire of Amsterdam
Address: 67-71 Eerste Oosterparkstraat, Amsterdam-Oost Amsterdam, Noord-Holland, 1091 GW
5) Ashoka Restaurant
Ashoka restaurant has set an impactful base in the city, as it Serves delightful Indian and Nepalese food. Classic curries, vegan food, along with the Popular tandoor are some of the dishes that you must give a try while you are in Ashoka Restaurant for a meal. It is one of the Indian restaurants in Amsterdam central, which is acceptable for all.
Address: 54D Spuistraat, Amsterdam-Centrum Amsterdam, Noord-Holland, 1012 TV
Read more: Best Vegetarian and Vegan Restaurants in Amsterdam
6) Shah Jahan Indian Restaurant
Shahjahan is one of the Indian restaurants in the center of Amsterdam. It is one of the major hotspots of the Indian Cuisine and occupies a special place in the hearts of many Amsterdammers. The authentic and fragrant Indian food at Shahjahan is unquestionably astonishing and makes every visit an eternal experience for the customer. The chef and staff always try their level best to give their guests a remarkable experience, whether you are a first time or a repeat customer
Address: 18 Eerste Anjeliersdwarsstraat, Amsterdam-Centrum Amsterdam, Noord-Holland, 1015 NR
7) Pind Punjabi
The best North Indian restaurant in Amsterdam, this gorgeous place has been a famous option among many tourists, locals for the past 30 years. The Indian state of Punjab is well-known for its enthusiasm, warm hospitality, and food. Pind Punjabi is no exclusion when it comes to accomplishing these intentions. It preserves its conventional spirit and is conveniently situated in the center of Amsterdam. It calls itself a branch of an Indian home kitchen that sincerely welcomes you to unravel with all your friends and family.
Address: Van Woustraat 240 1073 NC Amsterdam The Netherlands
Read more: Best Seafood Restaurant in Amsterdam
8) Bollywood Indian restaurant
Located in the heart of Amsterdam, this restaurant in Amsterdam serves a broad range of food items that are processed with original Indian recipes. The name of the restaurant is kept to relate it to the glamour of the film industry in India and the theme is "Dine like a Star". They claim that their food items are prepared using natural spices, raw vegetables, and low-fat meat. The Bollywood Indian Restaurant is a place where you can relish a fine dine experience in a luxurious and fashionable atmosphere and its inexpensive menu prices 
Address: Lange Leidsedwarsstraat 108, 1017 NN Amsterdam, Netherlands
9) Memories of India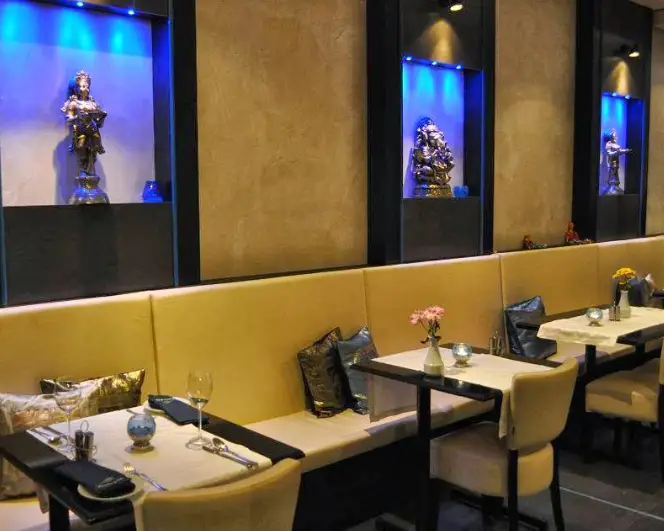 This is a Must-visit  Indian restaurant in Amsterdam so that you can try their exclusive classic recipes. They use amazing quality ingredients to give the dishes an impeccable and authentic taste. Memories of India provide late-night services too and It also has a beautiful setting for those looking for a romantic date.
Address: 88 Reguliersdwarsstraat, Amsterdam-Centrum Amsterdam, Noord-Holland, 1017 BN
Read more: Best Beaches in Amsterdam
10) Natraj
Relax and relish the amazing food experience at this fine dining Indian restaurant in Amsterdam. It is highly popular for its astonishing appetizers and classic curries. Natraj's very professional and highly skilled chefs can prepare and serve up to 130 food items for their visitors. The interior is quite elegant and beautiful
Address: Transvaalstraat 5 1092 HA Amsterdam
In the above context, we shared with you the best Indian restaurant in Amsterdam, which could help you to have the best Indian food in Amsterdam. Like the post and share your views in Comment. 
The post 10 Best Indian Restaurants in Amsterdam | Don't Miss Indian Food in Amsterdam appeared first on World Tour & Travel Guide, Get Travel Tips, Information, Discover Travel Destination | Adequate Travel.