Kochi is the largest coastal city in the state of Kerala in India. Kochi is famous for being known as 'the Queen of Arabian Sea' due to its splendid location near the Arabian sea flourishing its greeneries and natural beauties to another level. The city also flaunts one of the finest natural harbors of the world in its borders. Kochi is among the calmest cities in India which is perfect for a relaxing vacation in the terrible Indian summers. Here we provide you a list of reasons which skillfully covers most-visited places in Kochi, India.
Kochi is Famous For Following Reasons 
1. Palaces
Kochi owns various heritages of British and Portuguese colonial rulers which are still standing on Kochi's soil. Kochi is famous for the Hill Palace which enlist among the largest archaeological museums in Kerala, near Tripunithura. The museum is basically a complex combined with the archaeological museum, a heritage museum, a deer park, a prehistoric park, and a children's park in its boundaries. Kochi is also famous for it's Mattancherry Palace or the Dutch Palace upholding the classic ancient portraits and Kerala murals exhibiting myriad Rajas of Kochi. This is the famous monument of Kochi which was built by the Portuguese as a present for gifting Veera Kerala Varma. There are different temples surrounding the palaces dedicated to Pazhayannur Bhagavati (the protective goddess of the Kochi royal family), Lord Krishna and Lord Shiva. The domed arches and the finite proportion of its chambers show a great European influence among all Kochi's famous palaces. Some other famous forts and palaces of Kochi are Bolgatty Palace, Fort Emmanuel (Immanuel) and Pallipuram Fort.
2. Jewish Synagogue or Paradesi Synagogue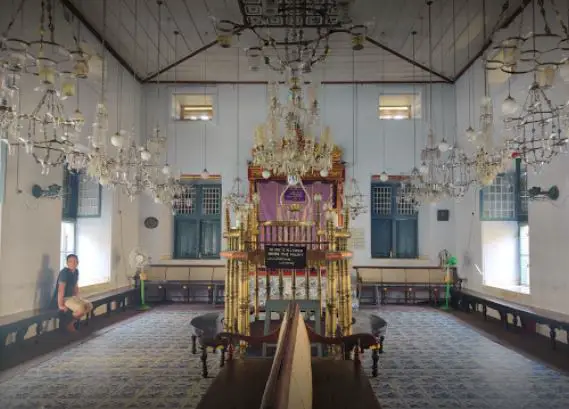 Synagogues are the religious places to pray or gather in Jewish communities. Perhaps the only major Jewish influence in entire India can be seen only in Kochi. Kochi is popular for the Jewish Synagogue that was originally constructed in 1568 by the Malabar Yehudan people or the Cochin Jewish community in the Kingdom of Cochin. This famous building in Kochi is constructed adjacent to the Mattancherry Palace temple as the land was given for its construction by the Raja of Kochi, Rama Varma.
Read About: Best Place for Shopping in Kochi
3. Santa Cruz Cathedral Basilica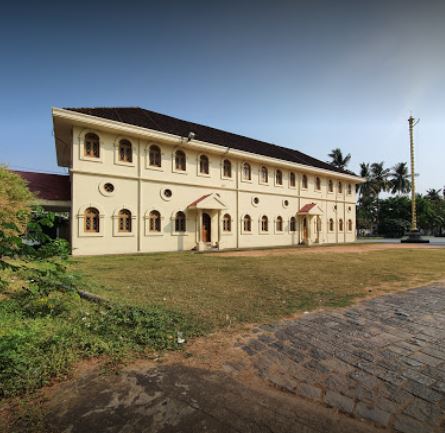 There is the wide influence of Christianity in Kerala as this state suffered the longest colonial rulers of both Portuguese and British communities which were usually Christian in their religious practices. Kochi's famous church was constructed by the Portuguese and elevated to a Cathedral by Pope Paul IV in 1558. Bishop Dom Gomez Vereira commissioned a new building in 1887 after its demolition by Britishers. This church amalgamates both Portuguese and European architectural designs in its model. 
4. Elephant Training Centre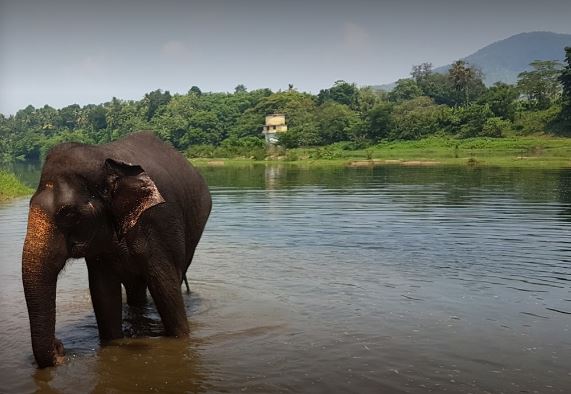 Kochi is best-known for its shiny greeneries which are majorly populated with these large mammals hence the domestication of Elephants for various activities in Kochi is a very ancient practice passing from many generation-to-generation in Kochi's exclusive families. Now the hotels nearby such villages even arrange a day trip to these small Elephant villages that have the best training centers for stranded adult and baby elephants. Kodanad is a small rural riverside village in the district of Ernakulam in Kochi which is Kochi's most famous tourist attraction for their elephant training practices. These are one of the most lively and happiest pleasurable experiences you can gain only in Kochi.
Visit: Beaches in Kochi
5. Kathakali Dance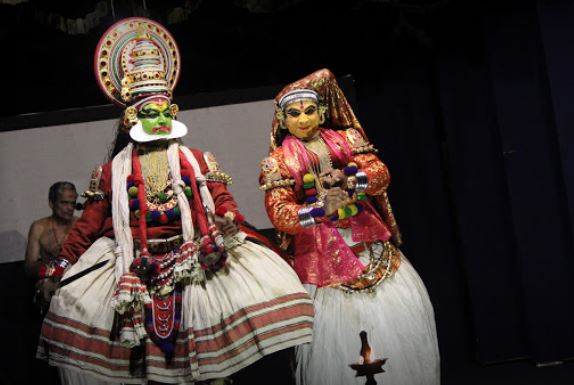 There are a plethora of traditional dance forms in India out of which nine classical dances of India are majorly known worldwide. Kathakali is one of those nine classical dance forms which has its origins in Kerala. Usually, all the classical dance forms depict the epic folklore of their regions hence Kochi is most famous for  their Kathakali dances representing themes derived from the Hindu epics Ramayana, Mahabharata and many others. The costumes of dancers are so incredible that it will give you goosebumps and you might wonder how are they even moving in such heavy costumes and makeup? Dance in such traditional states is marked as just another form of worship therefore the artists are very religious regarding their artforms. 
6. Vallam Kali( Snake Boat Race )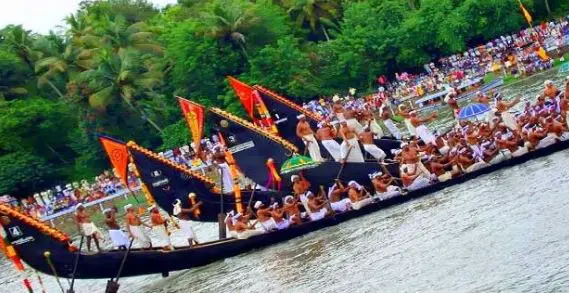 You might have prepared this under your grade 6th quiz in Indian schools that Kerala has the most famous Snake boat race conducted in their famous festival of Onam in India. This is the same snake boat race traditionally known as Vallam Kali which is a form of canoe racing and uses paddled war canoes. The Vallamkali race is aimed at winning the Nehru Trophy under the popular event held in the Punnamada Lake near Alappuzha, Kerala, India. Whereas when you were asked What is Kochi famous for in India? That famous snake boat race is termed as  Aranmula Boat Race- the oldest river boat fiesta in the south-western region of Kerala, India held during the Onam festival. 




7. Lulu Mall Kochi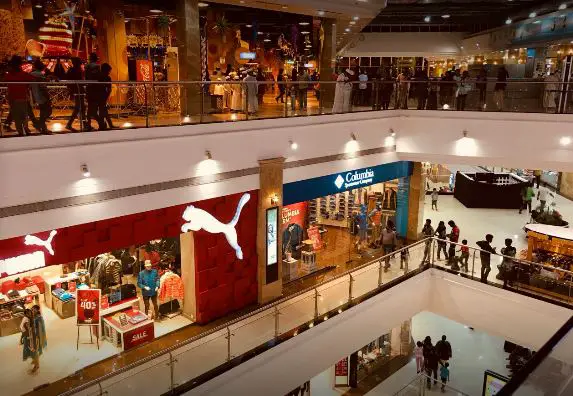 Kochi even after being a small city port of Kerala has some of the famous and largest landmarks in India. Lulu Mall in Kochi is also the biggest mall in India and is undoubtedly the one-stop destination for shopping, dining, and entertainment in Cochin. Kochi is best-known for acquiring the national, international fashion and merchandise outlets like Zodiac, William Penn, Wills Lifestyle, Creyate, etc. all at this biggest mall. Along with popular shopping accessories you can feed yourself with the western fast food as well as local Vazhayila, Anjappar all available in their humongous food courts. Even Doner Kebabs are also available for those searching for Arabian tastes.
Visit: Monuments in Mumbai
8. Princess Street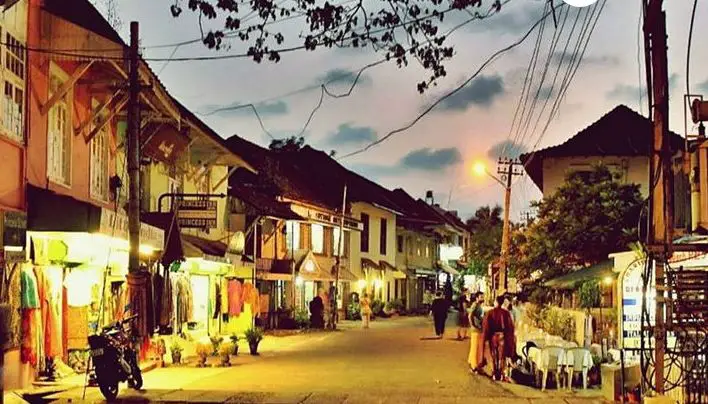 Well if you have decided to shop around then don't forget to visit Kochi's most popular Princess Street which is one of the oldest areas in Kochi, and is a great combination of the traditional and modern architectures. The extravagant influence of the colonial powers is evident and can be experienced on both sides of the street dotted with buildings and homes of European architectures with Dutch, Portuguese and British alterations. This is Kochi's well-known street shopping hub surrounded by cafés, book stores selling various artifacts, souvenirs, books, and little handicrafts authentic from Kochi.
9. Marine Drive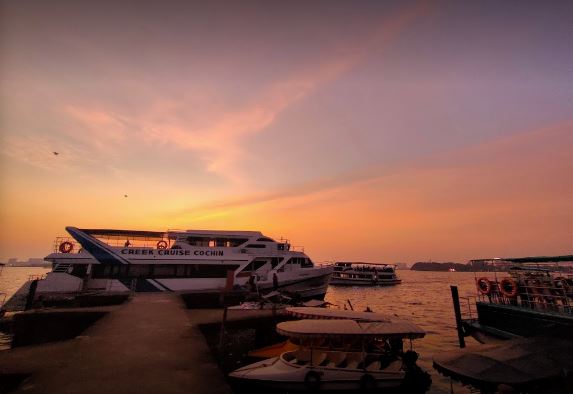 Well, it's a much more beautiful and picturesque promenade in Kochi(also means people are not usually making out in public here!) relative to Mumbai's marine drive. It is built facing the backwaters and is a popular hangout for the local people of Kochi. The walkway following along the marine drive has two bridges, the Rainbow Bridge and the Chinese Fishing Net Bridge. You can find the most gentle breeze coming from the Vembanad Lake which has made Marine Drive the most-visited place in Kochi where you can grab the most fabulous views of setting and rising sun over the sea mouth in Kochi.
10. Chinese Fishing Nets
Usually, people don't expect that even a fish catching net can be a famous factor for any city but Kochi's well-known sight includes these nets who came to India as described by the various legends, through an exchange of exports from the court of Chinese emperor Kublai Khan and were introduced to fishermen in Kochi by Chinese explorer Zheng He in the 14th century to catch the best marine fishes from the Arabian Sea in a lesser amount of time. It can be a fun experience to watch the fishermen showcasing their century-old techniques that are still alive in their communities. Later on in the day, you can purchase the morning catch from the fishmongers to enjoy the tasty fish meals of Kochi's famous cuisines.



11. Scuba Cochin

Well, when you are done exploring the above-water landmarks dive in to give a chance at your scuba techniques at this India's first official dive center which offers various PADI certified courses from open water diver to instructor level and daily dive trips. Through these crash courses, you can take away some professional techniques for scuba diving while enjoying your vacations at the same time in Kochi. The Emergency First Responder course is perhaps the least time-consuming course in their list. They also conduct kayaking, snorkeling and a dive store that offers updated and branded equipment to explore Kochi's famous underwater life.
Read More: Theme Parks in Chennai
12. Backwaters of Kochi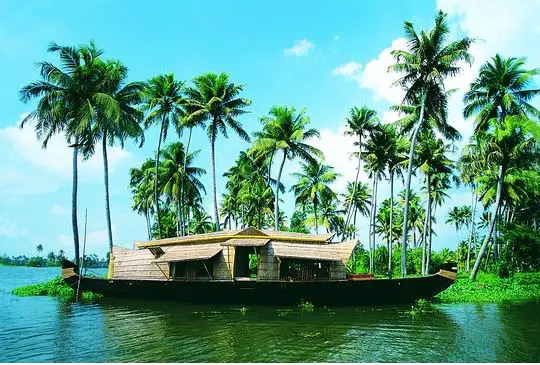 Kochi is the most visited tourist spot due to this destination which is a chain of brackish lagoons and lakes lying parallel to the Arabian Sea coast. These serene backwaters are popularly known as Veeranpuzha in Malayalam. This place definitely earns its place among the answers which signify What is Kochi known for. These chains of lagoons are the northern extension of Vembanad Lake which is again the longest and largest lake of India. 
13. Willingdon Island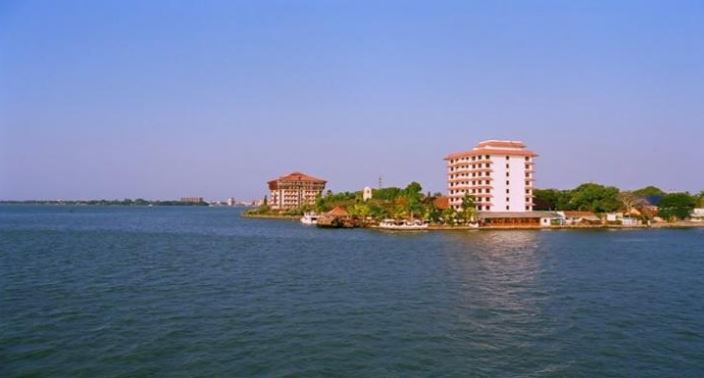 This is the largest human-made island in India located between Ernakulam Jetty and Kochi Port and the ferry costs around INR 6 to reach here. Kochi is best known for this island which is named after Lord Willingdon, a British viceroy in Colonial India. This island serves as a substantial link between Kochi port and other national and international ports of India. This island is home to some of the lavish hotels, commercial and industrial buildings of the district. They even serve as a headquarter for the southern naval command of India.
14. Malabar Chips
What good can it be if you visit Kochi and don't return with a bag full of Banana chips or the Nendran chips from here? Banana is another major commercial fruit grown in the entire Kerala. There are tonnes of varieties of Banana which are blended with various flavors to provide a huge range of banana chips which is one of the signature snacks of Kerala. People who visit Kerala buy these crispy chips for themselves as well as to give to near and dear ones. Kochi is most famous for its Nendran snacks worldwide.




I hope you enjoy all these incredible features of Kochi and plan your next vacation(obviously, when the Coronavirus is treated completely in every nation!) here. Kochi is best known for the incredible spa-retreat vacation for a relaxing afternoon boat ride and quiet beautiful nights covered with star-filled sky clearly visible due to least amount of pollution in Kerala's atmosphere. There are tonnes of adventurous activities in Kochi which are a major attraction of tourists around the world. So give your vacations a healthy exposure(after this contagious epidemic outbreak) and enjoy at the mentioned best places to visit in Kochi.  
The post Discover Why Kochi is Famous | What is Kochi Known For appeared first on World Tour & Travel Guide, Get Travel Tips, Information, Discover Travel Destination | Adequate Travel.