Cairo is a traditional center for all the Egyptian delicacies ranging from its spectacular pyramids to the best artifacts which is the best reply to all those struggling with what to buy best in Cairo?  There are lots of artifacts, rugs, sculptors, perfumes and other incredible home decorating things to buy in Cairo that will definitely make your travels more memorable and nostalgic. All such items are not easy to contemplate but here we provide you list of top 14 things to buy in Cairo which will definitely suffice all your filters for the best souvenirs to take back home and relish among your friends.
List of Things to Buy in Cairo 
1. Cartouche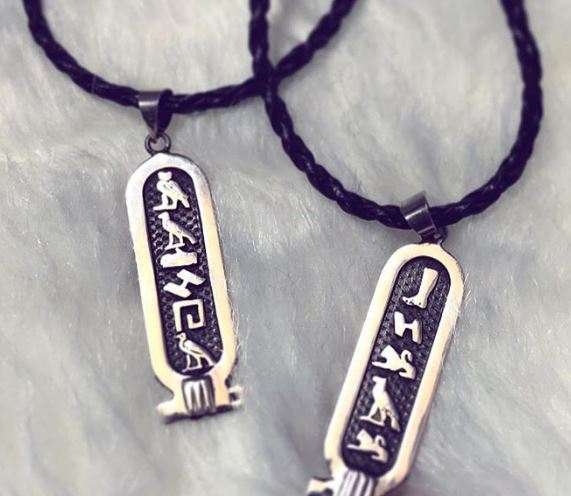 Pieces of jewelry are everyone's first choice for buying a nostalgic gift form any country's vacation. But they cost a lot especially when you don't have any idea of their prices in a strange city. Hence your struggle for the best things to buy in Cairo can be easily sorted out by this amazing accessory which is an incredibly beautiful and cheap necklace that might even make your feel like royalty. Cartouche we used during the reign of Pharaoh Sneferu where the name of royal members was enclosed in this neckpiece indicating their royalty. Now you can get this Egyptian version of a name tag for your royal experience and always relish your amazing vacations back at home.
Read More: Why is Cairo Famous For
2. Canopic Jars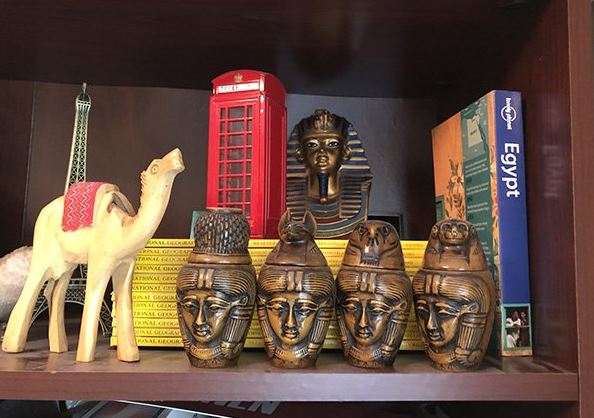 If you are not into accessories you can buy this sweet home decor for your homes at such a reasonable price. Canopic jars are the best souvenirs you could decorate in your houses. Well, what to buy in Cairo, Egypt? is a matter of resistance when you have a lot of items filled in the local markets with an authentic tag! Its a bit creepy though as the canopy jars back in Egyptian times were specifically designed to store organs of the deceased. They were made with limestone or molded using pottery techniques to store specifically the stomach, the liver, the intestines, and the lungs during the mummification of Egyptian people. But its all on your preferences now you can collect these beautifully carved jars or use them as flower vases or just home decorating pieces
3. Alabaster Vase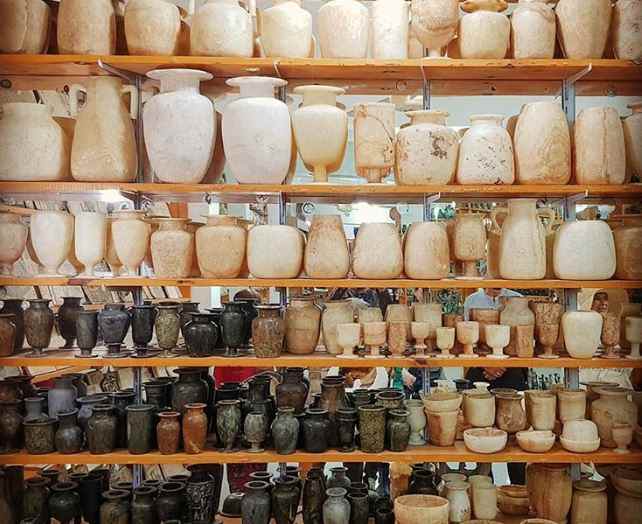 For all the nature lovers there's a perfect thing to buy in Cairo which doesn't hold any creepy history in fact has a mystical connection with one of the Egyptian Gods as well. The Alabaster Vases are made with a particular kind of soft rock that makes it ideal for carving. The term 'Alabaster' is pondered to be driven from the term 'Bastet' which means 'vessel of Bast', an Egyptian goddess. Hence you can take these vases at your homes as the goodness of the serene Bastet which will always stay in your homes inside this artistic vase. Or you can nourish these with planting or dressing of some fresh flower every morning.
Read More: Interesting Facts about Egypt
4. Egyptian Jewelry Boxes
When you look for a perfect gift that comes in your budget and also looks expensive and dazzling it's hard to get anything that might suffice all your filters. But in Cairo, you can definitely count on things which will satisfy all your needs. Just like this superb jewelry box which is a fabulous gift or you can take for yourself as well. This is an ultimate answer for all your What to buy from Cairo bazaar? struggles. This Egyptian box is designed with unique and exotic patterns for which the whole world is already impressed especially the exquisite woodwork designs of Cairo, Egypt. Even back in times, jewelry boxes were created by Egyptian artisans specifically to please their pharaohs, and who wouldn't be pleased with these beautiful patterns after all? As they are so intricate and mesmerizing
5. Khayameya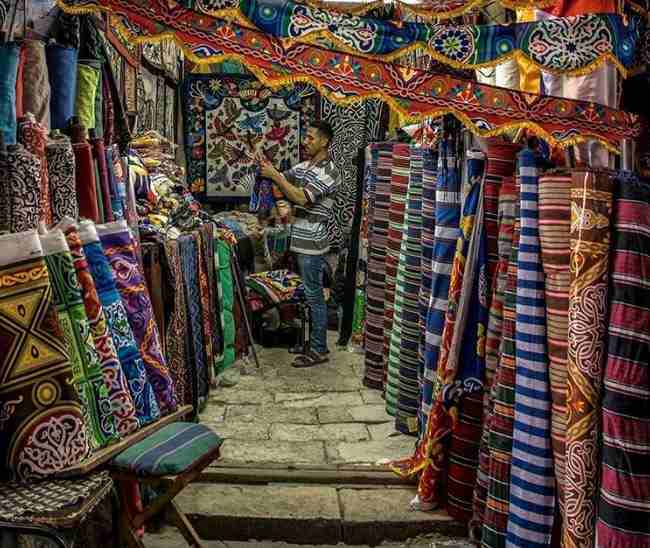 The troubled or cracked walls and boring floor designs are the worst nightmares especially in designing perfect home interiors. You can try this product from the middle-eastern textiles which were used mainly for making tents but are now mainly produced in Cairo, Egypt for decorative purposes.  If you pass by the Sharia al Khayamiya or Souq El-Khaymiya (Street of the Tentmakers) do take a visit to look out for these spectacular rugs which are handcrafted intricately by the traders to relish the traditional designs which are a great heritage in their family lineages from a very long time. These are the top things to buy in Cairo which come in a lot of designs and varieties to either make them beautify your floors or hang the small ones on your walls as an artistic artifact straight from Egypt.
Read More: Best Restaurants in Egypt
6. Mini Pyramids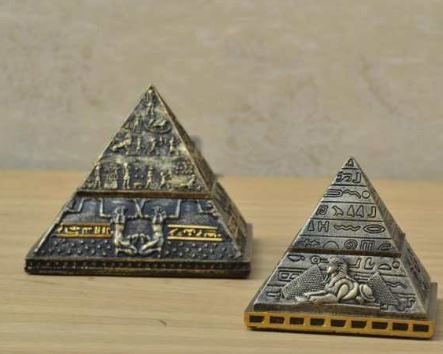 What can be more cliche than taking mini pyramids from the city of pyramids? but at the end of the day, it's a memento that will always remind you of the best memories form your vacation. So take this mini pyramid home as you can't take the bigger one of course and don't brag about the problems that there are not enough famous things to buy from Cairo. When you already have tonnes of memories. Trust your better half and buy this sweet little souvenir which comes in all shapes and sizes ranging from the cheap plain stone pyramids to expensive carved wooden pyramids
7. Papyrus(First paper of the world)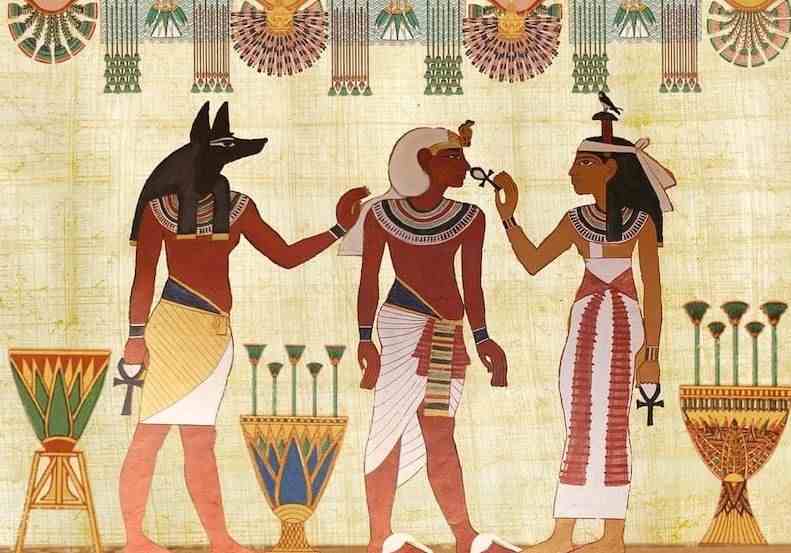 It has already been proven by a lot of archeologists that Egyptians were very advanced and thoughtful people of their own times and what greater example can be that they came up very first with the idea of the paper to document their thoughtful scripts. It was made out of the papyrus plant and was used as a writing surface by a lot of scholars. You can now take their beautiful realistic prototypes to hand them your walls or just store them as a precious memento from Cairo. If you think it will be easy to sort out What to buy in Cairo, Egypt? On your own then you are very wrong but follow our easy-peasy list and choose what you prefer most on your vacation shelves back at home.
Read More: Monuments in Egypt
8. Glass Sand Bottles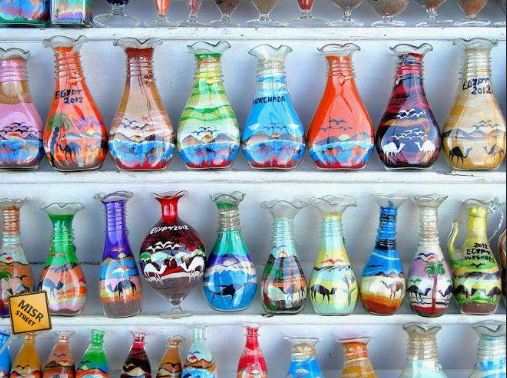 The guarantee to take back all the precious souvenirs while traveling is such a hard task to accomplish. But all the great things to buy in Cairo are usually travel-friendly and are barely fragile except this Glass antique which is a superb presentation of art by the Egyptian Artists were they use the authentic colored sand, and other dynamic colors to decorate a glass bottle by filling it according to your demands of either names or the dates of your visit, to commemorate your vacation all packed inside a beautiful glass bottle. You can also support the livelihood of these fellow craftsmen as well
9. Sculpture of Bastet
Home decors are ver famous in Cairo especially the ones which are carved out into famous monuments or pyramids of Cairo but this sculpture is an incredible feline(cat family) goddess which was worshipped by the Egyptians by the name of Bastet who was supposed to be the protector of Lower Egypt. The sculptures of her erect poses are the famous things to buy in Cairo which are available in all shapes and sizes made from everything ranging from plastic to the most beautiful granites embarking rare colors.
Read More: Cities in Egypt
10. Mini Water Pipe or Shisha pipe
For all the hookah lovers or glass collectors, there's another fragile thing to buy from Cairo which will definitely remind you of the sweet apple aroma outside local restaurants in Cairo whenever you smoke them at your homes. These are hookah pipes or shisha pipes which are beautifully engraved and come in varied bright colors that are a very useful and memorable gift if you wanna contemplate What to buy best from Cairo? For any, your hookah buddies or just wanna show off in your own hookah parties as some of the expensive relishes from Egypt
11. Kilim art Rugs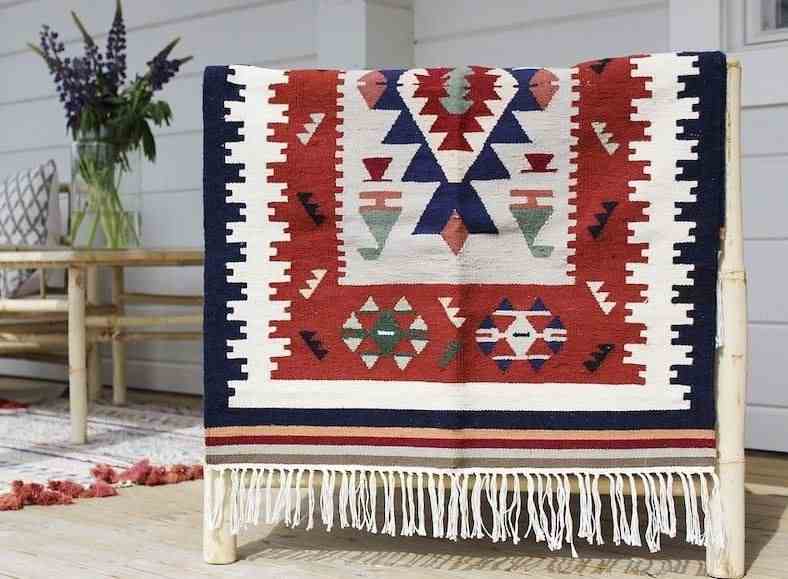 Kilim making is one of Egypt's oldest crafts in which craftsmen used to weave cotton, wool, and silk to create beautiful rugs. These rugs are colored using natural dyes and are woven in different combinations and length of stitches to create contrasting geometrical textures. You can buy one for your own house or just as a traditional gift for someone which is definitely authentic in Cairo. They come in a lot of colors and designs at very reasonable prices if you are good at the art of bargaining, if not then just take any local friend to help you out about where to buy rugs in Cairo? As the smaller pieces make dramatic wall hangings. Many are decorated with Islamic patterns and geometric designs.
Read More: Best Foods in Cairo
12. Fez Hat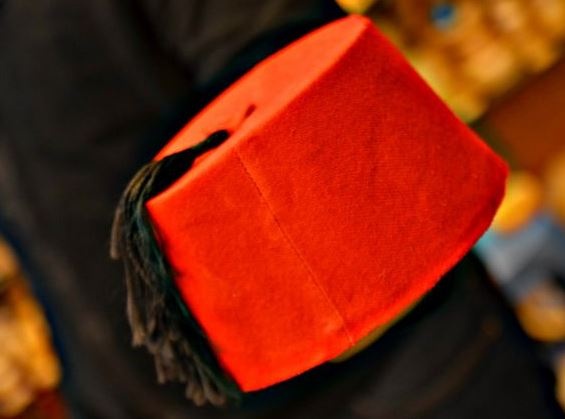 These are the distinctive red cylindrical hats with a long tassel that originally came from Morocco but between 1805-1952 it was a common sight in Cairo. The Egyptians used these hats for signifying various working class of people as three major colors were worn by rulings as a black or navy fez for teachers, professors, businessmen, the pale blue ones for Muslim Quran readers and white fez for the Bedouins. You can buy them easily from any local seller to take it as a perfect memento which you can even wear in some of your traditional house parties as well
13. Cotton Dress
Cairo has been a major port for a lot of trading for a long time in which the trading of pure cotton was the highest trade market in Cairo. This legacy is continued now as well by a lot of traders hence you can choose a pair of Egyptian Pyjamas or a loose dress or shirt, all woven from the pure cotton threads which are available at very low prices relative to your home towns. You will have plenty of choices about good things to buy in Cairo especially in the Souq's Market of Cairo after a good bargain.
Read More: Beaches in Egypt
14. Perfumes
The soulful aroma of tonnes of areas in Cairo depicts the well-known art of making aromatic perfumes exporting all around in Egypt. The small shops right outside Giza that will let you experience the smell of perfumes and tell you all about the sourcing of perfumes in Egypt are the best places for the amazing shopping ideas in Cairo, Egypt especially the perfume bottles which are beautifully packed and serve a great gift for anyone
Hope you enjoyed this amazing tour of things to buy in Cairo, Egypt. There are tonnes of artifacts that are handcrafted in Cairo that you can take back home at very reasonable prices if you have complete knowledge of What to buy in Cairo? But if you couldn't find any then get some great shopping ideas for Cairo from our top 14 list of best things to buy in Cairo which will easily guide you towards the splendid souvenirs of Cairo, Egypt.
The post What To Buy in Cairo Egypt | Egyptian Things to Buy in Cairo appeared first on World Tour & Travel Guide, Get Travel Tips, Information, Discover Travel Destination | Adequate Travel.