Dating back to the dawn of humanity, Ethiopia has a tremendously rich history. Historic monuments in Ethiopia are worth visiting. With each civilisation leaving behind artifacts, humans have been navigating life in Ethiopia for millennia and clues that have helped us slowly unravel the origins of humanity and life on Earth. Distant view of the Blue Nile / Tisisat Falls. A number of impressive geological features and man-made monuments make Ethiopia a fascinating place to visit. These striking natural landmarks and monuments in Ethiopia range from waterfalls and caves to statues and ancient monoliths that are shrouded in mystery even to this day.
List of Monuments in Ethiopia
1.Menelik II Square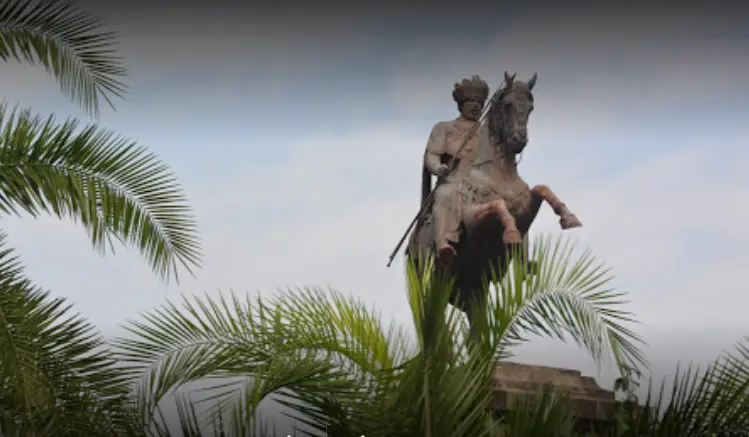 Just outside the entrance to St. George's Cathedral Menelik II Square is located. It is worthy of a place on any visitor's itinerary in Addis Ababa. The square features a large statue of Emperor Menelik II; he is the man who originally founded Addis Ababa. For those travelling around this country, this popular monument in Ethiopia is also important since distance markers on major highways in Menelik Square all over the country bear the distance from that point to the statue's base.
Read More: Why the Maldives famous For
Address: Addis Ababa, Ethiopia, ET, Africa
2. Axum Obelisks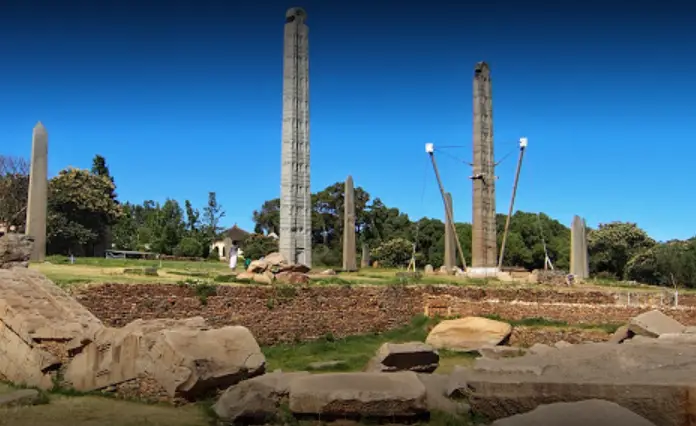 No one really can be sure indeed why they were built or who created the huge obelisks at Axum. As some sort of memorial to the former rulers of Ethiopia, some believe that they have intended perhaps as long ago as 2,000 to 5,000 years. Whatever the real story behind this carved monolith and one of the historic monuments in Ethiopia they still bear more than a hint of mystery for visitors today.
Address: Axum, Ethiopia, ET, Africa
3. Church of St. George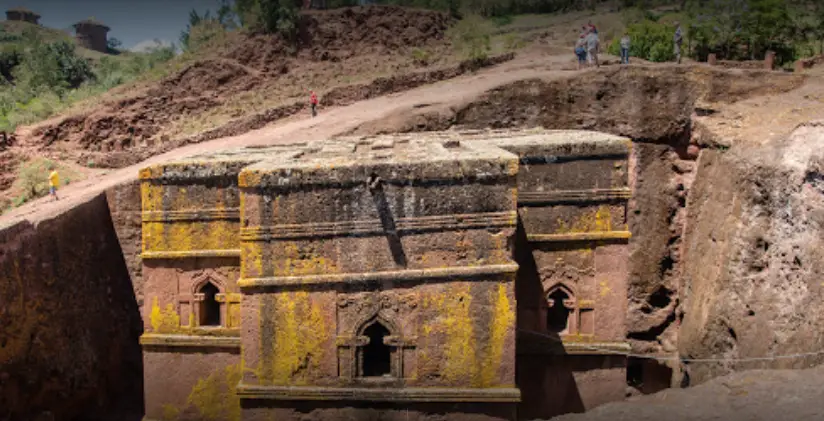 The town of Lalibela is renowned for its remarkable churches that are hewn out of the rock. There are 11 churches in all, with the most important being the Church of St. George. Indeed, it's thought that this is the largest monolithic church in the world. Although some may go even further back, most of Lalibela's churches date to the 12th century. A labyrinthine guided tour is perhaps the best way to get a sense of the true scale of this site. It is considered in one of the most famous monuments in Ethiopia.
Read More: Why Denver is famous
Address: Lalibela, Ethiopia, ET, Africa
4. Lalibela Cathedral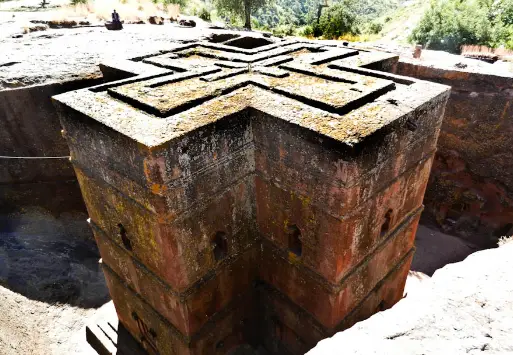 Lalibela surrounded by weather-gouged escarpments and occupies a dramatic position atop wide valleys and beyond which jagged peaks rise. It is a place of legends, faith, festivals, and mystery that will engage your mind as much as your heart.  The construction of this important monument in Ethiopia is still dispute and it is famous for its, the exact origins of the churches which are part of their attraction. Visited by school groups and academics what is certain is that Lalibela is no dusty relic. Those 13 churches form the living, hosting the most famous celebrations of the festivals of Genna, beating heart of spiritual Ethiopia. 
Address: Lalibela, Ethiopia.
5. Fasil Ghebbi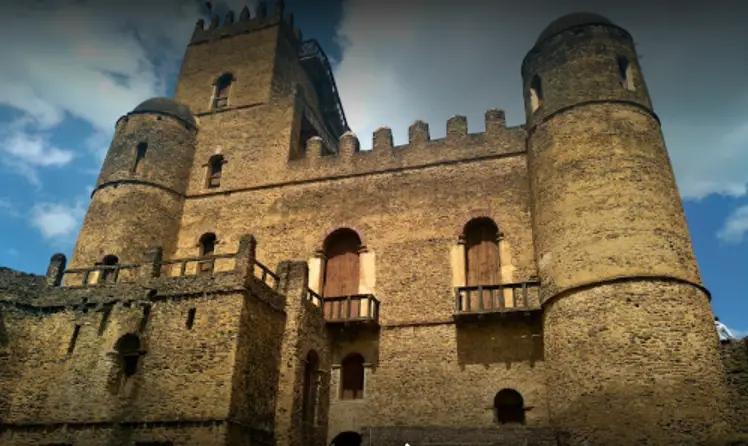 The remarkable collection of crumbling castles, fortifications and 17th-century churches are world-wide famous, and it's only right that "Gonder" is often represented to as the "Camelot of Africa". This small city was the home to many emperors in the Amhara region of northern Ethiopia who ruled the country from the 12th century to the last decade of the 20th century. It is one of the famous monument in Ethiopia.
Read More: Why Kochi is Famous
Address: Gonder, Ethiopia
6. Axum City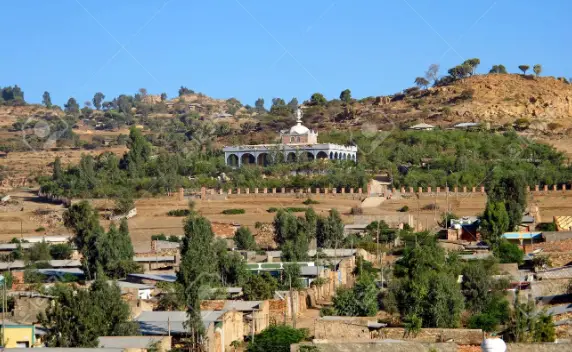 Dating back to 400 BC, Axum is one of the oldest continuously inhabited cities in northern African as the home to the Queen of Sheba and the Ark of the Covenant – artifact of Moses' 10 commandments. Today, unaware of its glorious past residents of the ancient city seem blissfully saw the Aksumite Empire thrive as a trading nation and major player in commerce between the Roman Empire and Ancient India.
This World Heritage site and a famous monument in Ethiopia is often referred to as "Abyssinia" in medieval texts and is considered the heart of ancient Ethiopia. It is a marvel of obelisks, ruins of castles, undiscovered tombs, beautiful churches and other cultural treasures spanning several centuries and embracing different religions that make this a Brilliant recommended destination.
Address: Axum, Ethiopia
7. Lake Tana
Located in a depression of the northwest plateau, Lake Tana is home to about 37 islands and peninsulas, where some of the world's oldest churches, monasteries and ancient monuments in Ethiopia are found, the most famous being the Kebran Gabriel. Built-in the 14th-century Kebran Gabriel contains a museum with old paintings and manuscripts. It is important to note this monastery is only open to male visitors and tourists.
Read Ab0ut: Monuments in Berlin
Address: Bahir Dar, Ethiopia
8. Harar Market
With the ability to feed hyenas known for its famous array of markets, 'Hyena men' coupled, old paintings which reach back in time, artifacts that span all cultures and beautiful women dressed in their colorful traditional clothing, it is really easy to get lost in the never-ending maze of the winding streets of Harar. For the natives of this place, it is just a market but world-wide known as a historical monument in Ethiopia.
Address: Harar, Ethiopia
9. Museum of the Martyrs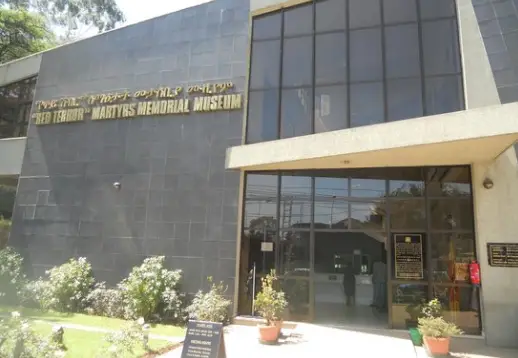 Based on preferences, there are several different museums to visit. The Museum of the Martyrs, a memorial established in 2010 for the victims of the Marxist Derg regime. But the best museum in Addis Ababa is the National Monument of Ethiopia. Our oldest hominid ancestor, the home of Lucy, the most famous skeleton of Australopithecus might not be the largest or most luxurious museum in the world, but historical, and archaeological exhibits it offers a wide collection of artistic.
Get About: Famous Monuments in Bangkok
Address: Addis Abada, Ethiopia
10. Blue Nile / Tisisat Falls
The Tisisat Falls are a spectacular sight and an awe-inspiring that you can hear long before you actually see them. Visitors cannot fail to be transfixed by the sight of the  Blue Nile as it plunges more than 50 m / 164 feet into the gorge below. Some 18 miles upstream, the fabled source of the Nile is Lake Tana. During Ethiopia's rainy season, the best time to visit the Falls when they are in full flow and especially impressive. if you are looking for the natural monument in Ethiopia you must visit it. From the nearby village of Bahir Dar, the Falls are easy to access it.
Address: Bahir Dar, Ethiopia, ET, Africa
11. Sof Omar Cave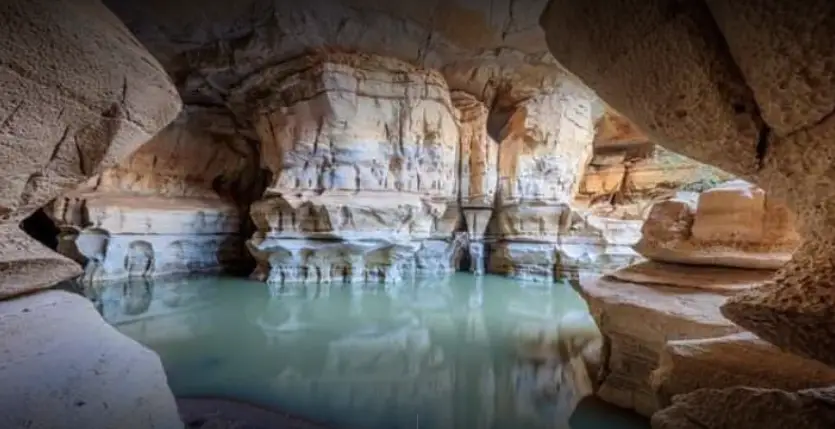 For a number of reasons, Sof Omar Cave is remarkable. First, making it the longest of Ethiopia's caves it extends to over 9.5 miles in length. Second, although only a handful are actually used to gain access nowadays it has over 42 entrances. Where the Web River heads underground, the largest of these is known as Ayiew Maco and is situated close to the village of Sof Omar. The Sof Omar Cave remains a sacred site to this day once the refuge of a medieval Muslim holy man. As bats and crustaceans, as well as unusual geological features, it is also home to such cave-dwelling creatures, including the Chamber of Columns. You must visit this beautiful monument in Ethiopia.
Read More: Famous Monuments of Colombia
Address: Bale, Addis Ababa, Ethiopia, ET, Africa
12. Stones of Tiya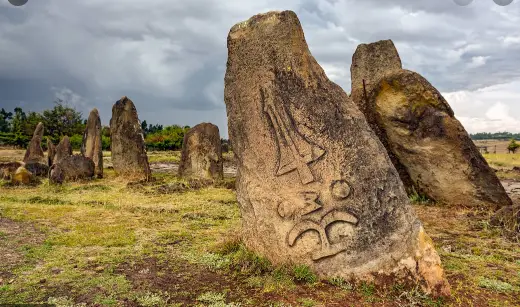 In southern Ethiopia, the 'stales' or obelisks of Tiya are an impressive sight. Indeed, UNESCO gave them the status of a World Heritage Site. There are 36 stones in total, the tallest of which is some 3.7 m / 12 feet in height. It is one of the ancient monument in Ethiopia. The majority of these stones are decorated with carvings.
Address: Tiya, Ethiopia, ET, Africa
13. Lion of Judah Monument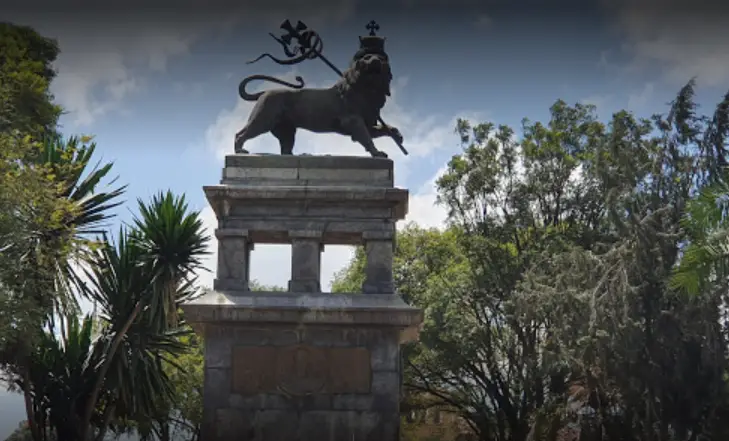 Those who arrive in Addis Ababa by train can't fail to miss one of the city's most distinctive monuments located right in front of the railway station. Standing on a black granite plinth, in 1930, this gold-coloured and old monument in Ethiopia was created as part of the coronation celebrations that took place in Addis Ababa.
Address: Addis Ababa, Ethiopia, ET, Africa
Read More: Buildings in Jaipur
So far, we have discussed the best monuments in Ethiopia, which contains the proper information regarding all the most visited monuments in Ethiopia. I hope you might have loved reading this article and if you love to know more about Ethiopia then kindly head to our other articles as well which will help you to get knowledge about Ethiopia.
The post Most Visited Monuments in Ethiopia l Famous Monuments in Ethiopia appeared first on World Tour & Travel Guide, Get Travel Tips, Information, Discover Travel Destination | Adequate Travel.