If you are wondering where to go for Christmas day in Ho Chi Minh city? Then let's take a look at this. In early December, Ho Chi Minh City will be decorated with colorful Christmas items. Christmas songs will also be turned on somewhere to create the Christmas atmosphere. At night, all of the Saigon streets are more bright and colorful with stunning lights, which attract a lot of visitors. These are top places to celebrate Christmas in Ho Chi Minh City in 2019. You can get on a single click specific content or refer to the Destinations, Food & Drink, and Wiki columns for more information: 
Celebrate Christmas Ho Chi Minh
1. Notre Dame Cathedral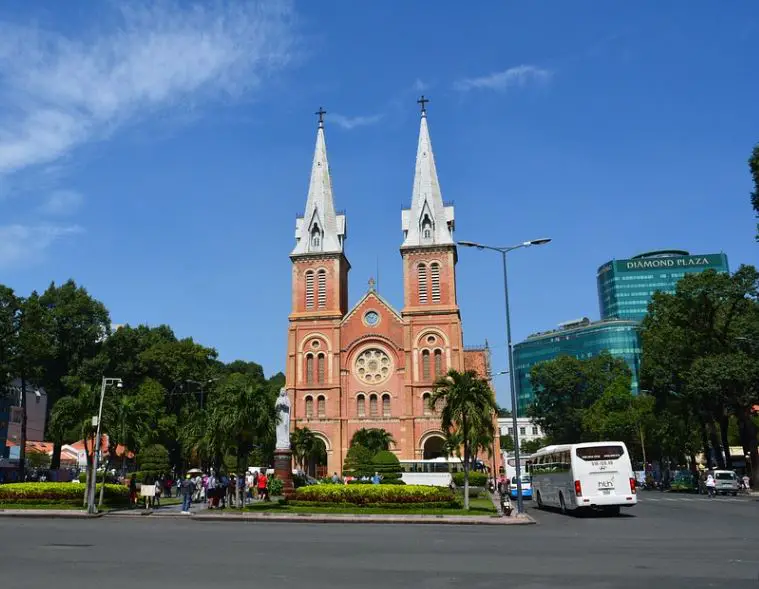 Christmas in Ho Chi Minh City is incomplete without visiting this cathedral. Speaking about Christmas is speaking about churches, of course, the Notre Dame Cathedral is the first choice for you. Notre Dame Cathedral is placed in the downtown of Ho Chi Minh City. The cathedral was constructed between 1863 and 1880. With its unique architecture, it is also considered a symbol of Saigon along with Ben Thanh Market and is a place you should visit once, especially for those who follow Christianity. During Christmas, this area is decorated beautifully, on Christmas Eve, tens of thousands of locals and visitors flock here, whether Catholic or not, if coming to Ho Chi Minh City this occasion, you must visit the Cathedral.
Address: 01 Công xã Paris, Bến Nghé, Quận 1, Hồ Chí Minh, Vietnam.
2. Nguyen Hue Walking Street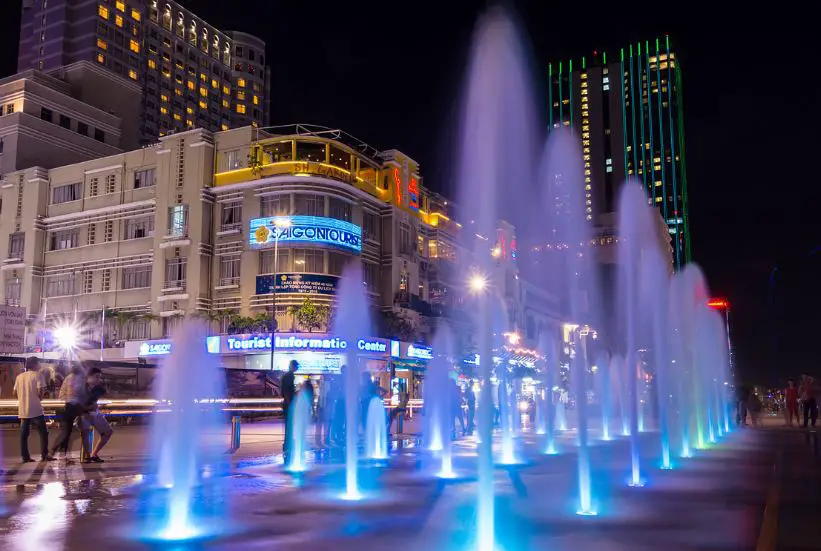 If you looking for where to celebrate Christmas in Ho Chi Minh, just visit  Nguyen Hue. It is a  street in central District 1, Ho Chi Minh City, interfacing Headquarters City People's Committee for Bach Dang Pier, Saigon River. Nguyen Hue is a lovely and present-day strolling road in Saigon, where it is the convergence of street, street artists and an enormous number of nearby peoples. Alongside Bui Vien, this is an incredible spot to encounter Ho Chi Minh City nightlife. Nguyen Hue Street is the center of the most radiant of Saigon, so at Christmas, this road is marvelously adorned.
Address:  22 Nguyễn Huệ, Bến Nghé, Quận 1, Hồ Chí Minh 700000, Vietnam.
Read More: Christmas Celebration in Dubai




3. Saigon Chinatown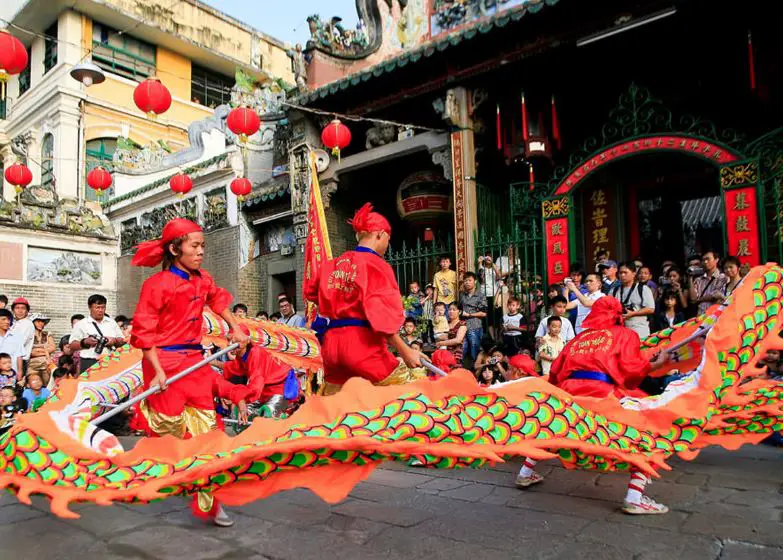 Saigon Chinatown is a large zone situated in District 5, Ho Chi Minh City, Saigon peoples call is Cholon (the huge market). There are many temples, homes, and clubs of Chinese and numerous Chinese are living here. Here is viewed as the heaven of Christmas enhancements, the vast majority of the business sectors and shops sell Christmas decorations. On Christmas day in Ho Chi Minh city the prices of these items are very cheap, so from early morning to a late evening here are busy buyers. Come here, you will be lost on Christmas street with brilliant lights and decorations. And for sure, it will be a memorable Christmas season.
Address: #17.06 384 Hoang Dieu Ward 6 District 4, Ho Chi Minh City, Hồ Chí Minh 700000, Vietnam.
4. Bui Vien Street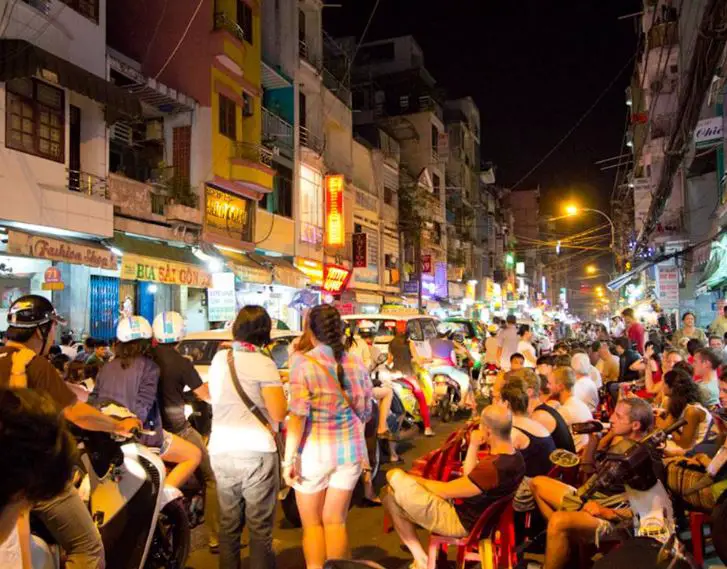 It will be incredible if you have a chance to host a Christmas party, Bui Vien is the ideal spot to do it. Bui Vien is a road in area 1 where numerous Western sightseers decide to remain and unwind (the vast majority of them are hikers). This is a global and multicultural spot in light of the fact that western voyagers, as well as different local people and outsiders, visit here. Picking a café on the roadside, appreciate a few jugs of Saigon brew with a couple of road nourishments, watch the passers-by, and possibly you will cherish Saigon from this minute. Saigon lager is around 20 000 – 30 000 Dong/1 jug. Nourishments are around 50 000 – 100 000 Dong/1 dish, it's listed in most restaurants here in the city you can go for Christmas dinner in ho chi Minh city after roaming the city.
Address: Phạm Ngũ Lão, Quận 1, Hồ Chí Minh, Vietnam.
Read More: Things to Do in Prague in the Christmas
5. Ben Thanh Market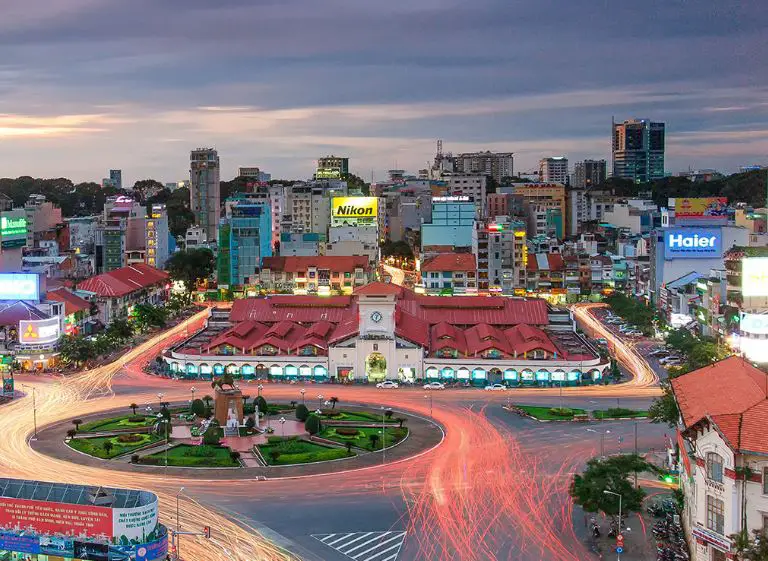 Ben Thanh Market is the greatest market in District 1 – The core of Ho Chi Minh City. It was built in 1912, experienced numerous long stretches of changes of the war with numerous rebuilding efforts. It is presently viewed as the image and soul of Saigon. During Christmas and New Year, the market territory is exceptionally clamoring and breathtaking. On Christmas eve in ho chi Minh city this market drown into lights. You can take around Ben Thanh Market and appreciate some nourishment as Goi Cuon, Che, and Banh Xeo with costs running from 30000 to 100000 Dong/dish. 
Address: Le Loi Street, Ben Thanh Ward, District 1, Ho Chi Minh City.
6. Diamond Plaza
Situated in the heart of Saigon, behind the Notre Dame Cathedral, alongside the Saigon Central Post Office and encompassed by the recreation center, Diamond Plaza is one of the most renowned strip malls in Saigon. With its interesting structure and sublime stylistic theme, vows to be an extraordinary spot for this Christmas. From above of the structure viewing the Notre Dame Cathedral on Christmas Eve is an intriguing encounter. 
Address: 34 Le Duan, Ben Nghe, District 1. 
Read More: Christmas markets in Sydney
7. Bach Dang Pier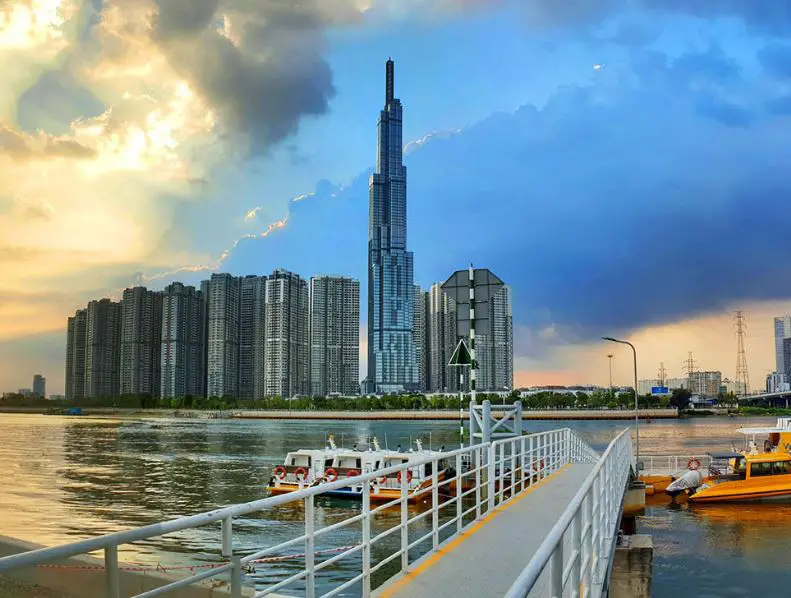 Cruising on the Saigon River by cruise boat is an enjoyable experience with Saigon particularly during Christmas and New Year. There are numerous sorts of journey pontoons, the vast majority of working from 6:30 pm – 10:00 pm. If you are tired and thinking about how to celebrate Christmas in ho chi Minh city? Just go there. You can eat on the vessel and appreciate the entire Saigon. It will be extraordinary when you watch the new year's firecrackers here. You can purchase tickets legitimately at this location. 
Address: 05 Nguyen Tat Thanh, Ward 12, District 4 (by Nha Rong Wharf). 
8. Building Number 42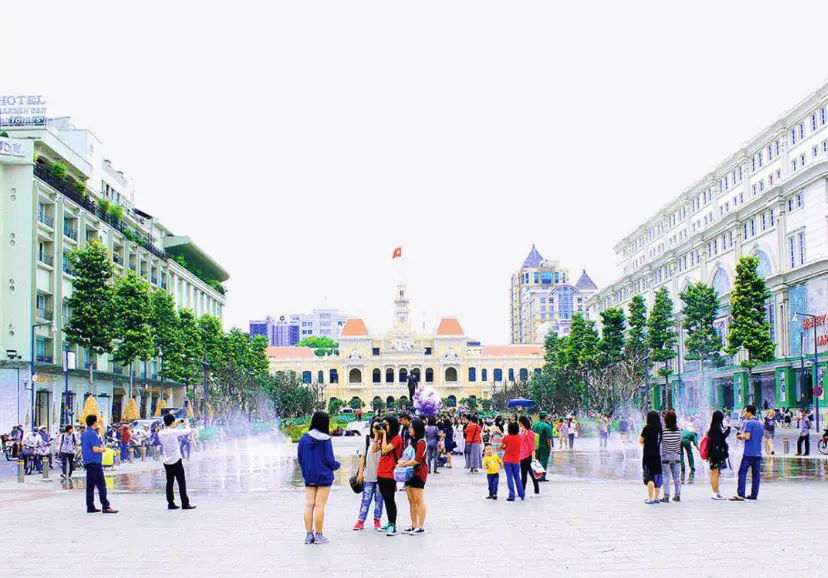 It is an old structure on Nguyen Hue Street and famous Christmas spot in Ho Chi Minh, particularly every one of the condos here has become the diners, bistros, and bars. Every one of them has an alternate style, pick an eatery for Christmas and watch the groups on the Nguyen Hue strolling road, it will be certainly an incredible encounter. 
Address: 42 Nguyen Hue, Ben Nghe Ward, District 1
Read More: Christmas Celebration in Bangkok




Celebrating Christmas at Ho Chi Minh City is a wonderful experience. It is the greatest and modern city in Vietnam so every Christmas it is wonderfully enhanced. Notwithstanding lolling in the quality of the over-road light enrichments, tourists can join many fascinating activities.
The post Don't Miss Best 8 Places to Spend Christmas in Ho Chi Minh City 2019 appeared first on World Tour & Travel Guide, Get Travel Tips, Information, Discover Travel Destination | Adequate Travel.