The Sainte-Chapelle, at the heart of the Île de la Cité in the Seine, played a major role in the history of France. In this article, we will guide you with the best hotel near Saint-Chapelle. It was commissioned in the 13th century by King Louis IX, commonly known as Saint-Louis, to house his collection of relics of the Passion of Christ and its most important treasure, the Crown of Thorns. If you see it from the outside, the Sainte-Chapelle may seem overwhelmed by the buildings of Paris. Its interior is awe-inspiringly beautiful. The strong vertical emphasis of the upper chapel makes it seem to defy the laws of physics. The huge stained-glass windows allow natural light to fill the space beneath a vaulted ceiling more than 20 meters high. Here we will tell you about the pocket-friendly and best hotels close  Sainte-Chapelle you can feel comfortable like never before.
List of the Hotel near Sainte-Chapelle
1. Le Relais Saint Honoré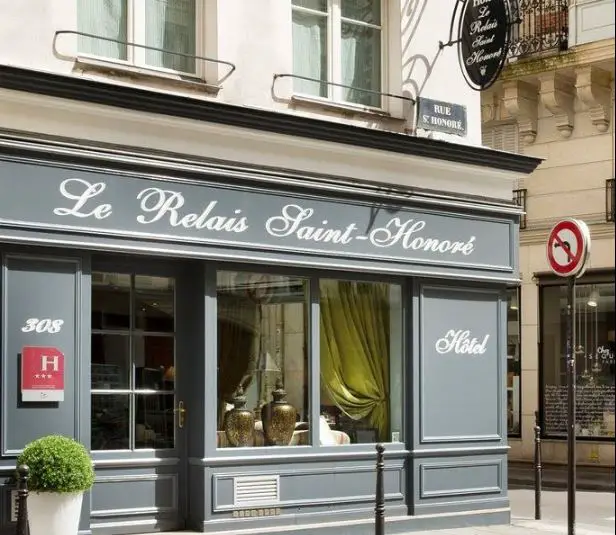 This hotel is built in the heart of the most luxurious district of the center of Paris. It is standing on Rue Saint-Honoré. It is one of the oldest, historical streets and a beautiful hotel near Sainte-Chapelle. If you stay here the Relais Saint-Honoré welcomes you and assures you that your stay within its walls will be exceptionally memorable. A few steps away from the Tuileries gardens you get the famous Sainte-Chapelle, Louvre Museum, the Opera Garnier, the Place Vendôme and Place de la Concorde are all within walking distance. So you would get no vehicle to go there.
Price: €153 per Night
Address: 308, rue Saint-Honoré, 75001 Paris, France.
2. Hotel Le Relais des Halles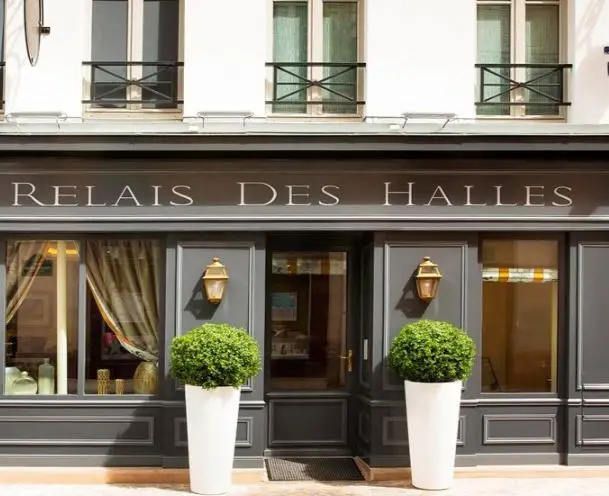 The Hotel Le Relais des Halles, situated in the heart of Paris, few moments from the Georges Pompidou Centre. It has been entirely renovated. It occupies a 17th Century building in the historic area of Paris between Châtelet and Montorgueil. It is one minute away from the Métro station Étienne Marcel. Combining charm and French chic, with comfort and modernity, the rooms and suites with their personalized decor are all harmonious. The bathrooms offer a high level of service and are perfectly equipped, visit these Hotel Near Parc de Princess Stadium. You will appreciate everything, including the excellent breakfast buffet.  The hotel's team is particularly attentive to satisfy your every need. 
Price: €149 per Night
Address: 26 rue Pierre Lescot, 75001 Paris, France.




3. Hotel Saint Louis en L'Isle
In the heart of the very elegant Saint-Louis Island, the Saint Louis en l'Isle Hotel will invite you to a peaceful and warm atmosphere. This hotel near Sainte-Chapelle, you will discover the famous Berthillon and also picturesque alleys. After a 6-minute walk, you will reach the renowned Notre-Dame Cathedral located on the Ile de la Cité and Saint Chapelle. After a 10-minute walk, you will also reach the atypical area of Marais with its dynamic cafés and its original boutiques. At 600 meters the European House of Photography and at 400 meters, you will visit the Shoah Memorial. 
Price: €137 per Night
Address: 75 Rue Saint-Louis en L'ile, 75004 Paris, France.
Read More: Hotel near Eiffel Tower
4. Hotel Saint Germain des Prés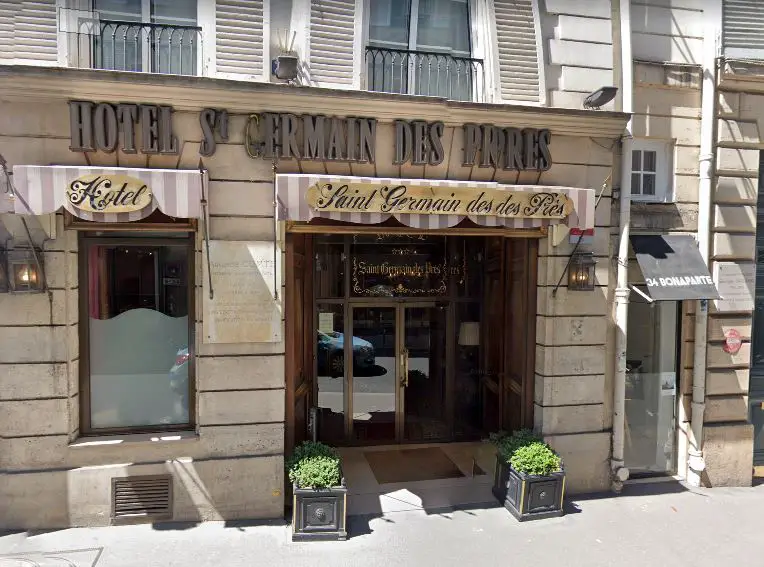 Situated in one of Paris' most coveted positions, Hotel Saint Germain des Prés provides a cool haven with a feel of a chic Paris pied a Terre. this beautiful hotel was built in the 18th century as a gracious townhouse. This hotel retains many period details and original architectural features. Today Hotel Saint Germain is a landmark of 21st-century timeless elegance and unique character. It is a choice of interesting people the world over. You can enjoy the quietness of the bar all day long.
Price: 115 Euros per Night
Address: 36, rue Bonaparte, 75006 Paris, France.




5. Best Western Le Jardin de Cluny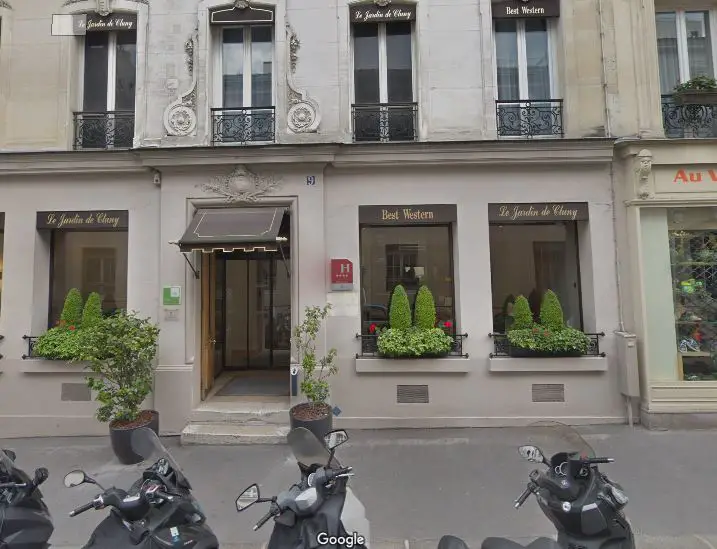 Only 220 meters away from the hotel, you will discover the Cluny Museum and the antique baths. You will find, at 450 meters, the majestic Panthéon and its incredible crypts too. After a 5-minute walk, you will also reach the Mouffetard Street, renowned for its numerous dynamic cafés, bars, and restaurants. By crossing the Seine, after a 6-minute walk, you will reach the amazing Notre-Dame Cathedral. This pleasant establishment will welcome you in a warm atmosphere, in elegant and colored rooms. In the morning, you will savor a buffet-breakfast served in the arched 13th-century dining-room, get Disneyland Paris New York hotel.
Price: €130 per Night
Address: 9, Rue du Sommerard – 75005 Paris – France
6. Hôtel Louis 2
This hotel is close to Saint- Chappelle just Two minutes' walking and hotel close to Sainte-Chapelle in Paris. If you are strolling in the Senate garden, Luxembourg garden, a delightful park with its large pond, its chess players and bowls players, its tennis courts, its sandpits for children, the Punch and pony rides and Judy show. If you love you can enjoy shopping in the adjoining roads, the Odéon intersection, Rue Bonaparte, boulevard Saint Germain, Rue Saint Sulpice, Rue du Four, Saint Germain market, Rue du Vieux Colombier which leads to the France Senate.
Price: €135 per Night
Address: 2, rue Saint-Sulpice, 75006 Paris, France




7. Hotel Albe Saint-Michel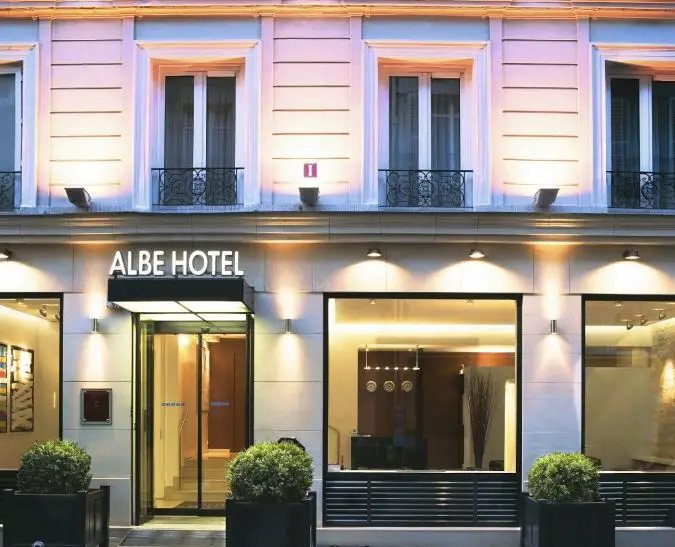 This city is located in the heart of the City of Light, on the Left Bank of the River Seine.  The Hotel Albe Saint-Michel popular hotel near Sainte-Chappelle is the perfect base. Here you can discover Paris and its secrets. This hotel offers a chic contemporary lightness with a sophisticated and pictorial interior. If you stay in this hotel you will feel the real touch of Paris. Not only Saint-Chappelle, but You can also become a witness of visiting Cathedral, Saint Germain des Prés, Notre-Damn, the Jardin du Luxembourg and the banks of the Seine.  
Price: €135 per Night
Address: 1 Rue de la Harpe, 75005 Paris, France.
Visit: Hotel near Place La Madeleine.
8. Hotel Residence Henri IV
Hotel Residence Henri IV hotel close to Sainte-Chapelle is situated next to the legendary Polytechnic School, a typically 19th-century Parisian building shelter, facing a peaceful park. This Hotel Residence Henri IV in the heart of the Latin Quarter a historical and Saint Germain des Pres famous neighborhood. Just two steps away from la Sorbonne, cuddled between the Pantheon and Notre-Dame Cathedral, its 13 personalized bedrooms illustrate Henri IV, the royal family and famous people who surrounded good king Henri IV. In this world of writers, artists, philosophers, and poets, you will open the history book of our city Paris.
Price: €151 per Night
Address:50, rue des Bernardins, 75005 Paris,  France.




9. Hotel Recamier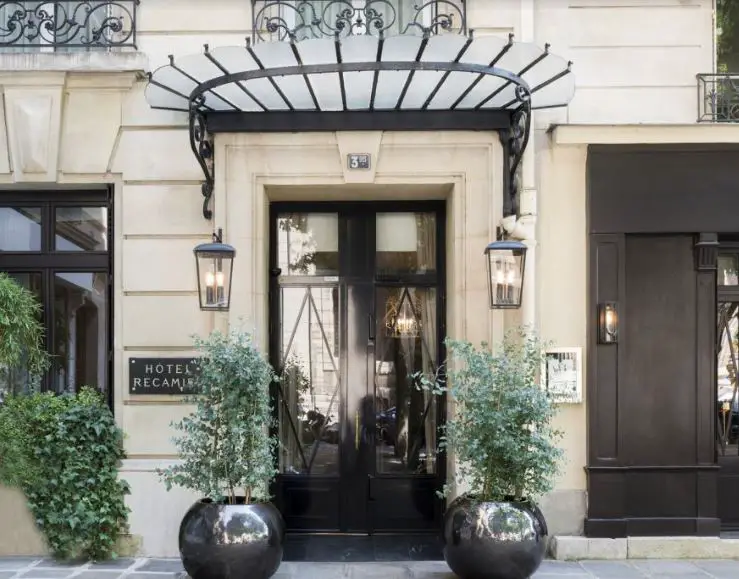 The Recamier is a hotel installed in a former house located in the middle of the 6th arrondissement of Paris, a luxury hotel near Sainte-Chapelle in the Quartier Latin. The hotel is to be found between the Eglise Saint Germain and the Eglise Saint Sulpice. Its location is ideal for those who cannot wait to visit "the Old Paris" and its paved streets. The hotel is located only 500 meters (550 yards) away from the Jardin du Luxembourg, read about the Best Hotel Near Pantheon. The decoration of the rooms is specially refined and each room is decorated with the different ranges of a certain color. Each room is equipped with a free Wi-Fi connexion and an iPod docking station. 
Breakfast can be served in the intimate atmosphere of the hotel's lounge or in your room if you request it. In summer, you will most certainly enjoy the romantic atmosphere of the hotel's restaurant.
Price: €216 per Night
Address: 3 Bis Place Saint Sulpice, 75006 Paris, France.
10. Hotel du Cygne
This hotel is set in a 17th-century townhouse, a cheap hotel near Sainte-Chapelle. Free WiFi access is available and the Centre Georges Pompidou is 400 meters away. With exposed wooden beams, each room features a flat-screen TV, a desk and a safety deposit box. The private bathroom is fitted with a bath or shower, a hairdryer, and free toiletries. Breakfast is served each morning in the breakfast room, with an additional cost. Paris – Charles de Gaulle Airport is 22 km away.
Price: €66 per Night
Address: 3-5 rue du Cygne, 75001 Paris, France 
Related Post:




So these are the best hotels near Sainte-Chapelle, with respect to its price and hospitality. You can choose according to your pocket and comfort zone. You get also a cheap hotel near Sainte-Chapelle as well as a luxury five-star hotel.
The post Best Hotel Near Sainte-Chapelle, Paris  appeared first on World Tour & Travel Guide, Get Travel Tips, Information, Discover Travel Destination | Adequate Travel.