Cairo is the hub of a lot of ethnicities hence its hard to signify which dish is the typical food in Cairo, Egypt and which is being bought from other countries. No matter, as the Egyptians have tried hard to make every dish their own and displayed a very myriad palette of flavors which can be easily seen in the best food in Cairo. The super delicious food is so much in amount that you can be easily baffled in Cairo with their wide range of foods hence I have mentioned a complete list of top 20 foods in Cairo which are a must-try food if you ever visit there. 
List of Foods to Try in Cairo
1.Fattah
This is one of the most popular foods throughout the Middle East, but each country has its own recipe to make its own signature cuisine. In Cairo Fattah is prepared as a rice dish made with fried pieces of bread, garlic, lamb or beef along with tomato sauce. You can either consume this famous Egyptian food of Cairo in the traditional way possible i.e. coming hot from the steamy clay pots or cook it at your home. This always tastes super delicious and creamy.
Read More: Food in Maldives
You can find it best at: Abou el Sid,Casino el Hamam, Sabaya, Om Hassan
2. Mahshi (Warak Enab)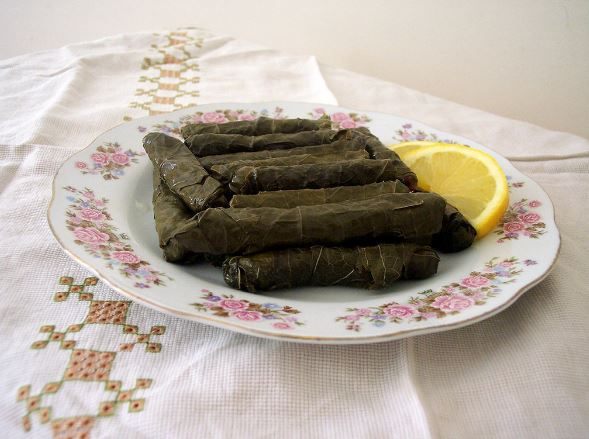 The dish literally translates to "stuffed". These are actually the stuffed grapevine leaves (called Warak Enab in Arabic) usually served as a starter but you can consume it anytime you like. This food in Cairo, Egypt is consumed in most of the Mediterranean countries. Whereas in Cairo you will get small bite-size spicy rice tightly wrapped in grape leaves, then cooked in a tomato-based sauce and served with lemon. Such delicious delicacy can only be found in Cairo.
You can find it best at: Cairo Kitchen, Felfela, Abou el Sid
3. Fiteer Baladi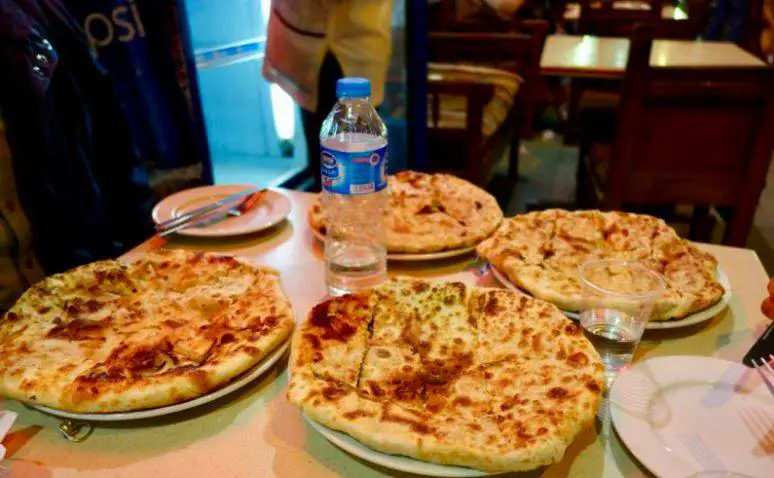 This is a famous Egyptian pizza which is extra buttery and full of juicy goodness. Usually, they serve it without any toppings just as plain bread which you can dip or make a sandwich. The preparation of this top food in Cairo comprises multiple layers of filo dough cooked in a giant brick oven. Later on your preferences, they garnish it with honey, syrup or powdered sugar for sweet as well as for savory a thick coat of meat, vegetables, and cheese toppings are sprinkled.
Read More: Foods of Mexico City
You can find it best at: Fatatri El Hussein (aka Egyptian Pancake House), Fatatry el Kaliouby
4. Shawarma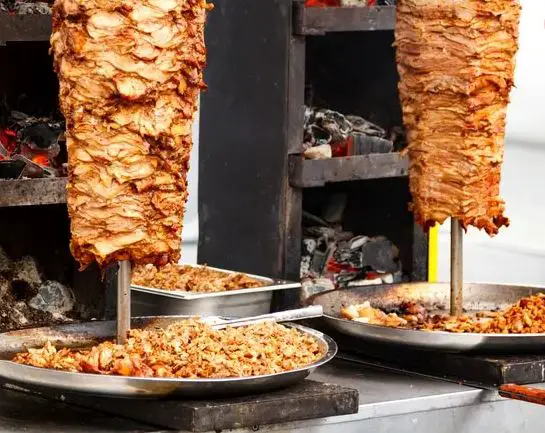 Egyptians are like the ' Meat Lords' who assemble the meat in the best possible way so that it becomes tastier-n-tastier on every turn. Shawarma is the best street food in Cairo you can find in entire Egypt. As already this delicious cuisine has been known to be the global street food but the extra juicy and balanced spicy flavors of Cairo's shawarma are unimaginable. Here the meat or chicken for shawarma is cooked on a spit and sliced into a sandwich with veggies and sauce just like Turkish doner to carve out their tastiest global food. 
You can find it best at: Abou Heidar, Semsema, Taza
5. Hawawshi
If you say it's just a minced beef sandwich, then you might not have tried the real Hawawshi which is way more fabulous than just a meat sandwich. This popular food to eat in Cairo is distinct from the rest of the world through their extra cooking techniques which involve roasting the sandwich in a wood oven that crisps the bread so that you could hear it's a crunch in your ears thinking it's deep-fried. It's commonly served with pickled vegetables (torshi) to add a savory tint with the spiciness of the sandwich.
Read More: Famous Food of Jerusalem
You can find it best at: Hawashi el Refaey, Hawawshi Shalaby
6. Macaroni bil Bechamel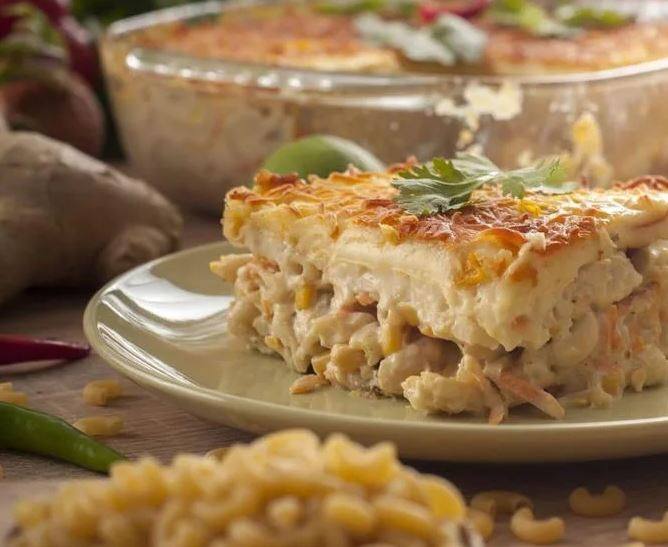 Cairo does experiment, with a lot of dishes as it has been under the control of various ethnicities of rulers who laid down their cultures which along with the best-known foods of Cairo. Coming from different parts of the world foods sometimes got mixed to yield altogether a new dish. This dish is also an Egyptian take on Italian lasagna which is an oven-baked macaroni with béchamel sauce, ground beef, and spices. You can enjoy this food with pickles bread or as a main dish of Egyptian cuisine.
You can find it best at: Macarona Reda, Hamada Makarona
7. Hamam Mahshi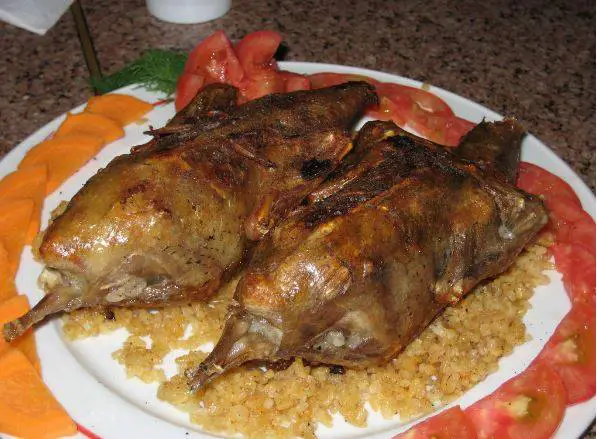 You might never try this if you already know what Hamam literally means but after tasting this unknown food of Cairo its hard that you will ever forget this dish. It's actually a roasted pigeon(Hamam means pigeon)which is super delicious and creamy and considered as a North African delicacy. This is Cairo's famous food which is grilled to perfection and stuffed with cracked wheat to add a subtle crunchiness in the dry texture of the bird's meat. Beware while eating as the small and thin bones of pigeon might cut your tongue and cheek muscles from inside if you rush through your meat pieces hastily.
Read More: Famous Food of Paris
You can find it best at: Andrea, Shaker
8. Kushari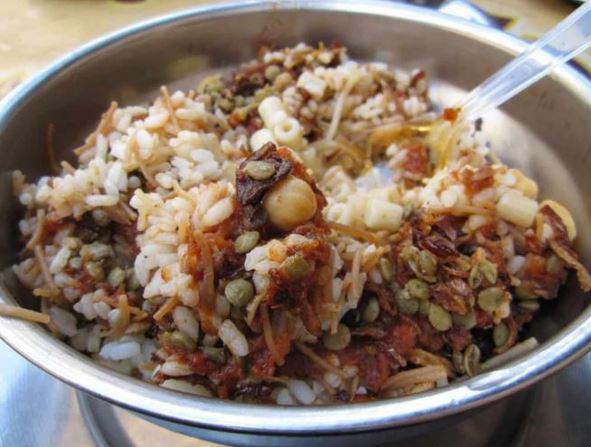 This is considered as Egypt's national dish, which comprises of a unique concoction inherited from an eggetarian-friendly dish combining unique ingredients like noodles, rice, lentils, fried onions, and tomato sauce who are barely cooked together in a meal but Kushari made it possible to enlist among the must-try food in Cairo, Egypt usually served with chili sauce to increase the heat of the flavors. It's a very local dish hence you can find it on every street corner of Cairo or just show up at your local friend's house. They will be happy to serve you with this instant combination of the dish. 
9. Ful Medames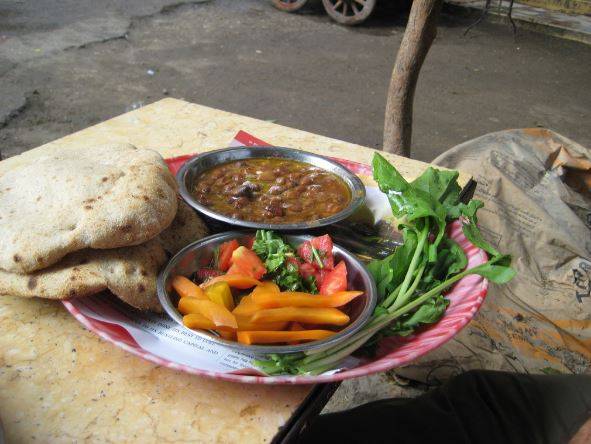 If you are done with Shawarma rolls on the streets then add up the guts to try another king of street food in Cairo, Egypt. Ful Medames is prepared with fava beans which is a staple breakfast dish in the entire Cairo. Ful Medames is usually served with loaves of pita or French bread or you can stuff it in between the bread layers to break it down into small-sized sandwiches.
Read More: Famous Food of California
You can find it best at: Gad, Felfela, El Gahsh, Arabiata
10. Kebab and Kofta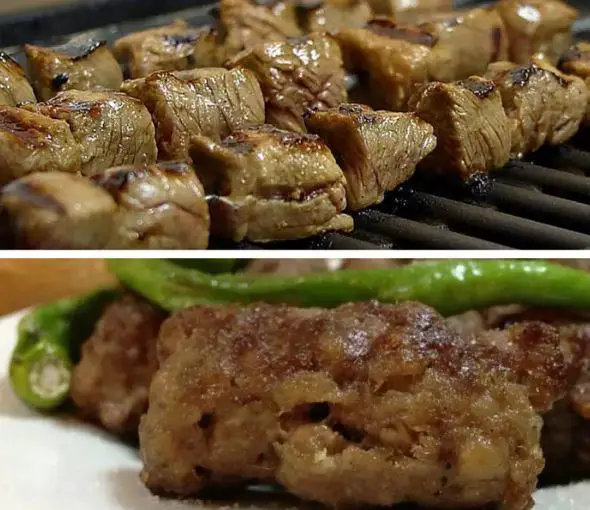 Who would visit Cairo and miss out on Kofta and Kebabs? I have not mentioned the types or varieties of kebabs here as they are infinite. Especially when you land up in a city that has both Turkish and Arabic influence, it's obvious that you will be served with a wide range of overwhelming Kofta and Kebabs. For those who still can't guess this amazing food of Cairo Kofta are the spongy meatballs made from minced beef or lamb with spices, rolled onto a skewer and barbecued over coals Whereas Kebabs are juicy chunks of seasoned beef cooked over coals on a skewer. You must not forget this food in Cairo, it would be a great regret later. If you feel anywhere like it's not enough rice, bread, dips, and veggies are served along with these items to fill you up perfectly.
You can find it best at: Shaker, Abou Shakra, Kebabgy Oriental Grill
11. Kebda (Liver) Sandwiches
Egyptians love the liver(obviously not the human one). You will find tonnes of street carts dedicated solely to serving kebda sandwiches which taste like heaven trust me! You have to give it a try. It is an acquired taste but I think it will be the best food in Cairo you will ever taste if you find the best ones. For that given below list will help you find the best Kebda in Cairo.
Read More: Foods in Denver
You can find it best at: Kebdet el Prince, Kazouza
12. Falafel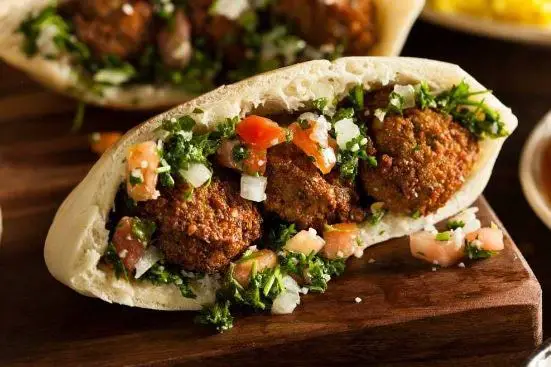 This is actually an Arabic cuisine that landed here as well locally people pronounce it as Ta'meya. It is a very simple dish made from chickpeas all around the globe but Egyptian's Ta'miya is made from fava beans. This is a top food in Cairo, Egypt which is a fresh combination of fava beans mixed with chopped cilantro, parsley, white onion, garlic, and leek. The mixture altogether is rolled into balls, and fried in oil. You can garnish them with sesame seeds if you like. Otherwise, just hop into any regular restaurant in Cairo and order it at very reasonable prices.
You can find it best at: Felfela, El Gahsh, Zooba
13. Sahlab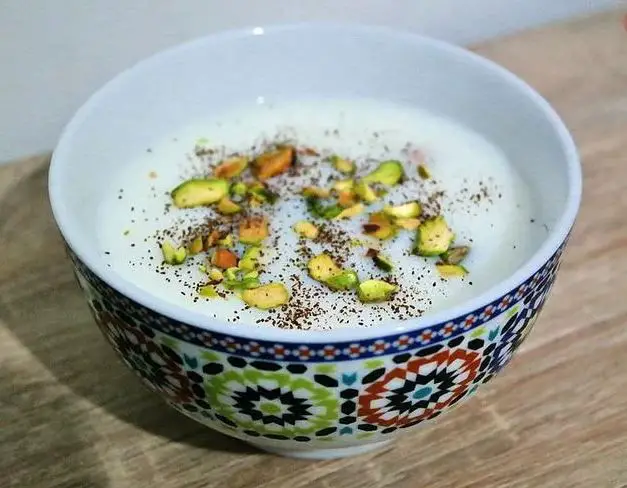 Let's do something about the people who have a sweet tooth. Well, this famous dessert in Cairo can be made anywhere. You don't have to find any particular restaurant with such specialties. It's just hot milk mixed with pure orchid root powder. This famous food of Cairo takes less than two minutes to be ready but yeah some delicious nutty toppings and extra secret ingredients can make it a heavenly dish. You will find toppings of a pinch of cinnamon, shredded coconut, crushed pistachio and maybe even some raisins, banana or strawberries. You can find small orchid powder sachets in the local market for instant preparation at home.
Read More: Food Markets in Amsterdam
14. Om Ali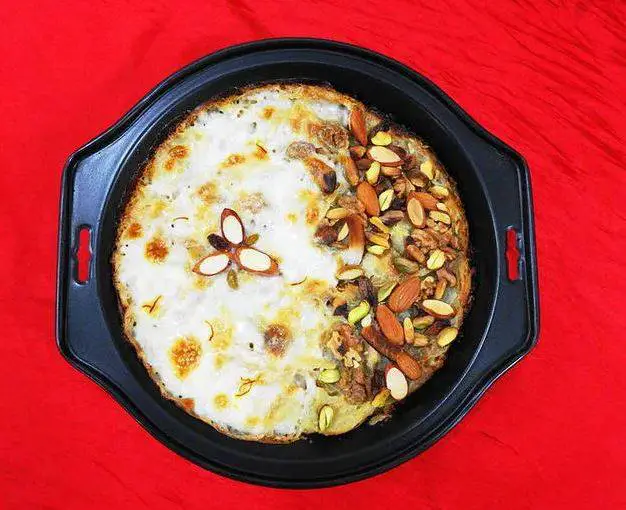 It's not some Indian Dessert a lot of people misinterpret it especially Indians. The translation of this dish is "mother of Ali, which definitely signals over some amazing story but let's just skip it and see what kind of deliciousness is mixed together to make this spectacular food of Cairo. This splendid food comprises filo dough or puff pastry, nuts, and milk yielding an Egyptian bread pudding which is much lighter and milkier than the European or American version.
You can find it best at: El Malky, El Sit Hosneya, Naguib Mahfouz Cafe
15. Baklava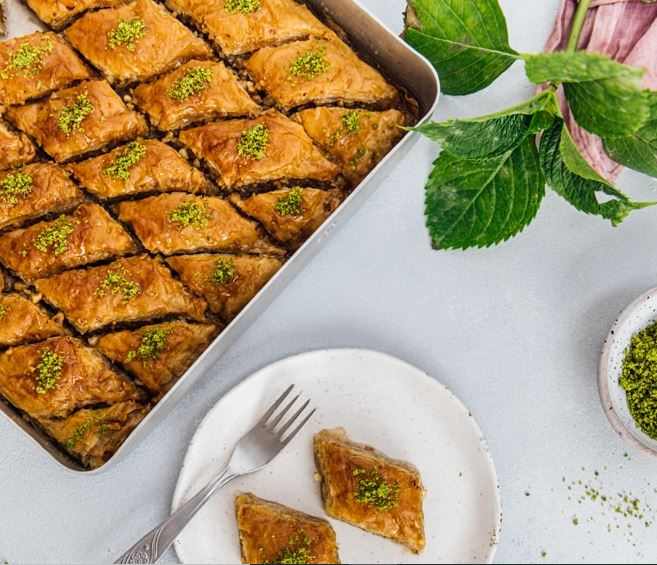 This is a famous Turkis dessert also available here in Cairo with some alternations of course. This is one of the best foods to try in Cairo which consists of crushed nuts baked between layers of filo dough and topped with sharbat or a sweet syrup. It so juicy and sweet that you might get a hangover or sugar rush so be aware that you don't consume a lot.
Read More: Street Food in Lisbon
You can find it best at: El Abd Bakery, Mandarine Kreider
16. Kunafa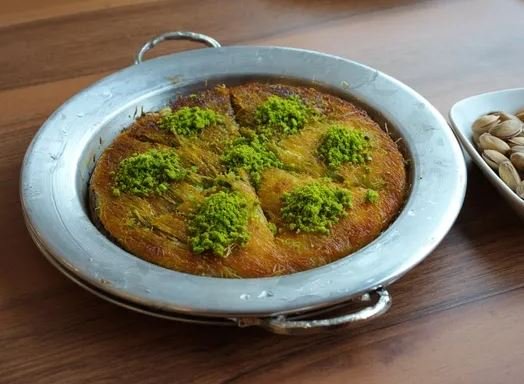 This is basically a thin and fluffy filo dough which is prepared just like Baklava but is crispier due to its thing layers which are usually topped with a lot of grounded pistachios that the food looks green after the topping or you can adopt the Cairo style of food by topping it with sharbat. This is available at any local bakery in Cairo. 
17. Basboosa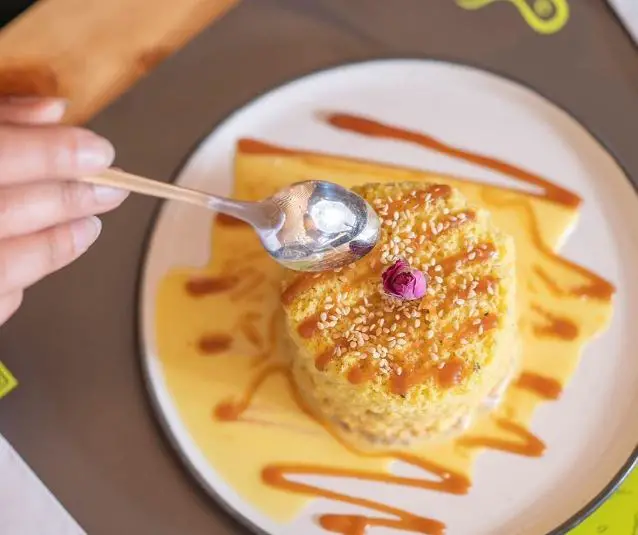 Finally, we make our way to Cairo's very own light and crumbly cake baked and topped with sharbat. This is a crowd favorite, especially amongst those having a sweet tooth for enduring the extra sugar and extra creaminess coming from the core ingredients of this food of Cairo which is semolina. People usually consumed it with some mint tea or Turkish coffee.
You can find it best at: El Abd Bakery, Mandarine Koueider
Read More: Seafood to Eat in Havana
18. Roz Bel Laban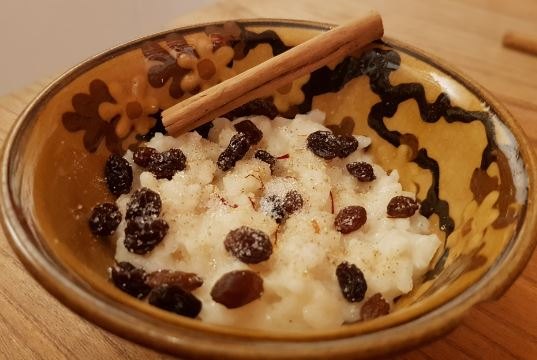 This is one of the famous Egyptian foods of Cairo which is basically a rice pudding prepared with rice and topped with pistachio pieces. It can easily make its way into everyone's plate due to its mild flavors hence its the most simple and satisfying dessert that everyone loves in Cairo!
19. Egyptian Pies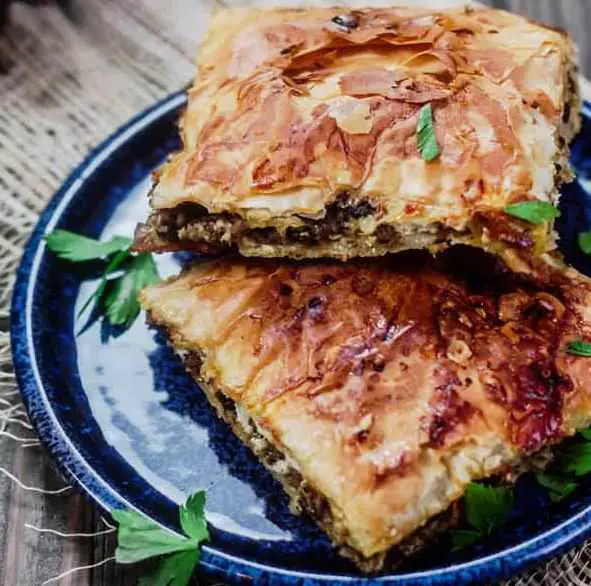 Well, what can be more American than a pie? But Egyptians have corrupted this also with their version of pies which are far more delicious and customizable. The dough of this well-known food in Cairo is spun super thin into large sheets and stuffed with your selection of fillings. You can try the cheese mix pie or their thick "chocolate mix" pie. I think no one can consume more than 3 pieces of this, which will easily fill you up for the entire day.  
You can find it best at: El Sultan
Read More: Foods in Istanbul
20. Fiteer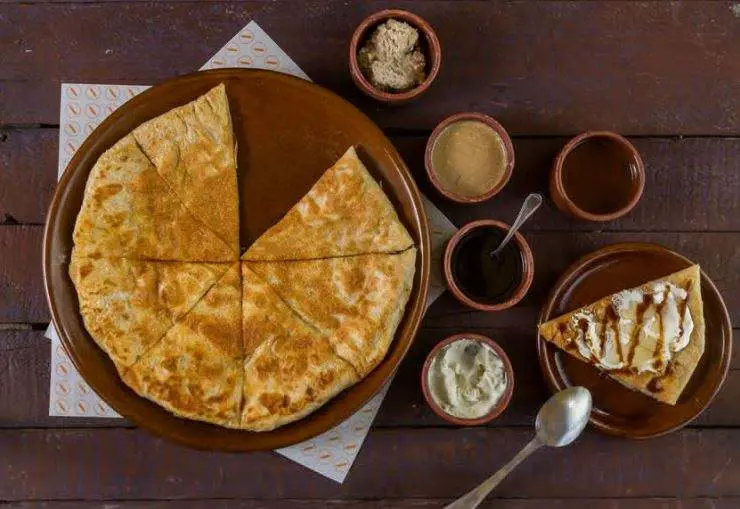 If you love pancakes you must try this Egyptian food of Cairo which is their take over pancakes made from many layers of thin, phyllo-like dough filled with either sweet or savory fillings and some may even be layered with icing sugar. My suggestion is to try it as a sweet dish with a dip in honey or pistachio powder. It will be the best dessert you could ever have in Cairo.




I hope you enjoyed this incredible entourage of best-known foods in Cairo which are on a whole other level. If you think they are just copies of Turkish or Arabic cuisines you are completely unaware of the famous foods of Cairo. So go out and try them on your own to register the delicious difference and in between if you feel extra-sugary pour them onto our comment sections below and share them with your friends as well.
The post 20 Best Foods in Cairo | Egyptian Foods to Eat in Cairo, Egypt appeared first on World Tour & Travel Guide, Get Travel Tips, Information, Discover Travel Destination | Adequate Travel.