It seems unbelievable that Paris's most iconic monument was originally just a temporary structure. It was put up by Gustave Eiffel for the Exposition Universelle in 1889 on the centenary of the French Revolution. Here we are giving you a list of the hotel near the Eiffel tower.  It's still very much here, still dazzling with its beautiful twinkling lights.  its vintage double-decker lifts, and its 2.5 million metal rivets. Some of the most astounding views are simply the metal structure when you're standing beneath. Here in this article, we will tell you about the best hotel near Eiffel Tower. Here is also a list of the selection of hotels that are just a short walk from the amazing tower in western Paris. Always remember that it can be as accessible crossing over the river from Trocadéro and the museums of Chaillot hill, as from the smart residential. Here we also reveal the average price and what special you can enjoy in your hotel near Eiffel Tower.
List of Hotels Near Eiffel Tower
1. Pullman Paris Tour Eiffel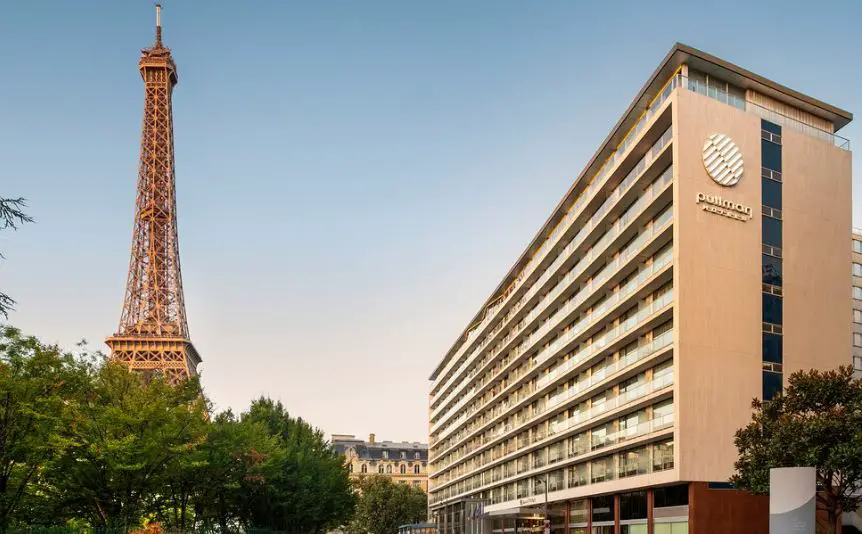 This hotel is worth the price of admission and a beautiful hotel near the Eiffel tower. It is located beside a bus traveled street which is handy. There are little cafes on the corners all around, so you are able to have our cappuccinos and croissants as you liked. The tower is a very short walk away, and all of the Big Buses and TukTuks are there and ready for you. Getting around will never an issue for you. It was clean and on par with others in the same price and area. You were always welcomed and addressed by the polite and humble staff. Its average price is about 20 to 20 thousand per night.
2. Le Cinq Codet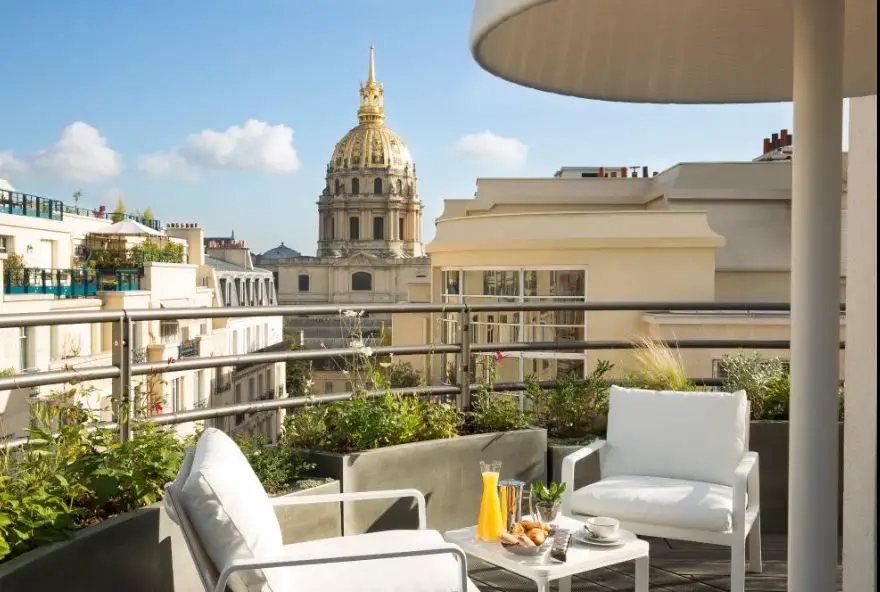 This hotel is just 15 minutes away from the magnificent Eiffel Tower is Le Cinq Codet, the most liking place for tourists all around the world. Marvel at the Eiffel tower from the comfort of your own room. Most of the rooms have panoramic views of the iconic symboL, get the best hotel with the Eiffel Tower view.
All rooms are air-conditioned with a comfortable seating area. Each room has a flat-screen TV, minibar and a coffee machine.this amazing hotel also gives you a mini Mac computer provided in each room.  It feels refreshed in the private bathrooms fully equipped with the basic toiletries. The breakfast is said to be the best pancakes and scrambled eggs. These all facility you can enjoy in only in 19-20,000 INR.




3. Hôtel de la Bourdonnais
This hotel is located in central Paris. It is just five minutes away from the Eiffel Tower. As a guest in Hôtel de la Bourdonnais, you will be proud to say that you are able to view the marvelous tower from your room's balcony. This hotel is a pure example of luxury at its finest each room features a flat-screen TV, a private bathroom with toiletries, and a coffee machine with a selection of best coffee and tea in France. If you ever feel all that isn't enough, ask the humble staff for a Samsung phone for you to use throughout your stay.This hotel is just 200 m to the Ecole Militaire Metro Station gives you direct connectivity to the Palais Garnier, while the Orsay Museum is nearly 1 mile away. The average price of this hotel is in just 12-13,000 INR.
Read More:Best hotels to stay in Venice
4. Eiffel Trocadéro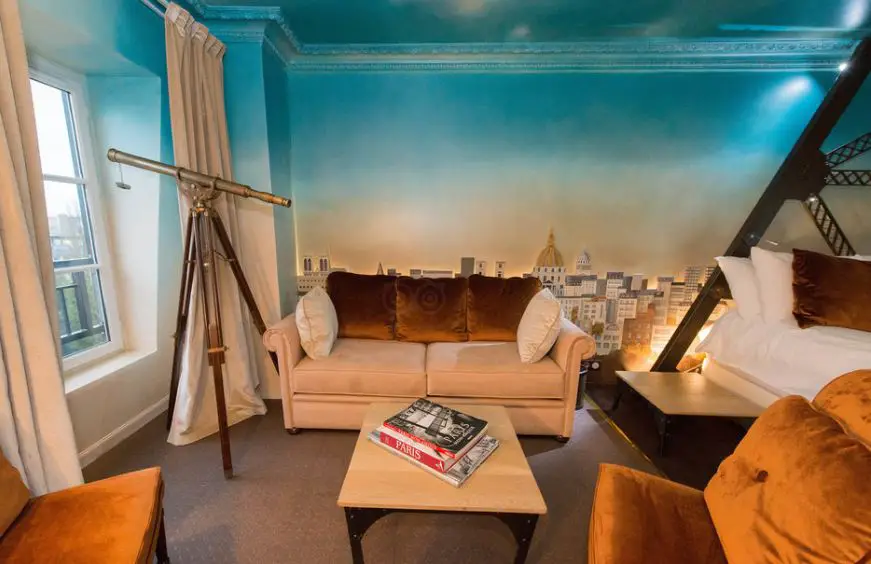 It is an eco-friendly hotel since the last decade. This 18th-century building overlooks the lush landscapes of the Gardens of the Trocadero. The Eiffel Trocadéro, a just seven-minute walk away from the stunning tower. Not all only some rooms offer you the ravishing view of the Eiffel tower, If you might lucky you can get those tower view room but we assure you that all rooms are fully-equipped with strong AC, a flat-screen TV, a minibar and a machine for making hot drinks. The unique thing about this hotel is that the rooms are all interestingly interior of period furnishings. a  historic and elegant touch that many will come to love this amazing hotel. A fair-trade and organic, breakfast is served every morning when the sun starts you can enjoy stone-walled bar serves shots. The Trocadéro Metro Station is just 180 m from the hotel, providing direct connectivity to the Arc de Triomphe. The Quai Branly Museum is just a 15-minute walk away. These all are hospitalities available in just an average price of 13-14,000 INR.




5. Le Parisis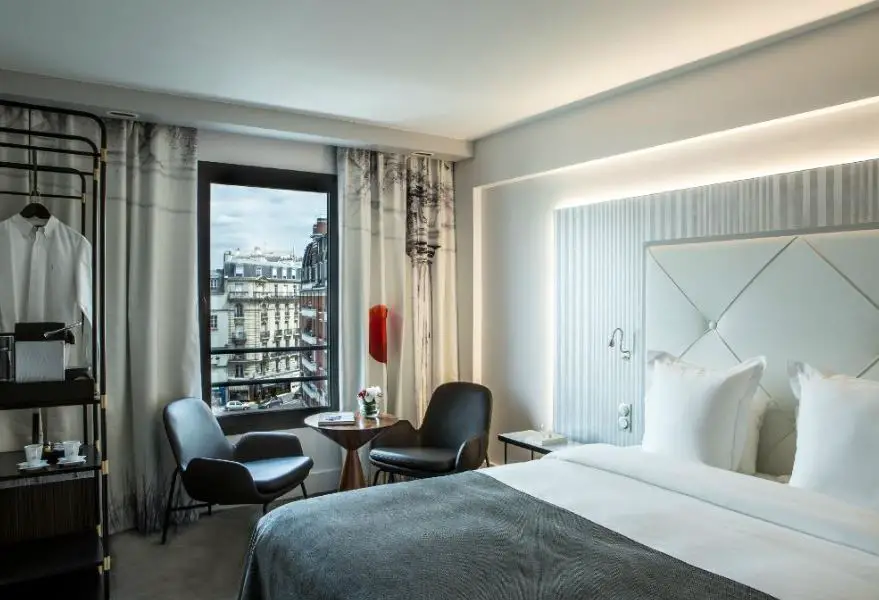 As the above hotel, there are only some rooms offer you the ravishing view of the Eiffel tower. You can admire France's iconic beauty from the large windows of your contemporary and luxury hotel room.  Each room designed daintily with a stylish interior. Expect soft colors, pearl mosaics, and comforting L'Occitane amenities to rock each makes a witness of that. An American buffet breakfast will be served every morning in the dining area.  the bar of this hotel comes to life every night with drinks and clinks. This hotel is great for travelers in love with intricate architecture and well-known monuments. The famous La Motte-Picquet-Grenelle Metro Station is just only 2 minutes away, where attractions such as The Arc de Triomphe and Place de la Concorde can be accessed from here directly. The average price of this hotel is just between 11,000 to 12,000 INR, visit thebest hotels in Beverly Hills.
6. Hotel du Champ de Mars (from INR 9,139)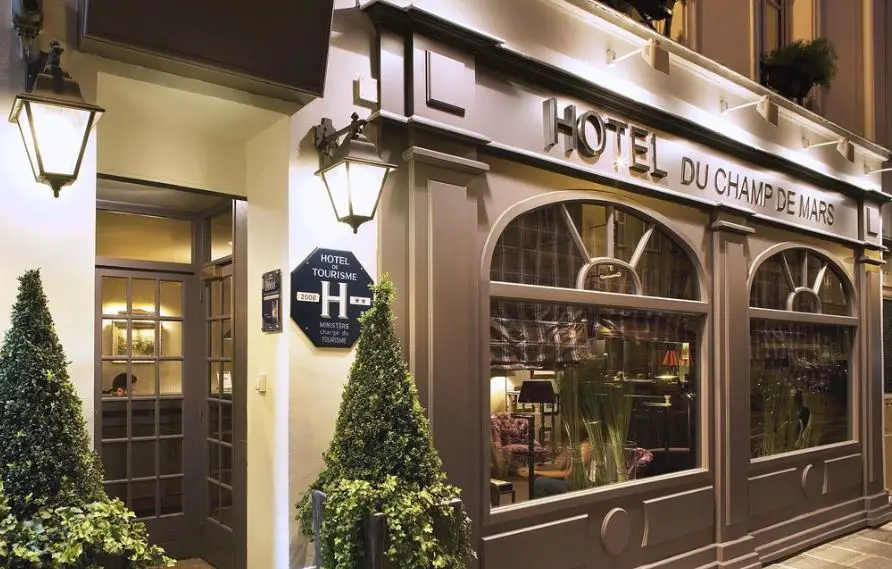 Each room of this hotel individually decorated with some boasting a balcony with the astonishing Eiffel tower views. You will get a flat-screen TV, a telephone, free toiletries and a hairdryer in the private bathroom.  If we talk about the distance from Eiffel tower it is just 12 minutes walk from this beautiful quaint hotel called the Hotel du Champ de Mars. this hotel is clean, serene, cozy with authentic French decor. This hotel is all praise when it comes to its good looks and helpful staff.   Breakfast can be provided every morning, and sometimes even to the doorstep of your room if you want. The world-famous Rodin Museum and the Musée d'Orsay are just a few steps away. The average price of this hotel available in just 9-10,000 INR, get thebest budget hotels to stay in Los Angeles.




7. Hotel Sezz Paris (from INR 17,453)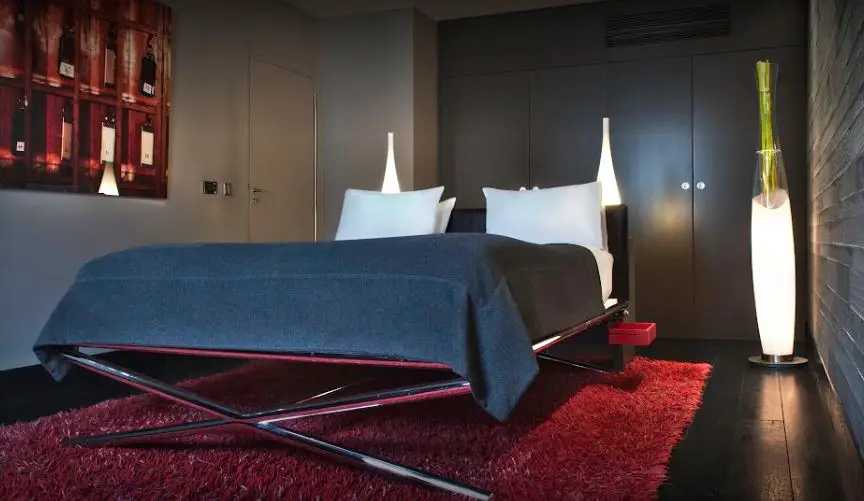 Each room is well-furnished with exposed stone walls, black hardwood floors, a wardrobe and a minibar for midnight snacks. They also give you an iPod docking station and luxury bathrooms with a rain shower. You always wait when night falls, for this impressive space boasts the first Veuve Clicquot champagne bar in Paris. You can take a sip on cocktails at the La Grande Dame bar. You can also arrange for a message from the Wellness Spa in the comfort of your own room. away. This hotel is admired for the best views of the Eiffel Tower, it just 12 minutes' walking distance. The average price is just 17-18,000 INR.
Don't Miss:Cheap Hotels to stay in Santa Monica
8. Hotel Marignan Champs-Elysées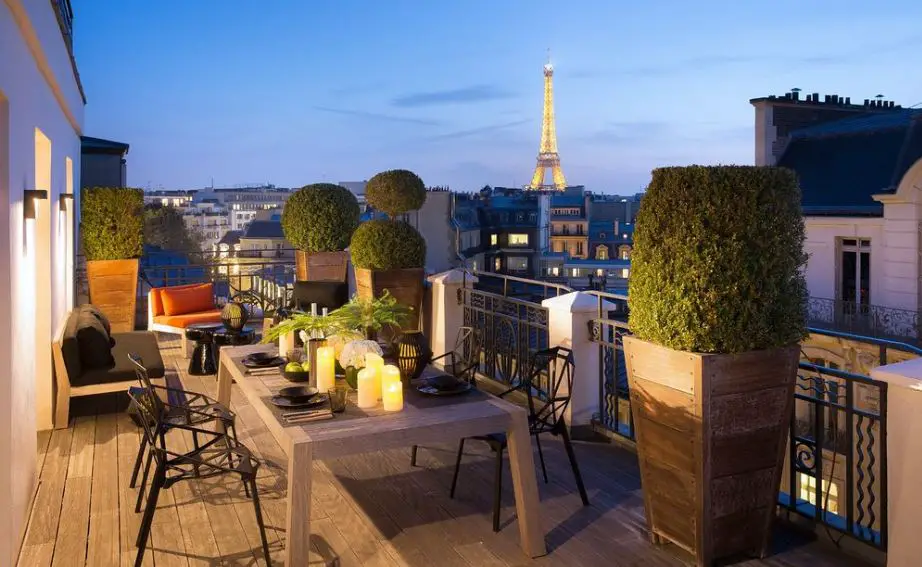 This hotel is a posh with five-star accommodation. It is situated between Avenue George V and Montaigne, just 20 walking minutes away from the Eiffel Tower. This hotel allows you to indulge in the wide range of facilities provided in and near this luxurious space. You get here the world's best restaurants, world-class bars, a cinema hall, and designer brands outlets like Cartier, Gucci, and Chanel. You can enjoy your stay in Paris with the best and wisest choice with an average price of 20,000 INR.




9. Napoleon Paris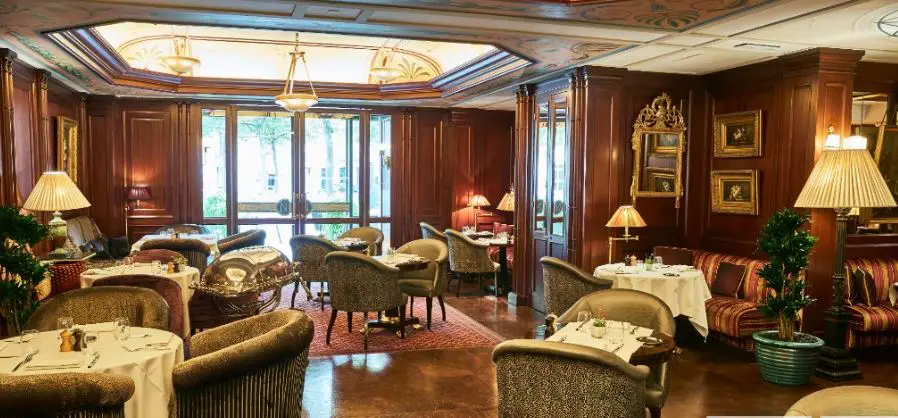 Most rooms and suites of this hotel overlook the quiet Avenue de Friedland. This hotel has a green interior courtyard that makes it attractive. There are two luxurious suites that give you a magnificent view of the Eiffel tower. Each room is fully equipped with an LCD flat-screen television, air-conditioning, and modern marble bathrooms. Dine-in Napoleon's most well-known restaurant in Paris city name the Bivouac Café. here you get the gourmet cuisine and bar has a sheltered terrace with a fountain. You can experience and sightsee in Paris.  the famous Arc de Triomphe is a just two-minute walk away, while the Parc des Princes Stadium is only 15 minutes away by car. The average price of this hotel lies in 20-21,000 INR.
Related Post:
10. Le Dokhan's a Tribute Portfolio Hotel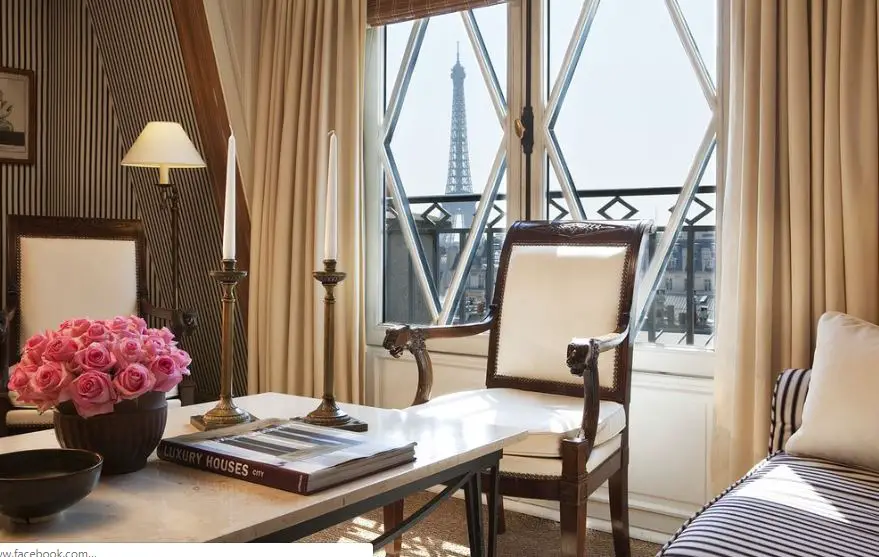 This is the authentic Parisian boutique hotel dating back to the 20th century.  Its elegant space is just a 15 minutes walk from the Eiffel Tower. Hotel is Eco-friendly with original engravings by the master of art Picasso and Matisse. You can experience and discover its intricately-decorated room. If you are looking for a chance to sleep within the sight of the marvelous Eiffel tower's beauty. Guests will be pleased to know that the nearest metro station is just 500 m away, Trocadero Station and the other tourist attractions like then France Miniature and Palais de Chaillot are just 10 minutes away. The hotel is available in 16-17,000 INR.




So these are the best hotels near Eiffel Tower, with respect to its price and hospitality. You can choose according to your pocket and comfort zone. You get also a cheap hotel near Eiffel Tower as well as a luxury five-star hotel.
The post Top 10 Best Hotels Near Eiffel Tower appeared first on World Tour & Travel Guide, Get Travel Tips, Information, Discover Travel Destination | Adequate Travel.