If you are planning your trip to France, especially with your children, you must be well prepared for all the fun activities you are going to include on your leisure trip. As 'kids means fun' they can't just lie on the beach sand while screaming to the sky 'this is the most fun trip of my life' surely to suffice the excitement you have to visit some of the best amusement parks, including the best water park in France. All kinds of slides, artificial lakes, and water games attract tonnes of kids from all over the world. There are more than 60 water parks in France, so worries! Wherever you are planning to spend your holidays, you can easily reach them on time. Here we provide you with the top 10 famous water parks in France which are completely affordable and full of exciting activities.
Top 10 Beautiful Water Park in France




Here is an overview of the top five
1. Aquariaz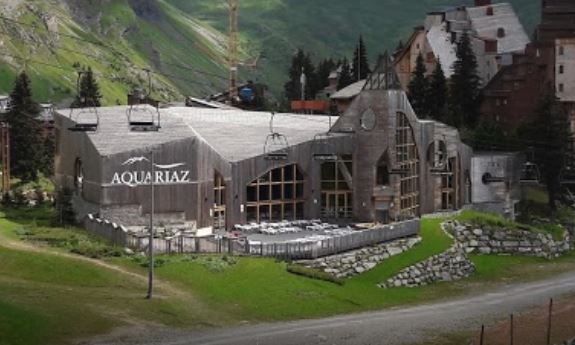 This is the best destination in France to have a unique experience of sliding through the Alps, at the highest water park in France. This is situated in the mountains of Avoriaz but no worries they open this water park for the whole year, which includes indoor pools, jacuzzis, saunas, hammams, water play areas. For overly enthusiastic people, sports courts and various other activities and sand games are arranged meticulously.  During winter, it will offer you good relaxation after a long day of skiing, and in summer, it is a good alternative to beach resorts. What else is better than this amusement park that settles up swiftly in any weather.
How to reach the Aquariaz Water Park?
Since it is situated in the mountains, you can rent a car or book a transfer, as the most hassle-free options. But if you prefer local routes like bus, then you will find regular buses at Cluses and Thonon stations. And if you are flying in, you should know that Avoriaz is located near the border of Switzerland and the nearest airport is Geneva. Then land on the Geneva airport where you can catch up, the regular buses going to the Cluses leading to the park.   
2. Splashworld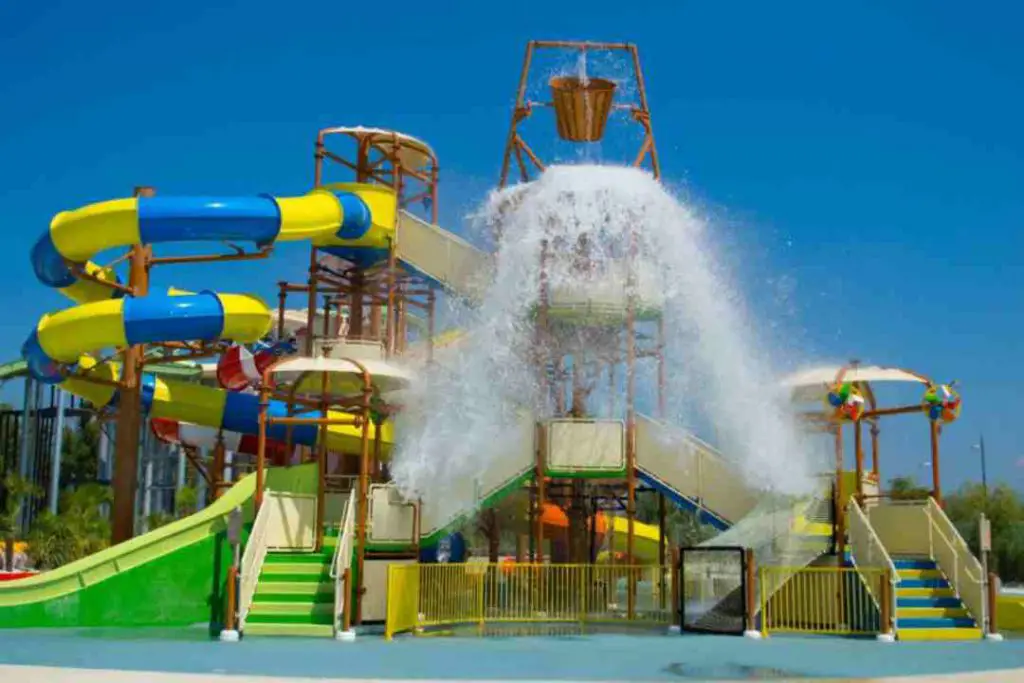 This is one of the most iconic parks in France to have a complete family vacation. This is also the first and largest water-themed park in France, situated in the Provence region, near Avignon. They can provide you, all kinds of leisure rides ranging from family rides till areas for younger children's fun. There are also different water slides, the largest lazy river in Europe and also the biggest surf simulator in the world. They open the water park during the summer season (from June to September) it is also suitable for people with disabilities. 
How to reach Splash World Water Park?
Splashworld is situated 17 km from Avignon, which makes it easily accessible by car. Its closeness from the bus station connects the water park with the train station of Avignon, making it easier for travelling by bus or train from other locations in France to reach the Splashworld in a hassle-free manner for tourists.
Read More: Water Parks in New York City
How to reach Splash World Water Park?
Splashworld has situated 17 km from Avignon, which makes it easily accessible by car. Also, the closeness of the bus station that connects the water park with the train station of Avignon, makes it possible for those traveling by bus or train from other locations in France to reach the Splashworld in a hassle-free manner.
3. Aqualand Frejus
For a more relaxing nature retreats infused with amusement, you must explore this water park with all your family. This place is located on the French Riviera and combines with the pleasures of Mediterranean beach resorts and large pools with slides. It offers family fun, like crazy race slides and magic slides. Don't worry about kids' sections as they also provide kids area with mini zoo water attraction, adrenaline fun with twister and kamikaze slides, etc. Besides, slides and attractions, it offers surf beach simulation and bubble baths for surfer enthusiasts.
How to reach Aqualand Fréjus Water Park?
Aqualand Fréjus is situated on the outskirts of Fréjus town. It is easily reachable on foot (about 30 minutes walk), or by car and taxi. You can use the train or bus to reach Fréjus, from all nearby towns (Nice, Cannes, Antibes, etc.).
Visit: Best Water Parks in Venice
4. Atlantic Park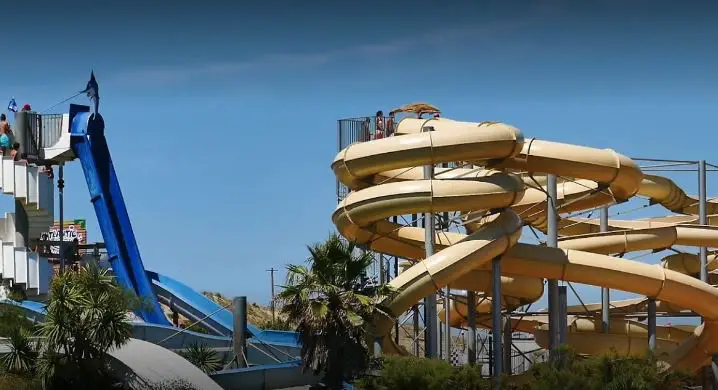 You must visit this water park in France housing heated pools and lots of water sports to explore. Atlantic Park is the biggest water park in Landes region which is located on the beach in Seignosse Le Penon, 3 km from lake Hossegor. They offer a unique experience of enjoying heated pools, waterslides and attractions while at the same time overlooking the ocean. Atlantic Park offers deckchairs for rent, individual lockers, and free wifi also. The water park is open between mid-June to mid-September.
How to reach the Atlantic Park Water Park?
Atlantic Park is quite easily reachable by car from Toulouse, Bordeaux, and Biarritz, and from Bayonne or Dax there is an RDTL bus line 7 in a direction to Seignosse which will bring you to the tourist office, from where you can walk to the water park while following the signs.
5. AquaPark Bergerac
This is one of the best water parks in France if you are thinking of enjoying all the sporty activities with your partners. As AquaPark Bergerac is also known as Junior Land Park, it offers waterslides, swimming school for the youngest, sports area like beach volley, table tennis, billiards, canoeing, trampoline and relaxation area like sauna and hammam, spa, fitness etc. AquaPark is open between mid-May to late September.
How to reach AquaPark Bergerac?
AquaPark is situated in Bergerac town, in Dordogne area which is close to Bordeaux and Perigueux. It can be easily reachable by car (50 minutes drive from Perigueux, 1.5 hours from Bordeaux) or by train or bus.
6. Aquaboulevard Water Park
People are usually infused in the essence of romance in Paris, but you can't expect much from the kids who are always in search of some games and fun. Therefore this famous water park in France's capital Paris is the perfect zone to have some fun with your kids. This is an indoor park which owns a large sports complex, tennis courts and a fitness centre that makes up for a great day amusement zone. Those who want drier activities can spend their time watching classic movies in the cinema complex with their beloved partners while their children are having fun under safe guidance. They also don't allow children younger than 3 years of age for safety reasons.
7. Aqualad Water Park
This park lies under a large pyramid on Le Touquet beach in France. Le Touquet is a chic fun-loving resort situated close to the Channel port of Calais. You have to be prepared as the weather in this part of France can be unpredictable, but the park has managed to acquire both indoor and outdoor areas, suitable for all weathers. Hence you can enjoy either way at this top water park in France has an indoor area which is heated to a temperature of approximately 80 degrees Fahrenheit for a perfectly relaxing vibe and weather. They feature a giant wave pool, twister slides and a hot tub. If you love the roller-coaster mishaps then try the Black Hole ride, where you travel to the top of the pyramid before its fall hastily down at very high speed into a pool.
8. O'Gliss Park
This is one of the most amusing water parks to visit in France that you will never forget to come again. O'Gliss Park is located in Nogent Le Bernard offering a great range of slides for different ages. They have a complete safety measure set for the comfort of little kids and adults. You can also enjoy delicious food and drink available easily in the nearby stores. And be prepared to arrive early as the queue keeps on increasing with the passage of time which you have to beat from your regular spec shade and sunscreens. This park is very clean and well maintained where you can enjoy and explore some of the fantastic flumes and attractions to spend your vacations.
Address: Route de la Tranche Sur Mer, 85540 Moutiers-les-Mauxfaits, France
9. Aquavillage Park
This park is located in the Hyeres region of France. They usually consider it to be the one the most popular water park in France that is specially arranged for your visit to Aquavillage Parc and discover more family-friendly tourist attractions in Hyeres. The most booming season to visit this amusement park in France is during the end of August but that brings lots of crowds hence don't expect it to be isolated. They have everything to impress people of all tastes and all ages to enjoy their finest happiness.
Address: 2049 Boulevard de la Marine, 83400 Hyères, France
10. Waterworld Lake of Gaudrade
No, no its not some magical destination's name but the activities you are provided in this Waterworld lake of Gaudrade are making this destination among the most-visited water parks in France, located in Puget-sur-Argens. This is a fun zone for any age group, therefore, you need a perfect location to make them occupied with the things they are passionate about high water rides. You can float over these pools with the help of safeguard vests which makes everything feel safe and suitable for kids as well. If you want some extra open space then don't visit during weekends and in mid-July as this place is super crowded at such times. 
Address: Chemin de la Gaudrade, 83480 Puget-sur-Argens, France
Don't miss these interesting Post 
I hope you look forward to visiting these amazing places with your loved ones and do follow along with the above-mentioned list of best water parks in France and if you are really interested in visiting the water park in France, then do explore the mentioned destinations and for more engaging blogs and best tourism advice in Paris contact us or just ping us in the comment sections below. If you liked our post please like it and share it with your friends.
The post Water Parks in France – 10 Best Water Parks in France appeared first on World Tour & Travel Guide, Get Travel Tips, Information, Discover Travel Destination | Adequate Travel.