Possibly more than other cities in the world, Rome is a true mix of old and new which is briefly explained by the tourist guide for Rome. It's a city that flaunts its ancient history while it continues to evolve. Rome Travel Guide will prove you how It's a living and breathing city, ie it's always crowded, dirty, noisy, full of scooter drivers, and is a little rough around the edges. It's also beautiful and its narrow side streets and ancient ruins are romantic and magical, so despite its shortfalls, Rome is the many people's favorite city in the world and if you are planning the trip to Rome then kindly go through these Rome travel tips.
Rome Travel Guide – Travel Tips for Visiting Rome
1. Colosseum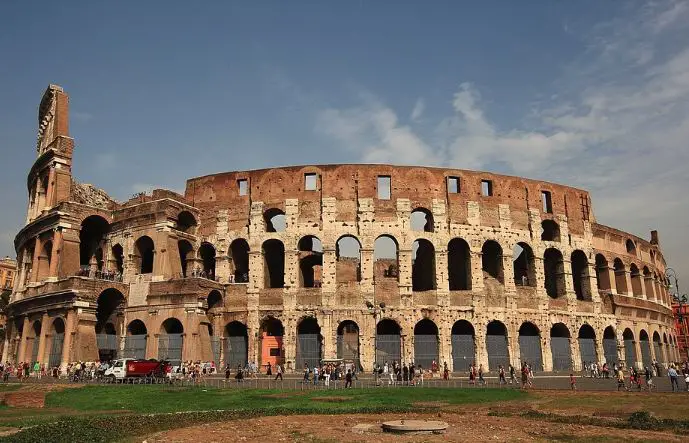 Colosseum is also known as Flavian Amphitheatre, As the Eiffel Tower is to Paris, the same as the Flavian Amphitheatre is to Rome. Colosseum is the largest structure that left to us by the Roman antiquity, it provides the model for sports arenas, the present-day football stadium is designed on this oval Roman plan. Visit the Colosseum facts to discover more about it. The Colosseum was mainly used for theatrical performances, festivals, circuses, or games.
Address: Piazza del Colosseo, 1, 00184 Roma RM, Italy
Architectural style: Ancient Roman architecture
Open hours: 8:30am–7pm(Daily)
Construction started: 70 AD
Height: 48 m
2. The Pantheon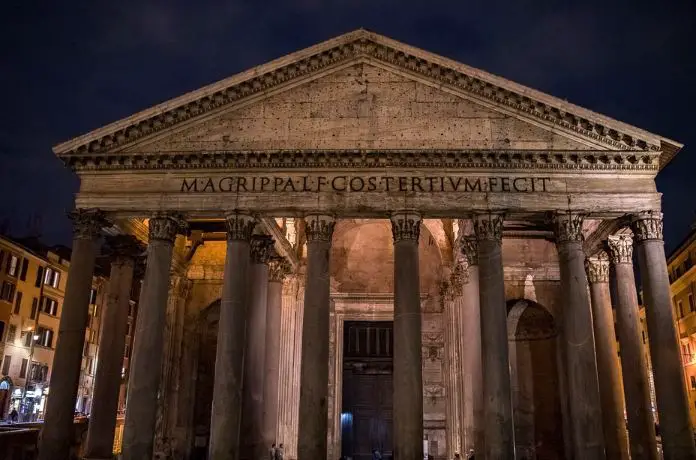 Pantheon is a former Roman temple, but now it a church. It was completed by the emperor Hadrian and dedicated about 126 AD. the date of construction of Pantheon is uncertain because Hadrian chose not to engrave the new temple but rather to retain the inscription of Agrippa's older temple, which had burned down. It is a well-preserved monument of Roman antiquity and is remarkably intact for its 2000 years.
Address: Piazza Della Rotonda, 00186 Roma RM, Italy
Architectural style: Ancient Roman architecture
Height: 43 m
Open hours: 9am–6pm(Tue-Sat), 8:30am–7:30 am(Sun), 9am–6pm (Mon)




3. Roman Forum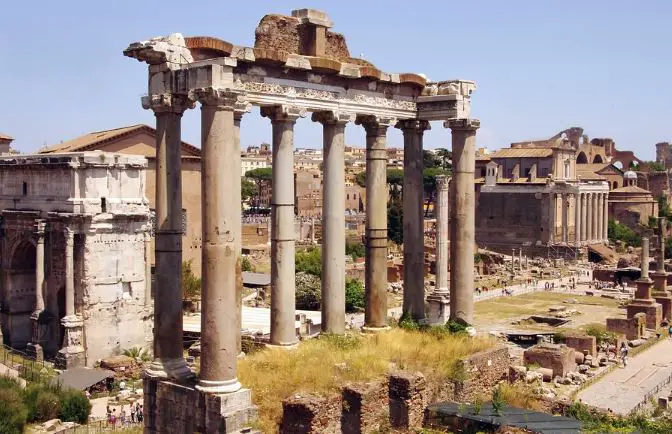 The Roman Forum is also known as  Forum Romanum, it is a rectangular forum surrounded by the ruins of several ancient government buildings at the center of the city of Rome. Citizens of the ancient city referred this space to a marketplace, as the Forum Magnum, or simply the Forum. For centuries it was the center of day-to-day life in Rome: the site of triumphal processions and elections, the venue for public speeches, gladiatorial matches, and the nucleus of commercial affairs. Here statues and monuments solemnize the city's great men.
Read More: Roman Forum Facts
Address: Via Della Salara Vecchia, 5/6, 00186 Roma RM, Italy
Open hours: 9am–7pm (daily)
Did you know: Roman Forum is open daily from 8:30 a.m. to an hour before the sunset.
4. Trevi Fountain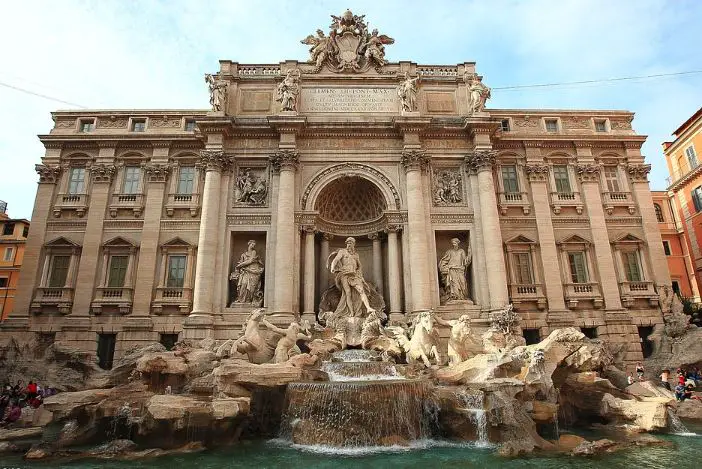 Rome tour guide tip is telling you that the Trevi Fountain is a fountain in the Trevi district in Rome, Italy, which was designed by Italian architect Nicola Salvi and was completed by Giuseppe Pannini. it is the largest Baroque fountain in the city and one of the popular fountains in the world. The fountain has appeared in most of the notable films, including Federico Fellini's La Dolce Vita. The fountain at the junction of three roads marks the terminal point the Acqua Vergine, the revived Aqua Virgo, one of the aqueducts that supplied water to ancient Rome. to know more about the Trevi Fountain read on the Trevi Fountain Facts.
Address: Piazza di Trevi, 00187 Roma RM, Italy
Construction started: 1732
Completed in Year: 1762
Dimensions: 26.3 m × 49.15 m (86 ft × 161.3 ft)
Architects: Nicola Salvi, Giuseppe Panini
Did you know: No trip to Rome would be complete without tossing a coin in the Trevi Fountain to ensure you come back to Rome.




5. Centro Storico & the Spanish Steps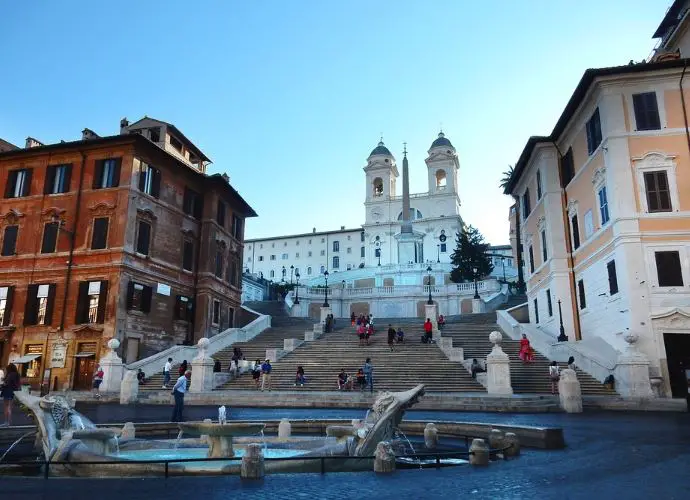 Rome tour guide allows you to explore about the Spanish Steps which are a set of steps in Rome, Italy, climbing a slope between the Piazza di Spagna at the base and Piazza Trinità dei Monti, dominated by the Trinità dei Monti church at the top. Take a look at a Rome travel guide, and you'll notice one very famous area that it's hard to read the street names. This is the historic center of Rome, with lots of art-filled churches, resplendent palaces, and lively squares that you could spend your whole vacation strolling its ancient streets and lanes.
Address: Piazza di Spagna, 00187 Roma RM, Italy
Opened: 1725
Architectural style: Baroque architecture
Design: Francesco de Sanctis
Did you know: The Spanish Steps got this name from the Spanish Embassy to the Holy See which was located in the piazza.
6. Palatine Hill
The Palatine Hill is the centremost of the Seven Hills of Rome and is ancient parts of the city, to explore more about it read the Palatine Hill Facts. It stands 40 meters above the Roman Forum, looking down upon it on one side, and Circus Maximus on the other. Imperial palaces were built there, from the time of Augustus. According to Roman mythology, it was the location of the cave, known as the Lupercal, where Romulus and Remus were found by the she-wolf Lupa that feed them and kept them alive.
7. Piazza Navona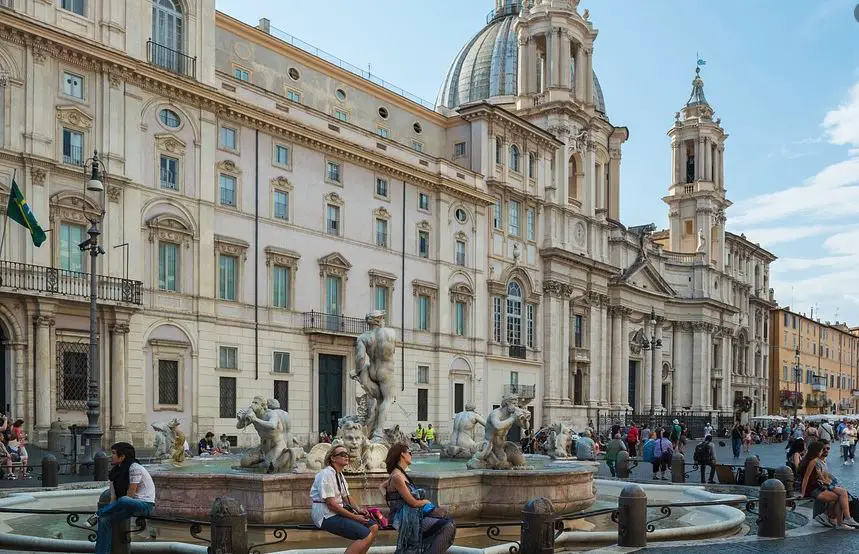 Piazza Navona is a square in Rome which is built on the site of the Stadium of Domitian, built in the 1st century AD, and follows the form of the open space of the stadium. The ancient Romans went there to watch the agones ("games"), and hence it was known as "Circus Agonalis" ie the ("competition arena"). It is believed that over time the name changed from avone to Navone and eventually to Navona. It is used in festivals and for horse races during the Middle Ages and was rebuilt in the Baroque style by Borromini, who had also designed the splendid series of the palace and the church, on its west side.
Address: Piazza Navona, 00186 Roma RM, Italy
Architectural style: Baroque architecture




8. Borghese Gallery and Gardens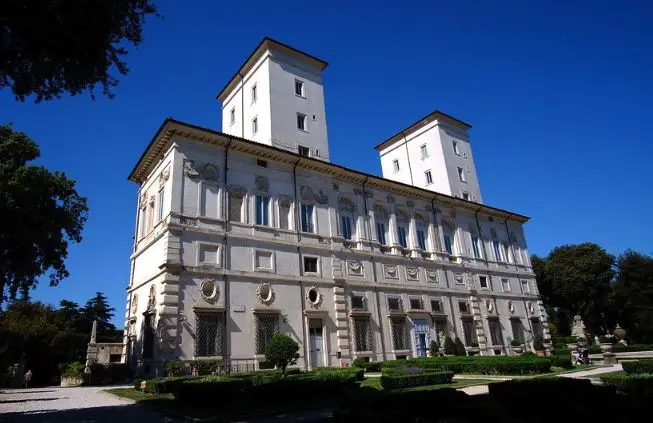 It is one of the best and largest parks in Rome, the Borghese Gardens contains two museums, among which the most prominent one is the Villa Borghese. Built as a party villa and the gallery contains paintings, sculptures, patchworks, and reliefs, most from the 15th to the 18th century, and also include works by Raphael, Titian, Caravaggio, and Rubens.

This park is an English-style landscape garden, having walking paths and ponds, where you can rent a rowboat. You can rent bikes to explore the park. There is a zoo, Bioparco di Roma, with naturalized enclosures and a miniature trail connecting its various sections. A number of its attractions proclaim to children, including playgrounds, weekend pony rides, and occasional puppet shows.
Address: Piazzale del Museo Borghese, 5
9. Baths of Caracalla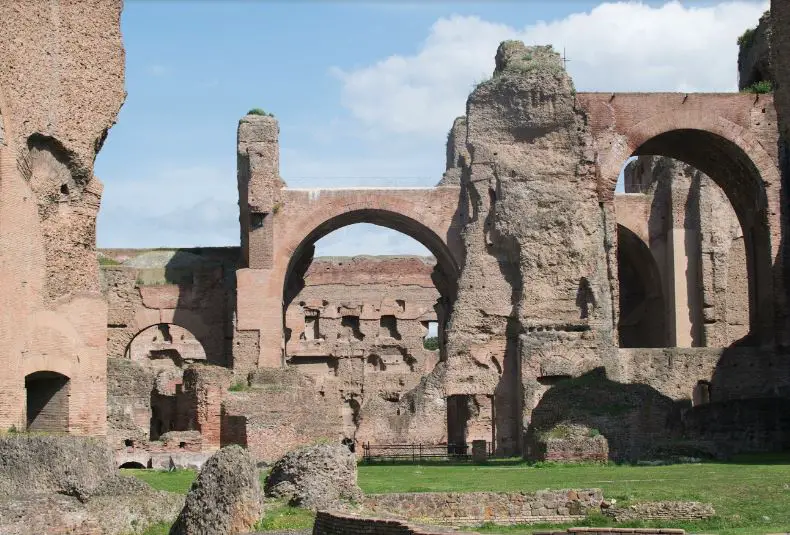 The Baths of Caracalla in Rome were the city's second largest public baths, which was built between AD 212 (or 211) and 216/217, during the reigns of emperors Septimius Severus and Caracalla. Until the 530s  they were in operation and then fell into disuse and ruin. It was a complete sports center, having hot and cold baths, swimming pool, dry and steam saunas, some social rooms, gardens, libraries, hairdressers, gymnastics and sports facilities, and shops. This massive and imposing structure covers the area of 300 square meters, a complex of gigantic halls whose domes and arch, were supported by huge columns. It was so huge that it could accommodate up to 1,500 people at a time. The floors and walls are covered with marbles, patchworks, and paintings.




Read More: Baths of Caracalla facts
Address: Viale delle Terme di Caracalla, 00153 Roma RM, Italy
Open hours: 9am–6:15 pm, closed on Sunday
Architectural style: Ancient Roman architecture
Probably Founded: 212-216/217 AD
Did you know: The Baths of Caracalla were mainly built to hold around 1,600 bathers at a time and could accommodate up to 8,000 people a day.
10. Santa Maria Maggiore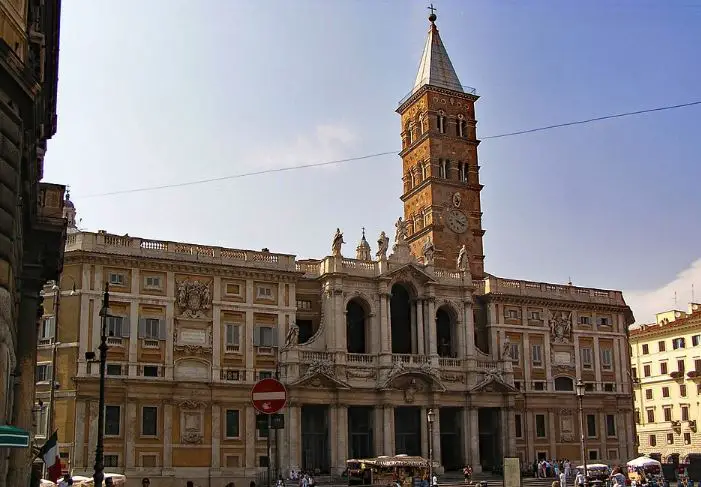 It is one of Rome's most kingly churches, it has stood there since the fourth-century Pope Liberius had a vision of the Virgin directing him to build a church where snow fell on a certain day. Although it was August,  next morning there is the snowfall on the Esquiline Hill and so here the great basilica was built. Three corridors are there of its 86-meter-long interior are separated by 40 columns of marble and four of granite

Address: Piazza di Santa Maria Maggiore, Rome
Construction started: 435 AD
As we have explained the best places to visit in Rome, So in other articles, we have also explained the best places to in Paris.
Best Places to Stay in Rome




Since we are sharing with you the Rome travel tips, so here we recommend your some best places to stay in Rome, These are the best luxurious hotels.  
1. Grand Hotel Fleming 4 stars
    Address: Tor Di Quinto, 00191 Rome, Italy,
2. Hotel Cristoforo Colombo 4 stars
    Address: Eur & Garbatella, 00144 Rome, Italy
3. Hotel Milton Roma 4 stars
    Address: Central Station, 00185 Rome, Italy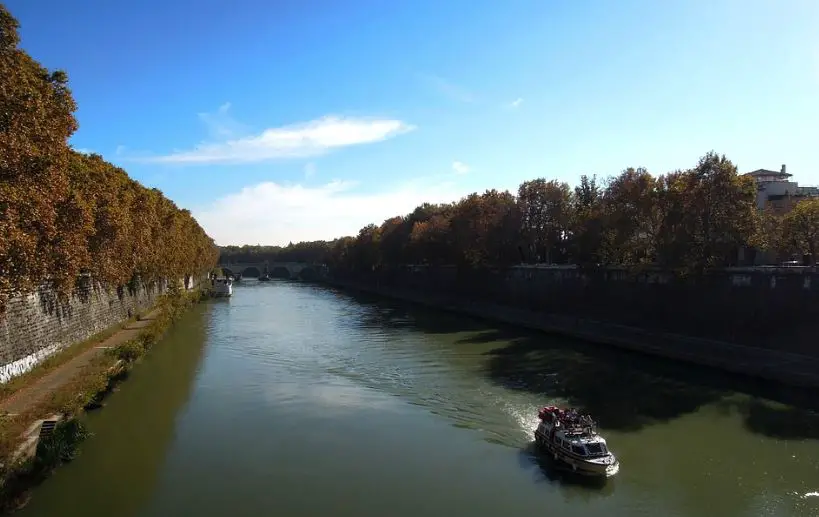 Best Time to Visit Rome
As here we are providing you the Rome tourism, therefore we are also including the best time to visit Rome, we have explained all the times from high seasons to the low season when tourists mostly prefer to visit there.
High Season

(May through mid-September)

Shoulder Season

(mid-March through early May, mid-October through November)

Low Season

(late November through mid-December, mid-January through early March)
Here you got the information regarding the best time to visit in Rome, but if you are interested to gather information about Paris then read the month by month visit to Paris.




Don't Miss
So far we have provided you the Rome tour guide which provides you the Rome travel tips and Rome tour guide tips. Here we have included things like best places to visit in Rome, places to stay in Rome and the Best time to visit Rome as per the tourist view. Interested to discover the brief information about Rome then have the help of other articles which provides your complete Rome traveling information. Like the article and share your views in the comment section. 
The post Rome Travel Guide – Tourist Guide For Rome appeared first on World Tour & Travel Guide, Get Travel Tips, Information, Discover Travel Destination | Adequate Travel.