The Basilica du Sacré-Coeur, in Paris, is the most visited tourist site in France.  Here we are giving you a list of the hotel near the Basilica du Sacré-Coeur. its breathtaking view over Paris. But it is also a place of history and culture, where you will have a choice between several monuments, "can't miss" sites and restaurants. In the evening, the touristic excitement decreases and is replaced by a more homelike ambiance. If you want to dig further into this unusual place, you'd better book a hotel. Here we let you know well about the pocket-friendly Top 10 Hotel Near Basilica du Sacré-Coeur and where you can feel comfortable like never before.
Basilica du Sacré-Coeur Hotels List
1. Maison Souquet
The Maison Souquet is located in the district of Pigalle near the Moulin Rouge and Montmartre Hill. This hotel is worth the price of admission and a beautiful hotel near Near Basilica du Sacré-Coeur. The metro station Blanche. A few miles away from the establishment, will take you straight to the Champs-Elysées and Père Lachaise Cemetery. This former 9th district cathouse, which was turned into a luxurious hotel, will ensure you have an exceptional holiday. Its baroque decoration creates a cozy and comfortable atmosphere and takes you into a dream world. You'll be enchanted by the indoor swimming pool and the spa, get the best hotels near Notre Dame.  you can enjoy some massages and beauty services. Breakfast will be served either in your room or as a buffet. What's more, you can ask for room service at any time on simple demand and snacks will be brought up to you.
Price- € 340 per Night
Address- 10 Rue de Bruxelles, 75009 Paris, France
2. Hotel des Arts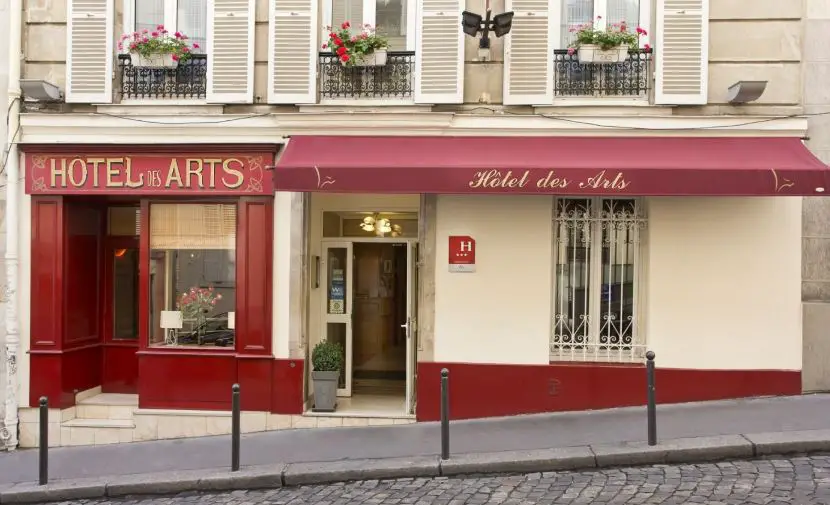 Hotel des Arts provide modern and comfortable rooms with the opportunity of a view over Paris roofs and over Montmartre sometimes. This is one of the best hotels near Basilica du Sacré-Coeur in Paris. In case you want to relax after an exhausting day, the bathrooms are wide and there is a television. The staff cares about their customers' needs, which will guarantee you spend a nice trip in Paris. As for the hotel services, the establishment provides ticketing and room services, and a Wi-Fi connection. You'll enjoy a buffet breakfast in the dining room or in your room on demand, read about Hotels Close to Arc de Triomphe.
Price-
€ 100 per Night
Address-
5, rue Tholoze, 75018
3. Mercure Paris Montmartre Sacré-Coeur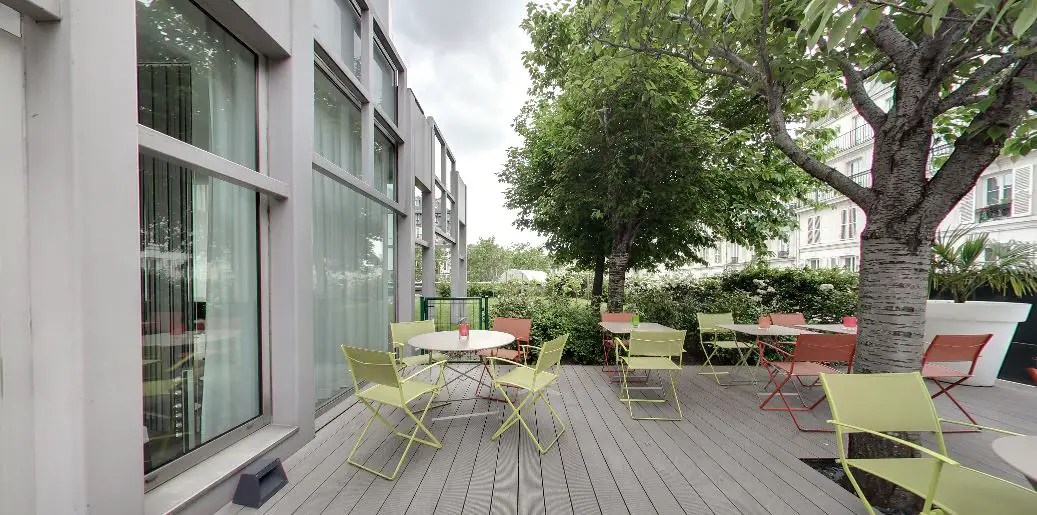 The Mercure Paris Montmartre Sacré-Coeur is a luxury hotel near Basilica du Sacré-Coeur. It is a tall building. It is composed of more than 300 rooms, which was refurbished recently. Rooms are comfortable, and some of them even provide a view over Paris roofs, or over the Eiffel Tower, an option you can ask for while booking. Some rooms also have balconies, and you can go to the garden on the first floor, for a touch of fresh air on this quiet street. The hotel also comprises a fitness center; thus, you'll keep on training, even during your holidays. After your gym session, let's go for a drink at the bar from early morning to late at night.
Price- € 100 per Night
Address- 3 Rue Caulaincourt – 75018 Paris – France 
Read More: Hotel near Eiffel Tower
4. Arvor Saint-Georges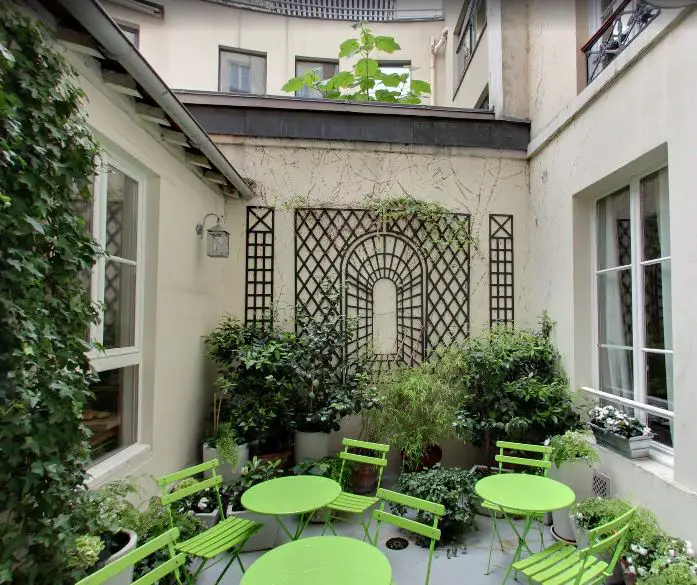 This comprises around 30 comfortable, homey rooms. They are organized like flats and you won't be lacking in anything. This family business offers a very cozy setting, including common areas and a patio, all boasting a summer garden style, even during winter. The staff is pleasant and obliging. They will listen to you and care about anything you want, especially your preferences for the rooms. Breakfast will be served in the dining room or on the patio. It includes quite generous French products: you'll never leave the table on an empty stomach. This hotel is very  close to Basilica du Sacré-Coeur,
Price- € 75 per Night
Address- 8 rue Laferriere – 75009 Paris – France




5. Hôtel Brittany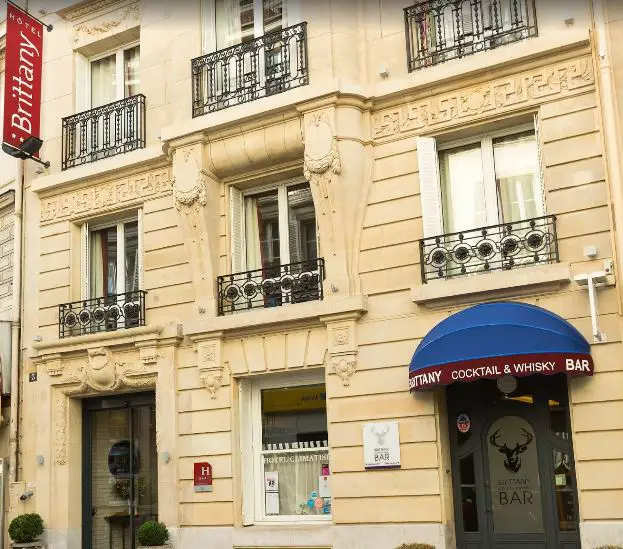 The hotel was entirely renovated in an English and Scottish style with very comfortable common areas that inspire relaxation. The homey bar is open the whole day and serves a large choice of cocktails and whiskey for fans. Buffet breakfast will be served in the dining room with a wide range of products. You can also have it in your room, which is very nice if you book a room with a view over Paris and the Sacré-Coeur Basilica, get thebest hotel with the Eiffel Tower view. 
Rooms have high-quality bedding and a quite roomy bathroom. You will also have the opportunity to savor a hot drink in your room using the equipment provided. For the most elegant of you, there is Franck Provost hair salon inside the establishment, and the good thing is, you don't need to make an appointment.
Price- € 87 per Night
Address- 3-5, Rue Saint Lazare – 75009 Paris – France
6. Hôtel Bienvenue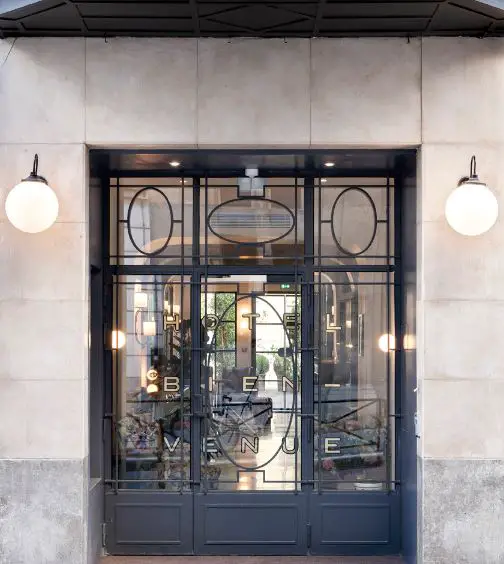 You'll feel like home in this hotel, thanks to the caring staff's hearty welcome. The decor is refined, and very French, which will make you dive into a very Parisian atmosphere. The rooms are wide, comfortable, and elegant. Extra point, toilets are separated from the bathroom, which is not common in a hotel. When summer comes, you will appreciate having your breakfast in a lovely backyard, full of plants. You can also eat breakfast in your own private room, so as to enjoy the past-like charm of this Parisian hotel in the best way possible.
A living room is available for customers, there you will read international newspapers delivered every day. You won't miss any news about the world. 
Price- € 133 per  Night
Address- 23, rue Buffault, 75009 Paris




7. Hôtel Palm-Astotel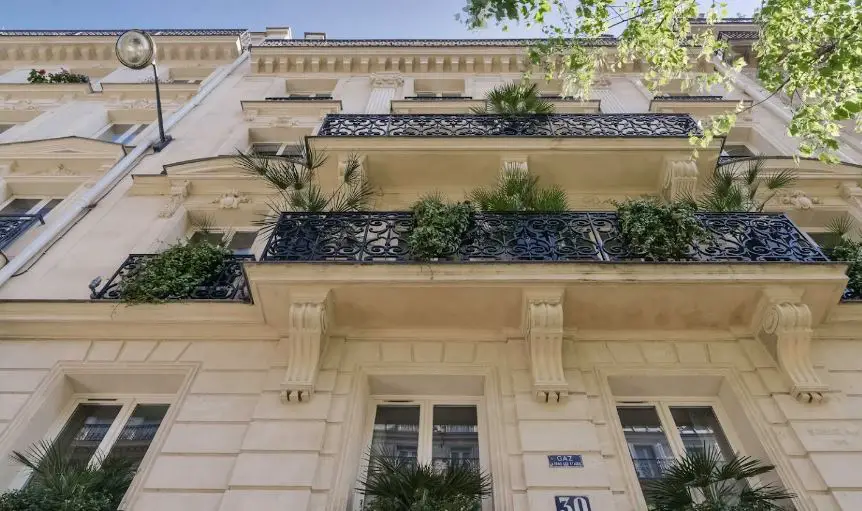 The Hôtel Palm-Astotel is located in the renowned rue de Maubeuge, hotel closest to Basilica du Sacré-Coeur in the 9th district. It is ideal if you travel by train since the railway stations and tube/RER stations Gare du Nord and Gare de l'Est are easily reachable from there. The Opéra Garnier is only 15 minutes' walk away and Montmartre Hill is 20 minutes away. In the rue de Maubeuge itself, there is a wide variety of restaurants. The rooms are comfortable and cozy. This is a family hotel, and that is why the rooms are wide and adapted to children. They are soundproofed so that the place remains quiet in such a lively area.
Price- € 81 per Night
Address- 30, rue de Maubeauge, 75009
Read More:Best hotels to stay in Venice
8. Hotel Chat Noir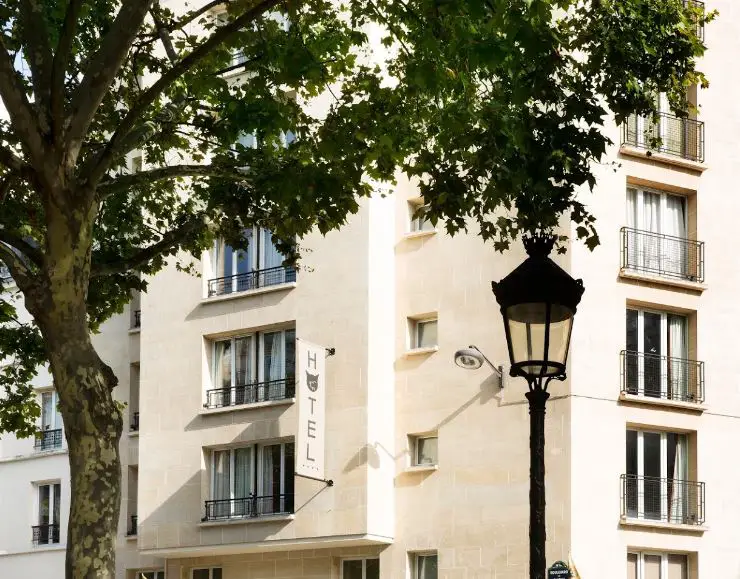 Hotel Chat Noir is located on the Boulevard de Clichy, two blocks away from Pigalle and 15 minutes' walk away from Montmartre. The street is very dynamic and lively: you'll find several bars and restaurants that participate in the Parisian and popular atmosphere of the neighborhood. Some of them even have a panoramic view of Paris and some others are equipped with a balcony. In order to pay tribute to the cabaret, the hotel has dedicated every floor to a famous Belle Epoque artist. Rooms are soundproofed and well-equipped; the bathroom comprises a bathtub or a walk-in shower. You'll be given very useful advice to explore Paris. The staff will be at your disposal during the whole stay. Your buffet breakfast will be varied and plentiful.
Price- € 97 per Night
Address- 68, boulevard de Clichy, 75018




9. Hôtel Opéra Frochot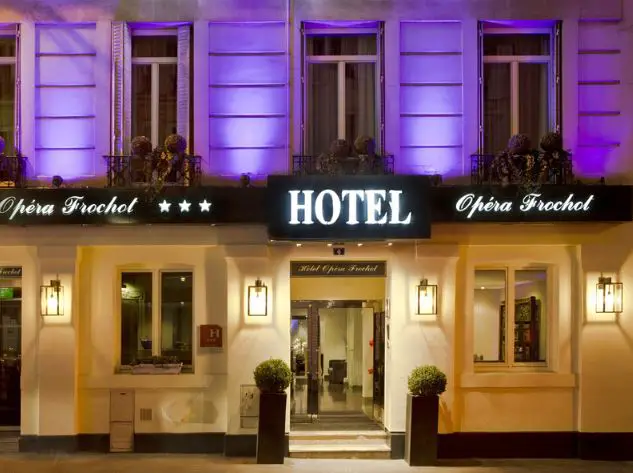 Hôtel Opéra Frochot, at the heart of Pigalle and 0.1 miles away from the corresponding station, was recently renovated. Montmartre Hill and Saint-Pierre fabric open market are both 15 minutes' walk away. The location is ideal! The street is vibrant, abounding with bars and restaurants that will suit every taste.
The bathrooms are quite simple; however, you can ask for a bathtub when you're booking your room. The superior rooms also comprise armchairs and a coffee table so that you can take some rest. Every room includes a Nespresso coffee machine. If needed, an ironing board and a flatiron are also available.
Price- € 89 per Night
Address- 4, rue Frochot, 75009
Related Post:
10. Hotel Luxelth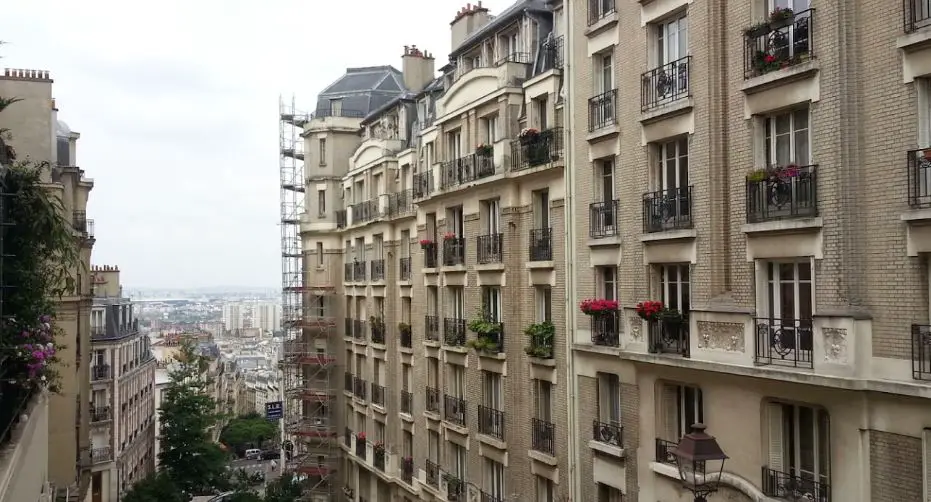 This 18th district hotel is ideally located in the heart of the neighborhood of Pigalle and Montmartre and one of the cheapest hotel near Basilica du Sacré-Coeur. The hotel's street is very quiet; nonetheless, it is close to many shops and restaurants. The metro station Pigalle is accessible 0.1 miles away and the Sacré-Coeur Basilica is 10 minutes' walk away. This hotel comprises 40 modern and sober rooms with good value for money. They are bright and roomy, just like the bathrooms. The toilets are separated from the bathroom, which ensures further comfort, especially for family rooms. The room is neat and clean, and the bedding is good.
Price- € 60 per Night
Address-13 rue Houdon – 75018 Paris – France




Here we will tell you about the pocket-friendly and Best Hotel near, where you can feel comfortable like never before. Just for you  Basilica du Sacré-Coeur. So these are the best hotels near Basilica du Sacré-Coeur, with respect to its price and hospitality. You can choose according to your pocket and comfort zone. You get also a cheap hotel near Basilica du Sacré-Coeur, as well as the luxury five-star hotel.
The post Best hotel Near Basilica du Sacré-Coeur Paris France | Hotel Basilica du Sacré-Coeur Paris  appeared first on World Tour & Travel Guide, Get Travel Tips, Information, Discover Travel Destination | Adequate Travel.