Taipei is a very busy city in Taiwan after all the capital city has to maintain its status among others. But the more interesting fact lies when you can experience that fame in terms of food. Food is the best way to know a city hence the famous food in Taipei needs perfect guidance so that you don't have to wait for hours outside the wrong food places that end up in disastrous food experiences especially when the city serves a lot of unconventional food that you never eat usually such as the intestines of pork. Therefore I mention here the top 10 foods to try in Taipei with their exact descriptions and particular places where you can find the best of them at very affordable rates.
List of Foods to Eat in Taipei
1. Mee Sua(Taiwanese-Style Vermicelli)
Taipei is one of the top metro cities in Taiwan hence you can find a lot of cuisines that are a mixture of various classic dishes. Alike those dishes you can try the Vermicelli take of Taipei that includes oysters or large intestines that are soft yet chewy. These slurpy cuisines are the rock star in entire Taiwanese foods. Taste-wise Mee Sua is savory-spicy goodness with silky thin vermicelli that leads this regular dish in becoming the famous food to eat in Taipei representing their incredible taste under the affordable prices so that anyone can easily try these fascinating foods in Taipei.
2. Niu Rou Mian(Beef Noodle Soup)
Another, slurpy noodles along with delicious soupy textures which is a famous delicacy of Taipei especially the noodles that are made with "Dao Xiao" style which means knife-cut, or referring to the way the noodles are cooked which includes hand-shaving a huge block of dough into fine noodles and putting them straight into a boiling pot of the broth. These uneven cuts of noodles are chewy and thicker in the middle and thin on the edges that infuse a signature taste in this popular food in Taipei that has tender beef chunks floating all over the soup.
Read More: Things to Buy in Taipei
3. Taiwanese Fried Chicken
If you miss your popcorns or nuggets you can try the Taiwanese take on the famous chicken fry where the Fried Chicken consists of bite-sized chicken coated in potato starch having salt, pepper, garlic and basil leaves that is deep-fried at the end in rice bran oil. You can find this food in Taipei especially in the night markets where they sell it just like an alternative version of popcorn chicken that you can eat while strolling around different shops via holding their walk-friendly packages. You must try the Shi Yun's Fried Chicken that is popular in entire Taiwan for this dish-cum-snack.
Read More: Famous Monuments of Colombia
4. Scallion and Daikon (Radish) Pancake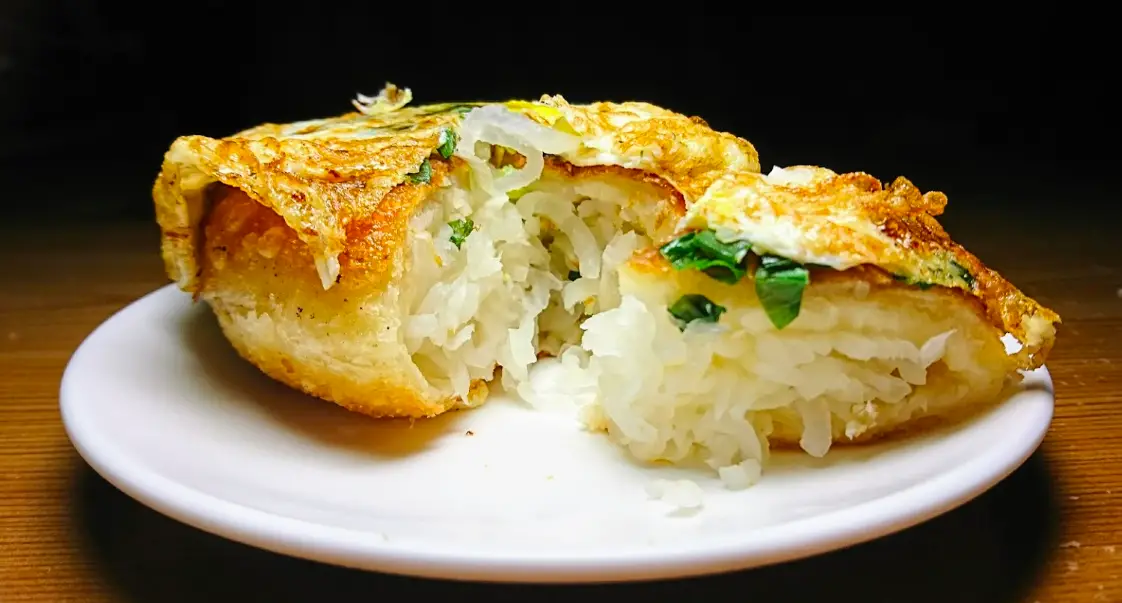 You might find it hard to understand the local language but the smell of these pancakes is the prime signal along with long lines outside the shops especially during the evenings that make sure that Scallion pancakes are ready to serve. Scallion pancake is a wonderful food to try in Taipei as the perfectly chewy fillings on the inside and crispy coating on the outside will later become your favorite too. The daikon pancakes, in contrast, are much thicker than the scallion pancakes and most of the filling is fresh daikon wrapped in a crispy deep-fried batter that tastes super delicious. You must visit Wenzhou Street to try the best pancakes.
5. Taiwanese Spicy Hot Pot
This idea of serving is a common thread in different Asian countries such as China, Japan, Thailand, and Vietnam where you can find different variations of these hot pots that use a variety of raw ingredients (meat, vegetable, tofu, dumplings, and seafood) to master their art. Taiwanese Hotpots are the local food in Taipei that is eaten on a regular basis and you can find a lot of combinations that include different types of meats and herbs. Hot pot is the perfect dish to try during cold months due to their spicy nature. Go to Tai Ho Dien for the best Taiwanese Hot Pot meals.
Discover: What is Shenzhen Famous for
6. Hu Jiao Bing(Pork Pepper Bun)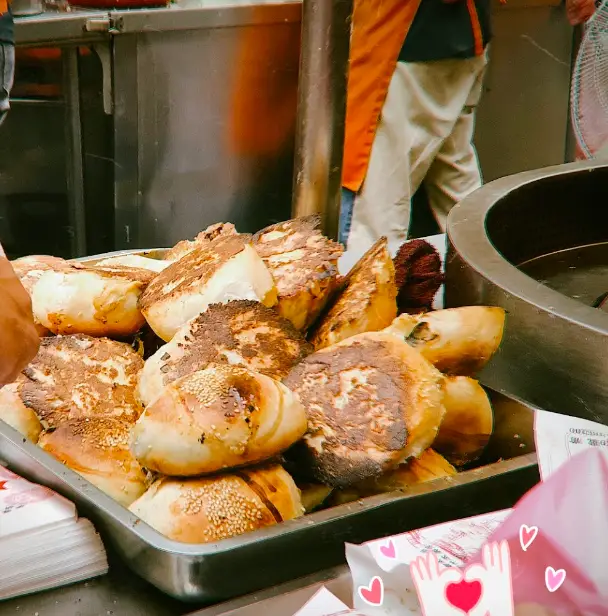 Almost all Asian countries have one extra meat source which is super famous among the Chinese and Koreans that is 'pork'. You can find tonnes of ways to consume this meat. For Muslims, it's definitely not a halal food in Taipei but for others, this bun can be the lifesaver in extreme hunger as it's filled with peppery minced pork that is tender, juicy, and very peppery that in the first bite you can enjoy top Taiwanese flavors all at once. So do try this pork bun especially at Fuzhou Pepper Buns in Raohe Night Market, where the bun is also freshly baked by the store.




7. Lu Rou Fan ( Braised Pork Rice)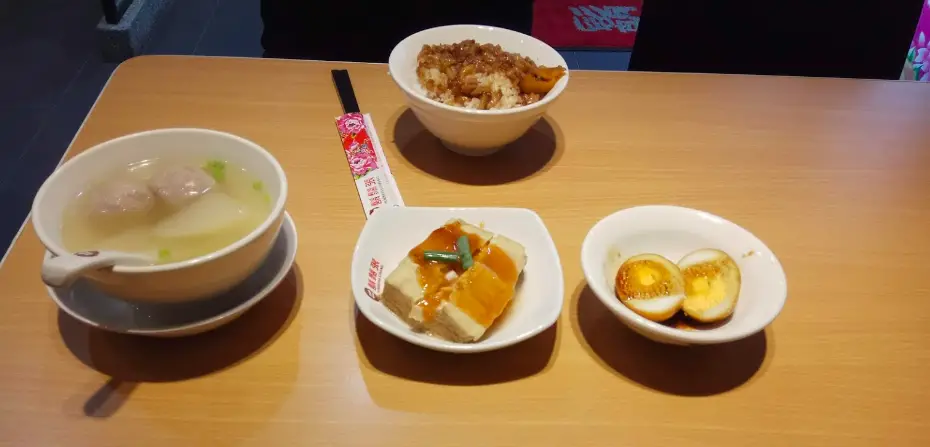 This pork dish is the best meal to suffice your hunger. It is a very simple but comforting dish, that consists of small cubes of braised pork marinated in thick, dark gravy sauce. The sauce is served over piping hot steamed rice on your table which is a fabulous experience to see all the flavors seeping into every grain of rice. You can mix the meat gravy sauce into your rice as well, which makes this dish the best food in Taipei, Taiwan. Visit Jin Feng Lu Rou Fan for trying the best Lu Rou Fan.
Also Read: Best Cities in Taiwan to Visit
8. Pork Intestine & Oyster Noodle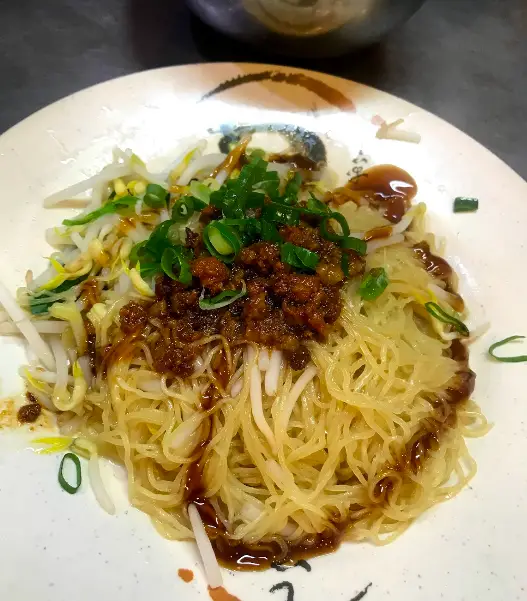 Besides the soupy vermicelli which might not look as appealing, you can try the Oyster noodles individually that are really soft and slippery that you have to use a proper soup spoon for eating them along with the pork intestine that makes the whole mixture thicker. Hence all those who love the thick gravy kind of soups this is the top food to eat in Taipei that you can get almost everywhere over the streets.
9. Dan Bing
For starting a perfect morning in Taipei you must know the best breakfast dish of the town. As there is a lot of authentic breakfast food that might not impress your taste buds as their bland taste is not everyone's cup of tea. Dan Bings are basically thin pancakes with eggs that are stuffed with a variety of fillings from bacon and tuna to cheese and sweetcorn. So there's a dan bing to suit everyone's tastes.  It's the staple item of local food in Taipei, Taiwan that you must never miss.
10. Pineapple Cake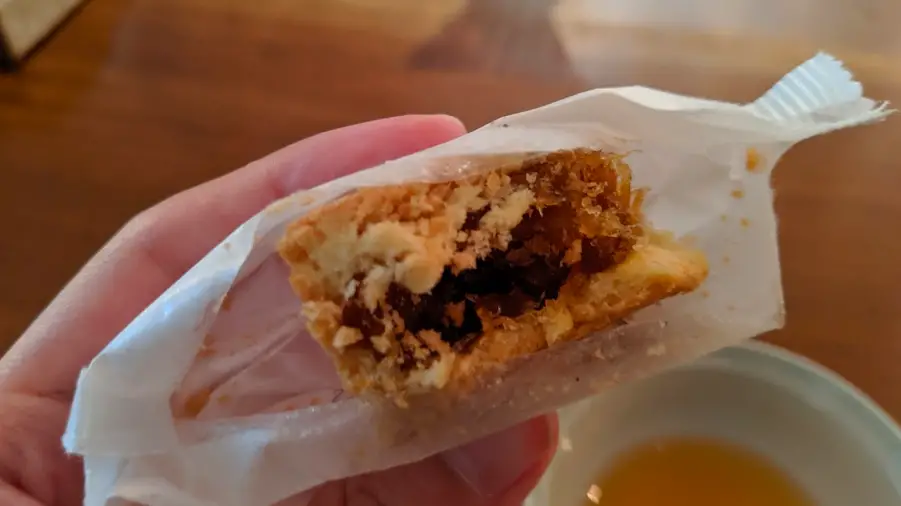 Let's end this delicious food tour of Taipei with something sweet that is often brought back as a souvenir from this city. Pineapple cakes are a popular delicacy of this city as they hold a very ancient cultural significance that took Taipei in the higher economic sections. In older times Japan used to export pineapples as an exotic fruit to Taipei that later started its own cultivation of these fruits to stay in the markets. This led to the invention of a sweet delight which is now everyone's favorite dessert in Taipei. You can buy fresh Pineapple cakes from Amo Bakery in Taipei.
Don't Miss: Famous Beaches in Taipei
I hope you enjoyed this delicious food in Taipei, Taiwan that is not only fascinating in appearance but holds some interesting flavor combinations. Along with the list of top foods in Taipei, I have also tried to mention the best places where you can explore these popular cuisines in their best forms. So, Follow our other blogs for more engaging travel Infos and do comment below if you like this blog.
The post Top 10 Foods to Eat in Taipei Taiwan | Best Foods in Taipei appeared first on World Tour & Travel Guide, Get Travel Tips, Information, Discover Travel Destination | Adequate Travel.