Jerusalem can be the most troubled city regarding the government and systematic matters across the globe but such conflicts sometimes cover the famous foods of Jerusalem which are so delicious and can never be found elsewhere in the world registering these as the popular foods in Jerusalem. The finite combinations of 3 different religious groups of Christian, Jews and Muslims end up here with the discovery of unique and extraordinary cuisines making it among the cities which serve the best food in Jerusalem.
So, let's start the tour of these amazing mouth-watering dishes which will definitely make your tummy run:
Some of the best foods in Jerusalem are
1. Falafel
You might have heard or eaten this dish in various versions around the world but the unique flavors and preparation method makes the cuisine an extraordinary dish here, marking it as the topmost food in Jerusalem among all the dishes. These are made with ground chickpeas and flavourful herbs-n-spices to make your palate overwhelmed by the flavors of garlic, cumin, coriander, and chickpeas all at once. It can be eaten directly or as a side chutney or sauce for the various special chips and bread of Jerusalem. 
2. Hummus
Who'd visit a middle eastern city and don't end up with hummus in their side plates during the morning breakfasts or lunches? It's almost impossible to not try hummus here! They might be very ordinary looking but the taste is filled with creamy textures of various seeds and nuts grounded finely and blended with some of the best foods of Jerusalem. Garnished with fresh tahini and olive oil it amazes every tourist to such extent that they say it on their own that this is Jerusalem's best food among all. Along with being super tasty and creamy, this nutritious staple food is available at very affordable prices. Some think it is a side dish but for a local or low wage earner in Jerusalem, it can be a daily main course meal combined alongside onion, pickles, hot sauce and fresh pita bread. This famous food of Jerusalem is served best at the open-air Mahane Yehuda market in Jerusalem with an extra dose of oil and fresh herbs.
Read More: Cities in Cuba
3. Schnitzel
This is the best breakfast in Jerusalem which is made with veal(meat of young calves) elsewhere around the world but in Jerusalem, it's prepared with chicken breast making it incredibly tasty and popular among the tourists and locals as well. It can be served on a sandwich or served with hot fries. It tastes super delicious in any way possible. It is an Israeli cuisine with a European heritage and it can be found anywhere over the streets served to simmer hot sometimes with Jerusalem's special Shawarma. 
You can even ask for a free touch of Zhug which is a Yemenite hot sauce for a little spicy touch(just like wasabi you must add only little, otherwise we know what happens!) in your sandwich.
4. Shakshuka
This is another popular food of Jerusalem  which might be hard to pronounce initially but very easy to eat. It is filled with heavy nutritious contents hence its among the famous breakfast in Jerusalem which is served as a staple food. This dish consists of poached eggs that are poured in the spicy tomato sauce seasoned with pepper and heavily sprinkled cheese making it more creamy in texture and crispy with the roasted tomatoes. You might find it a bit over the top if you have a habit of eating tasteless half fried eggs in your breakfast but since there is a large influence of Arab culture in whole Israel it will be filled with creamy nuts and spices everywhere in Jerusalem.
Visit: Cities in Honduras




5. Bourekas
These are the true signature dishes of combined European and Middle Eastern cuisine as from the outside you might think of them as just another pastry but it holds different tempting flavors inside. This comes under the traditional food in Jerusalem's cuisine. These are baked pastries filled with a variety of fillings such as cheese, savory spinach or potatoes(also known as Pareve instead of Boureka). It was brought by Jewish immigrants from Turkey. This is served fresh in all the streets even the delicious aroma is spread all around the place so you might not need to open your google maps to find it! It has become the best street food snack in Jerusalem due to its cheap price and abundant availability in Israel, especially during the morning hours. As these are stuffed with nutritious stuffing, people prefer to eat them while hustling for their daily offices in the crowded buses.
6. Sabich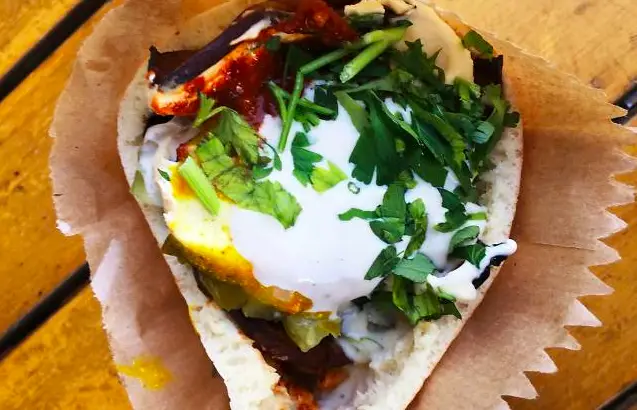 Well, it might be a heaven for a non-vegetarian to taste all these nutty delicious non-veg cuisines but don't worry vegetarians you'll get equally aromatic and delicious cuisine at the same prices. As all the top food from Jerusalem's origin takes care of every customer in every possible way. It is an authentic Israeli sandwich inspired by Iraqi–Jewish cuisine. It consists of fried aubergines(Brinjal) and hard-boiled eggs stuffed into a pitta, overflowing with crunchy vegetables and tahini. It can be eaten as a sandwich or you can smash it to make it a bowl full of amazing flavors also termed as sabich bowl. Since the amalgamation is so unique in all the famous foods in Jerusalem that you can consume them in a variety of different manners as you prefer.
Read More: Cities in Spain
7. Knafeh
After all the spicy loaded meal there is a famous Jerusalem's dessert termed as Knafeh and pronounced as 'Kah-Nah-fey'. It's a traditional Arab dessert made with shredded pastry noodles covered with sweetened sheep or goat's cheese. It's just like the extra-cheesy version of waffles which is served with spiced syrups instead of honey or Hershey's chocolate along with nutty crushed pistachios. You can find the best of the Knafeh in the shops near the Old City and East Jerusalem, with one of the most popular foods in Old city of Jerusalem are sold by the vendors named Jaffar and Sons Pastry Cafe.
8. Jachnun
It is an authentic Yemenite Jewish cuisine that originated from the Adeni Jews and it's traditionally served on Shabbat morning. It is prepared by plowing the traditional phyllo dough which is rolled into the shape of a tube and slowly cooked in the oven. Later sprinkled with sesame seeds which makes this dish taste amazing. This top food in Jerusalem is served along with a dip of tomato puree and fenugreek. You can also pair it with other purees like hummus or Shakshuka. It will blow your mind with its sesame flavored bread breaking all stereotypes that bread always tastes less probably not in Jerusalem. This also has an old and classic place named after it as Jachnun Bar where it's served fresh and alive tour is also given during its preparation.
Read More: Cities in Malta
9. Halwa 
It's not as common as just another country's dessert as the people here have taken this common dish to another level via making it into another popular food of Jerusalem by preparing it from the oddest things ever like coffee, chocolate, etc. along with coconut, pecan, poppy seed, and pistachios. It's not only a famous dish due to its distinctive flavors which vary around a hundred different tastes but it's also prepared fresh, through manually grounding all the ingredients by traditional Ethiopian methods pouring a different taste altogether into a common dish. These flavors are not evenly distributed around the city you can easily find it in the Halwa Kingdom located in the Kahim region of Jerusalem.
All these cuisines are also best street foods in Jerusalem because of their availability at reasonable prices on the streets making it easy on your pocket and full inside your stomach. Sometimes during the Shabbat morning, they distribute some of these tasty food items all for free just as an offering after prayer.
10. Famous Breads
There are even tonnes of distinctively flavored bread such as: 
Pita: This is the common bread of Jerusalem which is served in daily meals every day in the Jerusalem dinners.
Challah: A bread mostly consumed during Shabbat dinner time.
Beigeleh: These are huge loops of bread coated with sesame seeds
Lepeshka: These are round crispy bread famous especially in Bukharan Market. 
Matzah: This is commonly served when pitas are not available and have an appearance of burst crackers
The bread are generally topped with delicious crunchy nuts which might be enough for your taste buds. But everything in Jerusalem is prepared with love and crunchy nuts so you might have to stretch your diet routine a little bit to experience all these top foods of Jerusalem.
Visit: Monuments in Jerusalem




To enjoy the flavourful cuisines of Jerusalem, do travel along and try these mentioned famous foods of Jerusalem to serve your tummy with the delicious delicacies of Jerusalem, Israel. All of these are available at very reasonable prices and you can even explore the nearby beaches and the seafood which are served by the local trucks.    
The post Delicious Food You Must Eat in Jerusalem | Famous Food of Jerusalem appeared first on World Tour & Travel Guide, Get Travel Tips, Information, Discover Travel Destination | Adequate Travel.