Filled with crystal clear beaches, amazing history, and architecture, Croatia is a beautiful country. So why not tell you more about most of the monuments and statues in Croatia. Croatia was basically settled by Ancient Greeks and Romans and subsequently defended against Venetians and Ottomans. From Istria to Dalmatia, this country Croatia displays more than 2,000 years of history. Open to the elements and accessible to visitors today but some is locked up in museums and much is left as it was built. Here are some of the important monuments in Croatia:
List of Monuments in Croatia 
1. Bell Tower of Saint Domnius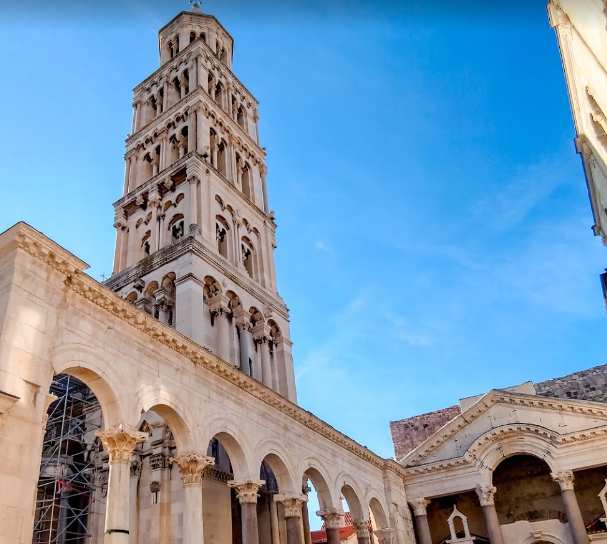 Saint Duje is formerly known as Bell tower of Saint Domnius. It is located in the very center of the widely famous Diocletian's Palace in Split. This historical monument in Croatia is regarded to be one of the oldest if not the oldest Catholic cathedral. It is one of the cathedral that is still in use. The bell tower is named after Saint Domnius is a Croatian patron saint and the bell tower is known from his name. He used to be a 3-rd century Bishop of Salona. For an amazing view of the city, you can climb up to the top of the Belltower. Apart from the city view from here, you will have a stunning view of the entire Diocletian's Palace.
Read More: 10 Must-Try Outdoor Activities in Croatia
2. Pula Arena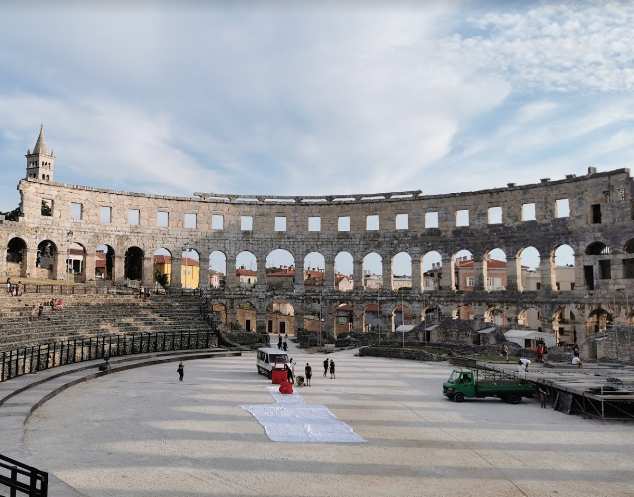 To have four side towers and all three Roman architectural orders, the Arena is the only remaining Roman amphitheater entirely preserved. This famous monument in Croatia also being among the six largest surviving Roman arenas in the World. Bloodshed with spectacular gladiator fighting being one of the most famous purposes of the amphitheater. Truly an experience to see up close, makes you feel like you traveled back in time to see Gladiators fight
3. Ban Jelačić Square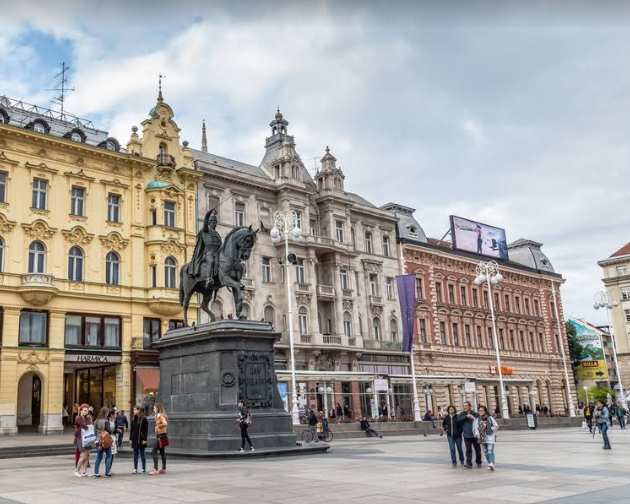 Named after ban Josip Jelačić and being the central square of Zagreb. This best monument in Croatia is located below Zagreb's old city cores Gradec and Kaptol. The square features a large statue of Josip Jelačić. With his sword out riding a horse that adds a certain charm to the square in general 
Read More: Monuments of Chile
4. Diocletian's Palace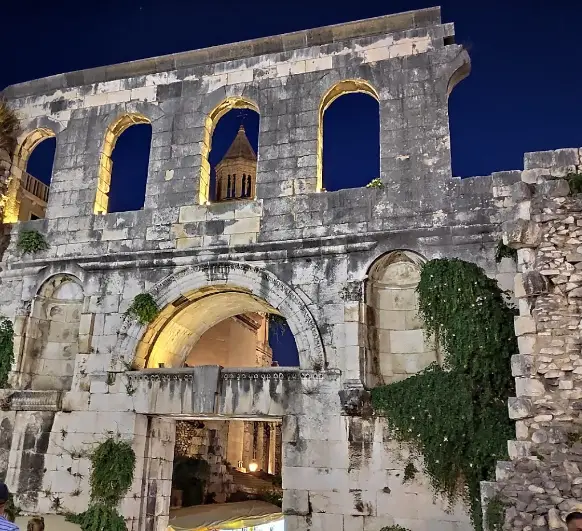 Diocletian's Palace is one of the most famous monuments in Croatia. It is located in Split, which is also known as  the "Heart" of this lovely town, mixing modern with old. Palace was slowly adapted by the people of Split. The whole palace was surrounded by shops and apartments all around while still retaining the old architecture
5. Trakoscan Castle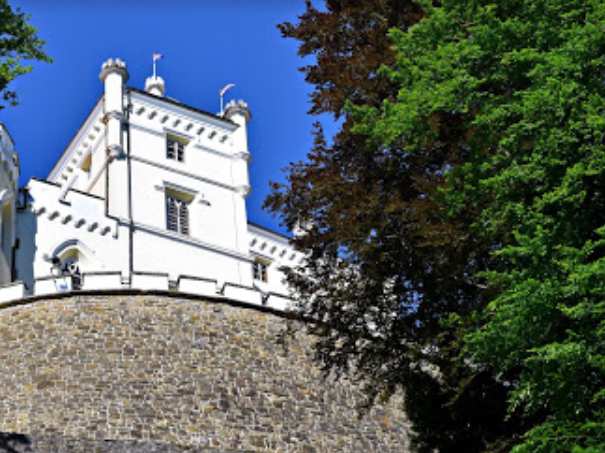 This historic beauty of this Trakoscan Castle looks like something from a fairy tale. Being built in the 13th century, the castle is located in the northern region of Croatia. Between from Ptuj to Bednja, it was meant as an observation fortress to monitor the valley. This ancient monument in Croatia itself reveals different phases of building. It used to be a fortification for several centuries so that the reconstructions undertaken during that period were functional rather than aesthetic.
Read More: Buildings in Jaipur
6. Dubrovnik's City Walls
When you think of Croatia you probably think about the pristine white stone walls surrounding the town of Dubrovnik. After the city gained its full independence from Venetian suzerainty, the present shape of the walls was defined in the 14th century but the peak of its construction lasted from the beginning of the 15th century until the latter half of the 16th century. This old monument in Croatia was also a filming location for the famous TV show called "Game of Thrones", more specifically being the fictional city of "King's Landing"
7. St. Mark's Church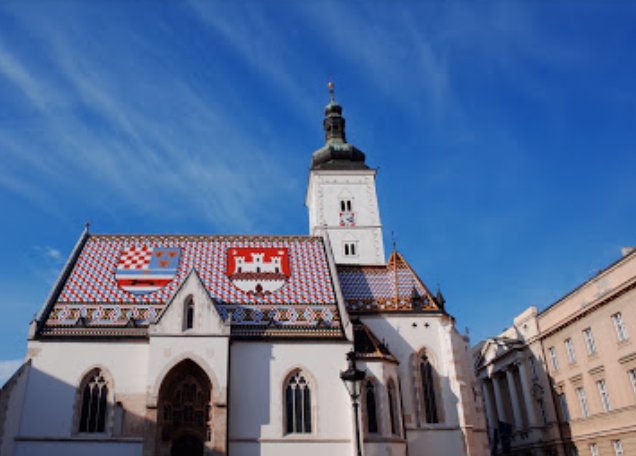 The Romanesque window found in its south facade. This popular monument in Croatia is located upon the semicircular ground-plan of St. Mary's chapel. With two crests symbolizing "Coat of arms of Zagreb" and "Triune Kingdom of Croatia, Slavonia, and Dalmatia", the church is famous for it's Mozaic checkerboard patterned slanted roof.
Read More: Monuments in Mumbai
8. Onofrio's Fountains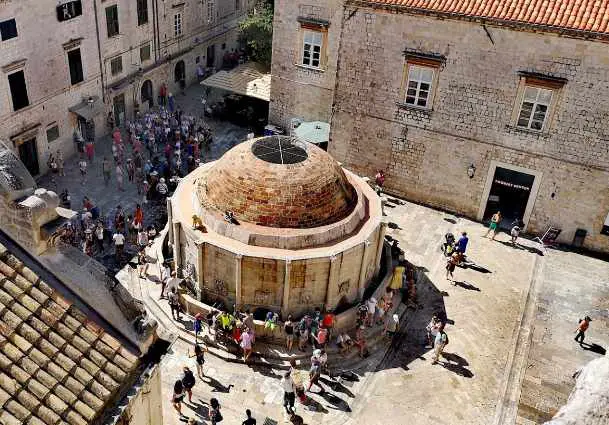 In the very beginning when "Dubrovnik" used mainly rainwater to survive they decided that they needed a more efficient method of acquiring clean water. The city of "Dubrovnik" acquired the help of two builders to build an aqueduct from a neighboring place called "Šumet". It is considered in one of the top monuments in Croatia. When the aqueduct construction was finished, one of the builders, Onofrio della Cava, started and finished building two fountains, a bigger one that served as the end of the aqueduct and a smaller one in the year 1438. These fountains have 16 sides and each decorated by a stone mask
9. Eltz Manor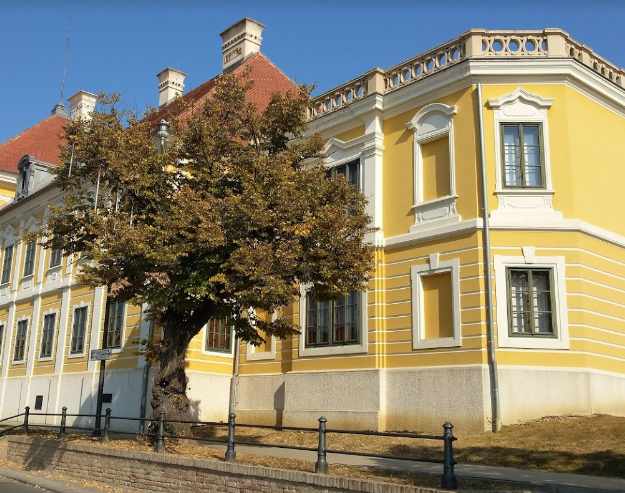 In the city of Vukovar, Eltz Manor is a baroque castle. By the descendants of Phillip Karl von Eltz-Kempenich, the castle was built in the 18th century. He was the Archchancellor of the Holy Roman Empire. During the first year of Croatia's War for Independence, the Manor was devastated, but they managed to reconstruct it in the year 2011. Today this beautiful monument in Croatia is home to the Vukovar City Museum, holding many memorabilia reminding us of the history of Vukovar.
Read More: Famous Monuments of Colombia
10. Gregory of Nin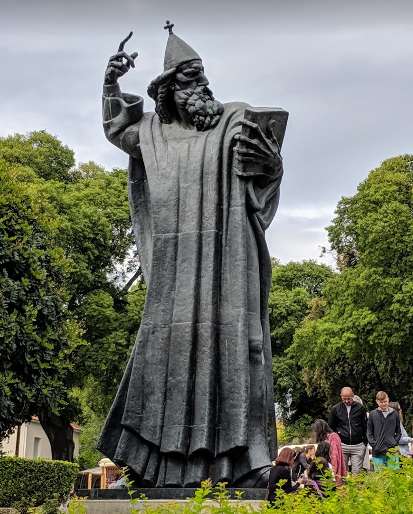 Grgur was a medieval Croatian bishop of Nin. He strongly opposed the official circles of the Church Pope. He was also given the credit of introducing the national language in the religious services. Services were used to be held only in Latin, until that time and also not being understandable to a majority of the population. Not only was this made Christianity stronger within the Croatian Kingdom but it also important for Croatian language and culture. This Croatian monument is widely considered a beauty in Split where it resides, developing a legend if you touch his big toe and make a wish your wish is gonna come true
So far we have discussed the best monuments in Croatia, which contains the proper information regarding all the most visited monuments in Croatia. I hope you might have loved reading this article and if you love to know more about Croatia then kindly head to our other articles as well which will help you to get knowledge about Croatia.
The post Most Visited Monuments in Croatia | Famous Monuments of Croatia appeared first on World Tour & Travel Guide, Get Travel Tips, Information, Discover Travel Destination | Adequate Travel.