Is it your first visit to Rome? You'll find it easy to see several exciting things, no matter how limited your time would be. Here we have recommended all the Travel Tips for First-time Rome Visitors. It's good to plan ahead, and ambling aimlessly is also a kind of joy, you will find that there is ancient wonder around every corner. Just don't stress yourself in trying to see everything for Rome because a lifetime is not enough for this.
Here is Guide for Visiting Rome for the first time




If you don't mind strolling, the best way to see Rome sights is mainly on foot. Sights are available in certain areas, so you could spend one day in Ancient Rome, one day in the Vatican, and so on.
Highlights of the Ancient Rome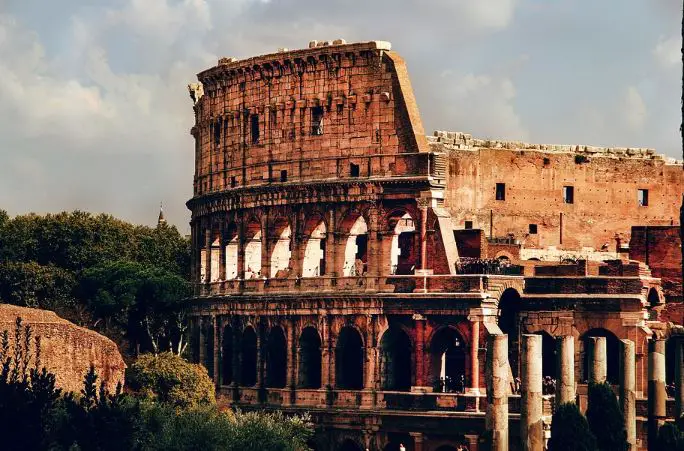 Start from where it all began, in the well-preserved imperial heart of Rome. Just blow your mind at the Colosseum, which lies hereabout the ruined Roman Forum, which is the social and political hub of the empire. Nearby are the magnificent Capitoline Museums, packed with classical and Renaissance art, and the Palatine, which was ancient Rome's Beverly Hills, home to the rich and powerful. To skip the lengthy queues, book ahead online at co-op culture for the Colosseum, Roman Forum and Palatine, which are covered by a single ticket only.
A Full Tour of the Centro Storico
Only with a short walk, you're in Rome's historic center. All of the main sights are free and easy to visit in a meandering wander, stopping for lunch, a coffee or ice cream for an energy burst. Don't miss the Pantheon, a magnificently well-preserved ancient Roman temple, with an oculus (circular hole) in the huge domed roof open to the heavens. A couple of streets away is the stunning Piazza Navona, Rome's elegant showcase square. Take a short amble and you're at the foaming, massive Trevi Fountain, and the baroque Spanish Steps, a grand stairway that's perfect for taking a haunt and watching the world go by.



The Glories of the Vatican City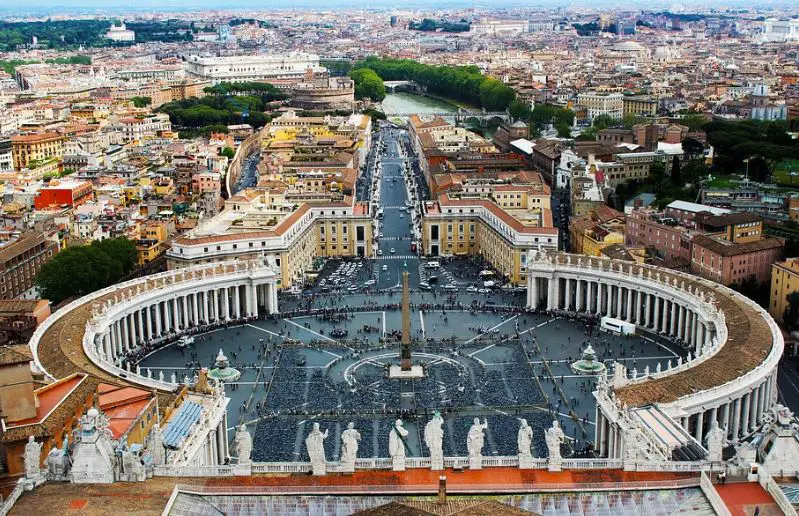 St Peter's Basilica is Christendom's marvelous church, the seat of Catholicism, and a vast art-filled exercise in awe. The Vatican Museums propound miles of cultural wealth, with the highlights being the Michelangelo-decorated Sistine Chapel, and a suite room decorated by Raphael. Close to the Vatican is the imposing Castel Sant'Angelo, built as Emperor Hadrian's grave and later turned into a fortress.
Local color in Trastevere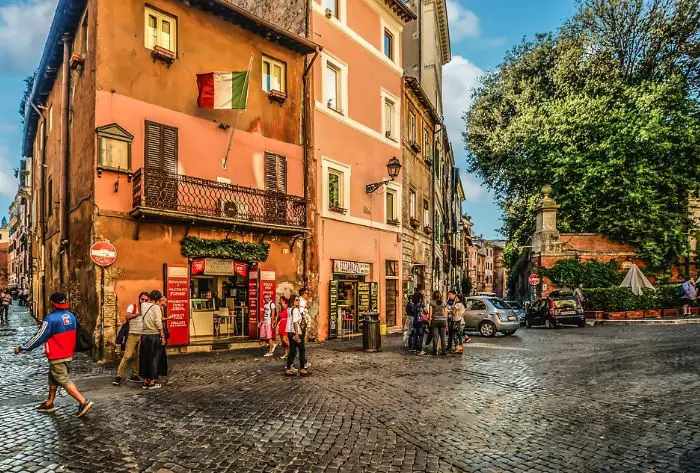 This vivacious neighborhood bursts with brilliance, home to ochre and orange-colored, ivy-hung buildings and medieval churches that glitter with patchworks. Trastevere ping with life in the evening, come here for restaurants on cobbled lanes and bars whose gladness flows out over the narrow streets.
Interested to visit all the best places then have the reference of Best places to visit in Rome.
First Time Visitor Guide to Rome
Where (and What) to Eat
You can eat well in Rome no matter what your budget is. Avoid places where waiters hang around outside to fodder you in, and look for the places in backstreets around the tourist sights rather than plumping for the nearest place. If in doubt, try one of our recommendations.
Find: Rome Best Restaurants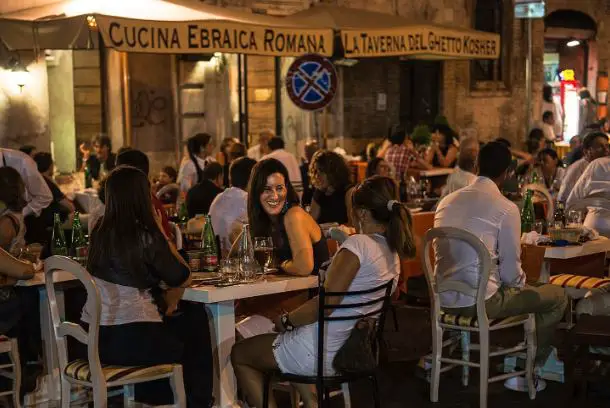 Another classic Roman experience is having pizza, served up in no-nonsense interiors by rude waiters with paper-thin crusts laden with fresh, hot toppings. Favorite pizzerias include Da Ivo in Trastevere, and Da Remo in Testaccio after all these, here we recommend you to have some best pizza at these pizza restaurants in Rome.
Where to Stay
There are masses of choice for the accommodation in Rome, from exclusive five-star townhouse hotels to spartan rooms in convents, so you can take your pick. If searching for better accommodation then visit Hotels in Rome.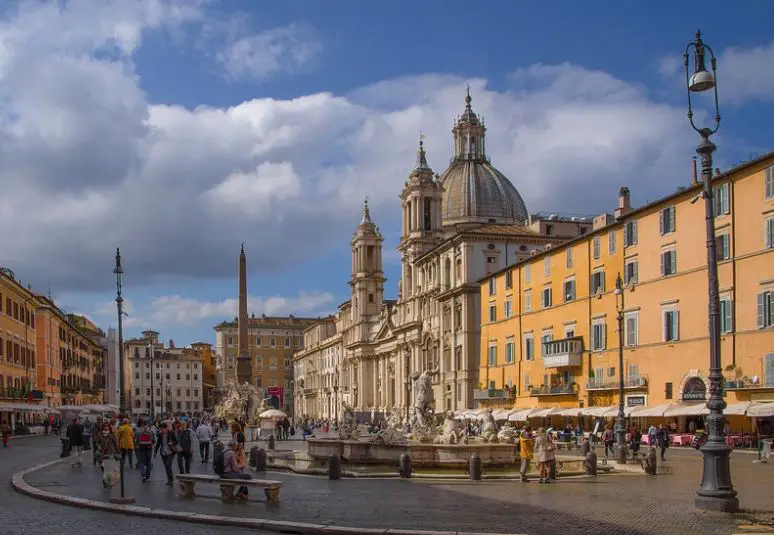 To feel everything on your doorstep and the Roman romance, it's best to choose somewhere in the historic center. Here major sites, bars, and restaurants are within walking distance or a short hop on a bus or metro. The best areas to search are around the Piazza Navona, the Pantheon or Campo de' Fiori. Another great area to check out is the bohemian district of Monti, a short walk from the Colosseum and Termini station, you will get full of bijou restaurants, wine bars, and shops.
If you are in a tight budget, then the Termini area around Rome's main station has some cheaper nights of sleep. It's filled with 19th-century buildings and feels a bit run down in places, but is very convenient for the station.




Transport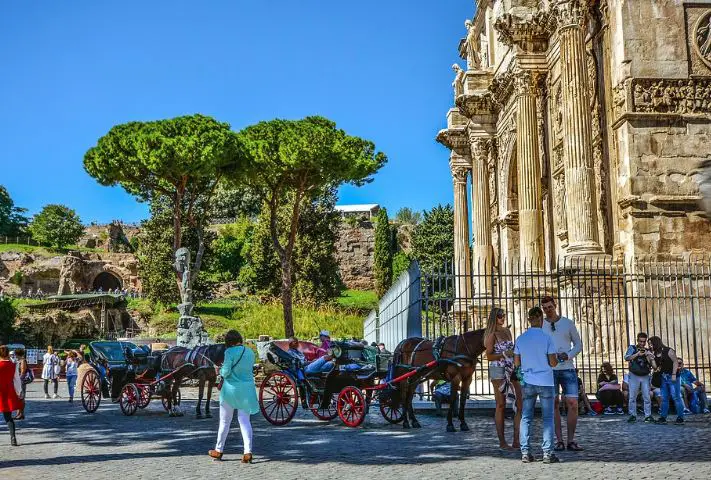 From Rome's international airport, known as Fiumicino or Leonardo da Vinci, the fastest way to reach the city is on the Leonardo Express train to Termini station which takes 30 minutes to reach there in €14. From budget-airline hub Ciampino airport, the best option is to take one of the dedicated airport bus services which take 45 minutes to reach there in €6. Taxis have fixed-price fares from Fiumicino requires 45 to 60 minutes depending on traffic, in €48 and Ciampino requires approximately 30 minutes; €30.
Rome's metro, buses, and trams are an efficient and cheap way of getting around the city but might be busy in the rush during hours (9-10am and 4-7pm).
Some Practical Tips for Rome for the First Timers
Packing: Take some comfortable shoes and also pack something smart as Romans love to look good and most people are dressed well when going out in the evening.
Tipping: Locals usually leave a couple of euros or some loose change while paying the bill at the end of a meal. Taxi drivers and bartenders don't expect these tips.
Timing: Be aware that during summers it gets extremely hot, so try to avoid outdoor sightseeing during the hottest part of the day. It is said that lunchtime can be a good time to find major sights as it could be a little less busy if you can cope with the heat.
Don't Miss
So far we have discussed all the Travel Tips for First-time Rome Visitors which includes all the travel tips and information required during a trip to Rome. Need to know all the information required during your first visit kindly visit our articles as well which could be a great help for you. Please like this article and share your views in the form of the comment.
The post Visiting Rome for The First Time – Rome Tips and Tricks appeared first on World Tour & Travel Guide, Get Travel Tips, Information, Discover Travel Destination | Adequate Travel.