With beaches, entertainment, great weather, history, culture, and sports, Miami is one of South Florida's premier vacation destinations. But monuments in Miami have some special values. Downtown Miami is a modern metropolis and cultural treasure trove, it is separated from the Atlantic Ocean by the Biscayne Bay and Miami Beach. You can always find plenty of things to do, from the museums to the streets of Little Havana. Across the bay, Miami Beach, with it's Art Deco District, a fantastic stretch of beachfront, and fun vibe, is a must-see in the area.  Nearby the city, but Outside, is Everglades National Park, known for its unique wildlife and ecosystem. But in this article we will discuss some of the top monuments in Miami. 
List of Monuments in Miami 
1. Art Deco Historic District
The Art Deco Historic District is worth a trip out to Miami Beach even if you have no interest in the beach. This monument in Miami Florida dominates the trendy South Beach neighborhood, architectural style, popular in the 1930s and 40s. These uniquely designed buildings, in a range of pastel colors and displaying large neon signs, were built following a devastating hurricane that struck in 1926. Many are hotels and restaurants, most of which have been beautifully restored. Along some of the main streets, awnings on the lower level of these buildings provide shade for outdoor dining areas. There are two main streets through the area: Ocean Drive and Collins Avenue.
Read More: Monuments in Buenos Aires
2. Vizcaya Museum and Gardens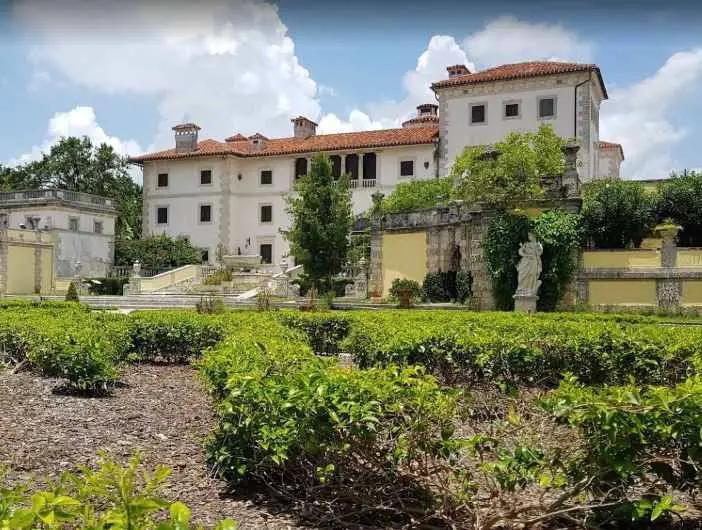 Set on 28 acres, this national historic landmark in Miami was the luxurious winter home of James Deering, a 20th-century industrialist. The mansion features 34 rooms arranged around a central courtyard built-in 1916.  Craftsmen to complete the Vizcaya project, it took more than 1,100 workers and, many of whom were brought over from Europe to ensure authenticity in design. The Italian Renaissance-style villa is filled with an impressive collection of European furniture and decorative arts from the 15th to 19th centuries
3. American Airlines Arena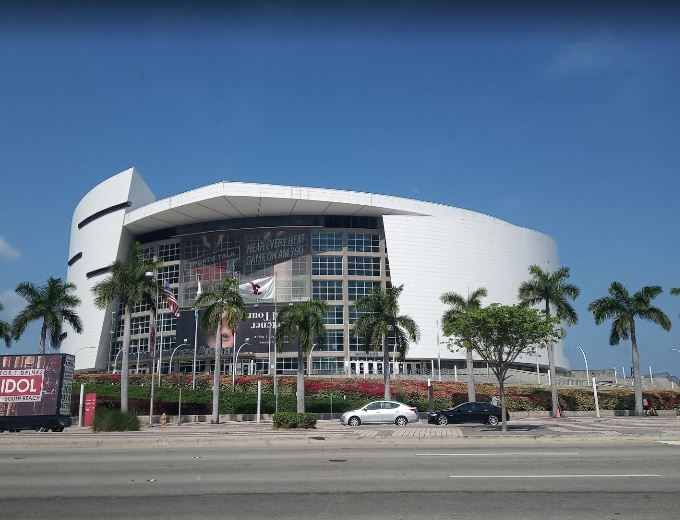 The American Airlines Arena is used to build for the main venue for large concerts and events including top name singers and performers. It is also the home of the NBA's Miami Heat. It can hold more than 19,000 people. This famous historic landmark in Miami itself, opened in 1999, has been awarded the Leed Green Building Certification for being an energy-efficient building. The arena stands out prominently on Biscayne Bay in downtown Miami.
Read More: Monuments in Dubai
4. Deering Estate at Cutler
Protecting globally endangered pine Rockland habitat, this former home of Charles Deering is a 444-acre estate, as well as coastal tropical hardwood Rockland hammocks, salt marshes,  a coastal dune island and mangrove forests. It is one of the popular monuments in Miami. Listed on the top monuments in Miami, Deering Estate at Cutler is home to the Richmond Cottage, which served as a hotel, as well as historical buildings dating from 1896 to 1922, and an American Indian burial ground dating from 1500
5. Wynwood Walls Street Art
The formerly drab exterior warehouse walls, in the warehouse district of Wynwood have been transformed into colorful pieces of art. The Wynwood Walls, plastered in street art, or what most people think of like graffiti, have brought new life to this area. It is counted as one of the best monuments in Miami. The district has attracted big names in the world of street art from across North America and around the world brought about by Tony Goldman in 2009. Since it was started, more than 80,000 square feet of wall space has been graced with paintings in this unique art form.
Read More: Monuments of Ho Chi Minh City 
6. Coral Castle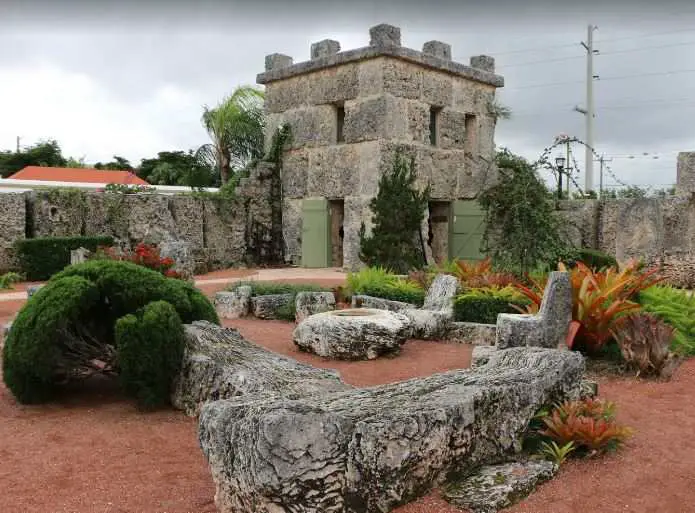 The Coral Castle is the result of one man's 28 years of carving, using his own home-made tools. This beautiful monument in Miami, made of limestone, was built by Edward Leedskalnin between 1923 and 1951. He kept his methods private and would not allow anyone to watch him work, leaving many people to wonder how he did it. Today, you can see the most famous structure and tour the property, a giant stone gate, which opens effortlessly with the touch of a finger, as well as carvings that include stone tables and chairs, unique figures, and other pieces
7. Freedom Tower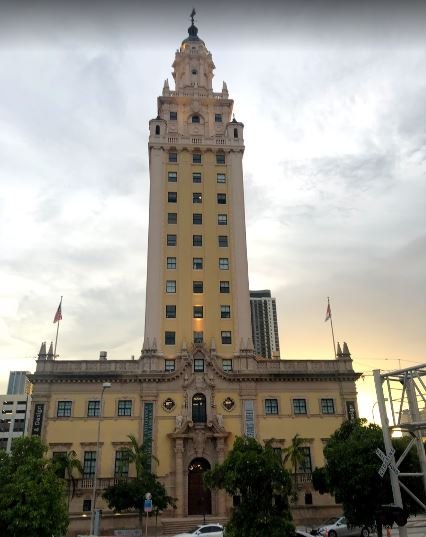 Freedom Tower displays a "wedding-cake" style is One of the most striking buildings on Biscayne Boulevard. Built-in 1925, it is one of the oldest skyscrapers in the southeastern United States and served for many years as the headquarters of the Miami Daily News. The name of this most famous monument in Miami comes from its role as the immigration-processing center for hundreds of thousands of Cuban refugees who arrived in the 1960s. Today, it stands as a tribute to Cuban immigration and is used, in part, as a contemporary art museum.
Read More: Monuments in Los Angeles California
8. Miami Children's Museum
The Miami Children's Museum, always a fun outing for children, is housed in a colorful and creatively designed facility with more than 56,000 square feet of space. Educational and entertaining exhibits are designed to appeal to children's curiosity and creativity. It is considered one of the iconic monuments in Miami. Fourteen themed galleries revolve around arts, culture, community, and communication, and four outdoor exhibits allow kids a chance to play and enjoy time outside
9. Opa-Locka City Hall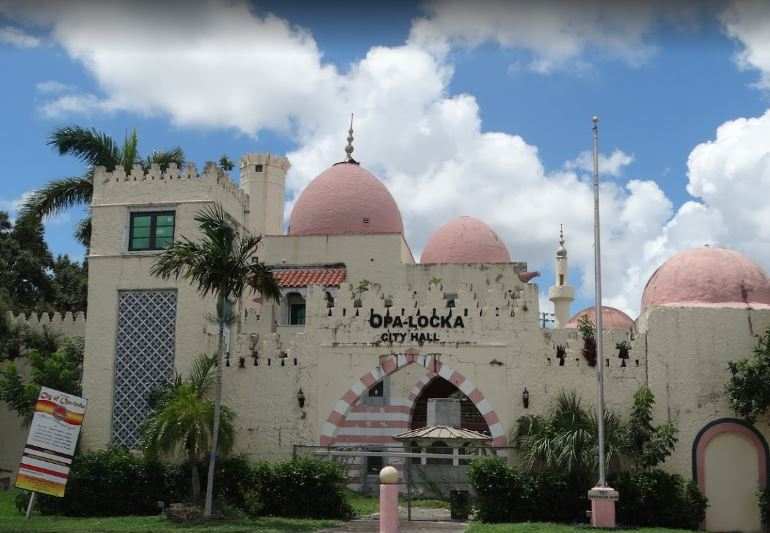 Situated on the northern side of Miami, next to Sherbondy Park, the Opa-Locka City Hall is certainly one of the most unusual and unique historical landmarks in Miami Florida that the city has to offer. Appearing more like a palatial Indian mosque than a traditional American city hall, Opa-Locka was created in the 1920s by the hand of a renowned property developer and aviation pioneer Glenn Hammond Curtiss (1878 to 1930). The building is very hard to overlook, with its large domes and minarets, ornate arches, fortifications, white-washed walls, and surrounding palm trees.
Read More: Monuments of Belgium
10. St. Bernard de Clairvaux Church
Next to the Biscayne Boulevard, based within the North Miami Beach area, and just across from Greynolds Park, many will simply know the St. Bernard de Clairvaux Church as the Spanish Monastery. The history of this famous monument in Miami is really quite extraordinary, with it being originally built in the Spanish province of Segovia roughly 900 years ago. Purchased by one William Randolph Hearst, the cloisters and various outbuildings were dismantled brick by brick, before being carefully packed in crates and then shipped all the way to New York
11. The Atlantis Condominium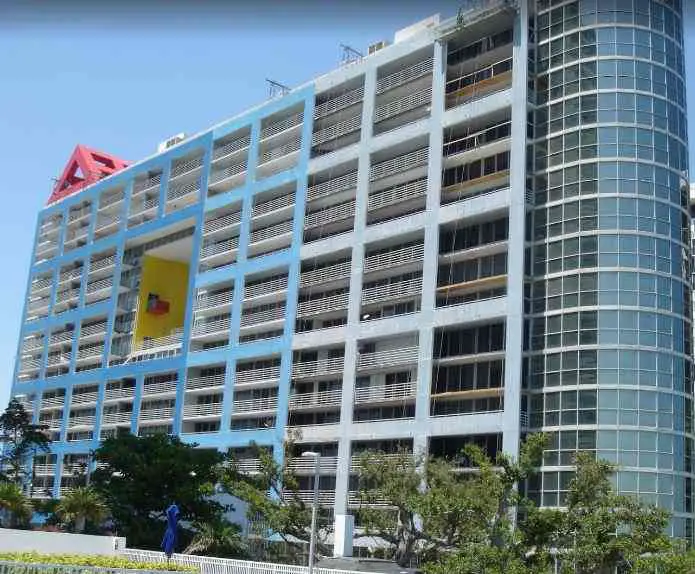 This most visited monument in Miami to '80s extravagance had the distinction of appearing in both the opening credits to Miami Vice and in Scarface, which used it for exterior shots of clueless kingpin Frank Lopez's lavish residence. Arquitectonica, the firm behind many of Miami's most dramatic towers, designed the glass building, which is instantly recognizable from its so-called "palm court" — a five-story, open-air cutout that houses a red spiral staircase, jacuzzi, and a palm tree. The style didn't catch on. There's no other building like it in Miami, or anywhere else.
12. The Bacardi Building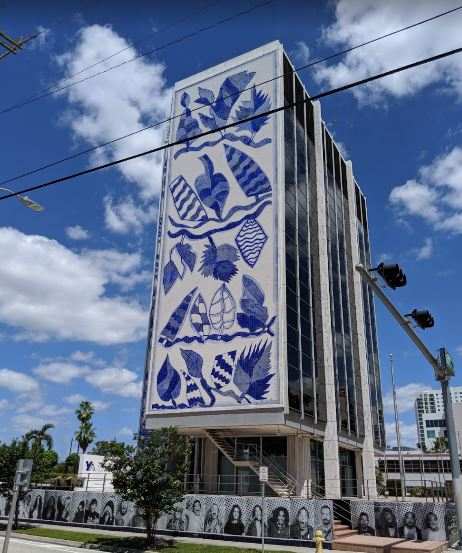 Bacardi relocated its US headquarters down US 1 to Coral Gables in 2009, but thanks to a swift mobilization by preservationists, this Caribbean-inspired modernist classic survived the loss of its titular tenant. It now becomes one of the historical landmarks in Miami FL. Designed in 1963 by Cuban architect Enrique Gutierrez, with tile walls hand-painted by Brazil's Francisco Brennand, the main building is part of a broader complex that also includes the equally stunning 1974 annex known as "The Jewel Box." The National YoungArts Foundation acquired the buildings in 2012 and has since converted them into an educational campus with assistance from Frank Gehry
13. Cape Florida Lighthouse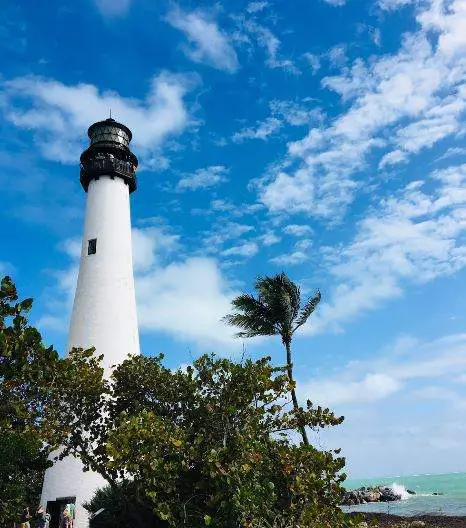 To visit the oldest surviving structure and monuments of Miami that's not an imported 12th-century monastery, head to the very end of Key Biscayne, where four bucks a person will get you onto the beach at Bill Baggs Cape Florida State Park. Originally built in 1825 — and reconstructed in 1846 after it was ransacked during the US' war with the Seminole Indians —  the Cape Florida Lighthouse is a full 50 years older than Miami itself. Due to its out-of-the-way location, however, it's a sight rarely seen by many city residents.
Read More:  best place to visit in Miami
 14. Carol Mart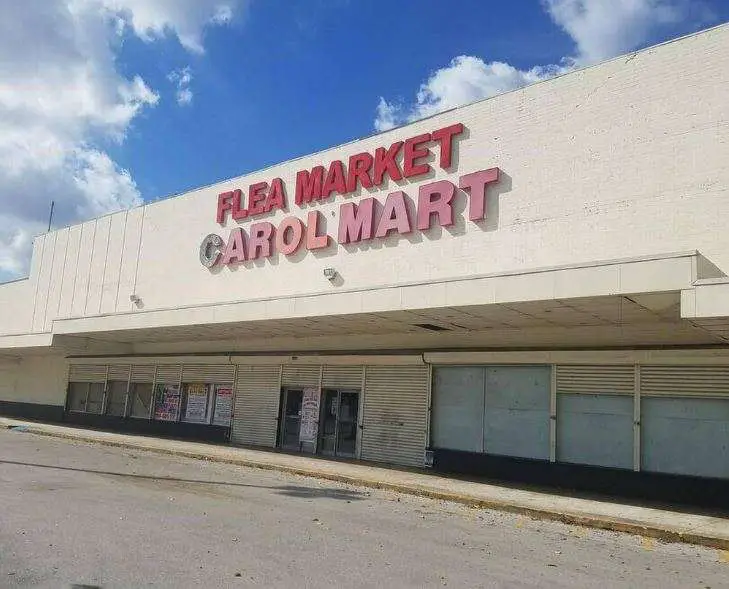 You won't find this low-rent flea market in any tourist guides, but for hip-hop, the spot's iconic. Rick Ross (who grew up in the neighborhood), DJ Khaled, and countless Miami rappers of lesser renown have shot videos in the Carol Mart parking lot, which can resemble an auto show on weekends when local car enthusiasts bring out their "donks" — a style of customized sedan (elevated suspensions, booming sound systems) that originated in Miami. It is one of the ancient monuments in Miami. The 58-year-old structure, formerly known as the 183rd St Flea Market, is rumored to be set for demolition soon, so if you're in the market for gold grills or the new Ice Billion Berg CD (and who isn't really?), get there quickly
So far we have discussed the best monuments in Miami, which contains the proper information regarding all the top monuments in Miami. I hope you might have loved reading this article and if you love to know more about Miami then kindly head to our other articles as well which will help you to get knowledge about Miami.
The post Famous & Historic Landmarks in Miami  | Most Visited Monuments in Miami appeared first on World Tour & Travel Guide, Get Travel Tips, Information, Discover Travel Destination | Adequate Travel.