With a population of 2 crore, 40 percent of which are youth and children, Cairo is a destination of amusement and entertainment. Theme parks in Cairo are so popular among the tourists as well as local people.  From the North Coast to the White Desert, a well-spent vacation is always promised, one whose memories would never fail to draw a smile on your face. In Cairo, fun is not age-specific, there is something for everyone. Whether you are a family looking to spend some quality time together, an adventure-seeking group, or even grandparents who want to enjoy a good vacation with their grandchildren, Amusement parks in Cairo come in all themes and colors. From water parks, safari park, and family amusement parks, here is our recommendation of the 5 best theme parks and amusement parks in Cairo:
Theme Parks and Amusement Parks in Cairo:
1. Kouta Park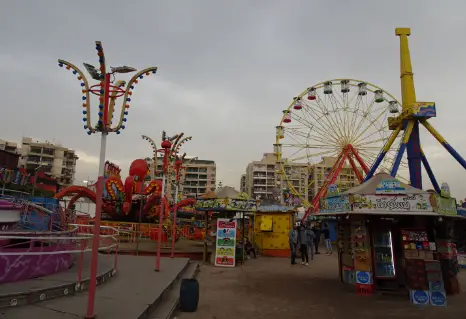 If you happened to be visiting the North Coast of Egypt, particularly Alexandria, you might want to check Kouta Park. Located inside al Ma'morah, Kouta Park is not so far from the Mediterranian. The park is the north coast version of Dream Park and shares many of Dream park's thrilling rides. Famous for its top spinner, rocket and roller coaster, this park's rides will sure get you on top of the whole city. It is one of the best theme parks in Cairo. Unlike other parks, Kouta park offers no packages, there is an entrance fee and then you pay for each ride separately, allowing you to customize your own rides. The park is suitable for adults more than kids as most rides are serious ones.
Read More: Why the Maldives famous For
Address: Montaza 2, Alexandria Governorate
2. Teda Fun Valley
At the Western Coast of Egypt, more specifically at Ain-Sokhna sits Cairo's first and newest Dinasour park, Teda Fun Valley. A dinosaur-themed park inside Teda Swiss Inn Plaza Hotel. Established in 2015 over a space of 15000㎡, this fun park in Cairo park would take you back to the prehistoric era of dinosaurs with all the effects that would put you in the mood. The park has four entertaining departments suitable for enjoying a nice adventure with your kids: Water World, Dinasour World, Candy World, and Automotive World. To enter the park, you purchase a card for 10 EGP around 1 USD and you charge this card.
Address: 3rd Sector of North-West Gulf of Suez economic zone Suez, Egypt
Official Website: www.tedafunvalley.com/
Read More: best things to buy in Cairo
3. Dream Park
Established in 1999 by Forrec, the famous Candian Architecture company which designed Universal studios, Dream Park is one of the biggest parks in Egypt and the Middle East. Built over 150 acres of land inside Dreamland residential compound, the park is home to more than 30 thrilling rides and activities suitable for a whole family. From the famous top spin, rocket, rapid river, dark ride, condor, galleon and many more, a long queue of visitors stand between you and your exciting ride. This best amusement park of Cairo is divided into three main districts with one dedicated fully to small children. The children's zone has most of the adult rides made suitable to them so they won't miss out on the fun. There is the district for the seekers of adrenaline, this zone includes all the park's famous rides, a must-try. It is the park's most crowded zone and no children are allowed into the rides. The final district is the family's district; here the rides are fun with a level of excitement suitable for children and adults together.
Read More: Why Denver is famous
Address: El Wahat Road, Entrance 1, Giza Governorate
Official Website: www.dreamparkegypt.com/
4. Fabyland
 Located inside Porto Cairo, and with branches inside Dandy Mall and most recently Al Nakheel Mall, the land is famous for its discovery ride, which is a 360 spinner from the bottom up. The land is designed to entertain both adults and youth. Fabyland is a land of more than 20 different fun rides and has three different branches located across Cairo and Giza. It is counted in one of the popular amusement parks in Cairo. Whether you are a fan of trampolines, bumper cars, speed cars, climbing, swinging or spinning, there is something waiting out there for you.
Address: Second New Cairo, Cairo Governorate, Egypt
5. Gero Land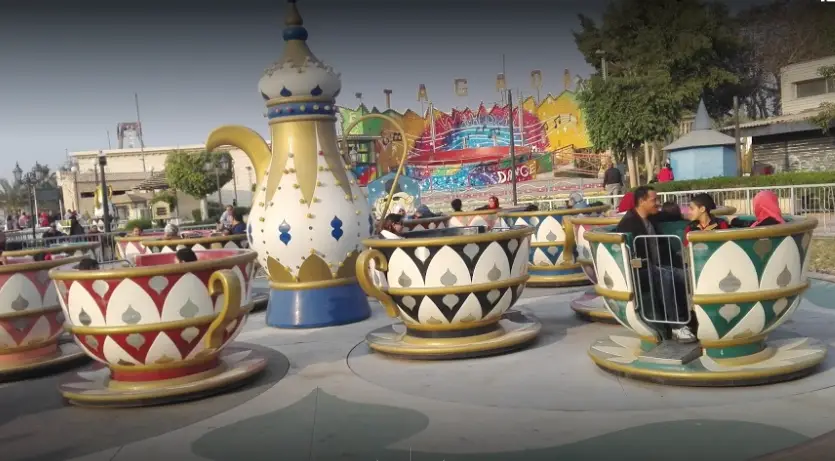 About 35 kilometres north-east of Cairo and 30 minutes from the heart of it sits Gero Land, an amusement park located in al Obour city. A very spacious land with many exciting rides, yet most famous of which is its breathing taking "death train" ride. An upside-down ride in which the trail is above you and your legs freely swing in the air. In addition, there is its amusing river ride where you experience what it is like to fall from a high waterfall and into the water. There are also other rides suitable for kids. This famous theme park Cairo is not as crowded as Dream Park though, so, for those who don't like standing in queues might give the park a try.
Address: Al Obour, Al Qalyubia Governorate
Read More: Why Kochi is Famous
So far we have discussed theme parks in Cairo, which contains the proper information regarding all the amusement parks in Cairo. I hope you might have loved reading this article and if you love to know more about Cairo then kindly head to our other articles as well which will help you to get knowledge about Cairo.
The post Best Theme Parks in Cairo | Popular Amusement Parks in Cairo appeared first on World Tour & Travel Guide, Get Travel Tips, Information, Discover Travel Destination | Adequate Travel.