As the birthplace of civilization, Iraq is world-wide known and the monuments of Iraq are too old and ancient one. Includes various ecologies, ecosystems and climates, its landscape making it a true beauty to behold across all 18 provinces. Iraq has something to offer across each square meter of its beautiful landscape whether you are traveling in the well-known and developed region of Kurdistan (Erbil), or viewing the ancient Babylonian ruins in Baby. Here are several important monuments in Iraq:
List of Monuments in Iraq
1.The Abbasid Palace
In the al-Maiden district of the city, the last remaining Abbasid Palace in Baghdad is a historic two-story building that overlooks the Tigris river. From modern-day Baghdad from the 8th to the 13th centuries, the Abbasid dynasty ruled the Islamic empire and gave rise to the Islamic Golden Age during this time. During the reign of Caliph Al-Naser Ledinillah, said to have built this important monument in Iraq. Due to similarities in its design to Iraq's Al-Mustansiriya School, historians allege that the structure was utilized for educational purposes.
Read More: Famous Monuments of Colombia
Address: The Abbasid Palace, Baghdad, Iraq.
2. Babylon
Babylon is one of the most notorious cities of the ancient world and the center of Mesopotamia for two millennia. This whole city itself is a famous monument in Iraq that is located 52 miles south of Baghdad. The city is considered to be one of the earliest cradles of civilization that was founded around 2300 BC. Now Babylon is known to be a cultural center for science, literature and art. Babylon was a coveted city situated with access to both Euphrates and Tigris rivers, also served as the capital for 10 Mesopotamian empires. Guarded by massive walls and attracting people, ideas, and products from all walks of life, Babylon was once the largest and most powerful city in the world.Including one of the Seven Wonders of the Ancient World and the Hanging Gardens of Babylon, the city is believed to be the home of several notable ancient monuments. With hanging plants and multi-tier terraces, it is believed that the city once had walls eighty feet tall. The gardens' exact location has not been determined. 
Address: Babylon City, Iraq.
3. Ziggurat of Ur
During Ancient Mesopotamia, Ziggurats, that were terraced pyramid temples erected. These temples are found throughout Iraq and Iraq. The Ziggurat of Ur built by King Ur-Nammu is one of the most well-preserved ziggurats.  It is said to be built around the 21st century BC. A temple that is dedicated to honor Nanna is located at the top of the ziggurat. Today, the patron deity of the city of Ur is now located in Tell el-Muqayyar in southern Iraq which is one of the ancient monuments in Iraq. As a site for agricultural commerce as well as for spiritual purposes, the ziggurat is thought to have served.
Read More: Monuments in Mumbai
Address: Ziggurat of Ur, Nasiriyah, Iraq
4. Aqar Quf/ Dur-Kurigalzu
By King Kurigalzu of the Kassite Dynasty, the Ziggurat of Dur-Kurigalzu was built around 1400 BC. This popular monument in Iraq is currently located 19 miles west of Baghdad. The ziggurat was built in honor of the god Enlil, and served as an important landmark for travelers nearing Baghdad. In modern times, the ziggurat has been a popular site and stands at 57 meters tall. This is the same place where Baghdadi families go to leisure.
Address: Dur-Kurigalzu, Baghdad, Iraq.
5. Kirkuk Citadel and Daniel's Tomb
It is a historically ethnically diverse city located in Iraqi Kurdistan at the center of Kirkuk, it is said that the Kirkuk Citadel was established around 880 BC. Allegedly this old monument in Iraq built by King Ashurnasirpal II for defense purposes and then later reinforced with 72 towers under King Sluks' rule, the citadel sits on top a 130 foot high mound. Such as the blue-tiled Tomb of Daniel, the Red Church, and the Green Dome Mosque, one can experience its many colorful gems, within the citadel.
Read More: Buildings in Jaipur
Address: Kirkuk Citadel, Kirkuk 36001, Iraq.
6. Erbil Citadel
Erbil Citadel is located in a strict centre and absolutely a must visit monument in Iraq. More and more parts of Citadel are opened to visitors because the Iraq Government is doing a great job in maintaining original buildings and repairing them. It is also said that this is the centerpiece of Kurdish culture too. In this citadel there are lots of trading shops and tea houses and also it has interesting exhibits although it is under re-construction. Definitely worth a visit and it takes about an hour to go round.  The Citadel is the main site to visit and full of history when you are in Erbil. 
Address: City Centre, Erbil, Iraq.
7. Shrine of the Two Sons of Muslim Ibn Aqeel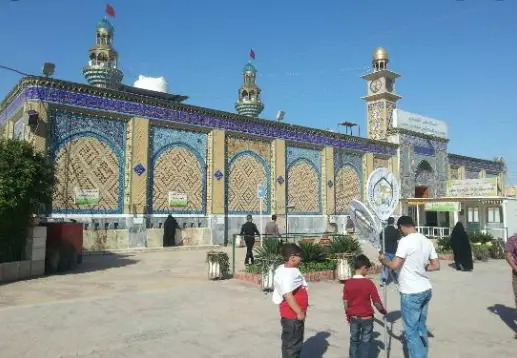 Near Babel road on the way to Baghdad city, this most famous monument in Iraq is located in the Almosayab area. With sandy roads and old houses it is a very ancient city of Iraq situated on the bank of the Alforat River, which is 80 km away from the sacred Karbala. Cousins of Iman Hussain (AS) named Mohammed and Ebrahim of Muslim Bin Aqeel, was martyred at the very young age and buried here and it is well connected with Islamic History. It is a calm shrine for pilgrims, suitable for prayer and the history of those little kids will definitely influence you.
Read More: Monuments of Chile
Address: Shrine of the two sons of Muslim Ibn Aqeel, Karbala, Iraq.
8. Imam Ali Ibn Abi Talib Shrine
The shrine is in the city of Najaf and it is majestic but very crowded. However, the discipline of people and arrangement by the authorities has made it very organised to visit and pray at this shrine. If you are not aware about it we are going to tell you that two prominent Prophets, Adam and Noah, are buried in the shrine of Imam Ali bin Abi Talib. Their graves are side by side and it is covered with decorated gold and silver work. In the same vicinity, exactly in front of the main entrance, Prophet Noah built his Arc who lived in the city. Photography is not allowed and removing shoes is mandatory. Several booths where you can keep your shoes, mobile phones, camera, etc. are placed near the shrine. For security reasons,  at all entrances of the most popular monuments in Iraq there are guards who inspect visitors. The shrine has an atmosphere of sorrow because while praying in Kufa masjid Imam Ali bin Abi Talib was assassinated.
Address: Imam Ali Ibn Abi Talib Shrine, Najaf, Iraq.
9. Mudhafaria Minarett
The old Mudhafar Minaret is the must see sight in all of Erbil, in all old Erbil, it was the oldest Mosque but unfortunately many years ago the Mosque was destroyed by a strong earthquake and the only remaining structure is the Mudhafaria Minaret. It is surrounded by a nice green grass area and is very relaxing to view and rest. There is an explanation board readable from inside the park and the Minarett itself is from the 11 century. With head busts of famous Kurds, the park is small sized but has some nice features. The Photo Gallery at the end of the most ancient monuments in Iraq and in the evening, there is a cable car ride open that takes about 10 minutes to cross the park. 
Visit: Famous Monuments of Seoul
Address: Mudhafaria Minarett, Erbil, Iraq.
10. Shrine of Imam Hussain
For the grandeur of the shrine of Imam Hussain(AS), there are no words to describe it. On the day of Ashura (On the day Battle of Karbala), the spiritual connection that one feels and the recollection of the martyrdom at Karbala. One can feel the presence because it is believed that martyrs don't die! Before you enter the haram of these religious monuments in Iraq, there's a strict security check. No cell phones, electronic devices, shoes or food allowed. Here are some protocols that every visitor must follow i.e for women, no makeup is allowed too and people who are physically challenged, wheelchairs will be provided by the authorities. And there's a museum/shop which houses many artifacts once you enter the haram. To enter inside the haram, men and women have separate security checkpoints and they can sit together. It is recommended to visit the harem at least 1-2 hours prior to the azan to get a better place to sit and read nafl and Quran. There are several chairs/table sets for people to sit and do ibadat(Prayer) but they are generally occupied. You may get a chance to occupy a vacant seat if you arrive early.
Address: Al Jumhuriya St, Karbala Iraq.
Of course, there are lots of other important cultural monuments in Iraq, and if we've missed any, be sure to share them in the comments below. In the meantime, you can also read about the future of tourism in Iraq.
The post Most Visited Monuments in Iraq l Famous Monuments in Iraq appeared first on World Tour & Travel Guide, Get Travel Tips, Information, Discover Travel Destination | Adequate Travel.