Norway in Europe is a small town famous for its spectacular mountains, freezing glaciers, and deep fjords on the coastline. Many people visit Norway to explore the natural wilderness but the adventurous places still remain unexplored. Hence today we are revealing some famous things to do in Norway that are far away from ordinary sightseeing. These activities are best known to create an Adrenaline rush. Norway is a heritage country in Europe where you will get a perfect blend of modern and traditional culture. 
Being an affluent country both in culture and heritage, Norway offers a list of things to create a lifetime experience of adventure. If you have read about Norway somewhere then, of course, you came across the fact that it is known as the Land of the Midnight Sun. Yes, it is the most unique thing about Norway that the sun never sets here in some parts of the year. After this, the second thing for which Norway is literally famous worldwide is the sparkling northern lights. It is one of the most spectacular things that you should witness here in Norway. It is one of the safest countries to visit by female solo travelers. Heaps of transport options make traveling within the country comfortable and easy. Moreover, the fascinating history of Norway gives you endless stories to publish a book. So, let's head to read about the best places to visit in Norway and what unique things you can do in Norway to exhilarate your soul.





1. Go on a session to catch the King Crab
Some of you have seen crabs in images and might end us saying how creepy this creature looks? On the contrary, some like adventure and find these creatures attractive. If you are the one then Norway is the destination for you. Here you will get a chance to hunt King crab. Well, seeing a giant crab in front of you is an experience itself and catching them is worth publishing in the headlines. There is a small town named Kirkenes in Norway where you will get to catch live crabs, not the ordinary ones, it's 'The King Crab'. In summer crabs could be fished by Rigid-Inflatable Boat RIB and pull the vessels into the boat. While in winter you have to dig in the ice and catch the crabs through the dug hole. Later in the evening, these giant crabs are cooked for a meal. 
Read more: Some Interesting Facts About Bergen
2. Go on a Romsdalen Gondola ride
Want to get a 360-degree aerial view of Norway then head for the Romsdalen Gondola ride. Romsdalen Gondola ride is the best thing to do in Norway that offers you a delightful view of the Nesaksla and Romsdal mountain range. It is basically an electric cable car that is hung on thick cables to transport people to hill stations. The journey starts from the Åndalsnes town center and ends at the top of Nesaksla mountain. The cable car is located 708 meters above sea level and takes passengers to 1679 meters up in the mountain. During your ride on the Romsdalen Gondola, you will get to see fantastic views of the mountains and fjord in Romsdalen. 
You can experience the Romsdalen Gondola ride throughout the year and each gondola is built to transport up to 45 people. 
Address: Jernbanegata 1, 6300 Åndalsnes, Norway
3. Witness the opulence of "Rorbu" in the night
Rorbu is nothing but wooden cabins on the coast of the Lofoten Islands. These cabins are built for fishermen to use for fishing in seasons. Presently these Rorbu are also used for lodging purposes of tourists apart from ordinary fish hunting. So, book your stay at Rorbu to witness the coastal beauty of the Lofoten islands at night. Rorbu offers a traditional sensation and at the same time allows you to enjoy modern facilities. Nyvågar Rorbu hotel in Storvågan is the best choice if you are looking for comfortable and spacious fishing cabins in Norway. They have separate rooms for lodging tourists with hotel standards where you can spend even nights witnessing the beautiful environment.




4. Book a stay at Snowhotel 365 in Kirkenes town
Kirkenes is a famous tourist destination in Norway well-known for its snow-covered fields and frozen fjords. The most celebrated thing about Kirkenes town is their Snow Hotel that is built using snow blocks. 
If you are looking for something unique to do in Norway then we would suggest you visit the gorgeous Snow Hotels. I am sure that this will give you an extraordinary experience for a lifetime. These hotels have a constant temperature of -4 degrees throughout the year. Even in summers when the atmosphere is slightly hot this hotel manages to keep its temperature constant and allow visitors to capture the gorgeous views. You can book an overnight stay at the Snowhotel and open the entire night in your own bed of ice. Don't worry about the temperature as you will get a thermal sleeping bag that helps you to keep warm for comfortable sleep at night. Moreover, you will get a 24/7 warm lounge with restrooms, showers, a wardrobe & sauna in case you feel cold at night even in the thermal sleeping bag.
Address: Sandnesdalen 14, 9910 Bjørnevatn, Norway
Read more: Fascinating Facts About Norway
5. Experience the Norwegian Train journey
Apart from the fjords and northern lights, the train journey of Norway is also worth experiencing. There are more than two thousand miles of rail track in Norway that lead to several beautiful destinations. No matter whether you are traveling to Trondheim or the Flåm village. 
The views on the way are impeccable. Bergen Line, Røros Line, Flåm Line, Ofoten Line, Dovre Line, Rauma Line, and Nordland Line are some famous railway lines in Norway where you will get to see enjoyable vistas of nature.
6. Join the Husky Dog Sledding Adventure
Sledding ride is a popular adventurous activity to do in Norway in winters. The mountains are covered with snow during this time and the husky partner is all set to make your Norway visit memorable. Moreover, if you choose to take the husky sledding ride in the evening then you might get to see the Northern lights too. 
The overall route is 5 km long and consists of various ups and downs with sharp turns to create an adrenaline rush. There are different locations in Norway to try the Dog Sledding Adventure ride. In northern Norway, Svalbard and Finnmark are the famous spots to start the Sledding ride. 
7. Take the Hurtigruten ferry ride
Hurtigruten ferry ride is the cheapest and yet the most sophisticated way to explore obscure Norway. It is the most fascinating thing to do in Norway only if you love ferry rides.  Hurtigruten cruise in Norway takes you on a 1200 miles journey of various Norwegian towns. The journey started from Bergen and ends at Kirkenes. 
The entire journey of 1200 miles will take approximately a week of your vacation. So, if you are on a short weekend and still want to enjoy the Hurtigruten ferry ride then you can choose to sail just part of the trip instead of taking the whole journey. 
During your cruise ride, you will get to enjoy several waterside activities like crab hunting, fishing, swimming, and much more in the coastal areas. Overall we can say that the Hurtigruten cruise ride is the most epic way to explore the coastal tows in Norway.
Read More: What is Norway most famous for?
8. Visit Akershus Castle to experience the royal residence
Akershus Castle in Norway is among the oldest medieval castle in the town and of course the most charming place to visit by tourists in Norway. It was built in the 12th century using stones. Initially, this castle was used by the army to keep an eye on enemy invasion but later after independence, it was used as a residential area for royal citizens. In between this beautifully built castle is used for different purposes as for renaissance, a prison, a banquet hall, and a chapel.
Currently, this castle is used for residential purposes and several antique collections are exhibited here. These antique items depict the devastating history of the castle. If you are inquisitive to know about the golden old days and the culture then it is one of the must-visit places in Norway. 
Address: 0150 Oslo, Norway
9. Catch the Glimpse of an optimistic view of the Arctic Circle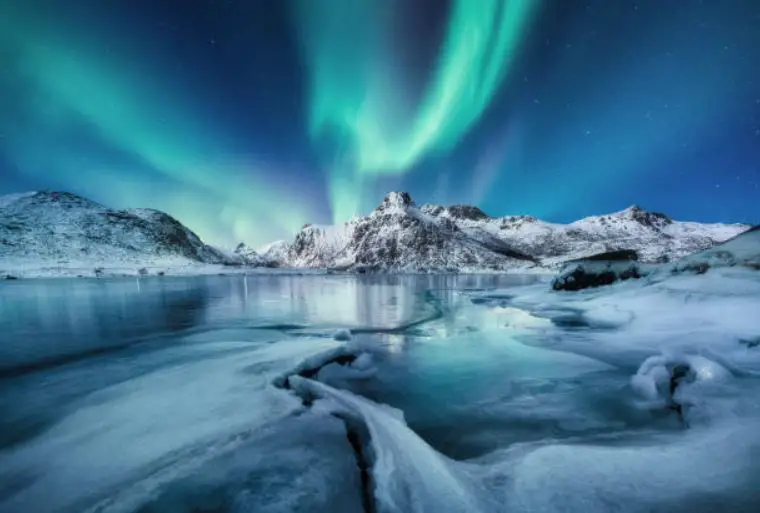 In my opinion surfing in the arctic circle is the most adventurous thing to do in Norway. We all have surfed in different parts of the world but the surfing experience you get in the arctic circle is really impressive. The water body encompasses towering mountains and you can go surfing here any time of the year. Even the summers are the best time when you at least get the rays of the sun to warm your body while your feet are in the snow. 
10. Opt whale watching safari tour
Whale watching is another best thing to do in Norway, especially in pre-winters (October to mid-January). You will see humpback whales flipping in front of you makes you feel Invigorated. There are multiple guided safari tours available in Norway that take you to the center of the river just for a surreal whale watching session. The feeling to see or touch enormous whales is rejuvenating. Also, I recommend you to go on a RIB boat ride as on big boat whales are hard to reach.
Read more: Best Cities to Visit in Norway
11. Capture the beautiful view of Norwegian fjords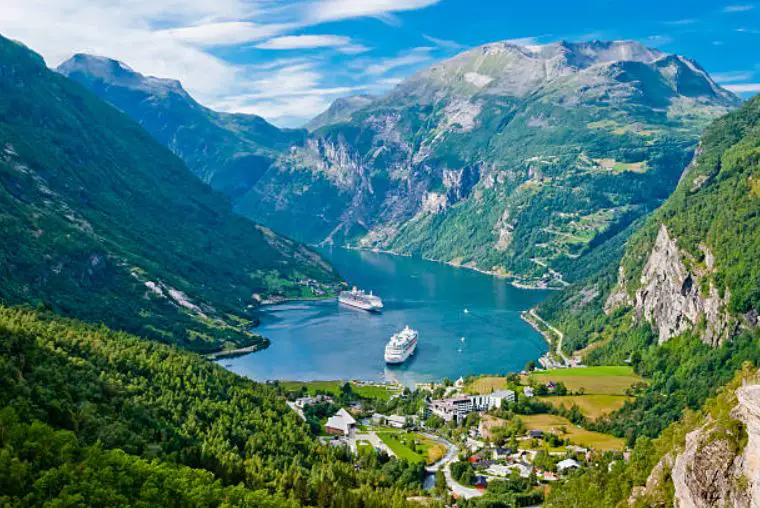 The Norwegian fjords are the most dramatic fjords you have ever seen in the world. Though there are nearly 1700 fjords boasting in the country there are few fjords that are known for their implicit beautiful vistas. 
Geirangerfjord, Nærøyfjord, Aurlandsfjord, Sognefjord, and Lysefjord are the four most common and famous fjords in Norway and believe me these are also all-time favorite tourist places for visitors in Norway. 
Geirangerfjord was documented as a UNESCO World Heritage site in 2005 because of its stunning views. Nærøyfjord on the other hand is known for its distinct charms and outstanding scenery. It is considered the best ford in the world. Sognefjord in Vestland, western Norway is known as the "King of the Fjords" as it is the deepest and longest fjord in Norway.
Overall I want to say that no matter what fjord in Norway you are standing on, the view is impeccable and mesmerizing. You can gaze over powerful falls, placid waters, potent mountains, and most importantly outstanding scenery in Norway. 
12. Pose for an expressive photo on Trolltunga peak
Trolltunga in Norway is a hiking place located at an elevation of 1100 meters. The place is the highest hiking point in Norway with a tongue-shaped rock coming out from the mountains. The most unique thing about the Trolltunga tongue is that the tongue is attached to the mountain from inward and there is no support toward the tip of the tongue. 
The roundtrip back to the basecamp from Trolltunga peak is 28 kilometers long with 800 meters summit point on the top. It will take approx 10-12 for a professional hiker to complete the entire trek. 
Norway has no shortage of activities when it comes to adventure. I hope this blog is the perfect answer for the Best Things to do in Norway. From a joyful train ride passes from a sightful track to enjoying the risky sledding ride, everything will add a gutsy experience to your Norway trip. There are museums, castles, whale-watching tours, surfing, and many other activities that will make your Norway trip special and memorable. As you are ready with all the adventurous things to explore in Norway, you can pack your bags and start your Norwegian journey this vacation.
The post Best Things to do in Norway- Adequate Travel appeared first on World Tour & Travel Guide, Get Travel Tips, Information, Discover Travel Destination | Adequate Travel.