Synopsis: New Vande Bharat Express will chug from Delhi Station and stop at Ambala, Chandigarh, and Anandpur Sahib, before reaching the destination, i.e., Unao Amb Andaura Railway Station in Una.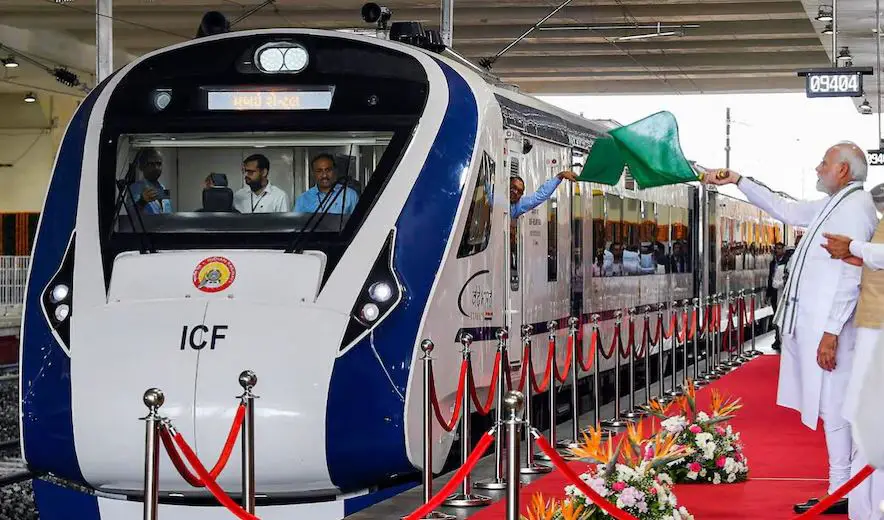 Those who have to spend 4-6 hours traveling to reach Chandigarh from Delhi will now feel a little relief after the launch of the New Vande Bharat train on the Delhi-Chandigarh route. The train was inaugurated by our honorable PM Narendra Modi on October 13, 2022, and will cover the Delhi-Chandigarh route in just 3 hours. 
According to railway experts, the fourth Vande Bharat train is much lighter and can travel faster than the previous ones. It will take just 52 seconds for the new train to reach 100 km/h. 
The train will run for 6 days a week except for Wednesday. It will leave Delhi and stop in Ambala, Chandigarh, and Anandpur Sahib on its way to the Amb Andaura station in Una.
Those who want to make a reservation on the new Vande Bharat Express on the Delhi-Chandighar route or vice-versa can visit the IRCTC's official website. Delhi is the capital of India and millions of people arrive in this Indian capital to witness famous national monuments and other places for which Delhi is famous across the world.
According to Indian Railways, the new Vande Bharat trains come with improved features including reclining seats, CCTV cameras, automatic fire sensors, wifi facility, three-hour battery backup, and GPS systems. 
Traveling will be safer and more comfortable for everyone thanks to all these amenities in the new Vande Bharat trains. 
The new trains are also equipped with a photocatalytic ultraviolet air purification system on the roof that will keep the air inside the train fresh and breathable. 
By the end of August 2023, the Integral Coach Factory hopes to have built 75 Vande Bharat trains. The Vande Bharat Express is a new train that is changing the way people get around India.
Shortly after the announcement of the Himachal Pradesh Legislative Election this year, the train was put into service. 
PM Modi launched the third Vande Bharat Express last month in Gujarat, which is again an election-bound state. You can take this train from Gandhinagar to get to Mumbai. The other two Vande Bharat trains connect New Delhi-Varanasi and New Delhi-Shri Mata Vaishno Devi Katra.
The post New Vande Bharat will connect Delhi-Chandigarh in 3 hours appeared first on World Tour & Travel Guide, Get Travel Tips, Information, Discover Travel Destination | Adequate Travel.