North Korea is the most amusing destination on earth. The cities in North Korea are very beautiful and have strict rules for foreign visitors. North Korea is the least visited country due to its conservative nature, especially when it comes to allowing foreigners to visit the country. It is a very well known country but there are many people who still want to visit major cities in North Korea. The government of North Korea currently monitors the movement of people from rural areas into the cities to try and control the population boom experienced in urban areas. North Korea is the world's most closed-off country. Life here is isolated, so here are some best cities in North Korea for those people who want to intrude in the lives of North Korean.
North Korea Cities
1. Pyongyang
Pyongyang is the capital city of North Korea. The meaning of Pyongyang is "peaceful land" or "flat land" in Korean. It is the largest city in North Korea having a population of 3,255,388 people. The highest numbers of government offices are in Pyongyang. It is a major economic center with all types of business. It has several natural resources such as limestone, coal, and iron. The city has a well-defined transport system. The city is comprised of air, water, and land transportation systems that connect both various international and local destinations. Farming takes place on the city's outskirts hence supplying the city with a variety of agricultural products. Including II-Sung University, you will find here some of the major learning institutions in the country. The large population of this popular city in North Korea has had to face some adverse effects, such as climate change, overcrowding, and pollution.
2. Hamhung
With a total population of 768,551 people, Hamhung is the second-largest city in North Korea. This one of the biggest cities in North Korea serves as a major administrative city and serves as the capital of South Hamgyong Province. It acts as an industrial and chemistry center. Hamhung is also known as a port city that serves foreign trade in the country. The city also has an integrated transport system that connects the northern port to the eastern ha port. It has a Toksan airport and Pyongra line railway. Hamhung is an educational center with institutions such as Hamhung University.




Read more: Major Cities in Malawi
3. Wonsan
It was announced in 2013, Wonsan will be converted into a summer destination with resorts and entertainment. Wonsan is a popular tourist destination and famous cities in North Korea for foreigners and locals alike. As the water, there is exceptionally clear nearby Songdowon is a famous sea bathing destination in North Korea. Pine trees are abundant in the surrounding area, and it has been designated a national sightseeing point. Such as automobile plants and shipyards there are a series of heavy industry factories in Wonsan.
4. Sinuiju 
With Dandong, China across the Amnok River (Yalu River), Sinuiju is a Korean gateway city neighboring. This city to visit in North Korea are linked with Dandong by a railroad bridge. It is also the capital of North Pyeongan Province. The old city from whose name Sinŭiju derives is located 28 km west of Ŭiju. During the Japanese colonial rule at the terminus of a railway bridge across the Amnok River Sinuiju was developed as a major settlement. It grew commercially with the logging industry as an open port that uses the Amnok River to transport lumber.




Read more: Major Cities in Libya
5. Kaesŏng
Kaesŏng is one of the top 10 cities in North Korea located in southwestern North Korea. It lies just south of latitude 38° N, approximately 45 miles northwest of Seoul, South Korea. One of the oldest cities in Korea, Kaesŏng was used to be the capital of the Koryŏ dynasty. It was formerly called Songdo, which means the City of Pine. It named because it is surrounded by pine-covered mountains, including Mount Songak and Osŏng. Enclosed by a stone wall with four gates, Kaesŏng is a castle city.
6. Haeju
Haeju is the administrative center of South Hwanghae Province, it is just 3 km north from the 38th parallel. As of 2000, the population of the city is estimated to be 236,000. A list of cities in North Korea is incomplete without it. Haeju is also a scholar's town of Buddhist learning and used to be a prominent trading port with China. It was made one of 12 civilian-run regional capitals under the Koryo King Seongjong in AD983. The city's trading position was somewhat sidelined by the building of the Seoul-Sinuiju railway in the early 20th century.  




Read more: Major Cities in Liechtenstein
7. Chongjin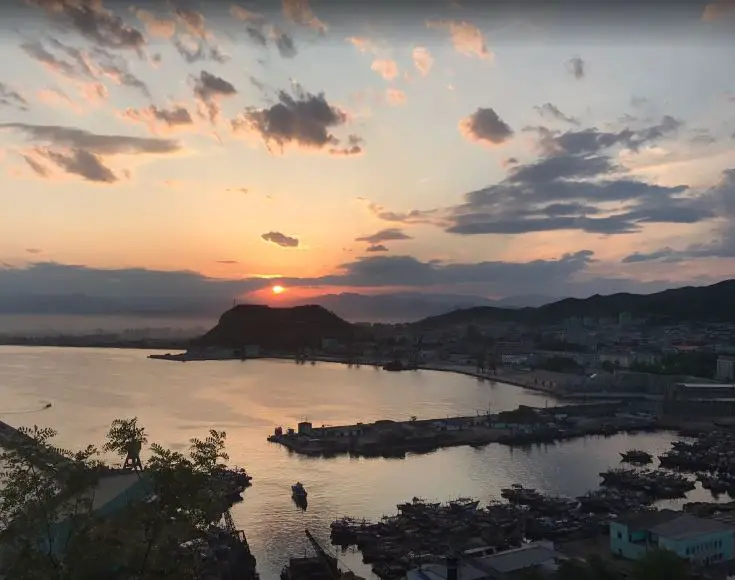 Chongjin city started as a small fishing area and stayed relatively unremarkable until after the Japanese took control of the area at the start of the 20th Century prior to World War 1. This important city in North Korea grew to be an open trading center for transporting Korean resources and also stopping point for the resources from China. The city is a steel and fiber industry center, currently. It has a rubber factory, a locomotive plant, and a shipyard. It also has a coal and steel company and is home to a population of 627,000 people. Lack of resources cripples industrial activities in Chongjin. The presence of many industries in the main city in North Korea also leads to high pollution rates. Several factories have been shattered owing to the collapse of the Soviet Union and the shortage of oil to generate electricity. Hence it frequently experiences drought and famine but the area has little agricultural land. Conditions in the city remain poor regarding the availability of food, due to its population size.
8. Nampo
Nampo is one of the best cities in North Korea to visit. This city is located in the South Pyongan Province of North Korea. It started as a small fishing village and later became a port of foreign trade. With facilities such as the fishery complex, the Glass Cooperation, The Shipbuilding Complex, among others, it is a major industrial center. It is an agricultural center for apples. It is a chief seaport connected by rail to the interior and by the river to the Taedong.




Read more: Major Cities in Jordon
The top cities in North Korea are widely known for its human and technological advancement. However, as nation-building intensifies and the economy becomes larger through urbanization of villages and rural areas, new concerns arise. As a result, environmental degradation escalates hence the need to conserve the environment. I hope you like this article on the list of North Korean cities if you do so kindly share your valuable views in the comment section.  
The post Best Cities in North Korea to Visit | Major Cities in North Korea appeared first on World Tour & Travel Guide, Get Travel Tips, Information, Discover Travel Destination | Adequate Travel.