Havana is a well-known capital and major shipping port in Cuba. Havana's exotic location covers the major Atlantic coast of Cuban borders making it a significant tourist spot for the nicest beaches in Havana. Each year tonnes of tourists explore the amazing eastern beach line of Havana also known as Playas del Este. But only a correct guide can enhance your beach experience as due to the large crowd of tourists and local people it's easy to get confused among the various different routes alongside beaches which might look all the same to a first time visitor. Here, we provide you with the swift and easy list of famous beaches in Havana along with an easy route guide to reach those beaches with the help of local taxis and tour buses.
List of Famous Beaches in Havana 
1. Playa Santa María del Mar
It's the most trendy, attractive and busiest beach in Havana visited every year by thousands of tourists. It's generally known as Santa Maria and pondered as the most popular beaches in Havana. It stretches 3-4 km long covering the lands by its adorable golden sands flourished with fresh grasslands and palm trees. On being the most visited tourist destination it can be a bit crowded and artificial but this feature also provides this place with the privilege of various famous resorts and hotels located nearby for a further stay.
Read More: Beaches in Lisbon
Easy route guide: You can pick a taxi from Havana to Santa Maria while from  Old Havana you can take a tour bus that departs from Parque Central near the Grand Theatre of Havana, Hotel of Park Central and hotel Manzana Kempinski.
2. Playa Bacuranao
This beach characterises its name from the river that flows into the sea and this beach runs 15km downtown from Havana.  If you have to visit for a short period of time this beach can be your jam to hold on to, whenever you wish to take a quick view of Havana's beach. It is one of the nicest beaches in Havana which provides amazing underwater dives to explore the life under the ocean filled with Havana's famous Spanish galleon buried in the ocean, beautiful coral reefs and aquatic flora and fauna. Since, this place acquires exotic activities of scuba diving which opens the door for more water activities such as water rafting, boat rides, snorkelling etc. Kite-surfing is one of the popular sports among these on the Bacuranao beach
Easy route guide: You can book a taxi online or catch a cheap local bus ride with bus no.P3 and P11 from El Vedado to Alamar(the beach is at walking distance from here) while from Old Havana take an A40 bus ride to Guanabo(costs about $5 only).
3. Playa Guanabo
It's one of the beaches from the eastern beach line of Havana known as Playas del Este. It's approximately 27 km east from Havana and runs along 4km with its brownish sands and palm trees. This beach comparatively holds slightly fewer crowds and is mainly populated by the local people of Cuba living in the beautifully articulated wooden shaded huts and houses. You can experience the local lifestyle and interact with Cuban people here as well, to relive this city in its own famous lifestyle. With a fabulous leisure time due to a lesser crowd, it provides a long chain of shops and street food lanes for further adventure. A famous lane known as Avenida 5ta can be explored which exhibits the most famous beaches of Havana offer street foods such as peso, ropa vieja etc. served in paladars(private restaurants running in homes).
Read More: beaches in Israel
Easy route guide: You can catch any buses or taxis travelling from Havana towards  Vía Blanca highway. Amidst this route take a left turn down the road, this will take you directly into the well known Guanabo's main street ahead of these is your hot and sunny Guanabo beach.
4. Playa Boca Ciega
It gets its name from the river Boca Ciega which runs into the sea. It is one of the largest beaches among the eastern beach line of Havana. This beach is 30m wide and one of the beaches among Playa del Este. A bridge across the  Río Itabo(Itabo river) connects the busiest beaches of Santa Maria to Playa Boca Ciega. It's a popularly well-known beach of Havana called also Playa Mi Cayito among the locals. It does become the heavily visited beach due to its nearest location from Santa Maria but you can find exclusive beautiful estuaries due to its exotic river and sea sites. Among these estuaries, people dwell their small children to experience oceanic adventures in a safe manner. Therefore, near these estuaries, you can find different activities customized for kids such as paddling and wading. You can explore a nearby different beach known as- La Veneciana which is a great spot for kid adventures. Towards the west near to Santa Maria beach, there are even custom places for the Gay community
 Easy route guide: You can get a direct taxi from the centre to Boca Ciega Beach just for approximately $15.
5. Brisas del Mar
It is one of the oldest beaches among the Playa del Este founded in the 1950s. As it is not as popular like other eastern beaches it has some underdeveloped green fields where you can spot some wild and grazing animals basking the sun and enjoying the luscious greeneries of the beach. Such a classic place might not be the most visiting beach but it's one of the best beaches of Havana for a full family vacation with great spots for kids and adults. Along with the west sites, chains of several inns, hotels and resorts equipped with full-family packaged services are located. One of the famous inn named after the beach- Brisas del Mar inn serves a fresh continental breakfast and cheese receptions each afternoon at a very reasonable rate. Along with that, it offers an oceanfront bike path and Santa Barbara Yacht Harbour for an adventurous family vacation.
Read More: Beaches in Miami
Easy route guide: You have to take a bus ride (bus no. A40) from Brisas del Mar. The last stop of the bus marks the beginning of the beach.
6. El Mégano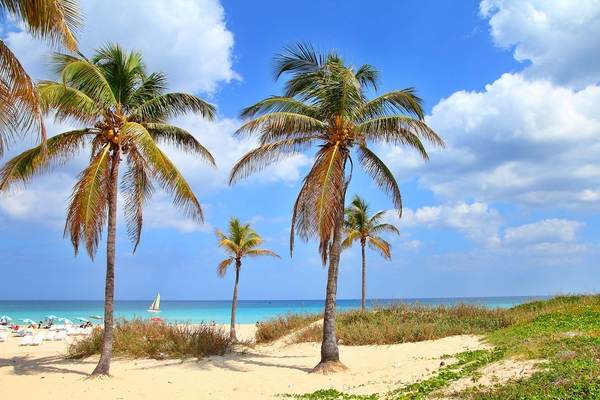 It is a small beach near the famous Santa Maria. Its extraordinary sand dunes covered with green grass and palm trees with the east-facing turquoise water body makes it one of the popular beaches of Havana for a quiet relaxing time. The services for food and lodging are situated 100m away from the beach at the hotel Villa Mégano. It's a popular visit among the locals during the weekends in summers
Easy route guide: You have to take an A40 bus ride along the Vía Blanca highway while alternatives are always available as online taxis to drop you at your booked destination.
7. Tarará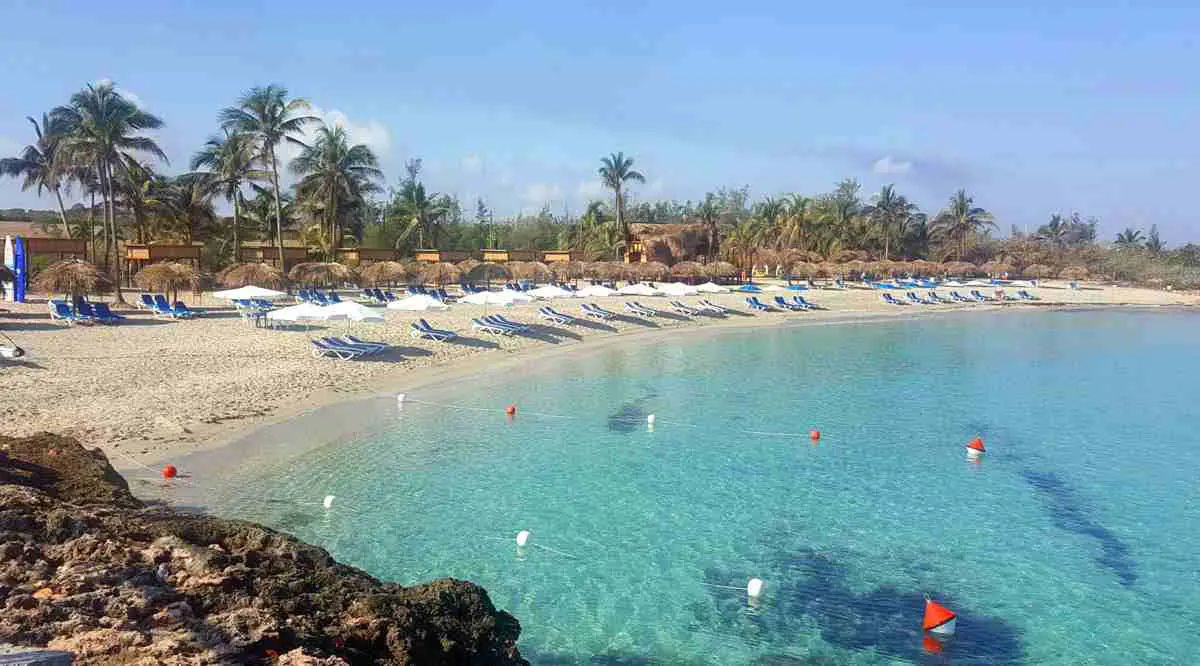 Its 18km away from the city and a river named- Tarara flows right next to it. It is the first beach in the eastern beach line of Playa del Este. You can enjoy this Havana's famous beach just like other beaches of eastern beach line filled with coarse sand and coconut trees. It provides a great view to other east line beaches of Havana as well. In 2006 an Oil was also discovered in a well near Tarará. The region around this beach is majorly populated with colleges and student hubs which makes it a famous place to explore the academic sites of Havana.
Read More: Beaches in Amsterdam
Easy route guide: You can book a taxi online from Havana which will drop you at almendrón from here you can walk towards the beach.
Best time to visit
Since Cuban winters arrive in November till February so the best time to visit are the months other than these months even though in Cuban winters it's adventurous to feel the warmth of the water and slightly cool weather alongside. Havana's famous Beaches are heavily crowded on weekends and during Cuban holiday seasons(July-August)
Some of the helpful apps to be downloaded before exploring Havana's beaches:
Google Translator: for easy communication

Xe.Currency: Cuba has two official currencies hence this app can be a lifesaver in the difficult conversions of those currencies.

Shazam: Cuban lifestyle always drums a background of amazing songs which can be in your favourite playlist too through the help of this app.

Pocket:

This app provides online and offline famous spots at a glance regarding Cuba along with videos and different reviews from the local people as well.

Maps.me

:

for easily locating the famous Havana's tourist destinations 
Best guides are only possible when you keep track of the local routes which can be a perfect aid for further adventures. Havan's beaches also offer some great cuisines which must be experienced as the Spanish core and various colonial cultures of Havana have represented their cuisine,  which is a great combination of this country's versatile flavour palette among the world.
The post Best Beaches in Havana | Beautiful Beaches Near Havana to Visit,Cuba appeared first on World Tour & Travel Guide, Get Travel Tips, Information, Discover Travel Destination | Adequate Travel.