As the capital of Spain, a Catholic country, Madrid really goes mad during the Christmas season. You will find many Christmas things to do in Madrid and from Christmas markets and Christmas lights to nativity scenes and the Three Kings Parade. And of course, eating out. Christmas Eve is the main festival celebration in Spain, which means you'll find a lot more restaurants open on Christmas Day than in Britain or the United States. However, restaurants all take bookings months in advance, so if you plan on eating out on Christmas Day, book your reservation as soon as possible. Here we will explore how Christmas celebrates in Madrid?
Things to do in Madrid at Christmas
Christmas Markets in Madrid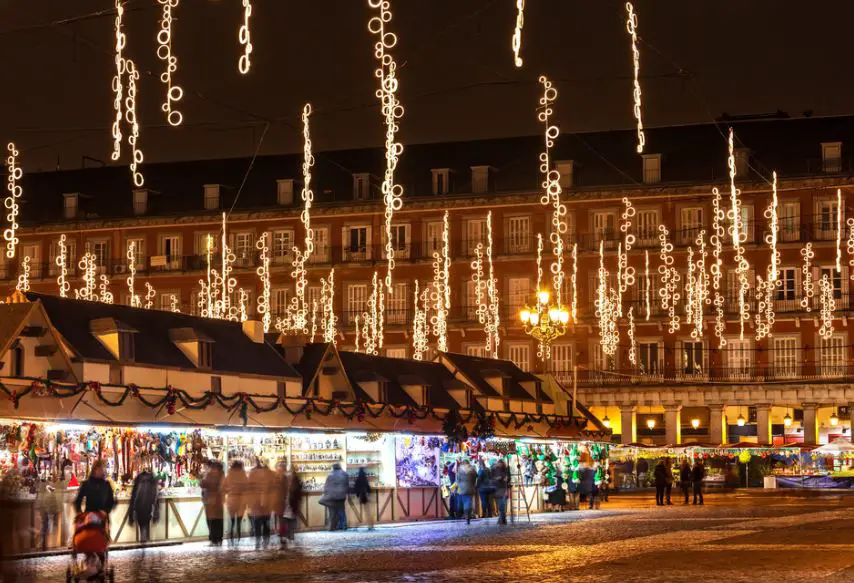 You will find many Christmas markets in Madrid, running for various duration over the Christmas period. Christmas markets start opening at around midday and close around 9 or 10 p.m midnight. Here we collected some of the favorite and most fun-loving Christmas market given below: 
1. Plaza Mayor Christmas Market: It is the main Christmas market in Madrid. It takes place each year in Madrid in Plaza Mayor. Its stalls usually open in the last week of November till January. All the stalls usually spill over into nearby Plaza Santa Cruz in Madrid.
2. Plaza Callao, Plaza Santo Domingo, and Plaza del Carmen Christmas Markets: All three of these best markets are situated between Sol and Gran Via and all open in November and December. Shopping here in these markets is counted in one of the top things to do in Madrid at Christmas. 




3. Plaza La Luna Christmas Market: Plaza La Luna, more known as Plaza de Santa Maria de Soledad Torres Acosta, is situated just north of the major Gran Via and is open from mid-November to early January. 
4. Plaza de Espana Christmas Market: If you have no idea what to do in Madrid at Christmas this craft market opens in mid-December and runs until early January makes your day wonderful. Here you will get some of the artistic work. 
5. Plaza Benavente Christmas Market: If you take few steps from Sol there is a smaller market that opens in late November and runs through early January. It is a wonderful market for buying Christmas things. 
6. Plaza Isabel Christmas Market: Foodies here you must go! This is the main Christmas food market in Madrid. This market starts in late November to early January.
Read More: How Bruges Celebrate Christmas?
Christmas Activities in Madrid 
1. Madrid Christmas Lights
If you are traveling to Spain's capital, you will see much of Madrid is covered in Christmas lights every year. Here will explore one of Madrid's most spectacular Christmas lights. The Christmas lights are turned on in the last days of  November and turned off in early January. Watching these Christmas lights should be considered as the best things to do in Madrid at Christmas. Here some suggestions for you: 
Gran Via in central Madrid

Puerta del Sol in central Madrid

Paseo de la Castellana/Paseo del Prado in central Madrid

Calle Goya and Calle Ortega y Gasset in the Barrio Salamanca district 
2. Ice Skating in Madrid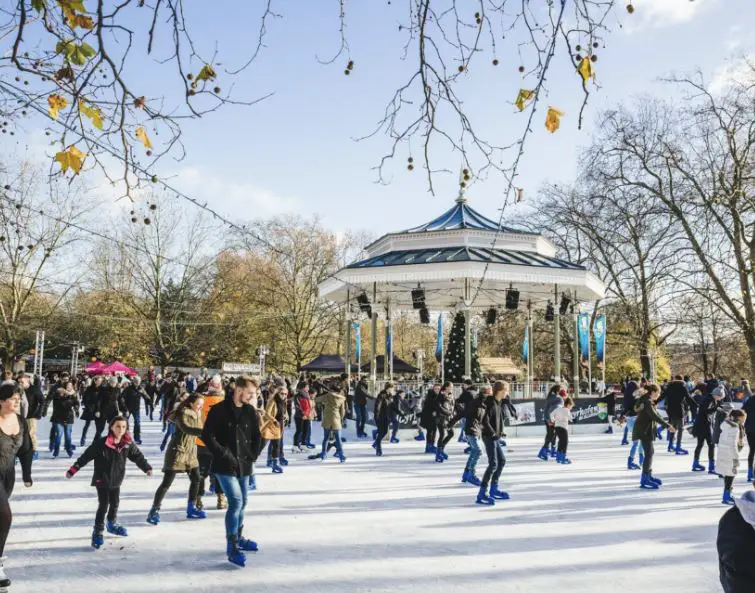 If you're looking to skating around in your own ice show in Madrid, look no further. We've prepared a list of the longest ice skating rinks. Ice skating is a part of Christmas things to do in Madrid. Take you're the kids with you for ice skating or you can go yourself at one of these ice rinks that are open every year during the holiday season in Madrid: 
Centro Cultural Conde Duque in Malasana, from mid-December.

Plaza de la Luna from late November.

Plaza de Felipe II in Barrio Salamanca, from November.  
Read More: Christmas Celebration in Bangkok
3. Nativity Scenes on Christmas Eve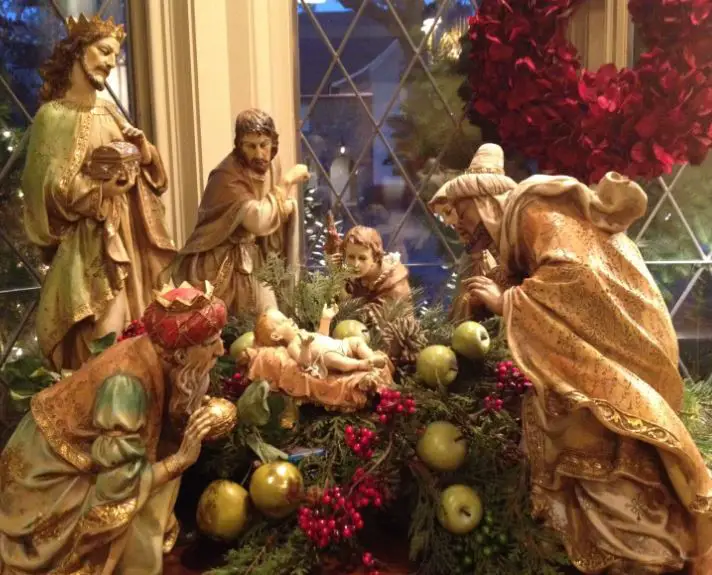 The tradition of creating nativity scenes is seven centuries old. Here organizer remembers the birth of Jesus in Spain. Now present days, when the Christmas season comes around (from approximately the beginning of December until 6 January), most towns and villages install a crib scene in their Plaza Mayor square, in their churches, and in every home… Many of these have evolved spectacularly, and now include moving pieces and special effects that amaze everyone who sees them.  Nativity scenes (beliefs) in Madrid are a big deal. Christmas celebration in Madrid is incomplete without nativity scenes. These are not just a couple of Playmobil toys and some toy farmyard animals; the whole of Bethlehem is reproduced. There are nativity scenes all over the city, and there will usually be a line to get in to see them.
Centrocentro Cibeles de Cultura y Ciudadania: An antique 17th-century nativity scene in the former post office. 
City Hall: You will find here one of the biggest nativity scenes in Madrid. 
Plaza Mayor: If you want to be a witness of an outdoor nativity scene around the central statue is probably the easiest to visit.  
Other Madrid Nativity Scenes: Museo de Historia de Madrid (on Calle Fuencarral), Museo de San Isidro (Plaza de San Andres), and Real Casa de Correos (Calle Correos). 
4. Three Kings Parade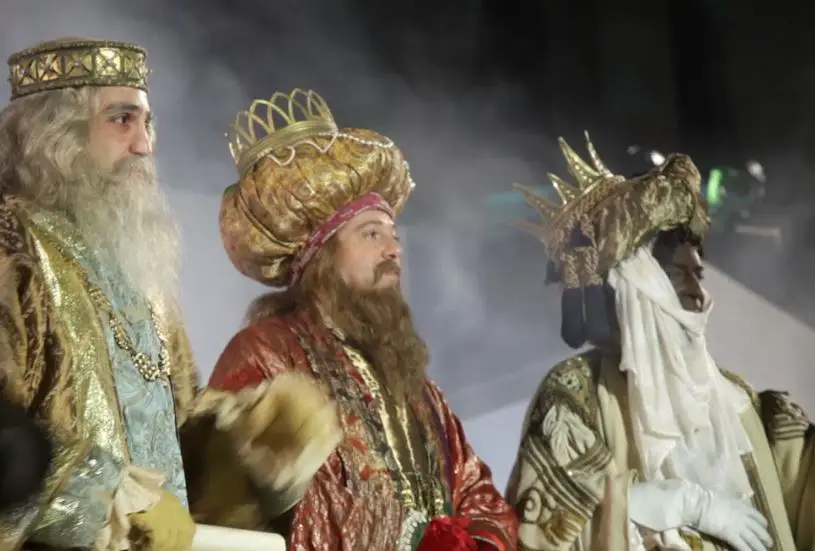 The Three Kings Parade (Cabalgata de Los Reyes Magos) is on Jan. 5 every year, and it's arguably the biggest event of the Christmas day in Madrid in Spain. On this night, the three wise men, or kings, bring presents for all. The three kings, Melchior, Gaspar, and Balthazar, join the parade to the city center bringing their message of peace. Here you can take some suggestion from below: 
Plaza de San Juan de la Cruz, beginning at 6:30 p.m.

Paseo de la Castellana  

Plaza del Doctor Maranon

Glorieta de Emilio Castelar 

Plaza de Colon

Paseo de Recoletos

Plaza de Cibeles, at roughly 8.45 p.m.
Read More: What to do in Miami for Christmas




So above are some amazing ideas and suggestions on things to do in Madrid at Christmas that will blow your mind and will compel you to make a trip to Madrid on the Christmas holiday. I hope you would love this article if you do so share your views in the comment section.
The post Christmas in Madrid Spain: What to do in Madrid at Christmas? appeared first on World Tour & Travel Guide, Get Travel Tips, Information, Discover Travel Destination | Adequate Travel.