Amsterdam is the capital of Netherlands and it is well-known for its imaginative and expressive heritage, detailed canal system and slender houses, gorgeous  Amsterdam beaches and mouth-watering food and drinks.So planning for a Beach holiday?And the first place that comes on our mind is Amsterdam.There are plenty of great and beautiful beaches in Amsterdam, Netherlands.Its beaches are so impeccable that you will love to stay there forever.Going to a beach when you are on a vacation in Amsterdam,is one of the best things to do while your in Amsterdam.Just an hour away from the city center, there are many of the best beaches near Amsterdam that can make your trip to Amsterdam, a memorable one.
List of Best Beaches in Amsterdam
1.  Zandvoort Aan Zee
Thinking of the best beaches in Amsterdam, the one name that immediately comes to our mind is Zandvoort Aan Zee.It is stretched of everlasting beaches, waves, sand, and surf which can give you an experience of a lifetime. A lot of visitors think that Zandvoort only encompass lying on the beach and having tasty cocktails while enjoying the cool sea breeze and the summer sun.Well, that is not all, this little beach resort has much more to offer. It is 30 minutes from the Amsterdam in train and it's a nice place to relax and enjoy some exotic and appetizing Sea food.
READ MORE: Romantic Things to do in Amsterdam
2. Pllek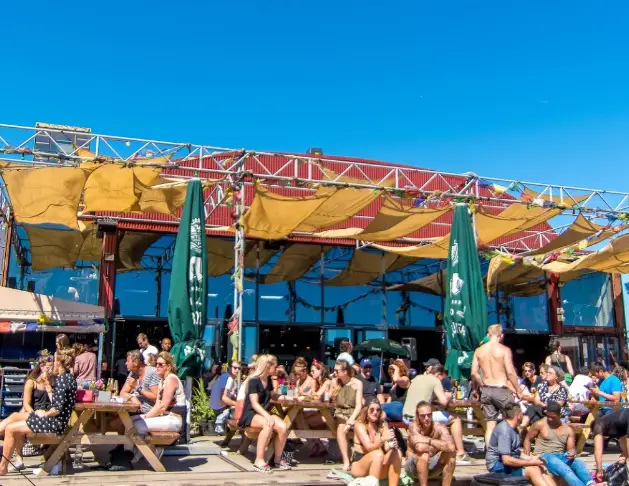 It is also one of the most famous beaches in Amsterdam. It is located in NDSM, an industrial hotpots that is a home to art exhibitions, cultural happenings and PLLEK restaurants.People living nearby comes  here on the weekend to hangout at the small beachfront area and swim in the River. If you want to enjoy good music along with decent beer and burger then go ahead it's a best beach in Amsterdam for this purpose.
3) Bloemendaal Aan Zee
Bloemendaal Aan Zee is one of the nicest beaches in Amsterdam. It's energetic atmosphere and sandy vibes make it a wonderful spot for young locals and tourists. It's the perfect spot to go when the weather is just too awesome to hang out.Beach clubs offer  live music and a party atmosphere. It is just an hour away from the Amsterdam city center
READ MORE: Best Cities, Towns in Netherlands to Visit
4) Strandzuid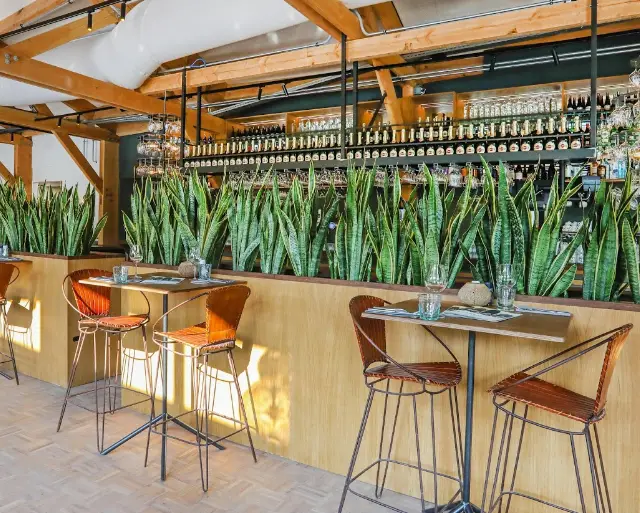 Just behind the RAI Convention Centre, Strandzuid is among the best beaches in Amsterdam. It is an ideal spot for beach breaks and you can also enjoy the game of  volleyball while your on the beach. It is a perfect place for lunch,dinner or if you want a drink to start a sunny day in the city.Take a seat on sunny terrace or sit back and relax and enjoy the beach viber over here.
5) Wijk Aan Zee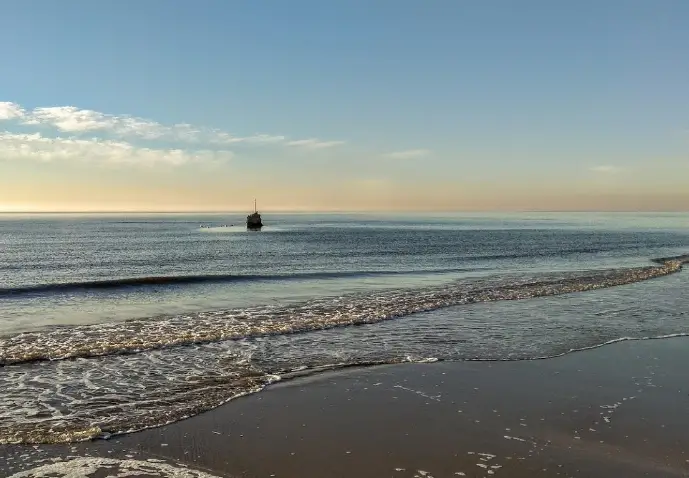 This is definitely one of the most famous beaches in Amsterdam, as it has already won  major awards. Recently the beach has received the Blue flag award which is given for high quality bathing water and clean beach. You can take a sun- bath or wander along the coast and can play water games and enjoy the breeze and sand of the beach
READ MORE:  Best Crowded Christmas Markets in Barcelona
6) Sloterplas Beach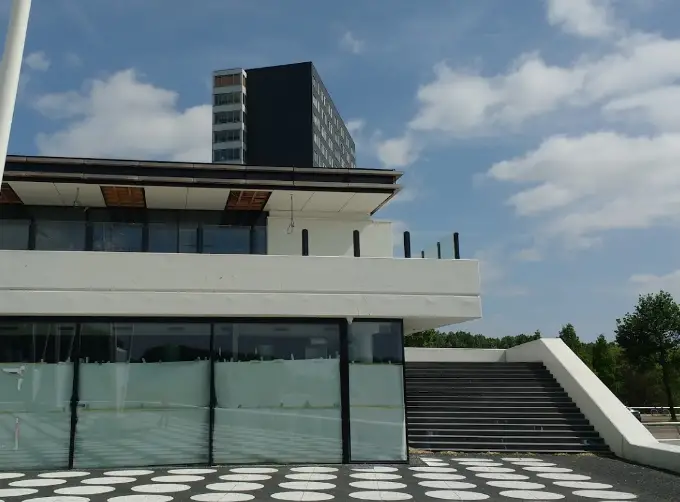 One of the largest beaches on the Amsterdam, there is a clean white sand and water is accessible for swimming and trees are also available for shade.Though it's a bit outside of the city but it is quite one calmer. It is not a ethnic or local hotpots, but it does offer a nice and quiet experience. There are some playgrounds, places to eat and drink and wading pools
7) Roest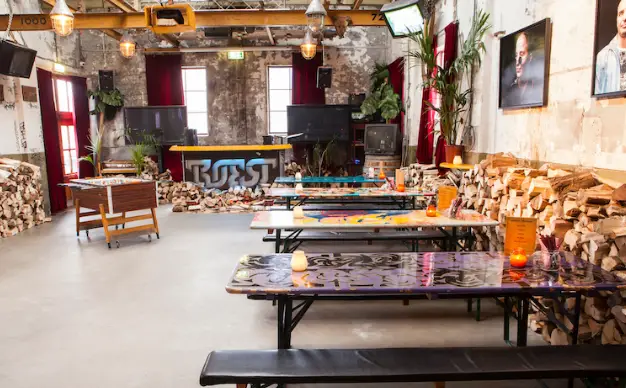 Amsterdam has a few amazing city beaches, Amsterdam Roest is one of the  favourite of many tourists. Roest is located at the industrial area with old warehouses. The interior is alright but the exterior is quite amazing with some small beach type area along with the opportunity to swim. It is more like a big bar that provides delicious drinks and mouth-watering food with great music. So if you are looking for a day out on the beach then this one is  on the top list of Amsterdam beaches.
READ MORE: Haunted and Mysterious Places in Barcelona
8) Castricum aan zee
Castricum aan zee has a fantastic location with marvellous view. It is one such beach which is without a neighboring village. It is extremely popular beaches in Amsterdam. There are numerous clubs scattered along the beautiful dunes. This is a place where you can spend days and can get an extreme solace. The ambience is quite nice and warm. The food and drinks served here are amazing
9) IJmuiden
It is located at the mouth of Amsterdam river and is a popular water sports destinations. So If laying on the beach with a good book isn't your idea of fun, there's a lot to keep you busy here like many water sports are available here plus your little ones can enjoy watching giant cruises and cargo passing by. This beach is not a sophisticated beach but it;'s rawness is absolutely spectacular, especially on a stormy day. 
READ MORE:  Top Beaches in Barcelona
10) Buitenzwembad Marineterrein
The amusing coastlines of Buitenzwembad Marineterrein are lined up with things that will overwhelm you. So basically it is not a beach but a swimming spot. This is a standout among  the Best beaches in Amsterdam
Best Beaches in Amsterdam is letting you know about all the popular beaches in Amsterdam as it is providing a brief description of top Beaches in Amsterdam and some of the most famous beaches in Amsterdam. Hope this article would be beneficial for you as it provides the name of cities in Netherlands and kindly share your views.
The post Best Beaches in Amsterdam | Famous Beaches near Amsterdam, Netherlands appeared first on World Tour & Travel Guide, Get Travel Tips, Information, Discover Travel Destination | Adequate Travel.