Water parks in Las Vegas are worth visiting whether you are going with family or friends. It has been the daydream of pretty much every visitor and resident of Las Vegas, since the days of the oasis. This indoor water park in Las Vegas offers some thrill rides and some kiddie pools and everything in between perfect for the family and guests.  Those just looking to dip their feet in a pool just enjoy to go there. You may even want to relax in an inner tube on a lazy river or take a swim with the sharks It's all up to you. Here are some water parks in Las Vegas Nevada
Water Amusement Parks in Las Vegas 
1.Wet 'n Wild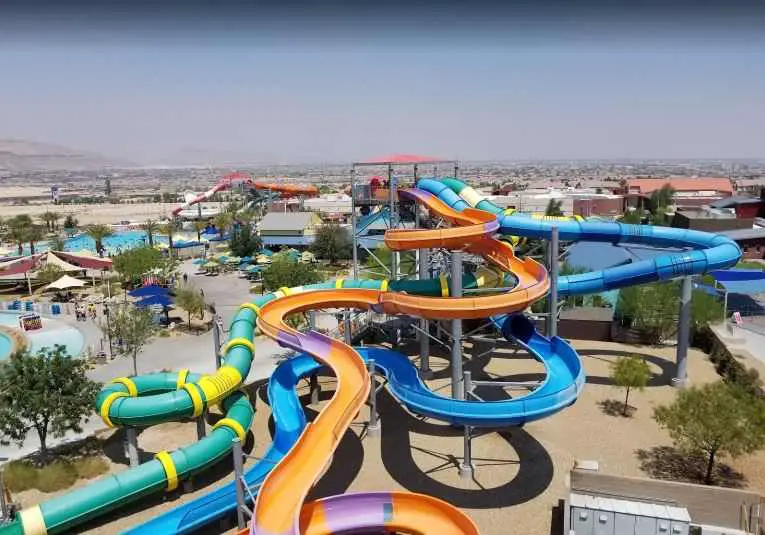 Wet 'n Wild draws standing-room-only crowds on hot desert days and it is one of the best water parks in Las Vegas. Dozen water-based slides, pools & rides for all ages, picnic areas for groups or families and refreshment stands, this watery haven boasts. Take a thrill ride on the Tornado, brave the Rattler, have some pure Vegas fun on the Royal Flush Extreme or Canyon Cliffs or just"chillax" on an inner tube at the Colorado Cooler! Slide-boarding may just be the thrill you've been looking for while kiddies love Paradise Fall, with its interactive play complex, slides, and a huge cooling feature. 
Address: 7055 S. Fort Apache Road, Las Vegas, NV 89148
Official Website: www.wetnwildlasvegas.com
Read More: Water Parks in Vienna
2. Cowabunga Bay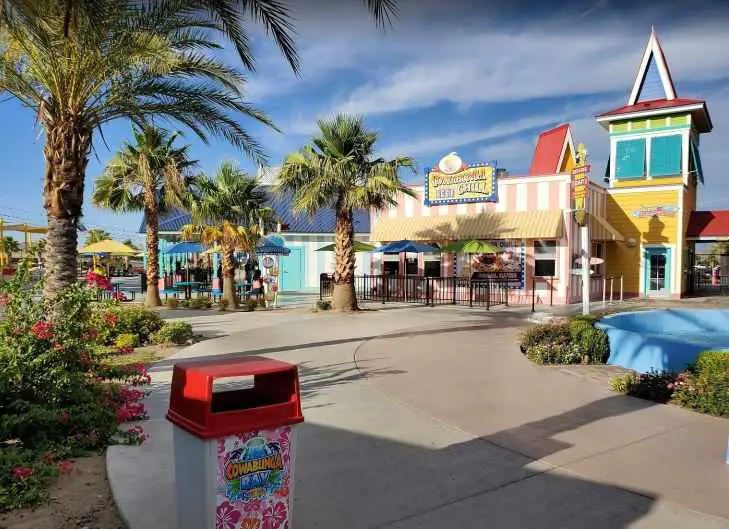 Cowabunga Bay is a destination rather than "just" as a water slide. Many locals visit weekly during the hottest part of the year and purchase passes. This water park near Las Vegas offers exhilarating and refreshing water slides for all ages plus beaches, pools and even lazy rivers, as the newest spot. The arcade gives you a chance for a breather before taking in Beach Blanket Banzai (a great family ride was a thrill to the twists and turns of the exposed slide). The older crowd enjoys the dark excitement of Point Panic and the traditional tubes at Breaker 1 9 
Address: 900 Galleria Drive, Henderson, NV 89011
Official Website: www.cowabungabayvegas.com
3. The Tank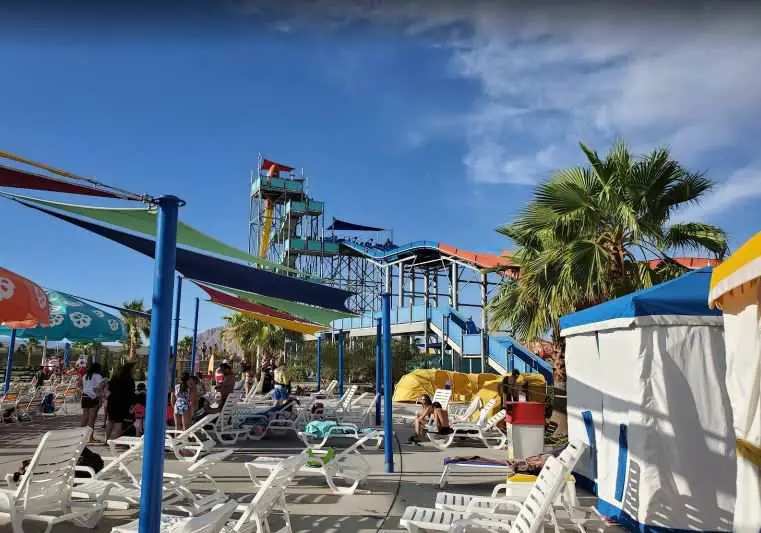 Ready to get up personal with resident sharks and exotic fish, Are you up for an adventure?  Then get ready to zoom down a three-story Shark Chute with just a sheet of acrylic protecting you through the 20,000 gallon Shark Tank before splashing into the main deck pools. This park in Las Vegas with water totally unique to the Vegas area. A $30 million dollar complex is an outstanding Lounge takes the plunge. There is a height requirement for entry and please note that. Open to the public and it's all up to you.
Address: 129 East Fremont St. In Golden Nugget Casino, Las Vegas, NV 89101
Official Website: www.goldennugget.com
Read More: Water Parks in Jerusalem
4. The Mirage Pool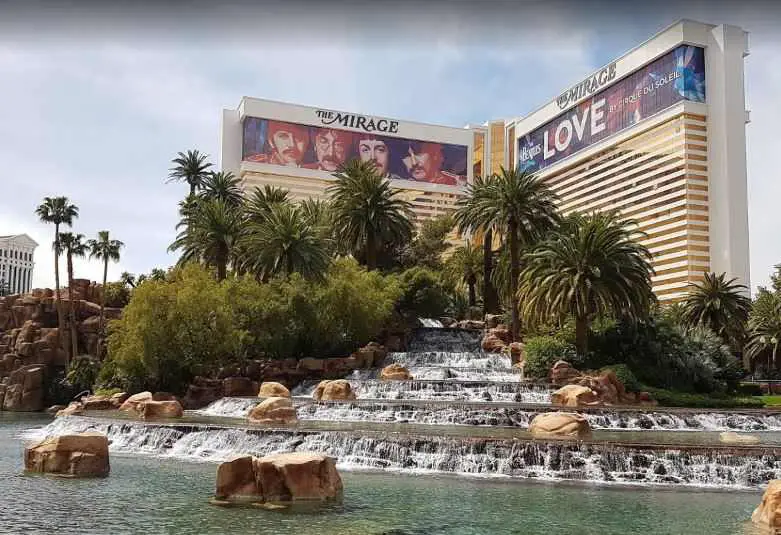 Except for some downtime in December, The Mirage pool is open and heated all year. This fun water park in Las Vegas features a lush tropical garden filled with blossoms and foliage. Lifeguards are on duty every day for your safety. You can swim through gullies and coves for a quarter-mile of exploration or take advantage of the three water slides from which you can splash into the winding canals and lagoons
Address: 3400 Las Vegas Blvd S, Las Vegas, NV 89109
Official Website: www.miragepool
5. The Flamingo Hotel Go Pool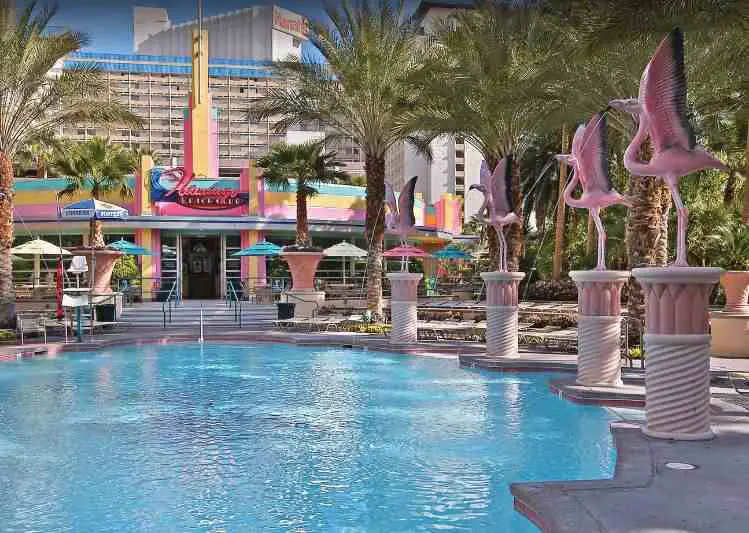 At The Flamingo Hotel, most Las Vegans know of the hidden gem called the Flamingo Gardens. However, not everyone realizes there is also a 15-acre top water park in Las Vegas on premises during the summer only that holds three water pools, located at the family-friendly lower lagoon pool.  The palm trees, waterfalls, and lagoons are the perfect way to unwind from the relentless Vegas heat after exploring the beauty of the gardens housing exotic animals and a koi river. As 150-foot water slides drop you into a series of terraced lagoons, the Caribbean is true, alive and well in this part of town. Please do not bring your own water toys, rafts or inflatables. it's open to the public. While it's open you may want to consider renting a raft
Address: 3555 S. Las Vegas Blvd, Las Vegas, NV 89109
Official Website: www.gopoolvegas.com
Read More: Water Parks in London
So far we have discussed the best water parks in Las Vegas NV, which contains the proper information regarding all the family water parks in Las Vegas. I hope you might have loved reading this article and if you love to know more about Las Vegas then kindly head to our other articles as well which will help you to get knowledge about Las Vegas.
The post 5 Best Water Parks in Las Vegas | Indoor Water Parks in Las Vegas, appeared first on World Tour & Travel Guide, Get Travel Tips, Information, Discover Travel Destination | Adequate Travel.