The ongoing Corona pandemic has shattered all our hopes of enjoying our summer holidays &  set all our plans for traveling to foreign countries on rest. Yet, there still some safe & protected countries open for travel during the Covid-19 due to their immaculate management in stopping the mass spread of pandemics as well as helping efficient vaccination programs at appropriate times. Such countries not only offer majestic travel packages but also handles all the protective guidelines with utmost seriousness to keep the health and security of their tourists as a prime concern. So, get your hopes high cause the below list of 10 popular countries for travel during Covid-19 are coming your way!
List of 10 Countries For Travel During Covid-19




1. Maldives
The Maldives is the highest trending tourism country during Covid19 that has shockingly raised its travel & popularity during the pandemic. The constant uploads of various celebrities flaunting their beach bodies on Maldives beaches have become the regular trend now. It is surely the best country to visit during Corona as it is a socially distant getaway & has enforced numerous strict Covid procedures for the resorts and accommodations to practice. In fact, some resorts also offer complimentary PCR testing, eliminating all the hustle for external testing locations.  The recent exclusive Maldives Border Miles program boosted tourism to another height. As it helps the enrolled tourists to earn points based on the number of visits which later on are categories into 3 memberships(Aida- bronze tier, Anantara-silver tier & Abaarana-gold tier) with respective variety of rewards, services, or benefits.
Must-Try: Velaa, which is a private island is going to open in 2021. Along with Patina Maldives Island designed by famous Brazilian architect Marcio Kogan.
2. New Zealand
New Zealand has always been in the news due to her cool & active Prime Minister Jacinda Arden who dealt with the Corona pandemic super effectively since the beginning. Now this country has become the safest country to visit during Covid-19 that also includes sustainable travel & socially distant nature as a plus point to its safety. New Zealand suffices all the requirements for safe & secure travel & holds plenty of appealing attractions to enjoy during your summer holidays this year. The amazing outdoors and isolated sections of the country are ideal for any tourism as soon as it opens up in 2021. In fact, astonishingly it is the only place in the world where you can experience all four seasons in one day. Isn't it super cheap & budget-friendly?
Must-Try: Whole New Zealand is a complete package but the invigorating rainforest experience and world-class sport fishing is a must-try of this country.
Read more: Top travel essentials after COVID-19
3. The Islands of Tahiti 
Due to recurring pandemic surges, many destination weddings, honeymoons, and celebrations were halted in 2020, so how about 2021? Well, The Island of Tahiti is a popular country open for tourism during Covid-19. Its naturally surreal, remote, and isolated beaches, provide the perfect escape during the summer holidays. Right now it is open for all U.S. travelers, without any visa or quarantine period merits. Yet, the primal concern of safety is ensured by pre-testing requirements for each traveler. Tahiti also enacted a Common Cancellation Policy ensuring that travelers will be in peace even if their trip is canceled due to border closures. 
Must-Try: Tahiti Homes is a real estate service provider that renders sail for multiple islands where you can enjoy your private catamaran with expert yacht company guides sailing through the gushing waves.




4. Rwanda
Rwanda is an African gateway destination that has done an incredible job in resuming tourism activities for their country's economic up-gradation. The additional safety measures are provided to all the travelers, locals, and even to the endangered primates that are the highlight of Rwanda's forests. Other popular attractions to explore are Gishwati Mukura National Park, which has started its massive reforestation effort and plans to begin tourism operations again. Such strong efforts make it an even more adventurous and exciting country to visit during Corona. 
Must-Try: Thrilling activities like primate trekking, birding, hiking, and more. Singita's Kwitonda Lodge on the edge of Volcanoes National Park for spectacular views and luxurious relaxation.
5. Greece
Who could remove Greece from their bucket-list country travel? Especially when you have a knack for curiosity and you are one of those history buffs, who never misses one classic saga of Greek culture! The classic and natural wonders amalgamate in this country making it a perfect holiday destination to explore. From Athens to Santorini, Greece offers everyone a unique present to take back home. They have managed the Covid-19 cases since the beginning and handled all the vaccination programs effectively. Ranging from amazing beach clubs, restaurants & scrumptious Greek food this is the top country open for tourism during the Covid-19 surge maintaining all the security guidelines at their best. 
Must-Try:  Explore the Greece active and fun island of Mykonos. And don't forget to try the luxurious stay at Grace Hotel, an Auberge Resort.
Read more: Best Tips for Staying Safe in a Hotel During COVID
6. Costa Rica
Costa Rica was the most famous country during Covid-19 to visit that maintained one of the lowest Covid-19 fatality rates in Latin America. Its government was appreciated for its successful management and containment of the virus. Hence, when the country will reopen on November 1 to all Americans it would be the best destination for any summer holiday you fantasize.  The best quality of this country is its 99.5% clean and renewable energy consumption plans which aim for decarbonization by 2050 altogether. Costa Rica checks all the boxes of adventure offerings (canopy ziplining, surfing, whale watching), & luxury offerings.
Must-Try: New openings such as Nayara Tented Camp lodge in Arenal Volcano National Park is the best place to stay & chill. Whereas the Six Senses Papagayo a brand new Central American company's resort and Botánika Osa Peninsula will surely win your heart in quality services. 




7. Qatar
Qatar is one of the most renowned countries especially during Covid-19 that continued its flights even during the hardest times of lockdowns across the globe. If you may know the  FIFA World Cup will be hosted there in 2022 therefore the preparation for its promotion are already on peaks now. Qatar was also recently voted as the number one safest country for travel during Covid-19 across the world. In fact, their popular airline is also aiding to attract new travelers who previously just took Qatar Airlines for other tourist hotspots. 
Must-Try: The glamorous hotels including big names like St. Regis, W, Park Hyatt, and Ritz-Carlton with the richest luxurious services are an epic relaxation tour in Qatar.
8. Bodrum, Turkey
Bodrum is a beautiful city in Turkey that is unexplored by a lot of travelers. Yet, slowly it's regaining its fame due to, majestic deep turquoise waters and a long chain of beaches lined with tangerine trees. This is the best summer holiday destination to plan for 2021. Turkey has opened its borders to American travelers already, later the ban will lift from other countries too. Whereas, it's a natural surrounding where you'd rarely get the time to spend indoors, crediting all the wonders to its fabulous open-air restaurants, seaside bars, and mesmerizing beachfront clubs that are hard to ignore at all. 
Must-Try: Bodrum is also famous for the traditional, wooden yachts called gulets. These are the best commute to explore the entire beach lines and crystal clear oceanic waves. Some chic new hotels, including the Bodrum Edition, are the must-try hotels of Bodrum.
Read more: Major Cities in India
9. Ireland
Ireland is an island in the North Atlantic Ocean which is famous for its lush green countrysides & charming Irish pubs. Fun fact the legal drinking age in Ireland is just 18 years and above. So young teens who wish to try some booze on their vacations, this is the perfect hotspot to begin. You can't find any other cheapest country to visit during Corona that offers five stunning areas in a single trip. Such famous areas include- the Wild Atlantic Way whose beaches in Donegal stretch to the West Cork coastline amazingly; the capital city of Dublin; Ireland's classic Ancient East; the mysterious Hidden Heartlands; and traditionally filled Northern Ireland.
Must-Try: Irish Coffee or Irish Redbreast 12 whiskey along with tonnes of ice sports such as ice-skating, ice-hockey, skiing, etc. offered at numerous snowy zones of the country.




10. Iceland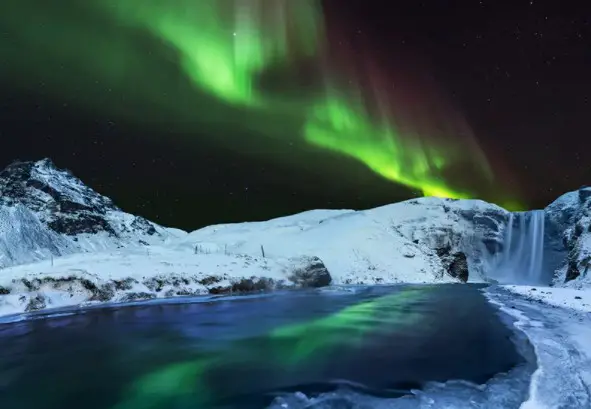 Yes! Iceland and Ireland are two different countries. Iceland is a Nordic island nation that is known for its active volcanoes and incredibly scenic hot springs. On March 18th, this country opened its borders to all visitors who were either vaccinated against COVID-19 or possessed negative in their Covid Tests. It is a beautiful location to explore during the summer holidays. Ranging from legendary Tectonic Plates at Þingvellir Plain to exclusively scenic Dynjandi waterfalls you'll receive all kinds of natural wonders in this country.
Must-Try: Bath at the geothermal Blue Lagoon, black sand at Djúpalón Beach, witness Northern lights at the capital city of Reykjavik. 
Hope you liked this list of 10 safest countries to visit during Covid-19. Surely, some dates are tentative depending on the next waves of pandemic and the country's new guidelines. Yet the mentioned countries open borders during Covid for tourism have supremely maintained and protection policies that hardly leave you unattended into any infectious environment. For more informative travelogues like these keep visiting Adequate Travel. Till then wear maks and be safe!
The post Top 10 Countries Open For Tourism During Covid-19| Safe Places to Visit During Corona During Summers appeared first on World Tour & Travel Guide, Get Travel Tips, Information, Discover Travel Destination | Adequate Travel.