Denpasar is a very beautiful place in Bali. There are a lot of attractions that numerous adventure geeks love to explore. From the top relaxing beaches till the best festive fun you will find each and every adventure at this amazing place. Denpasar is famous for its historic monuments and temples that are holding various epic folk tales inside their walls and sculptures. So no need to ask your Bali friends about what Denpasar is best-known for? I have curated the best itinerary list for exploring the Denapsa's 10 best entities without any hassle or extra costs for guiding. 
List of Reasons Denpasar is Known For
1. Museums
Museums are the best way to start a journey about any city. Denpasar is popular for the Museum Negeri Propinsi Bali (Bali Provincial Public Museum) which is considered as the oldest museum on the island and houses over 10,000 exhibits. This museum remarks on the historical site of the Badung War in 1906 when the Dutch invaded Denpasar. There are a lot of other interesting museums where you can take your kids for a fun historic ride in Denpasar as well.
Read More: Things to Buy in Denpasar Bali
2. Beaches
Another top reason that most of the tourists visit this city is its serene beaches which are just spectacular in every possible way. Just name it from breathtaking views till the best spa therapy, you will get every possible luxury at this famous attraction of Denpasar. You can visit Serangan beach which lies at the south-eastern shore of Serangan Island in southern Denpasar. It is a favorite spot for quiet beachgoers who are looking for a relaxing and exotic seascape to escape or you can opt for Sanur Beach which is the first-ever beach in Bali that brought the beach resort luxury to the island. The nearby bars and restaurants make it a perfect place for enjoying a vacation day in Bali.
Visit: Famous Monuments of Denpasar
3. Spa Therapy 
The entire Bali is known for its rejuvenating spa therapies. Therefore, Denpasar is famous for this Balinese spa therapy that will surely leave you relaxed and full of life. There are innumerable places in Denpasar where you can get rid of all those pains and just pamper yourself after tiring sightseeing of various old monuments that are acres long to walk along with the tour guides.
4. Temples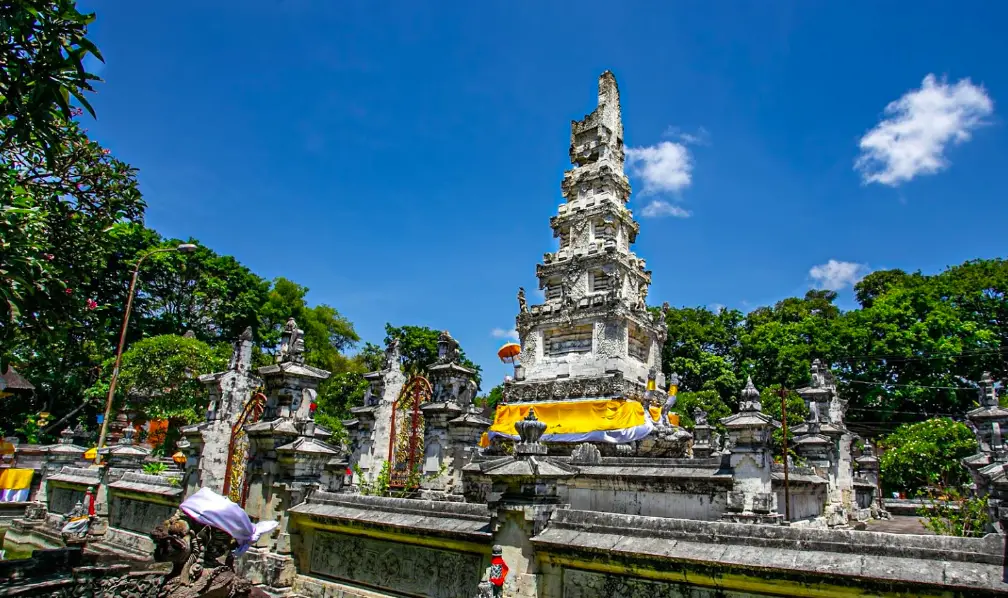 Bali people are a bit extra-religious and even their religious tales are woven down into various real-life temples that give meaning to their spiritual world. Therefore if you wonder what Denpasar is known for? Then visit the Jagatnatha Temple whose inside walls showcase the remnants of the Jagatnatha's olden days that include well-preserved carvings and stone motifs depicting various portions from the Ramayana epic from Hindu Mythology. There is another famous temple, the Tambangan Badung Temple that holds great historical value in the heart of Denpasar.
Read More: When Bali is Reopening for Tourist
5. Conservation Parks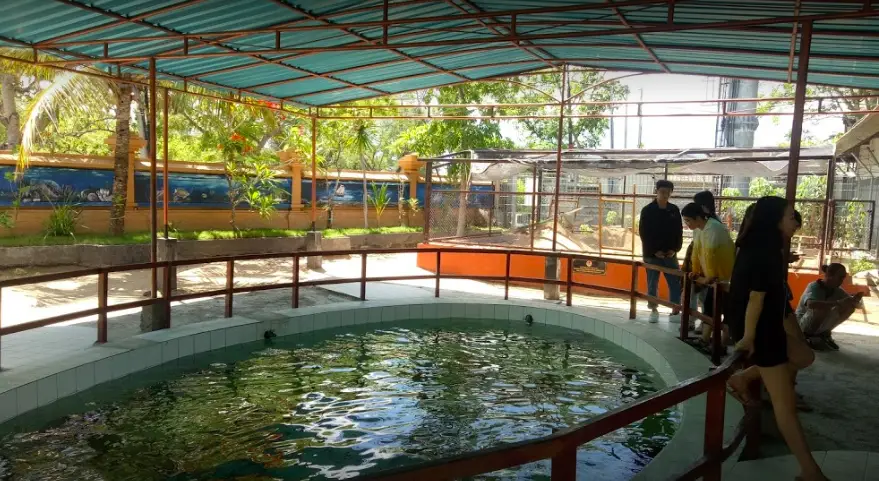 You will feel very close to nature in this beautiful city of Bali. But there were a lot of places in Denpasar where people used to exploit the wildlife on a daily basis but now the government has taken hold of such places to help the animals flourish and save them from extinction. Denpasar's famous place to visit is the Turtle Conservation and Education Centre (TCEC) which maintains the hatchery, nursery, and sanctuary for sea turtles that are accidentally caught by fishermen around the island of Serangan. It is a very educational ride for kids who wish to see and get to know about these creatures from up close. Another famous destination which is a bit scary for some people is the Bali Sharks Eco Adventures that has a large pontoon just off Serangan Island in which you can swim with sharks.  The project works closely with the local fishermen's groups who bring injured accidental catches to be cared for in the safe nurseries.
Get: Most Visited Monuments in Malaysia
6. Local Markets
Shopping is considered to be one of the best things to do in Denpasar, Bali. Since this place offers unique handmade goods and natural products that you can not find anywhere else. Therefore Denpasar famous destinations even include their market that sells all varieties of artistic handmade products. For the closer expedition, visit Pasar Badung Market Located only a kilometer away from the city center, you can shop for fabrics, handicrafts, accessories, and more. You can even take back home some famous sweet souvenirs of Denpasar for your kids.
7. Bali Art Festivals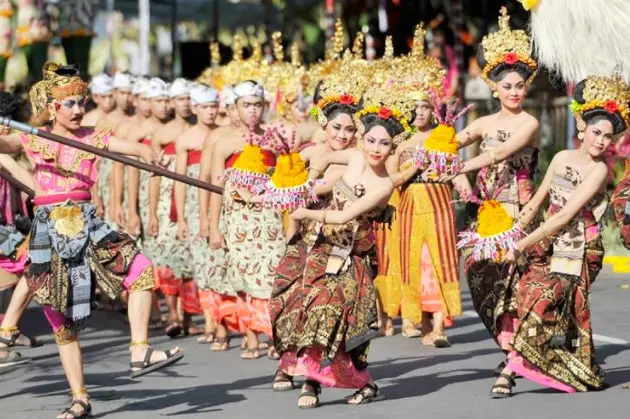 If you are visiting this exotic place during the months of June and July. then you have found a golden ticket to explore Denpasar's famous feature. Every year this month they celebrate an Art Festival hosted at the Taman Wedhi Budaya Arts Center. Lots of local village musical and dance groups compete with each other to win the glittery expensive trophies and money hampers. They showcase spectacular regional art performances that you might not have seen anywhere in the world.
8. Sari Wisata Budaya Barong Dance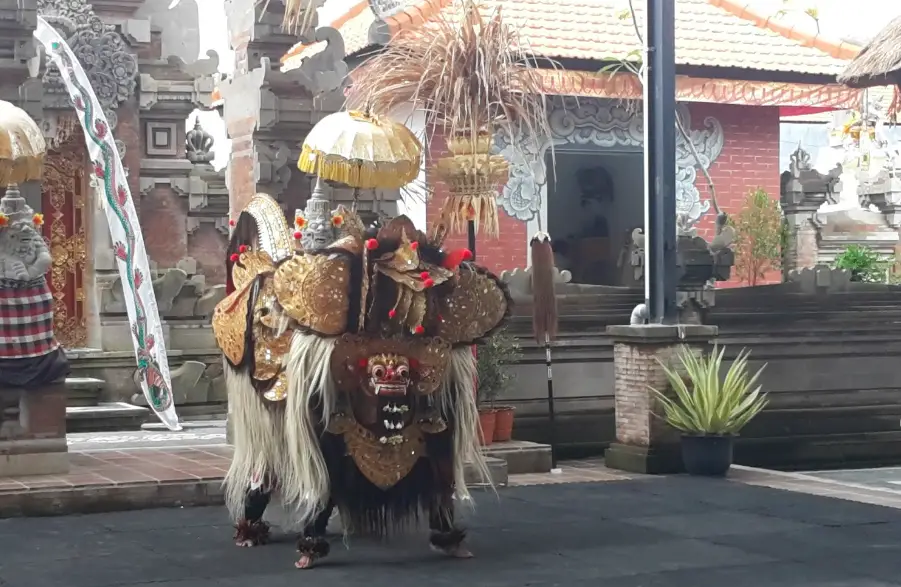 For all the art and dance freaks, if you miss out on their festive months don't be sad, you can still catch on the best performances for Denpasar is best known for. Just visit the village of Suwung Kauh, lying east of Kuta, which features an amphitheater performance where the Barong and kris dagger dances are shown. These dances are inspired by the legendary Calonarang tale of the struggle between the powers of good and evil, represented by the 2 main characters known as the Barong and Rangda.
Barong is a mythical lion that shows a very close resemblance from the Chinese dragon dance troupes, but has more elaborate features and usually only one man dances at a time instead of the group of men. 
Read About: Beaches to Visit in Kuala Lumpur
9. Shark Island
Don't panic it's not some Hollywood movie freaky place where the sharks eat up the humans. This island in fact houses very friendly Sharks where you can even head out with young kids, as visitors are allowed to interact with sharks from a strong glass window. This is basically a conservatory that offers 3-hour eco-tours to allow visitors not just the fun of swimming with sharks, but also to feed them in a guarded environment.
10. Mangrove Forests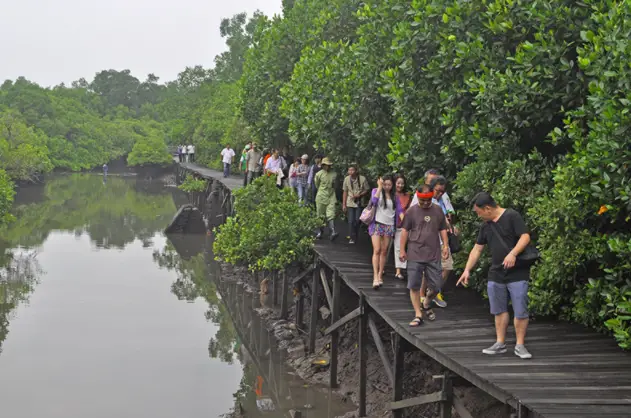 The climate of Denpasar is very romantic and you can make it even more lovely if you surround yourself with the complete nature offerings of Denpasar. The most popular place to visit in Denpasar for such nature retreats is the Taman Hutan Raya Ngurah Rai (Ngurah Rai Mangrove Forest) which is Bali's largest mangrove forest covering almost all of the southern coastline of Denpasar, in the village of Pemogan. The forest handles lots of tourist resorts of Sanur and Kuta that provide a world-famous soothing oasis where you can momentarily escape from the city's rush.
Read More: famous venue in Bali for weddings
I hope you enjoyed them as par 10 reasons for which Denpasar is famous for. You can explore the above-mentioned places and have your best time at these beautiful destination sites in Bali. There are a lot of hidden gems that you will find at these places to visit in Denpasar. Therefore keep exploring and have an amazing vacation stay at Denpasar. Do comment if you found that hidden gem or do ask us to help you to explore it, and head on to our other blogs for getting such engaging info.
The post Discover What Denpasar Bali is Known for | Why Denpasar Bali is Famous For appeared first on World Tour & Travel Guide, Get Travel Tips, Information, Discover Travel Destination | Adequate Travel.