Denpasar has some of the most interesting attractions such as beaches and rainforests to monuments. It's the latter that we'll be covering today. Monuments in Denpasar comprise amazing structures dedicated to the past, deities and more. Take a look at what we feel you should include in your popular monuments in Denpasar: 
List of Monuments in Denpasar 
1. Bajra Sandhi Monument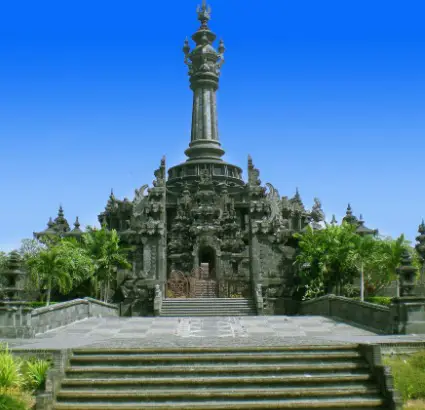 Set amidst Renon Square is Bajra Sandhi Monument, a famous monument in Denpasar that takes the shape of a Bajra or Hindu praying bell. It was erected to commemorate the Denpasarnese past struggles for independence. Inside, it features diagrams as well as a place to view the cityscape of Denpasar. This historical site basically is the portrayal of the 1906 battle with the Dutch and the King of Badung is literally a sitting target. For 360-degree views, take the spiral stairs to the top. With its grand structure that resembles a Balinese Hindu priest's praying bell, or 'bajra', the monument standing up in the middle of Denpasar town.
Read More: Why the Maldives famous For
Address: Jl. Raya Puputan No.142, Panjer, Denpasar Sel., Kota Denpasar, Denpasar 80234
2. Denpasar Bombing Memorial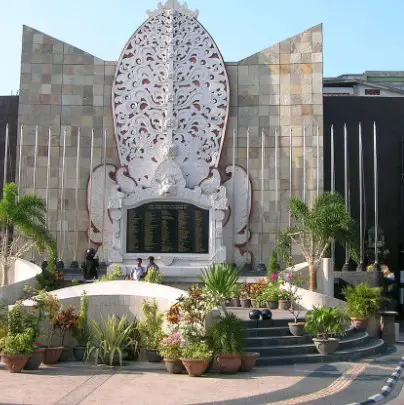 This monument of Denpasar is a reminder of the terrible bombings that took place in 2002. The names of those who lost their lives are mentioned. Consider avoiding taking selfies as this is a place of solemnity. On the Indonesian island of Bali, 12 October 2002 the 2002 Bali bombings occurred in the tourist district of Kuta. Including 88 Australians, 38 Indonesians, 23 Britons, the attack killed 202 people, and people of more than 20 other nationalities. A further 209 people were injured during this bombing
Address: Jl. Raya Legian No.38, Kuta, Kabupaten Badung, Denpasar 80361
3. Global Harmony Monument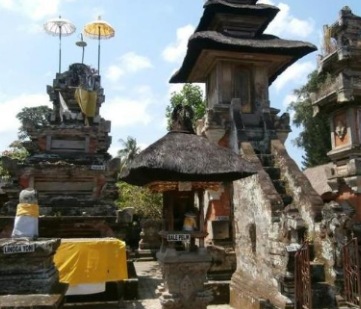 Global Harmony Monument deserves a place on your Denpasar tourist map. It is just the place to go to for reflection and it's quite a symbol of unity, tolerance and harmony . It is located in Ubud and is about 3 kilometers from the main road. It is counted in one of the top monuments in Denpasar. The Global Harmony Monument is certainly a must-visit for anyone looking for a unique experience into Bali's historic past. It is known as one of Bali's treasures. Located in the cultural capital of Bali, Ubud, the Global Harmony Monument is place for relaxation and reflection during your stay in Bali.
Read More: Why Denver is famous
Address: Jl. Sri Wedari, Ubud, Denpasar, Bali.
4. Tugu Singa Ambara Raja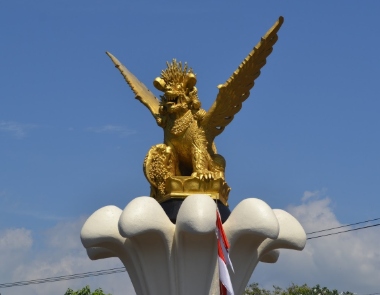 The icon of Singaraja is a statue of a winged lion atop a base shaped like a lotus to symbolize strength and power. It was built in tribute to Gusti Panji Sakti who founded the kingdom of Buleleng. It is located in the middle of Singaraja. It is counted in one of the best monuments in Denpasar. This monument is located in the middle of Singaraja city, at the fork, in front of the Regent's office. This monument is supported by a statue with lotus shape, with 9 lotus petals which is the symbol of 9 districts in Buleleng Regency. The long feathers on both sides of the wings are 30 strands
Address: Jl. Ngurah Rai, Singaraja 81117
5. Titi Banda Statue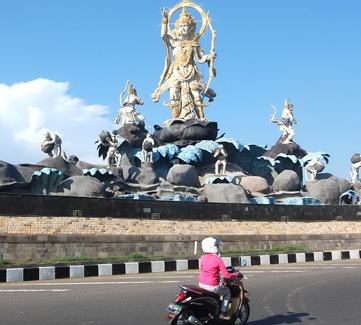 As you enter Denpasar, you'll be greeted by a huge elaborate statue depicting a scene in the Ramayana. It's a must-see in Denpasar and frankly, you can't miss it. At 15 meters high, this most famous monument in Denpasar provides the perfect photo op. As the main character, Titi Banda told about Rama, who would pick up her wife from the hands of Ravana in Lanka. Consisting of 18 heads, Rama accompanied by his monkey troops where five of whom were chief of the monkey.
Read More: Why Kochi is Famous
Address: Jl. Bypass Ngurah Rai, Simpang Tohpati, Denpasar
6. Statue of Ngurah Rai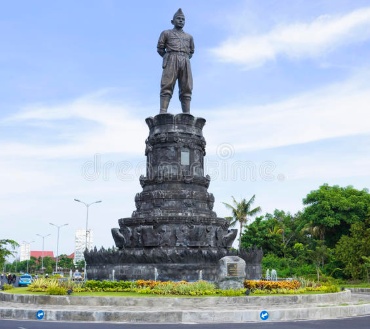 A couple of kilometers from the domestic terminal of Ngurah Rai International Airport is a monument in Denpasar built to commemorate the Indonesian national hero, I Gusti Ngurah Rai. It faces the road coming from the airport. Facing the road users coming from the direction of the Ngurah Rai Airport, Ngurah Rai statue stands on a monument pedestal
Address: Jalan Raya Gusti Ngurah Rai, Tuban, Kuta, Kabupaten Badung, Denpasar 80362
7. Satria Gatotkaca Statue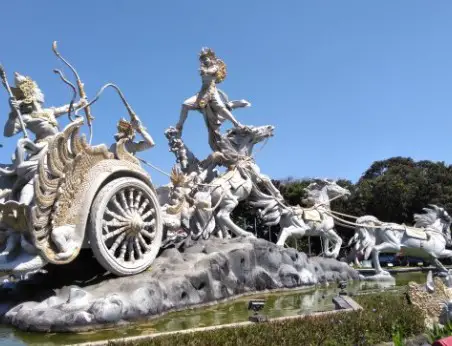 A scene from another Indian epic makes its way into a Denpasar landmark, the Satria Gatotkaca statue. This national monument Denpasar Bali depicts Gatotkaca riding a chariot into battle against Prince Karna. Its believed to give protection and safety to everyone leaving and entering the island aside from the obvious photo ops the statue provides. The statue depicted Gatot Kaca. He was a courageous and powerful knight and the son of Bima one of the five Pandawa brothers. At the northeast of Bali International Airport and built in 1993 at the center of the road intersection.
Read Ab0ut: Monuments in Berlin
Address: Jl. Raya Tuban No.1, Tuban, Kuta, Kabupaten Badung, Denpasar 80361
8. Margarana National Monument Park
Margarana National Monument Park is a beautiful monument in Denpasar that was set up to commemorate fallen soldiers in the Battle of Puputan Margarana that took place in 1946 against the Netherlands. With a sculpture of the letter Gusti Ngurah Rai wrote to the Netherlands, there is a 17-meter tall monument. If you love to learn about the history, this is definitely a must stop when you visit Tabanan 
Address: Kelaci, Marga Dauh Puri, Marga Dauh Puri, Marga, Kabupaten Tabanan, Denpasar 82181
9. Gunung Kawi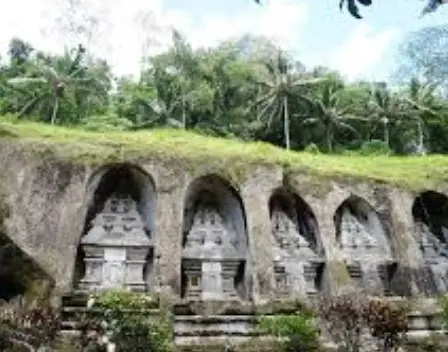 This historical monument in Denpasar dates back to the 11th century and features almost a dozen rock-cut shrines carved into a cliff face. Not much is known about the religious monument in Denpasar but it's believed that the shrines are memorials to King Udayana. This river-valley complex consists of 10 huge candi (shrines) cut out of rock faces and one of Bali's oldest and most important monuments. To a member of 11th-century Balinese royalty each is believed to be a memorial. As access to the valley you'll need to be fit to explore here,  as shrines is via a steep 250-step staircase.
Get About: Famous Monuments in Bangkok
Address: Banjar Penaka, Tampaksiring, Gianyar, Denpasar 80552
So far we have discussed the best monuments in Denpasar, which contains the proper information regarding all the top monuments in Denpasar. I hope you might have loved reading this article and if you love to know more about Denpasar then kindly head to our other articles as well which will help you to get knowledge about Denpasar.
The post Most Visited Monuments in Denpasar | Famous Monuments of Denpasar  appeared first on World Tour & Travel Guide, Get Travel Tips, Information, Discover Travel Destination | Adequate Travel.