Singapore is, without a doubt, one of the top destinations in the world when it comes to fun places to visit with family and friends. Top Water parks in Singapore attract thousands of visitors from all over the world every year and add more fun to the whole holiday experience. These best water theme parks in Singapore are some of the popular in the world and with unique roller coaster rides, water tubes and water slides, they serve as the perfect antidote for your adrenaline rush. Read here some of the water theme parks in Singapore.
List of Water Parks in Singapore
1. Adventure Cove Waterpark
If you want to get away from the heat, come to the Adventure Cove Waterpark in Resorts World Sentosa. This popular water park in Singapore is bustling with activity and alive with new experiences. The park is not only home to several forms of marine life but also of thrilling water rides that make every individual's heat pump. It also has a lot of fun activities and rides for children.
Address: 8 Sentosa Gateway, Singapore 098269
2. 112 Katong Wet Playground
You should head to the wet playground in 112 Katong mall if you are looking for free water parks in Singapore. In 112 Katong Wet Playground, you can cool down and have fun with water all day. The aqua playground has a wide range of fun features, housed in the fourth level including wet slides, water sprays, bucket machines, swings, as well as two humongous mushroom fountains. It is 100% safe for children with rubber-padded floors that ensure that little ones do not slip and fall as they play and have a blast. You can clean them at the outdoor shower stalls after hours of play and undoubtedly 112 Katong water playground is an excellent place to let your kids have fun after shopping at the mall.
Address: 112 E Coast Rd, Singapore 428802
3. Wild Wild Wet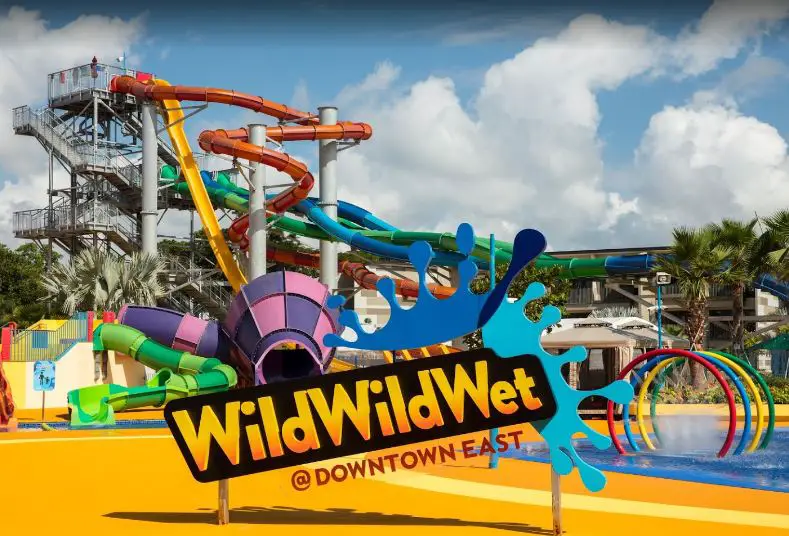 Singapore's largest water park name Wild Wild Wet was opened with a big splash in 2004. It has been a huge hit amongst the locals, since then. Home to some of the best water rides that Singapore has to offer. For its water rides and the number of thrill-seekers it attracts, the waterpark is therefore known. 
Address: 1 Pasir Ris Cl, Singapore 519599
Read More: Historical monuments in Singapore
4. Port Of Lost Wonder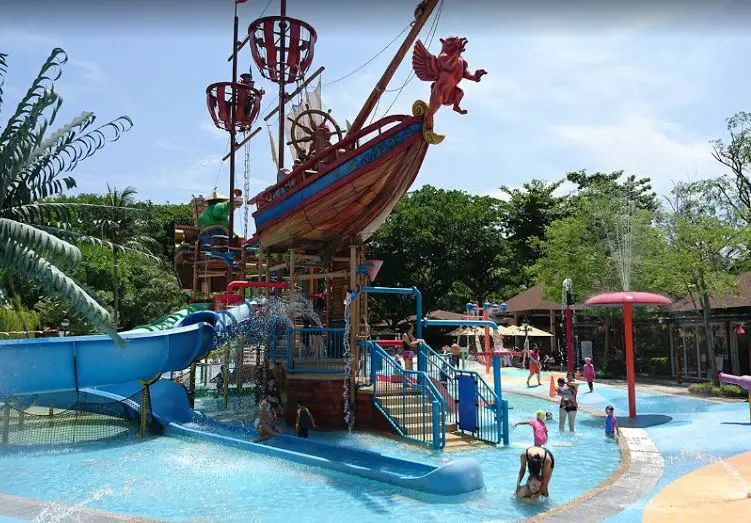 Popular children's waterpark located on Sentosa Island name Port of Lost Wonder. It is a sought-after place to visit amongst locals, as well as the tourists, to enjoy a day out with family. This wonderful and best water park in Singapore for children is the perfect destination for families with small children between the ages of 3 years to 10 years old.
Address: 7R29+8X Southern Islands, Singapore




5. Gardens by the Bay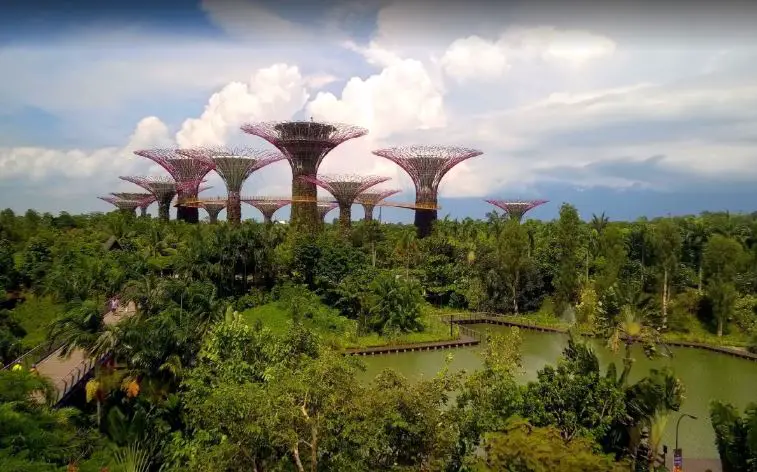 Gardens by the Bay is a unique concept that is quickly grasping the attention of the visitors and recently added to the list of tourist attractions of Singapore. To escape the hustle-bustle of the city This man-made garden is a perfect way. This adventure water park in Singapore is set opposite to Marina Bay Sands, one can witness a magnificent view of the garden from its top.
Address: 18 Marina Gardens Dr, Singapore 018953
6. Splash N Surf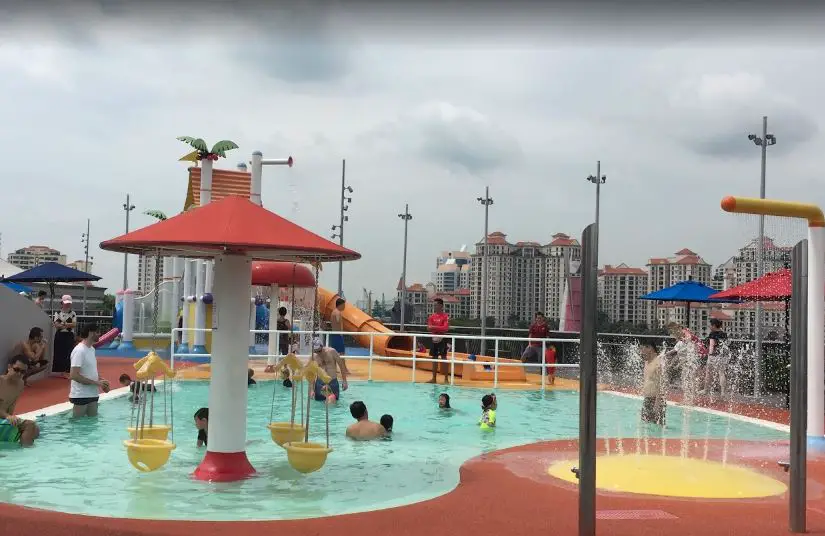 The Splash and Surf Water playground is the perfect refuge from the scorching sunlight and heat and it is located on the 3rd level of the Kallang Wave Mall. This thrilling water park in Singapore is a small but beautiful spot for young kids to enjoy the day and also a great way for adults to spend fun leisure time with family and friends!
Address: 1B Stadium Walk, Singapore
Read More: Water Parks in Venice
7. Punggol Waterway Park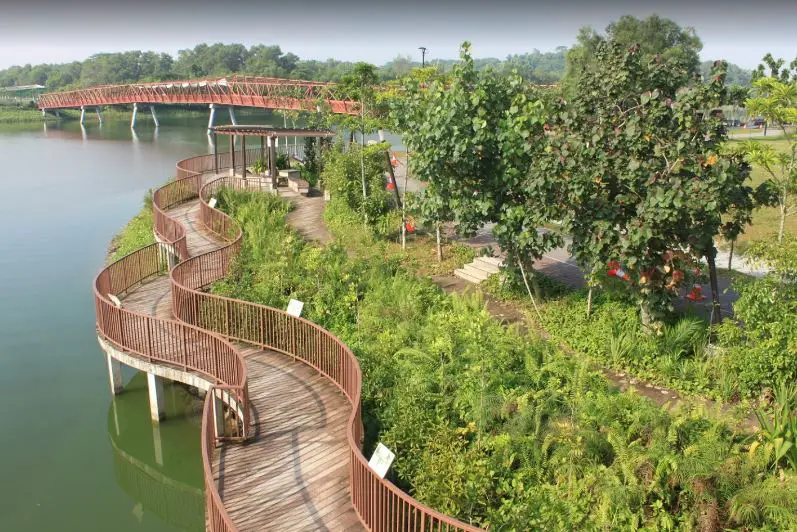 Punggol Waterway Park is a large riverine park in Punggol covering around 12.25 hectares of area and is the perfect destination to spend some time away from the maddening rush of the bustling city that Singapore is. It is known as one of the beautiful water parks in Singapore.  The multi-purpose park is set in the surroundings of serene lush greenery and the sight it genuinely breathtaking.
Address: Sentul Cres, Singapore 821313
8. Rainforest Kidzworld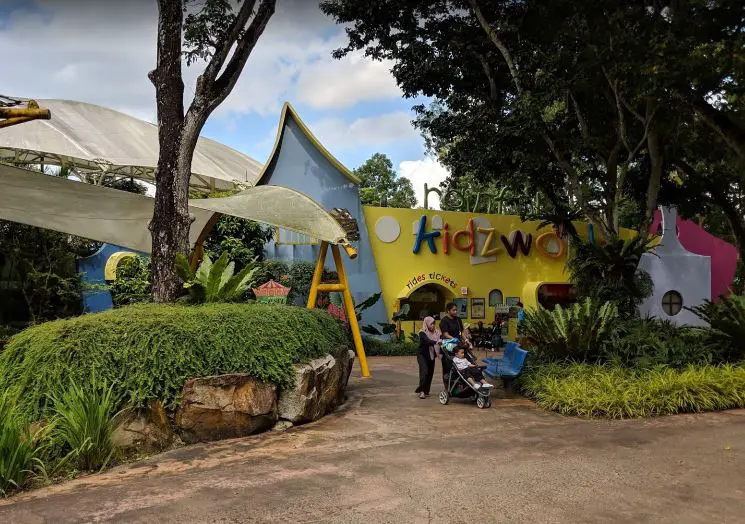 Rainforest Kidzworld is located within Singapore Zoo and it is the super fun playground for kids. Offering a wide range of fun and interesting activities to keep them engaged and entertained It is truly a delight for children of all ages. That's why it is counted in one of the best water parks in Singapore for family. Kidzworld, specifically designed for kids has a Wet Area playground with brightly-colored, water flushed slides, tubes, sprayers and even a huge elephant head shaped bucket which regularly rains down water on the kids.
Address: CQ3W+CR Singapore
9. Wave House Sentosa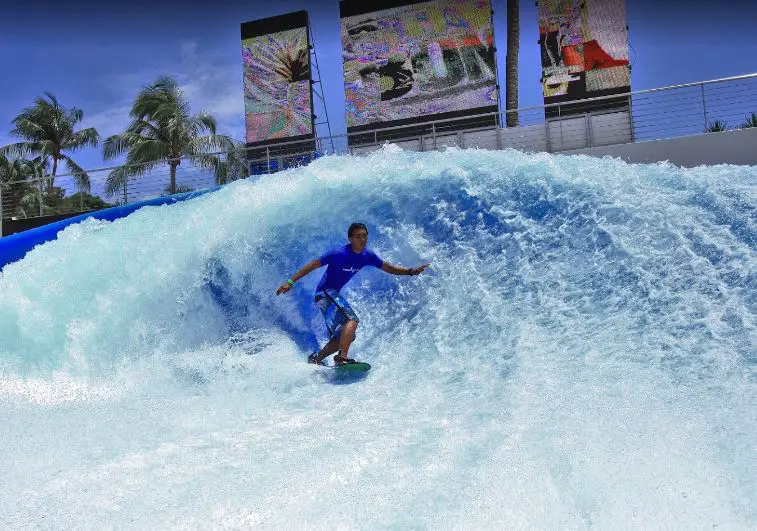 If you are looking for amazing water parks in Singapore, this water park covering an area of 70,000 square feet.  Wave House Sentosa is a sensational beachfront venue, located at Singapore's most happening beach. Featuring two music and beach bars, it is most popular in the global family of wave houses. As the name suggests, Wave House Sentosa is the place for those who want to experience high-adrenaline flowboarding on the world-famous Double FlowRider and FlowBarrel wave rides.
Address: No. 36 Siloso Beach Walk, Wave House Sentosa, 099007, Singapore 099007
Visit: Water park of Tuscany
10. East Coast Park
East Coast Park is a splendid beach park located in the southeastern part of Singapore With a sprawling area of 185 hectares and covering 15 km of coastline.  It is the largest water park in Singapore and is built entirely on reclaimed land, the beach is a man-made one, where swimming is also possible. 
Address: E Coast Park Service Rd, Singapore




So far we have discussed the water parks in Singapore. I hope you have gathered information related to it. If you are planning your trip to Singapore then kindly go through our other articles as well which will be quite beneficial for you. Please share your views regarding the content explained above and liked it too.
The post Top 10 Best Water Parks in Singapore | Popular Aqua Parks in Singapore appeared first on World Tour & Travel Guide, Get Travel Tips, Information, Discover Travel Destination | Adequate Travel.