Vatican City is the world's smallest city which covers around 0.44 km² land area. This place is located within the city of Rome, Italy. Vatican City is famous for being an independent state since 1929 and remains one of the most architecturally accomplished cities in Italy. It is officially known as- Vatican City State. It is a prominent landmark in Rome enumerating Vatican City's well-known gems around the world. Italian and Latin are used as the preferred languages in this remarkable City of Rome.
This Unique city has a government that is termed as Holy See and the whole state is executed exclusively by Popes who are the Bishops of Rome. There is no income tax and no restriction on the import or export of funds. The interesting fact about Vatican City is considered as being an only religious state in the entire world which is led by the Popes and billions of Catholic believers around the globe. Therefore this famous city derives its income from the voluntary contributions of more than one billion Roman Catholics worldwide.
Vatican City was designated a UNESCO World Heritage site in 1984 which creates a signature remark under the titles of Why Vatican City is known for? The unique religious monarchy of this state embodies a great influence over the entire culture and architecture of this city. Vatican City is famous for its splendid monuments and ancient historic paintings which are reserved meticulously for maintaining their historic religious significance worldwide. 
Vatican City is Famous Due to Following Reasons
Monuments:
There are some famous architecture, museums, and paintings situated in this city that embellishes the Vatican city's religious culture. Vatican City famous landmarks are as follows: 
1. St. Peter's Basilica
This is one of the major attractions which enlists the answers to various tourists about What Vatican City is famous for? This is a famous church built in Vatican City, Rome bordered in the west by the River Tiber and the Janiculum Hill. This famous church in Vatican City, Italy is built in a well known Renaissance style which is a European architectural style of the period between the early 14th and early 16th centuries. This style demonstrates the elements of ancient Greek, Roman thought and material culture. This was designed principally by Donato Bramante, Michelangelo, Carlo Maderno and Gian Lorenzo Bernini. St. Peter's is also famous for being a place of pilgrimage for the Roman Catholics in the entire world.
Read More: What is Hong Kong Known For
2.Vatican Library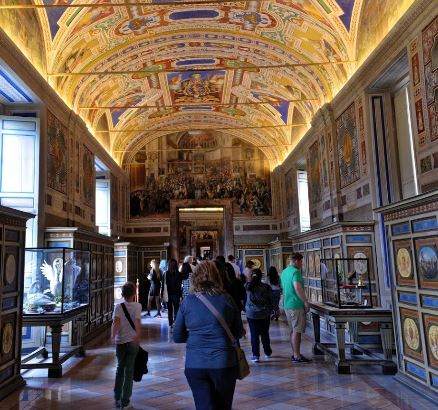 The library includes one of the world's oldest manuscripts and books which are available in their original form and precisely maintained by various archaeologists for preservation. This is one of the hallmarks for explaining Why Vatican City is famous? all around the globe. This famous cathedral in Vatican City Italy was founded in 1451 by Nicholas V. It holds about 180,000 manuscripts, 1.6 million books and 150,000 images and engravings. Due to their historic presence and precious old materials they are completely not open to the public. But after documenting a reasonable reason for research you can rent these famous artifacts for your study. That's why this is majorly considered as a research library for history, law, philosophy, science and theology. 
3. Egyptian Museum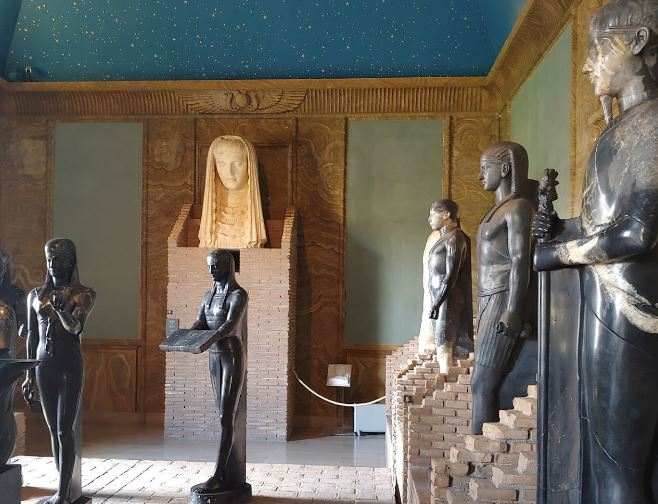 This might be a surprising fact as being a European-influenced country and holding a wide museum for Middle eastern country's artifacts which are making it one of the tempting features for displaying What is unique about the Vatican City? This happened due to Gregory XVI pope's priority as he believed that the understanding of ancient Egyptian civilisation was vital in terms of its scientific importance as well as it was substantial in understanding of the Old Testament. It is also known as Gregoriano Egiziano Museum. Much of its collection was brought from the Villa Adriana in Tivoli, where they had been collected by Emperor Hadrian which suggest this place as Vatican City's most famous place to visit. Gregoriano Egiziano Museum holds a large collection of artifacts from Ancient Egypt. Such material includes papyruses, the Grassi Collection, animal mummies, and reproductions of the Book of the Dead.
Read More: Why Toronto is Famous For
4. Etruscan Museum

This museum was also founded by Gregory XVI 1836  and comes under the famous archaeological museums having majorly famous paintings and sculptures in their eight galleries and houses from around the world. This enlists among the Vatican City's most famous structures worldwide. This place houses some important Etruscan pieces, coming from archaeological excavations. The museum also owns some ancient well known vases, sarcophagus, bronzes and the Guglielmi Collection.
5. Vatican Gardens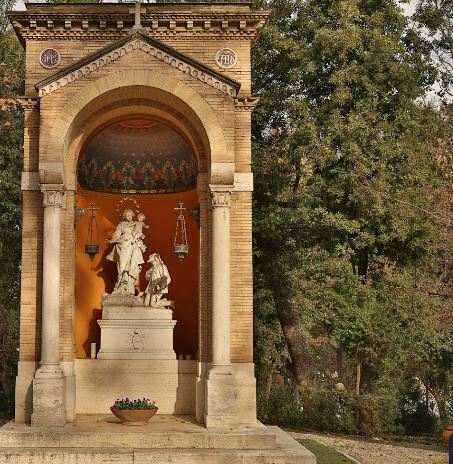 Even the gardens of this city come under the must-visit places in Rome which makes it an enthralling and refreshing place in the entire Rome holding the status of  Vatican City's famous landmarks worldwide. This is approximately 23 hectares and covers almost half of Vatican City. It is situated in the west of the territory and owned by the Pope of the City. Pope Francis opened the Vatican Gardens to the public in 2014. After which you can visit these luscious and natural gardens along with a tour guide which can help you explore some of the famous buildings, such as Radio Vatican and the Governor's Palace, located within the gardens.
Read More: What Udaipur is Known for
Art Gallery:
Along with famous monuments and museums, there are some well-known places here which exhibit the classic Vatican City's famous paintings painted by the world's famous artists which are restored in the in their art gallery:
1. Vatican Pinacoteca art gallery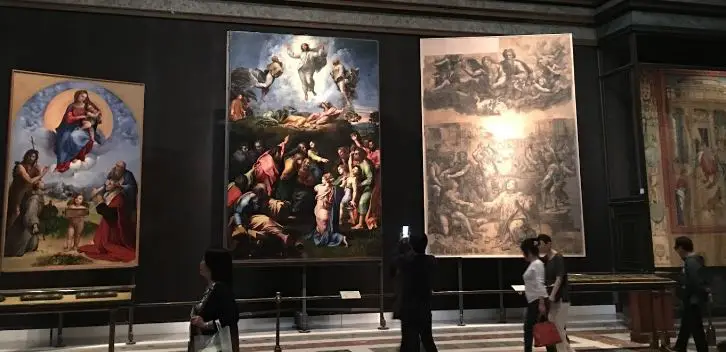 This gallery was inaugurated on 27 October 1932 and constructed by the famous architect Luca Beltrami for Pius XI. The new place was prioritised to assure the best lighting conditions for the correct preservation of the works and to maintain their optimum aesthetic enhancements. The current famous Vatican City's gallery now owns 460 paintings, distributed among the eighteen rooms on the basis of chronology and school. The lovely Vatican City's famous paintings include:Raphael's Madonna of Foligno, Oddi Altarpiece and Transfiguration, Leonardo da Vinci's St. Jerome in the Wilderness, Caravaggio's Entombment etc.The smallest coverage of the area in the entire world doesn't halt this city to become the most famous Vatican City of Rome by representing its huge variety of famous and adorable architectures, paintings and museums.
Food:
The famous food of Vatican City also adds up the charms in its immaculate beauty around the world. 
Some of those famous cuisines are:
1.Cannoli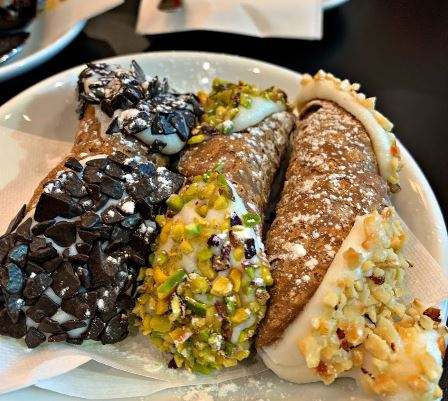 Cannoli is a dessert cuisine. This famous food in Vatican City is prepared with a tender dough to create small pastry tubes filled with a sweet, creamy cheese filling. These tubular pastries can be different in reckon to the fillings of various flavours like chocolate etc.This dish comes from Sicily where it was prepared as a treat during the Carnival season. 
Read More: What is Jaipur Known For
2. Fettuccine Alfredo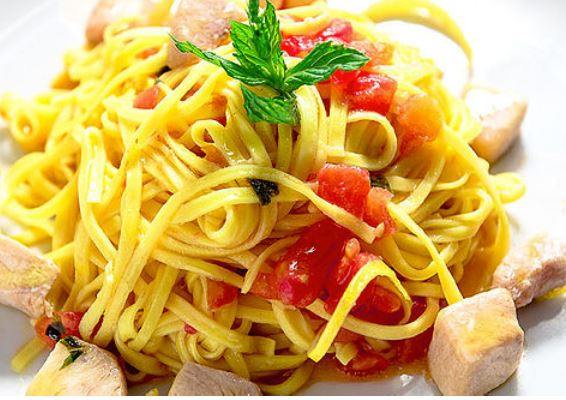 Fettuccine Alfredo is a pasta dish made from wide, flat noodles tossed with cheese and butter.The dish was named after a Roman restaurateur(owner and manager of a restaurant) called Alfredo Di Lelio. He is supposed to be the inventor of the dish. 
All these places and cuisines are an amalgamation for the Vatican City's famous culture which isn't restricted to one generic religion or nation but covers a lot of themes to become a home for the best places to eat in Vatican City as well. You can explore the long historic stories which explains the foundations of various famous churches and other buildings. Since the major population of this city is a follower of an essceliastical faith therefore most of the people are either nuns or popes or planning to become these in future. 
Some helpful facts for regular travelers:
You can maintain your track for the trip due to its small area therefore, most of the famous places are located at a walking distance saving up your money for the transfer vehicles.

 Due to its great significance in Christian culture, it can be a serene and faithful journey for Christian tourists to find inner peace. The great historic significance and the amazing classical paintings are maintained by the pope monarchy along with the financial investments.

The worldwide charity coming into this city also makes a lot of the travel cheap and easy which will be a substantial aspect for the history lovers and explorers to visit this amazing city.

The surprising administration differences always tempt you to explore more in this city which addresses the

interesting facts about Vatican City

including the only city-state which is still governed by a religious monarchy.  
Pack your ruck-sacks to explore these well-known architectures and paintings in this city of Rome.Tell us what you think about this blog, under our comment sections below and share these interesting travel guides among your friends as well.
The post Discover Why Vatican City is famous For | What is Vatican City Known for appeared first on World Tour & Travel Guide, Get Travel Tips, Information, Discover Travel Destination | Adequate Travel.