There are enough best theme parks in Amsterdam, the Netherlands for everyone to visit, most of them being open all the year. Few of them are even tremendous tourist attractions and attract people from all over Europe and the world just to visit the park. So if you're someone who is a thrill-seeker, a rollercoaster junkie, or just love the atmosphere of the theme park then Amsterdam Amusement parks are made for you. The diverse roster of parks collectively features hundreds of attractions including white-knuckle roller coasters, fairy-tale inspired rides, and many other wonderfully kitsch curiosities.
List of Top Amusement Park in Amsterdam
1. Walibi Holland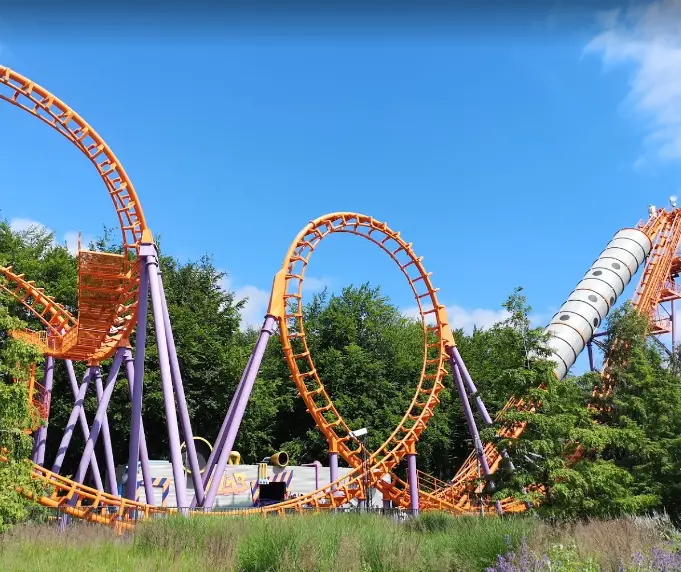 Walibi Holland attracts Adrenaline junkies, this Amusement park is another great park, with plenty of attractions and is specifically famous with younger children. And considering that the park contains the biggest collections of rollercoasters in the Netherlands, which includes the fastest track-based ride and a new, sudden-drop coaster. Besides these high-speed, heart-pumping attractions, Walibi also features many family-friendly rides that are perfect for smaller children or adults. It actually has the largest concentration of distinct roller coasters all over the Netherlands, so there is no scarcity of thrillseeking.
Address: Spijkweg 30, 8256 RJ Biddinghuizen 
Read more: Amsterdam Light Festivals
2. Madurodam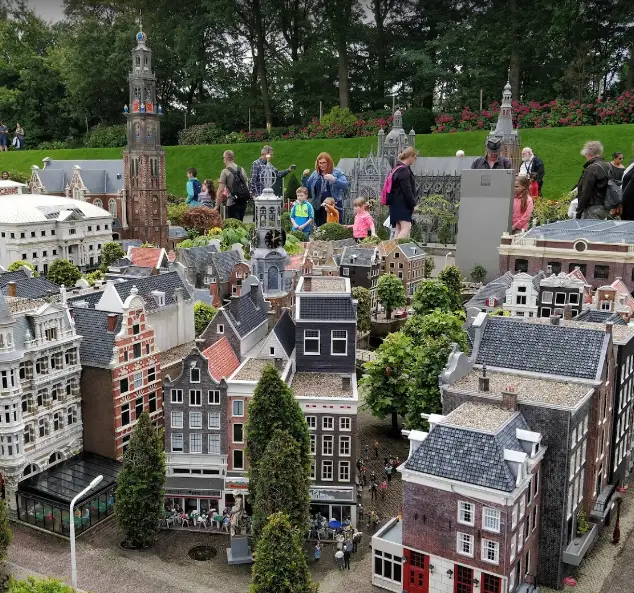 Madurodam is a miniature park Netherlands and is a pure basic of Dutch summertime and has fascinated more than ten of millions of visitors since it was inaugurated. You can wander around and analyze almost all of the Netherlands within one day. It's one of the most famous amusement parks all over the Netherlands. It shows you all of the things mostly related to Dutch, such as all of the canals, tulip fields, cheese markets, and classic Dutch houses. You can also get to know about the past of the country and some fun facts about Dutch civilizations and traditions. There are more than 5000 miniature trees there, as well as with 55,000 plants, so it's gorgeous as well
Address: George Maduroplein 1, 2584 RZ The Hague
3. Efteling
Efteling is one of the famous and loved theme parks in the country and Europe. It's was opened in 1952 and is a fairytale themed park, which started out with a Fairytale forest, which explored the world of fairytales. It indeed anticipates the authentic Disneyland by various years and is among the most aged theme parks in the world. Efteling is mainly associated with its more kid-centric wonders and is renowned for its enchanting fairytale forest, that contains some particularly memorable life-sized animatronics. Regardless of its age, this delusion kingdom still bundles a punch and has several death-defying rides such as 37.5-meter jump fall coaster called Baron 1898 and even an old-school, double lane, wooden roller coaster. 
Address: Europalaan 1, 5171 KW Kaatsheuvel
Read more: Beautiful National Parks in Amsterdam
4. The Amsterdam Dungeon
This Park is definitely not for the faint-hearted. The Amsterdam Dungeon biggest amusement park in Amsterdam that showcases live history shows that are quite scary, so you get an opportunity to learn and be panicked at the same time. Over 500 years of dark classical events are apprehended. You can wander around the Amsterdam Dungeon on your trip, you can experience a whole new thing by arriving in torture rooms and exploring Amsterdam's dark past. It's seemingly the coolest way to have fun, get scared and learn something all at the same time. It's a fabulously famous attraction for natives and tourists coming to Amsterdam
Address: Rokin 78, 1012 KW Amsterdam
5. Adventure park Hellendoorn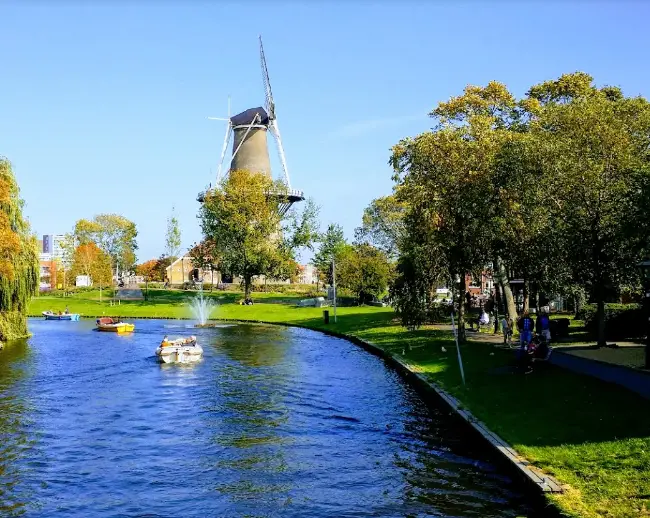 This is an ideal place to take your children, as this park is custom-made for children and pre-teens. There are more than 30 rides to select from, so there is enough to do. There is something for every child to enjoy from roller coasters to laser tag and the rapids. There are also a lot of water-based rides, so it makes for a likable day out in the summer. It's also situated in a gorgeous place in the forest. You can also examine the surrounding area afterward too. Apart from these skyrocketing, hair-raising rides, Avonturenpark Hellendoorn also has astonishing waterslides and several other aquatic allures.
Address: Luttenbergerweg 22, 7447 PB Hellendoorn
Read more: Beautiful National Parks in Amsterdam
6. Amusement Park Duinrell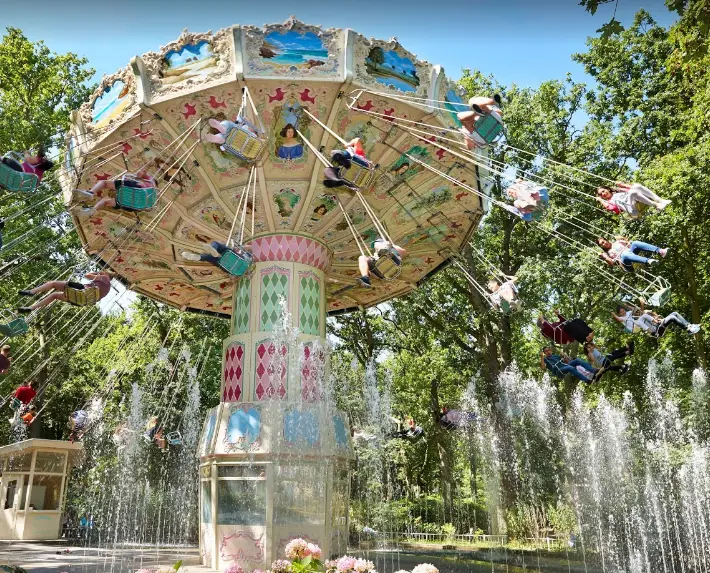 Amusement Park Duinrell is an impeccable place and theme park in the Netherlands for the whole family to relish. It's on the smaller in size in comparison to some of the other theme parks in the country, but it surely isn't any less fun. This Park holds enough of rides and other interests for small children consisting of enough of shows. For adult epicure, there are roller coasters and other attractions for you. One of the most loved places in the park is the famous Tiki pool, which is incredibly famous. Inside, the pool has abundant swimming space to enjoy, along with water rapids, slides and waterfalls
Address: Duinrell 1, 2242 JP Wassenaar
Read more:
7. Attractiepark Slagharen
Even though Attractiepark Slagharen has abundant, breathtaking attractions, most people in the country branch the park with its pony petting zoo, partly because riding these potent steads is an acknowledged part of Dutch babyhood. Apart from its captivating menagerie of ponies, Slagharen also consists of waterslides, roller coasters, and classic funfair rides.
Address: Attractiepark Slagharen, Zwarte Dijk 37, Slagharen
Read more: Reasons to Visit Amsterdam
8. Archeon
Archeon is a famous theme park in Amsterdam that will transfer you back in time and you'll be sure to find everybody dressed up so you can wisdom for yourself how it may have looked during those times. This park is historically essayed, by the Roman, Medieval and Prehistoric periods. You can get archery lessons, learn how to make a fire, learn how to bake and more. Tour the 'Roman Museum' and the 'Archeology House' to learn about our history, with films and efforts. You will get to know so much about the citizen throughout the park and how they used to live 
Address: Archeonlaan 1, 2408 ZB Alphen aan den Rijn
9. Sprookjeswonderland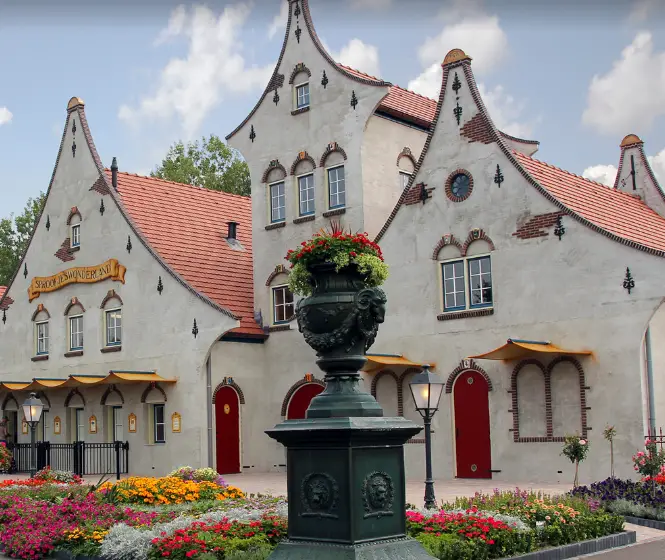 This theme park is an ideal place to visit if you have children. The whole park is entirely devoted to fairy sagas and there is a wide range of different activities and charms for children, all-around based on the same theme. In the winter the park recommences as Sprookjeswinterland, which emphasizes more wintery tales, such as Snow White. There is also a fortune teller, a story room and a giant Christmas tree, that sits at the entry of the park.
Address: Kooizandweg 9, 1601 LK Enkhuizen
Read more: Most Visited Museums in Amsterdam
10. Drievliet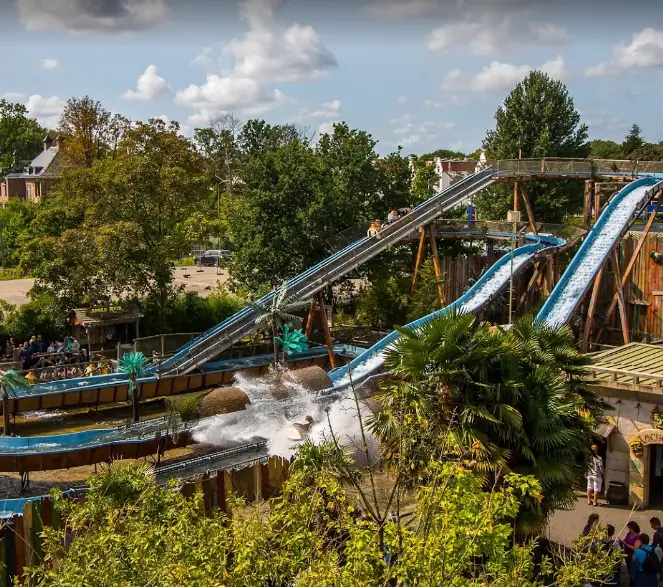 Drievliet is a quite friendly theme park, with something for everyone. There is a type of roller coasters, shows, slides, and other children's activities. The shows are specifically famous, as they have their own theatre. There is also a scary house if you're after a bit of a scare. There is also quite a lot of rides suited to the adventurous at Drievliet, but all in all, it's mainly for children
Address: Laan van 's-Gravenmade 81, 2495 BD The Hague
All of the above-mentioned Amusement parks in Amsterdam are must-visit on your trip to the Dutch city as they offer very unique kind of experience where not only kids but even the adults will have a lot of fun for sure.
The post 10 Best Theme Parks of Amsterdam | Famous Amusement Parks in Amsterdam appeared first on World Tour & Travel Guide, Get Travel Tips, Information, Discover Travel Destination | Adequate Travel.