Even though the seat of the Netherlands government is in The Hague, Amsterdam is the titular capital. It is also the largest city in the country, with an extremely large population and the most visited city and has popular Resorts in Amsterdam.  Along with its heritage, this bustling city is also home to a wide range of luxurious resorts that boast of fancy and designer interiors. The archaic charisma of Amsterdam makes this city appears just like a beautiful painting with its heritage museums, tiny cafes, and fancy hotels and resorts with a backdrop of beautiful canals. Here is the complete guide about the best Resorts in Amsterdam, Netherlands.
List of Most Popular Resorts in Amsterdam 
1. W Amsterdam
This is a different blend of legacy and modern in this attracted designed resort settled just amidst the hustle-bustle of the city. Free WiFi is available all over. The W resort gives a cue of the new Amsterdam and the rooftop lounge gives an excellent view of the nightlife of the city. W Amsterdam arranges guest rooms, suites and a heated rooftop pool in the city center of Amsterdam, just off Dam Square. Guests can relish the rooftop lounge bar, AWAY Spa and FIT Gym.
Address: Spuistraat 175, 1012 VN Amsterdam, Netherlands
Read More: Best 5-Star Luxury Hotels in Amsterdam
2. Hyatt Regency Amsterdam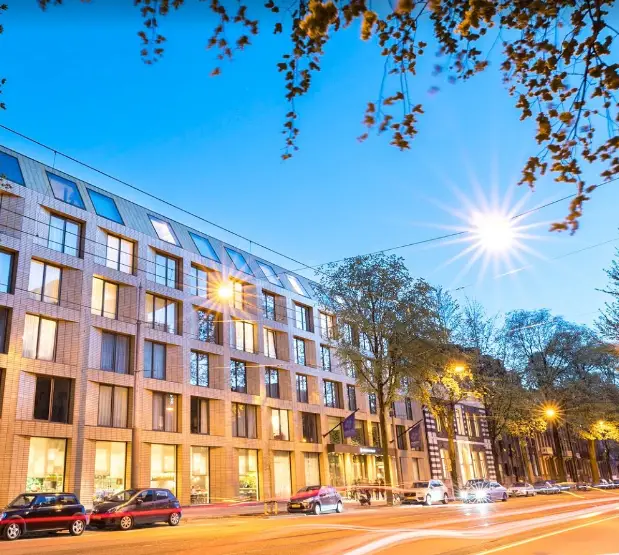 Get Hyatt Regency Amsterdam Hotel Deals
Just in between Amsterdam city stands this deluxe resort which brings together the amalgam of innovations and native culture and it is one of the most famous Resorts in Amsterdam to visit. In the center of Amsterdam, neighboring the astonishing east neighborhood, five stars Hyatt Regency Amsterdam connects business with pleasure. Relax in the middle of the hotel's interior to make yourself feel at home in roomy guestrooms. While the comfortable interiors and the fine diner serving the native cuisine will show the true side of the city, the surroundings will give a relaxing vacation
Address: Sarphatistraat 104, 1018 GV Amsterdam, Netherlands
3. Breitner House
Get Breitner House Hotel Deals
Breitner House is set in a distinctive Amsterdam townhouse overlooking the Oosterpark. It serves 2 large, classically decorated suites with modern features such as a flat-screen TV and iPod docking station. The effusive interiors and delightful meals along with a wide range of services which brings sense to witness like never before. Feel the affluence at every corner of the Breitner House, where the art meets leisure in its best way. 
Address: Oosterpark 87-88, 1092 AW Amsterdam, Netherlands
Read More: Most Visited Instagrammable Places in Amsterdam
4. Canal House Suites
Get Canal House Suites Hotel Deals
Sense a dignified vacation in Amsterdam while relishing your stay at Canal House Suites. Established just at the heart of the city, this hotel is settled just beside two canals and the royal palace, this place is one of the best resorts in Amsterdam, Netherlands. Nearest at hand is the pedestrianized zones Kalverstraat, the quaint shops of Haalremmerdijk, Royal Palace and Dam Square with famous neighborhoods
Address: Oudezijds Voorburgwal 197 A, 1012 EX Amsterdam, Netherlands
5. Waldorf Astoria Amsterdam
Get Waldorf Astoria Amsterdam Hotel Deals
Catch the aristocracy of Dutch ancestry while staying in Waldorf Astoria and sense a timeless service and charm. Located at the heart of Amsterdam, this culture resort gives a feeling of extravagance with its fine dining and plush interiors. There are more than 90 rooms and apartments overlooking the city's canal or the courtyard garden. The interior is designed by GA Design. The hotel has a historical exterior comprising six monumental of the 17th and 18th-century.
 Address: Herengracht 542-556, 1017 CG Amsterdam, Netherlands
Read More: Best Bars and Pubs in Amsterdam
6. Swissotel Amsterdam
Get Swissotel Amsterdam Hotel Deals
Situated just at the heart of Amsterdam's antique city center, this place has entirety which will make a deluxe vacation which makes it one of the best Amsterdam resorts for couples. The hotel is located just off Dam Square, in the heart of the city center. Easily available by public transport, walking distance to Amsterdam Central train station. This hotel is an ideal place for both business and leisure. Encounter a stay like never before in this boutique resort which is fully furnished with modern facilities and plush interiors
Address: Damrak 96, 1012 LP Amsterdam, Netherlands
7. Pestana Amsterdam Riverside
Get Pestana Amsterdam Riverside Hotel Deals
In the proximity of the Town Hall and annals of the Amstel Community, this deluxe resort stands right at the hippiest town of Amsterdam. The fancy and luxurious interiors give an affectionate yet sophisticated stay experience. With classic guestrooms and a stunning lobby with beautiful ceilings and arches, this is the perfect base for your visit to one of Europe´s most picturesque and exciting cities. The resort is rising above the hippest part of town, "De Pijp", in a quiet location just outside the hustle and bustle of the Amsterdam inner canal belt.
Address: Amsteldijk 67, 1074 HZ Amsterdam, Netherlands
Read More: Burger Restaurants in Amsterdam
8. Amstel Botel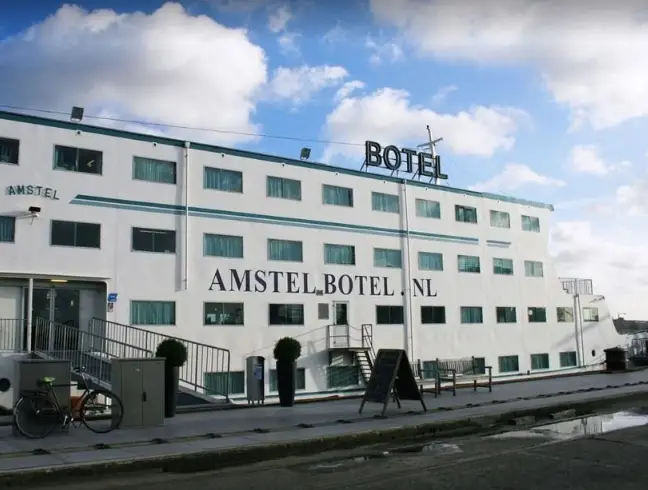 Turn down the tedium and sense a stay in Amstel Botel which is a floating hotel and resort settled just amidst the bustling town and a Must-Visit Resort in Amsterdam. Relish the dreamlike view over the water of IJ with a delightful meal and a bar that is ideal to experience the nightlife in Amsterdam. Botel is a superior property, set adjacent to the beachfront. 24-hour front desk assistance, free shuttle service, and ironing service, as well as currency exchange, luggage storage, and a safe deposit box, are on hand 



Address: NDSM-Pier 3, 1033 RG Amsterdam, Netherlands
9. The College Hotel 
The College Hotel is situated in the model District of Amsterdam. Museumplein, the Rijksmuseum, Van Gogh Museum and the Royal Concertgebouw are situated, is near to this. The Albert Cuyp Market and the famous De Pijp are also very close to this.
Address: Roelof Hartstraat 1, 1071 VE Amsterdam, Netherlands
Read More:  Famous Haunted Places in Amsterdam
10. Pulitzer Amsterdam
Get Pulitzer Amsterdam Hotel Deals
Pulitzer Amsterdam is an exclusive combination of up-market, classic and contemporary Dutch craftsmanship hidden amongst the city's emblematic canals. Encounter typical Dutch charm in a sophisticated maze associating Golden Age canal houses. This secret place consists of intimate guest rooms, amicable inner gardens, meeting & event spaces
Address: Prinsengracht 323, 1016 GZ Amsterdam, Netherlands
So these are the best resorts in Amsterdam to visit, with respect to its address and hospitality. You can choose according to your pocket and comfort zone. You also get the popular Resorts in Amsterdam, the Netherlands as well as the top 10 resorts in Amsterdam.
The post 10 Best Resorts in Amsterdam, Netherlands appeared first on World Tour & Travel Guide, Get Travel Tips, Information, Discover Travel Destination | Adequate Travel.