We found many famous water parks in Berlin within a radius of 150km. If you book these water parks online make it so convenient. You can also compare all online reviews from several popular websites – and created an aggregated review score. We also checked how long it will take to get there as most of these aqua parks in Berlin are far outside. We always used Alexanderplatz as a starting point. From all the places we have analyzed, here are our best water parks in Berlin,  based on distance, review score, and excitement level. 
List of Water Parks in Berlin 
1. Ostsee Therme
This spa and resort on the Baltic Coast takes all of the wild elements of the sea and tames them for visitors of all ages. This best water park in Berlin for children features more than 14,000 square meters of thermal saltwater pools, tropical landscape and over 300-meters of slides. For the babies, there is a separate baby-pool with a consistent water temperature of 34 degrees Celsius. The therme is within sight of the Bay of Lübeck so visitors can access the beach. The adults-only area includes a variety of saunas from eucalyptus to a bio. There are also relaxation oases, sports studio, solaria, and massage treatments. To cater to your other needs, visit the restaurant, bar, and shop. The Hotel Gran BelVeder also has direct access to the thermal spa.
Address: Strandallee 143, 23683 Scharbeutz
Official Website: http://www.ostsee-therme.de/
2. AquaMagis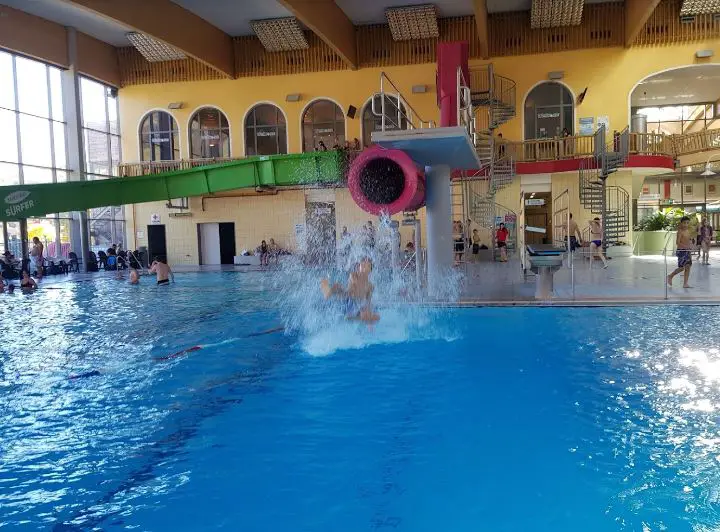 This best aqua park in Berlin features twelve slides like the Green Kick (tube slide with a catapult launch) plus surfing experiences from the beginner  Sauerland Surfer to the 100-meter Crazy Surfer for professionals. Decoration fits the watery theme with a pirate ship and the children's adventure pool. In the sauna section, enjoy the organic Tree Sauna with Amazonian showers. 
Address: Böddinghauser Feld 1, 58840 Plettenberg
Official Website: www.aquamagis.de




3. Tropical Islands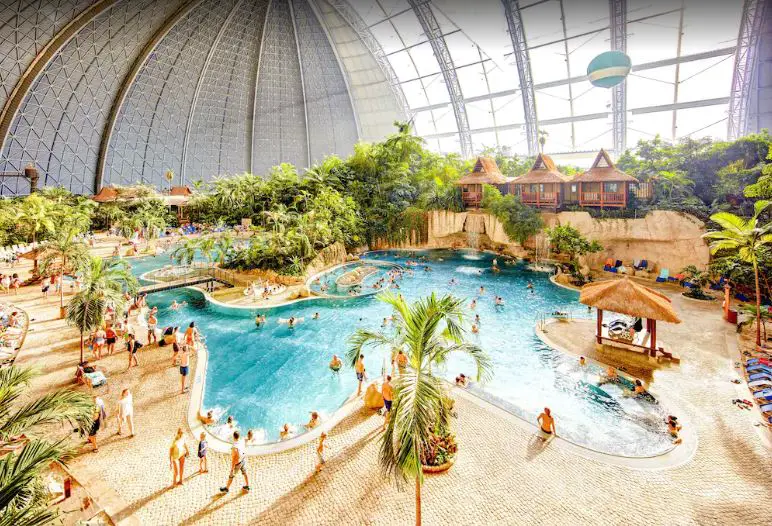 Tropical Islands is housed in a mammoth dome you can see from miles away. This popular water park in Berlin is located just outside of Berlin. It features warm temperatures year-round and attractions for the entire family. The park is the size of eight football fields – enough to fit the world's biggest indoor rain forest, man-made sandy beach, tropical spa and sauna complex over 10,000 square meters, four water slides ( Rutschen) with speeds up to 70 km/h, and even an indoor balloon that floats 60 meters in the air.
Address: Tropical-Islands-Allee, 15910 Krausnick-Groß Wasserburg, Germany
Read More: Water Parks in Venice
4. Galaxy Erding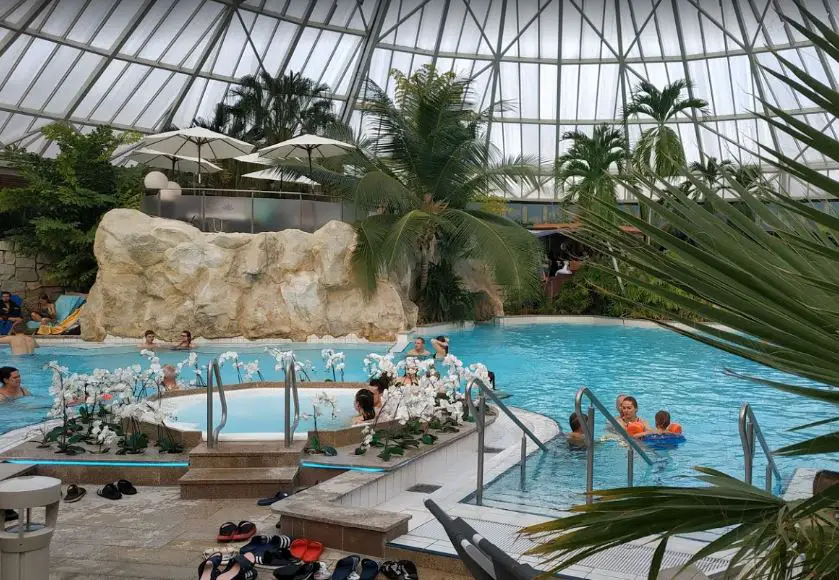 Galaxy Erding has considered in Europe's biggest water slides and the country's largest spa combine for an area of 145,000m² of best water parks in Berlin for family. Therme Erding draws in nearly 1.5 million visitors per year! With slides totaling 2,500 meters of ups-and-downs, this is a state-of-the-art water park action. Highlights include the Magic Eye, a 360-meter closed tube slide, reportedly the longest in the world. In summer, the garden, outdoor pool, and pool bars open up with sports facilities for beach volleyball, table tennis, and playgrounds. In the VitalOase spa, visitors can take a break under calming palm trees. Visit areas like the Royal Spa that is styled after Venetian palazzi. And unlike some of the other sites on this list, the sauna is kid-friendly, even offering the world's biggest infra-red family sauna.
Discover: Best Things to Buy in Bonn, Germany
Address: Thermenallee 1-5, 85435 Erding
5. Fildorado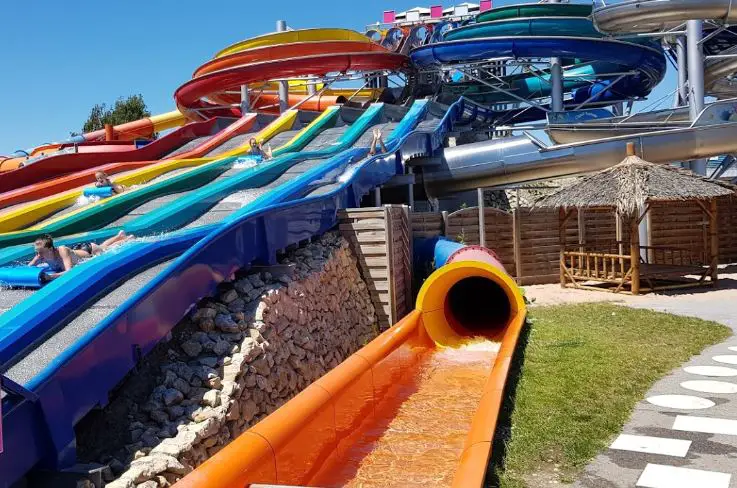 This luxurious bathing city consists of a wave pool, lazy river, lap, and outdoor pools plus exhilarating themed slides. It is located near Stuttgart. The Black Hole slide encloses sliders in darkness while the jumping slide has swimmers leaping into action. After the thrills, sit back and relax in the sauna. In this water park near Berlin Germany, there are aroma and meditation facilities with everything from a panoramic to a fireplace sauna. The German Sauna Association has even awarded the site five stars.
Address: Mahlestraße 50, 70794 Filderstadt
Official website: http://www.fildorado.de/
6. Aqualand Cologne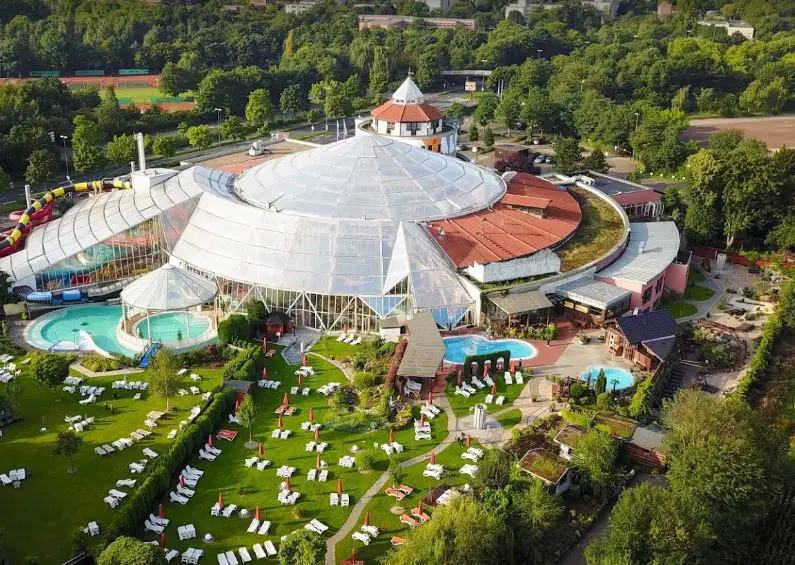 Aqualand branded is not the only themed mega-slide but its 150-meter long slide. Get a chance to enjoy in this aqua park in Berlin, the Aqua Canyon, Boomerang and Red Star with various free falls, twists, and plunging dives. Visitors should also explore the park's grottoes which feature steam mist and 10 themed saunas plus a hammam.
Address: Merianstraße 1, 50765 Köln
Visit: Water park of Tuscany
7. Ocean Wave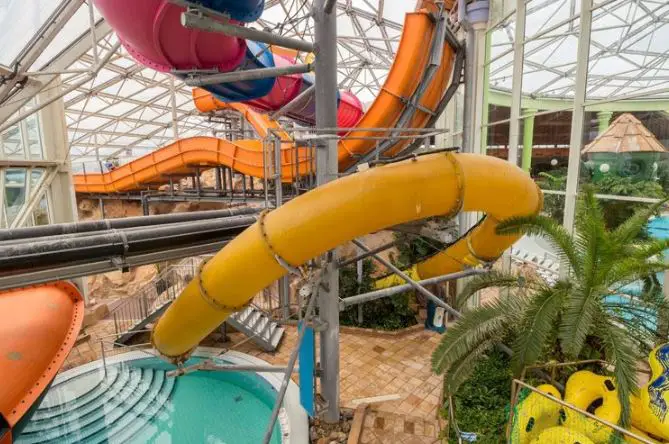 A list of the top 10 water parks in Berlin is incomplete without Ocean Wave. It has an impressive 101-meter-long slide is beautifully styled as a lighthouse, appealing to both kids and adults. Portholes on the climb up reveal the layout of the park before you careen down among the waves. Soothe any sore muscles in the tropical area with saunas and steam baths.
Address: Dörper Weg 22, 26506 Norden-Norddeich
Official Website:www.norddeich.de
8. Badeparadies Schwarzwald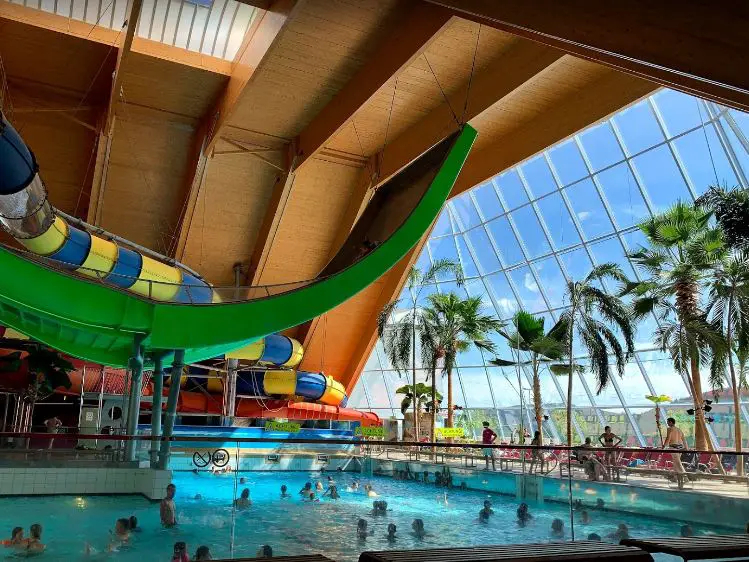 The thrilling and famous aqua park in Berlin has 18 water slides and a massive wave pool to simulate all the fun of the beach. Including Germany's longest 4-track mat-slide for the adventurous, there are attractions fit for every level of swimmer. Also keep an eye on their blog as they regularly feature themed events, like Magical Fairy Tales.
Address: Am Badeparadies 1, 79822 Titisee-Neustadt
9. Europa-Park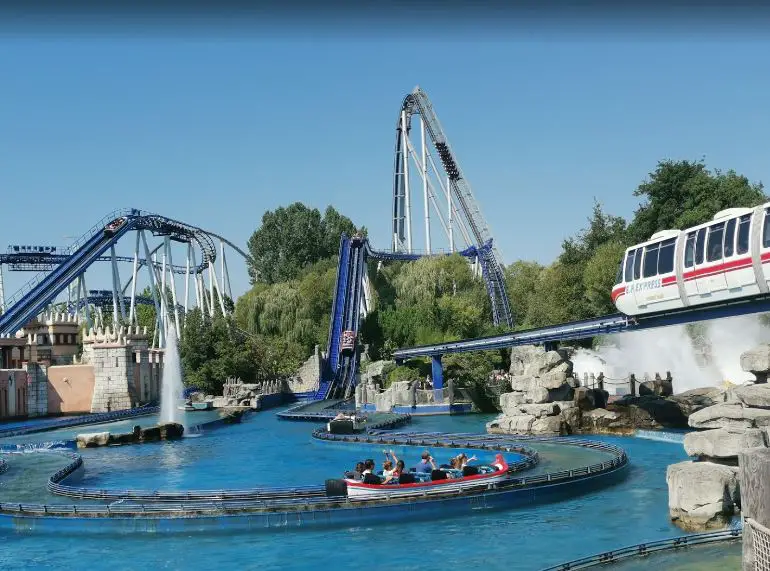 Europa-Park is a full-on amusement park, not limited to water attractions. You will find here in this indoor water park in Berlin themed lands, roller coasters, and stage shows. In summer, the water rides are at the forefront. Atlantica SuperSplash, the Tirol Log Flume Ride and Poseidon Water Coaster provide splashy thrills. If you go in winter, note that most of the water rides are closed due to below freezing temperatures. But you can still take a dip in the hotel pools year-round.
Address: Europa-Park-Straße 2, 77977 Rust
Don't Miss: Best Water Parks in France




So far we have discussed the water parks in Berlin. I hope you might have gathered some information related to it. If you are planning your trip to Berlin then kindly go through our other articles as well which will be quite beneficial for you. Please share your views regarding the content explained above and liked it too.
The post Top Water Park in Berlin Germany | Best Aqua Park in Berlin appeared first on World Tour & Travel Guide, Get Travel Tips, Information, Discover Travel Destination | Adequate Travel.