The historical monuments in Costa Rica take you on a whirlwind tour through the country's long and illustrious history, showcasing the fact that Costa Rica is as rich in cultural and historical treasures as she is in nature-filled ones. From mysterious archaeological finds,  incredible eco-tourism legacies, and beautiful centuries-old cathedrals to opulent theatres the following prominent monuments of Costa Rica beautifully complement the natural riches which have made this one of the world's most revered travel destinations. Here are some of the best monuments in Costa Rica: 
List of Monuments in Costa Rica
1. Guayabo National Monument, Turrialba
The largest archaeological site in Costa Rica, uncover the mysterious terrain of Guayabo National Monument, Still largely un-excavated, the 232 ha (573.2 acres) site was once a thriving city, occupied as early as 1000 BC and inexplicably abandoned in 1400 CE. It is one of the national monuments in Costa Rica. Weave your way through the remaining ruins of the city's dwellings, aqueducts, and tombs, and keep an eye out for enchanting petroglyphs. Surrounded by one of the last rainforests of its kind in Cartago, a ramble around the mystical monument provides an authentic excursion into an ancient part of the country's heritage.
Read More: Famous Monuments of Chad
2. Morazan Park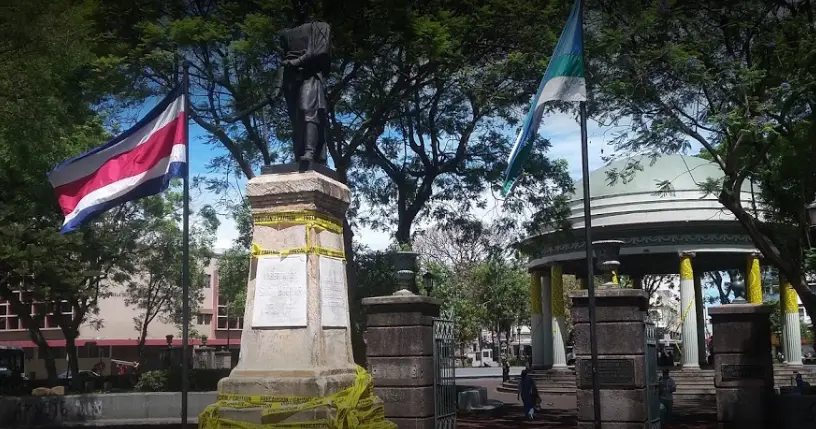 Housing some of the city's most interesting monuments in this popular city park. Not only is the park home to the centrally situated but are their statues, domed Temple of Music (Templo de Música) and a pretty Japanese garden in its northeastern corner. It is considered in one of the famous monuments in Costa Rica.
3. Santuario Nacional Nuestra Senora de Los Angeles, Cartago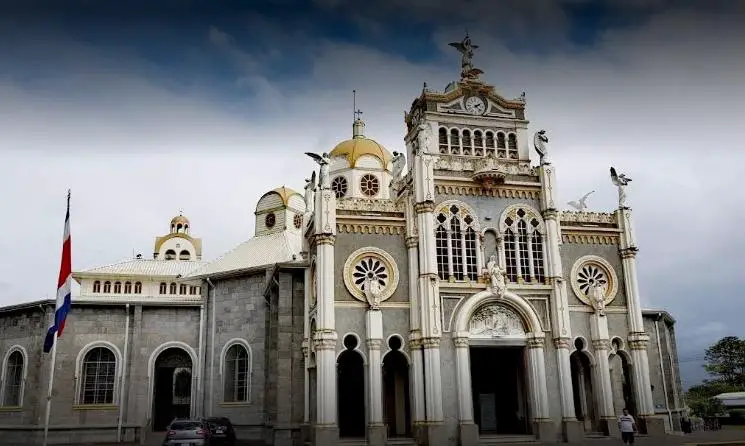 To see one of Cartago's architectural gems visit Santuario Nacional Nuestra Senora de Los Angeles. It stands on the grounds of an earlier church destroyed in an earthquake and was built in 1924. The statue,  legend has it that a little girl found a statue of Our Lady of the Angels on this site, however, returning and kept disappearing to the place where it was found. Today, this important monument in Costa Rica still houses the treasured statue, kept in a golden shell. Admire the Byzantine architectural style of the basilica, a site of pilgrimage for millions of people each year. 
Read More: Monuments of Chile
4. National Park
This shady park features two significant statues and offers respite from San Jose's busy streets. One presents a scene of William Walker being banished, while the other statue depicts national hero Juan Santamaria by the Central American nations. The National Park is also lined by some of the capital's most important landmarks and historical buildings and is also referred to by the local Costa Ricans as the Parque Nacional. Now it is known as unique monuments in Costa Rica.
5. Santa Elena Skywalk, Santa Elena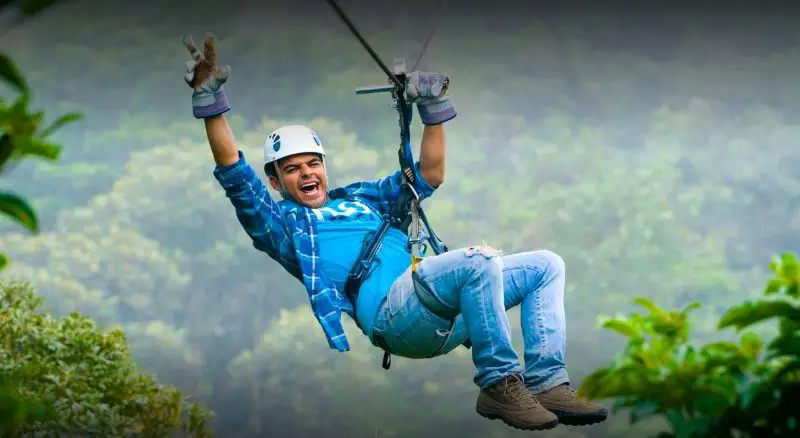 Wander among the treetops of lush rainforest with Santa Elena Skywalk. The tour of this popular monument in Costa Rica uses trails and a series of 'sky-high' suspension bridges leading you through the thick green foliage. See plant and animal life from a different perspective and understand the ecosystem of a 'canopy' habitat. Vines and epiphytes wrap around the tree trunks to preserve the moisture providing an ideal home for small animals and insects. The walk provides far-reaching views of the jungle, perfect for photo opportunities.
Read More: Buildings in Jaipur
6.Ruins of Iglesia de Nuestra Senora de la Limpia Concepcion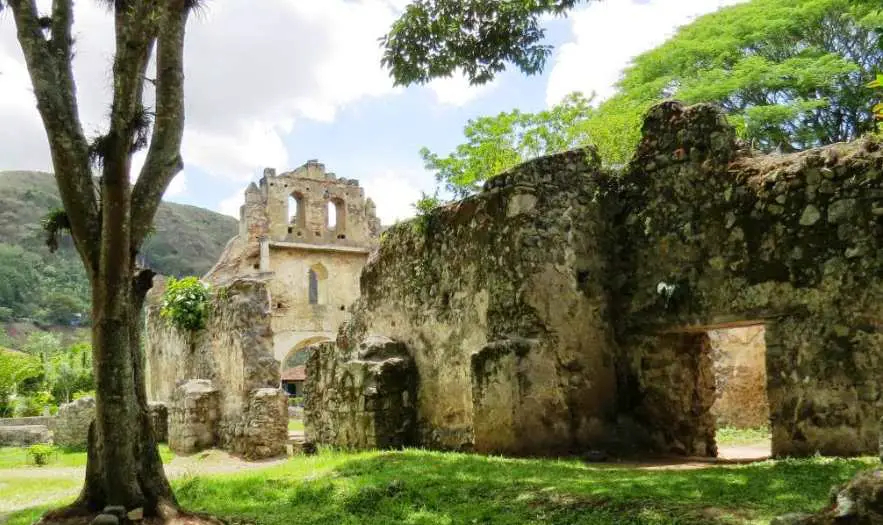 Costa Rica's oldest church visit Ruins of Iglesia de Nuestra Senora de la Limpia Concepcion which was built between 1575 and 1580. The facades and altar of the church, which was originally constructed from limestone, have been restored. This religious monument in Costa Rica located in the Orosi Valley, the ruins sit amid flat, grassy plains, and a vibrant garden full of shady trees. According to legend, an indigenous farmer found an image of the Virgin Mary, which he was unable to remove from the location. The event led to the church being built at its current location. 
7. Metropolitan Church (Catedral Metropolitana), San Jose
An elaborately designed historical church, marvel at Metropolitan Church (Catedral Metropolitana), sitting in the heart of San Jose and east of Parque Central. It was built in 1871 but the church was destroyed in an earthquake after the pre-existing. With tall columns, the façade features a grand Renaissance style towering over the park plaza. It is one of the top monuments in Costa Rica. The inside exhibits a neoclassical interior with colorful Spanish-tile floors, stained-glass windows, and at the main altar stands 17th-century Guatemalan statues of cherubs and of Christ. After exploring this ancient monument in Costa Rica have a stroll or a picnic in the park situated opposite to it.
Read More: Monuments in Mumbai
8. Our Lady of the Pillar Cathedral, Alajuela
Our Lady of the Pillar Cathedral dominates Alajuela's bustling central park built-in the neoclassical style in 1854. Outside, admire the marble foundation and striking dome, and then enter to observe the impressive altar and colorful ceilings depicting the life of Jesus. Feel free to attend one of the regularly held Catholic masses here. This old monument in Costa Rica is surrounded by nearby restaurants and a museum. The cathedral makes an ideal stop to enjoy local architecture and spiritual life, as well as to contemplate in peace.
9. Plaza of the Culture 
Don't visit here only for interesting museums and buildings but for its street vendors too, this busy plaza is a great place to watch people. Lining the plaza is the National Theatre and underneath it is two city museums. This most visited monument in Costa Rica has become an integral part of the city and very much central to the action.
Read More: Famous Monuments of Colombia
10. Teatro Nacional Costa Rica, San Jose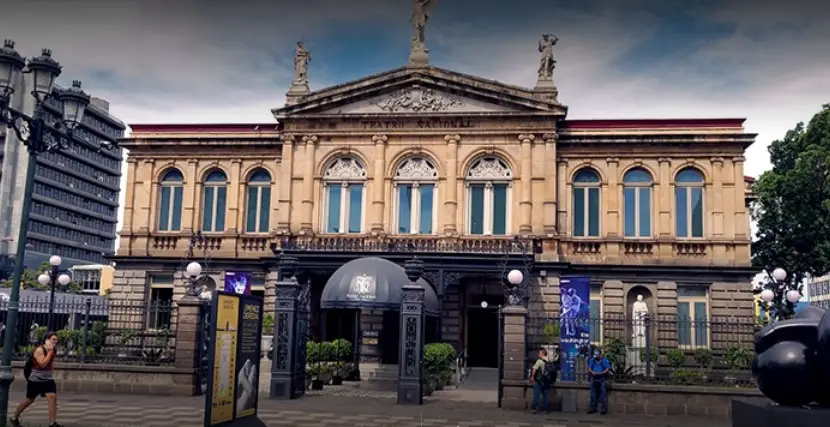 Located in the central section of San José, the National Theatre of Costa Rica also called Teatro Nacional de Costa Rica is Costa Rica's national theatre. Construction began in 1891, and with a performance of Johann Wolfgang von Goethe's Faust, this beautiful monument in Costa Rica opened to the public on 21 October 1897.




So far we have discussed the best monuments in Costa Rica, which contains the proper information regarding all the most visited monuments in Costa Rica. I hope you might have loved reading this article and if you love to know more about Costa Rica then kindly head to our other articles as well which will help you to get knowledge about Costa Rica.
The post Most Visited Monuments in Costa Rica | Famous Monuments of Costa Rica appeared first on World Tour & Travel Guide, Get Travel Tips, Information, Discover Travel Destination | Adequate Travel.