Disneyland is what every Disney lover dreams to visit. No matter if you are a 5-year-old kid fan of looney tunes or an adult. You will find this place filled with exciting tours and adventures that you might not have experienced while even watching the epic cartoons of Disney. This famous destination is located at Marne-la-Vallée, in the suburb of Paris. It takes about 45 minutes from the city centre by train, much less from the closest Charles de Gaulle Airport.  Therefore, to plan a ride you must be aware of the best time to visit Disneyland, Paris that holds distinct values on the basis of what kind of experience you're looking for? 
There are a lot of seasonal events like the Christmas celebrations, St David's Welsh Weekends etc. But the favourite adventures you want to carry on must be categorised on the basis of seasons. Hence, the events are definitely one of the best times to visit but are also accounts for the busiest time to visit Disneyland. So be prepared for long queues and crowds. Here we are providing you, the Best months to visit Disneyland Paris, out of which you can choose on your own among different seasons the best day of the week to visit Disneyland Paris.
The entire resort consists of 7 official Disney-themed hotels where you can stay if you are planning your trip for one or two days but for more you can look out for several other partner hotels. There is a Disney Village entertainment and shopping district inside along with two major parks:
Disneyland Park
Walt Disney Studios Park
For more magical experiences and a detailed treasure trove of beautiful parks along with seasonal entertainment shows you can choose Disneyland Park while if you desire some adventurous rides and amazing themed park shows you can explore the Walt Disney Studios Park.
Some of the most common queries to take in mind before exploring Disneyland must be as follows:

In which season Parks are super busy?
What weather is more suitable for different rides?
What are special events according to different seasons in the Parks?
How much will the tickets cost?

Disneyland Under Different Seasons
1. Spring Season
Spring season is from March to May in Paris which is the driest season of the year and the temperature is around 15-20ºC. Therefore, it's better to pack clothes that you can layer in such combined weather if an unusually cool or warm day sneaks up on you. Otherwise, it's all neutral you won't feel extra sweat draining your body out of energy, still, there are different stalls selling energy drinks and juices that you can purchase to boost up your energy and body hydration.

How busy will it be?
In Disneyland except for the half-term holidays, from March to May are some of the best times to visit Disneyland, as the queues for the rides are shorter and you'll be able to fit more into your day due to extra saved time. However, very few shows and events are scheduled during these periods. Therefore, you might not be able to catch lots of extra festivals during this season.

Special Events
Disneyland Swings into Spring is the event when Springtime blooms with magic, colour and music of all the top Disneyland's magical stars. They bloom throughout Disneyland Park with the smell of flowers and fun in the air. There is a special 3-day event named as St David's Welsh Weekend which is celebrated in early March. Disneyland Paris celebrates the land of green valleys and towering mountains in 3 days of fun, laughter and all things in Welsh. There would be music, crafts, face painting, and fireworks to enjoy the exuberant fun of Disney world along with meeting Mickey and Minnie in their Welsh outfits. 
1. Summer Season
Paris experiences summer in the months from June to August with temperatures between the range of 20ºC, so make sure you pack an adequate amount of sunscreen and summer clothes if you plan your trip within these months. However till the end of June-n-July comes the rainiest month of Paris, so don't forget to bring an umbrella or poncho to protect yourself from a surprising thunderstorm. We suggest you must avoiding the months of June through August, for visiting Disneyland, Paris because of extra crowds and also the recent heat waves that have swept over Europe in the last couple of summers.
How busy will it be?
As per discussed, summer is one of the busiest seasons in Disneyland where you get extended opening hours and much more scheduled shows and events besides any other seasons. Hence, if you can handle the heat with crowds you will get to explore some of the major events of Disneyland. However, because there are more guests in the parks you might have to wait for longer durations to hop on the rides.

Special Events
As the evenings get lighter, in summers accounting for the best time to visit Disneyland Parks that open for longer durations through which you'll have even more time to enjoy all the magical events that take place for complete summer season including the spectacular light shows and firework displays. There is also a Lion King Jungle Festival, which drew rave reviews last year and will return for Summer 2020 as well. So don't miss out on that.
III. Autumn Season
Autumn in Paris starts from September and stays till November. The last month becomes colder and rainier, therefore, you must come well arranged with all your rainy and winter essentials especially long boots to walk over snow-covered lanes. It will be a good idea to bring a coat, an umbrella or poncho, and shoes which will keep your feet safe from getting wet as you explore the parks.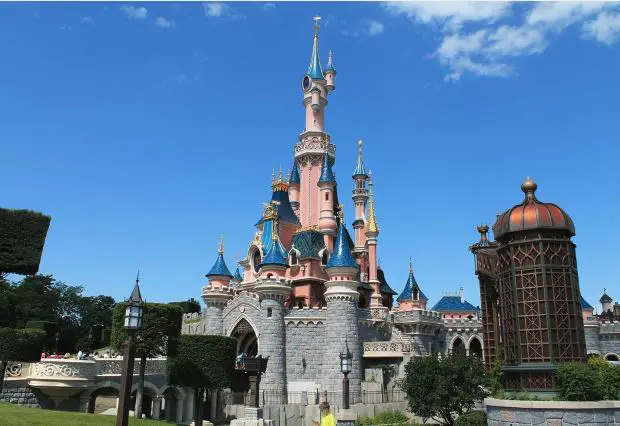 How busy will it be?
Autumn months can be up and down, Disney parks celebrate events like Halloween and Bonfire Night in this season which adds up more rides and extra haunted houses in Park's display to enjoy this month to the fullest. So if you want to visit the parks when they are less busy, you must book beforehand when these events aren't taking place. 
Special Events
The famous month to visit Disneyland are these autumn months when you can take part in Disney's Halloween Festival which happens in October. You can join Mickey and his friends for the ghostly Halloween tour, with a dash of Disney magic. Or meet the Disney Villains behind the Castle, Visit Jack Skellington, take some scarily funny interactive photos with Minnie and Goofy, and lots more terrifically adrenaline rush giving you beyond the edge of fun and entertainment. 
Tickets
Tickets for Disneyland Paris vary in price depending upon when you want to visit there. These are the 3 types of tickets which you can book:

Mini Ticket: The most cost-effective option which is valid only for off-peak dates within the season you've selected.
Magic Ticket: The mid-priced option that can be used on off-peak dates within your chosen season and some of the more popular dates that handle special events during different seasons.

Super Magic Ticket: This ticket can be used anytime within the selected season, except special peak dates.

Super Magic Plus Ticket: Covers all dates in the selected season including the popular one, like Halloween, October half term, weekends in November and the 2-week Christmas break
Find: Best Restaurants in Disneyland Paris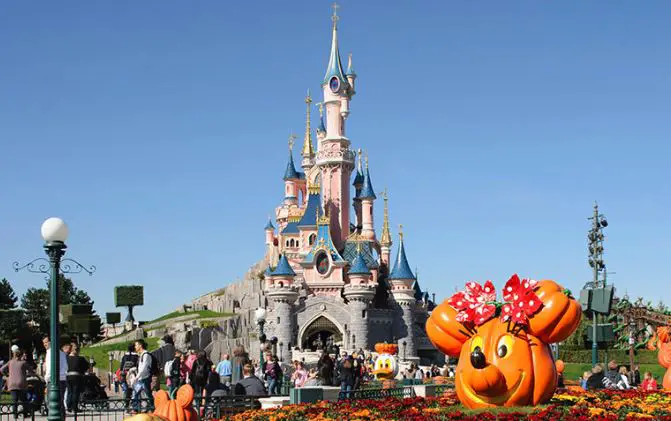 Read more: Disneyland Paris fun facts
Upcoming Plans of Disneyland 2021
Disneyland Paris has also maintained some huge long-term plans that involve Marvel, Star Wars, and Frozen as part of a $2.5 billion revitalization to the Walt Disney Studios Park that you can also check from their official website-www.disneylandparis.com. This redevelopment of Walt Disney Studios Park will roll out in phases starting in 2021 as they have informed by far. But due to the current pandemic conditions date may vary with time.
So far we have told you all the best time to visit Disneyland Paris, now it totally depends on you to choose the preferable time to visit Disneyland Paris according to your values of interests and budget options. Hope you will be able to get the best day of the week to visit Disneyland Paris. If you are planning to visit Disneyland Paris, and want more detailed information then kindly head on to our other article like, restaurants near Disneyland Paris, which would be quite beneficial for you. If you liked our article, please do comment and share.  
The post Best Time to Visit Disneyland Paris appeared first on World Tour & Travel Guide, Get Travel Tips, Information, Discover Travel Destination | Adequate Travel.