Here we will be discussing the Redwood National Park things to do,  as sometimes there would be special events, programs and educational opportunities for you. Some of these held at the park, and some of these will be in the neighboring communities and towns. Just go ahead and have a look at these best things to see in Redwood National Park, and choose some of our top picks from the briefly explained things to do near Redwood national park.
What to do in Redwood National Park




Discover Howland Hill Road: a 10-mile scenic drive through the old-growth Redwoods, along with the Mill Creek, with Stout Grove a half a mile walk through a river bottom grove of tremendous trees.
Explore Enderts Beach and Crescent Beach Overlook. Stand before Pacific Ocean views from the overlook, you may see a gray whale. Walk 1-mile to Enderts Beach, a route to multi-colored myriad tidepool creatures.
Drive to Klamath River, it's the best spot for watching the gray whale migration. Look for the other marine mammals and host of seabirds any time of year. Hike one-fourth mile down a steep trail to the lower overlook and more dramatic views. Read more about the Redwood National Park.
Get out off the beaten path and onto Coastal Drive. This 8-mile road winds past Pacific Ocean views, the World War II Radar Station, and Highbluff Overlook and is the best things to do in Redwood national park. Look through the binoculars at massive offshore rocks to spy thousands of seabirds nesting.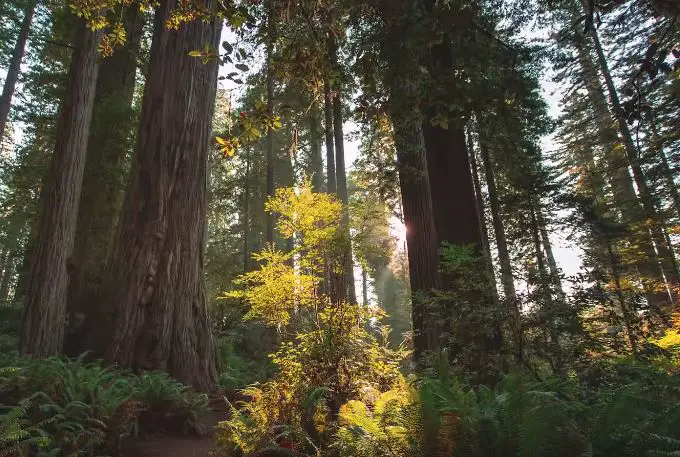 Travel Newton B. Drury Parkway. Not the Avenue of the Giants can beat this, A 10-mile scenic drive through these ancient redwoods. Stop and walk a one-eighth of a mile to Big Tree,  you'll see why.
Investigate Davison Road where Roosevelt mostly hang out in Elk Meadow. Trillium Falls Trail is a two and a half mile loop trail through ancestral forests and also has few waterfalls in the parks. This trail has plenty of parking for all vehicle sizes, picnic tables, and restrooms.



Follow Davison Road to the gray sands of Gold Bluffs Beach. See if you find the remains of the mining era. Even when the foot-bridges are installed expect to get your feet wet. Due to large logjams, be prepared to run back to the parking area after the one-fourth mile up the canyon floor.
Be sure to stop at Kuchel Visitor Center which is one mile south of Orick. This is the parks largest visitor center with exhibits, a 12-minute video, and beach access which is nice things to do near Redwood national park.
Don't Miss: Best National Parks in California
If you are planning your trip to California and wish to visit Redwood national park then you might have been worried by thinking what to do in Redwood national park, therefore as per your beneficial, we are providing the top things to do in Redwood national park. If you love to explore more about California then head to other articles and share your views as per the content.
The post Top Things to do in Redwood National Park appeared first on World Tour & Travel Guide, Get Travel Tips, Information, Discover Travel Destination | Adequate Travel.