The capital of Indian country, New Delhi is a place where people have serene hearts and enjoyable nature. The city has accomplished great things and associated with quite a few things ranging from ancient milestones to some of the best shopping galleries and is among the reasons Delhi is famous for. From consistent Indian cuisine foods to some of the most mouth-watering continental food in the country. From being the party hub to having still maintained its roots and culture the capital city has it all. The city smoothly combined a host of traditions that is developed by enormous migrant populations.  An energetic, fast and affable way of life can be described as a reason for its extreme popularity. You can definitely relish on the appetizing delicacies in Old Delhi and is an answer to Delhi is famous for what. The city at present is one of the fastest-growing cities in the world. The city is truly loved by the natives as well as the tourists.
Delhi is Popular For 
1. Red Fort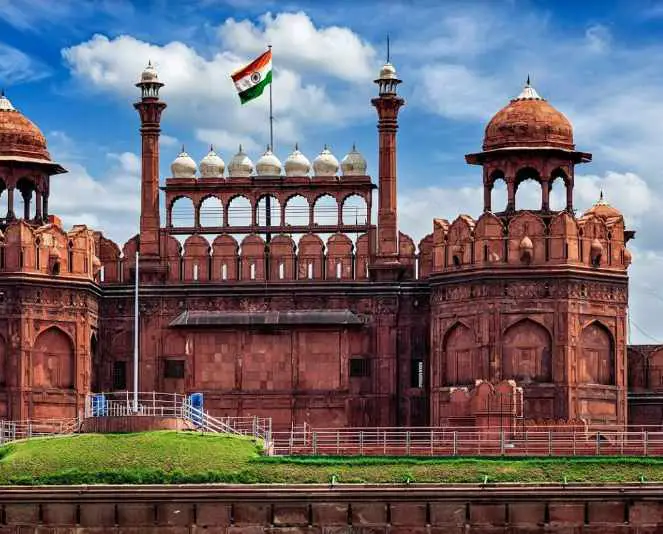 Red Fort is a remarkable fort in the city of Delhi. It plays as the major residence for Mughal emperors. It was constructed by Shah Jahan when the capital was shifted from Agra to Delhi and is among the famous historical monuments in Delhi. Every year on 15th August, the Indian Prime Minister hoists the national flag. It was previously known as Quila-e-Mubarak or the Blessed Fort. It was part of the old Delhi. The complete fort complex represents the structural artistry and genius of Mughal architecture. The planning of the palace is based on Islamic prototypes and was highly influenced by Agra, Rajasthan.
Read More: Sydney is Famous
2. Street Food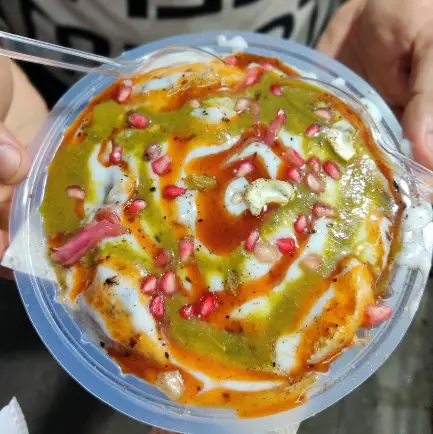 Demonstrating the valor of Indian past and archaic culture, The capital is popular for one more occurrence aspect. The capital city of India is an ultimate foodie paradise owing to some delicious and amazing street food in particular. A trip to Delhi is not completed without going on the streets and relishing the street food around the corner of the city. Some of the best food items in Delhi are Chole Bhature, Golgappe, Poori Aloo, Dahi Bhalle, Rolls, Kachori With Sabzi, Kulfi, Aloo Chaat, Daulat Ki Chaat and answer to Delhi is famous for which food. Some of the best places to try these mouth-watering dishes are Nand Ke Chole Bhature in Sadar Bazaar, Chaina Ram in Chandni Chowk, Karol Bagh Market, Taste drive at Rajouri Garden, Roshan di Kulfi in Karol Bagh
3. Qutub Minar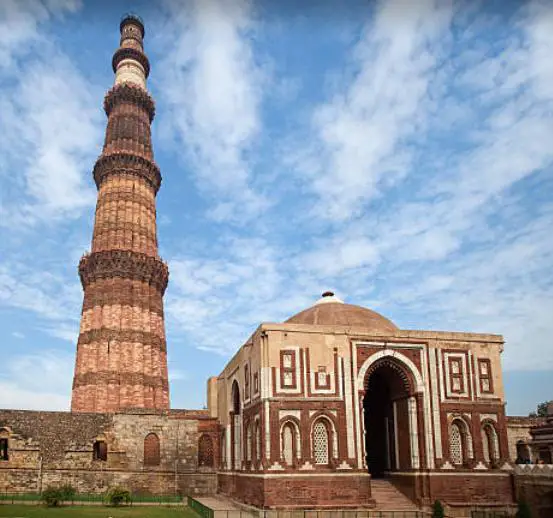 It is located in Delhi and is a towering landmark which never fails to captivate visitors and makes New Delhi popular to visit. It is a 73 meters tall tower and constructed by Qutub-ud-Din Aibak. The tower was constructed to honor the Muslim victory in Delhi. But Qutub-ud-Din Aibak only constructed the basement part and the rest of the tower was built by  Iltutmish. It is among the Unesco World Heritage Sites and It consists of a spiral staircase. It is an amazing masterpiece that brags of being the world's tallest brick tower. It is a five-storied structure that took more than four centuries to get completed. Its topmost floor got damaged due to lightning and later it was constructed by Firoz Shah Tughlaq.
Read More: Singapore is Famous for
4. Chandni Chowk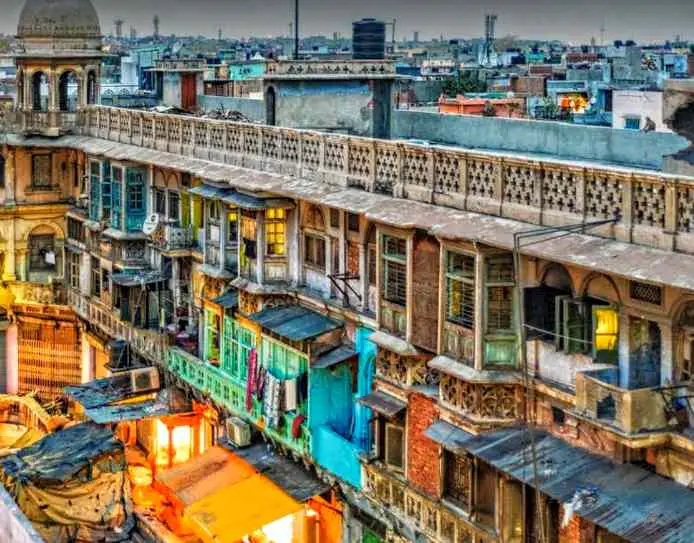 It is the city's most ancient and busiest market, Chandni Chowk is characterized by congested streets and more than 1000 shops selling all kinds of stuff like clothes, jewelry, Books, Electronics items and is among things Delhi is best-known for. It can get a little astounding to cruise your way around this 17th-century convoluted market which was constructed by Mughal emperor Shah Jahan. The Market is divided into further parts like nayi Sadak, Dariba Kalan, Khari Baoli, Kinari Bazar, Katra Neel, Bhagirath Palace, Moti Bazar, Ballimaran Market, Tilak Bazar. It is situated near to Old Delhi Railway Station
5. Sansad Bhavan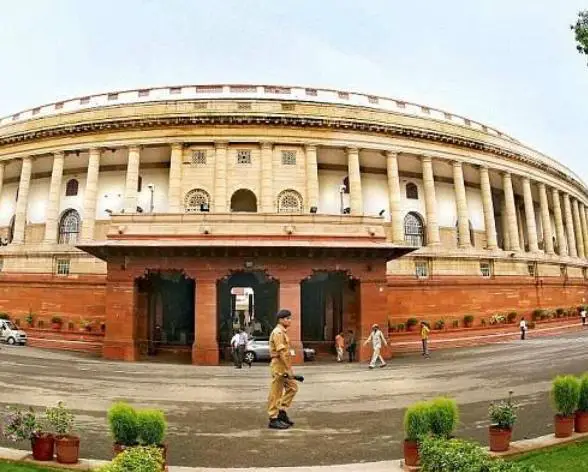 It is the Parliament of India. It is located in New Delhi and consists of two houses Rajya sabha and Lok sabha. It was constructed by the British designers Sir Edwin Lutyens and Sir Herbert Baker. This exemplary building was inaugurated in 1927. It houses a central hall that is circular in shape. The building has many facilities for ministers, important officers of the Lok Sabha and Rajya Sabha. It was built in Imperial style. The parliament house symbolizes the governance of the largest democracy around the globe.
Read More: Mumbai is famous for
6. Gurudwara Bangla Sahib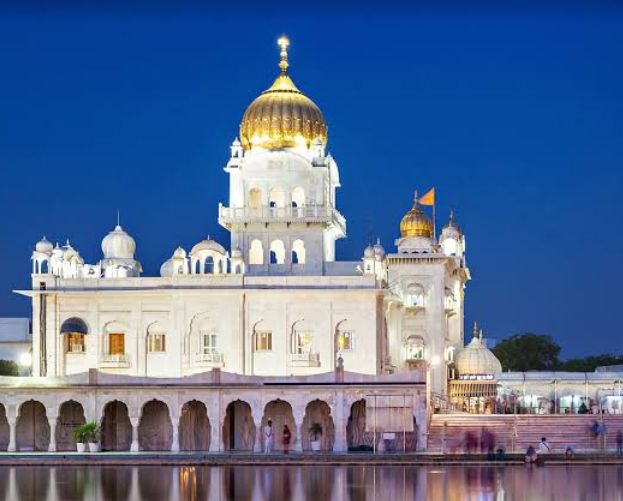 It is an outstanding house of worship for the Sikh community and one of the tourist spots in Delhi. It is devoted to the remembrance of Guru Har Krishan. It is situated in Connaught Place and is a reason that makes New Delhi so popular. The Gurudwara draws the attention of everyone due to its glorious structure, structural beauty, and the large water body which is popularly known as the Sarovar. It is famous for its religious understanding for its luxurious architecture. The langar hall serves free vegetarian meals to more than ten thousand people every day
7. Lodhi Gardens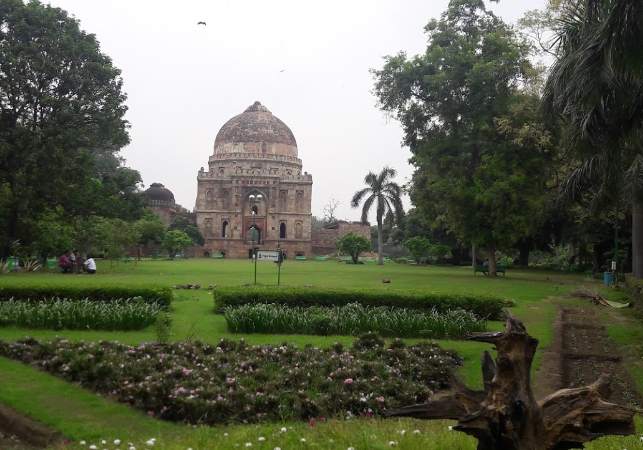 There are enough parks that provide an exhilarating breathing space in the capital city. The Lodhi Garden is one of them and spread around the area of 90 acres and Delhi is known for this. It houses the Mohammed Shah's mausoleum, Tomb of Sikandar Lodi, and structural works of the 15th century. It is a perfect place for morning walks the natives. There is a big dome in the middle of the Park. Most of the monuments in Lodhi Garden is from the Lodhi Dynasties.
Read More: Dubai is famous For
8. India Gate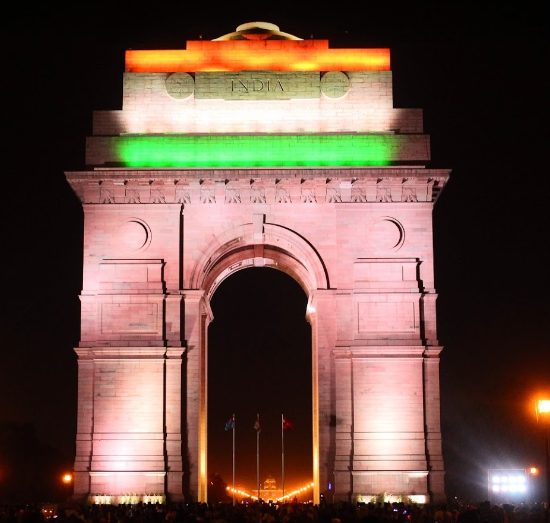 It is a war memorial located at Rajpath. It is quite similar to the Arc-de-Triomphe. It honors the 70,000 Indian soldiers who lost their lives fighting for the British Army during World War I and is among the famous places in Delhi. The base stone of India Gate was established by His Royal Highness the Duke of Connaught. The whole arch stands on a low base of red Bharatpur stone. It was completed in 1931. The immortal flame burns day and night under the arch to admonish the nation of soldiers. India Gate is adequately brightened while the fountains close to making a perfect demonstration with colored lights
9. Akshardham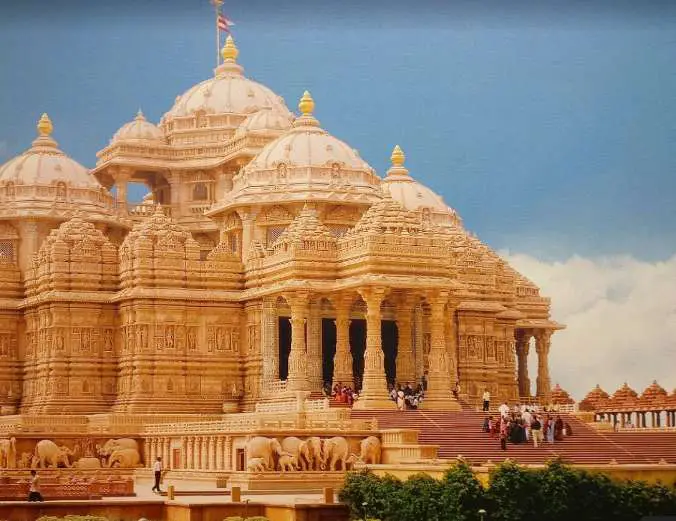 Akshardham is a Hindu temple and a spiritual-cultural campus in the capital city. It is also Popularly known as the Swaminarayan Akshardham. It was inaugurated on 6 November 2005. It exemplifies more than 10,000 years of Indian traditions in all its impressive grandeur, artistry, intelligence, and bliss. It was constructed in a time duration of five years. Announced by the Guinness World Record as the World's Largest extensive Hindu Temple. It shows the grace and immateriality of India's archaic art, culture, and structure. 
Read More: Why Agra is Famous
10. Agrasen Ki Baoli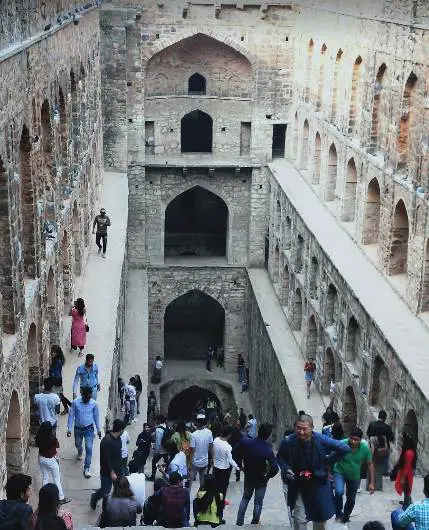 The capital city is definitely filled with countless ancestry structures that remind us of great history. The archival stepwell Agrasen Ki Baoli is one of them and anyone would get stunned by its spooky beauty and picturesque charm and makes Delhi most famous to visit. Agrasen Ki Baoli is a preserved monument and is among one of the most visited places in India. It is really hard to describe the experience of wandering through a quiet gateway. It was built during the time of Mahabharat. It has 3 stories and 108 steps. It is said that the water inside the well is black and Hypnotize people. It is among the haunted places of the country
What Delhi is famous for is explained here clearly as you can see this, I have also discussed the best part regarding what makes Delhi famous. I hope you loved reading this article so kindly share your views in the comment section.
The post Discover Why Delhi is Famous For | What is Delhi Known For appeared first on World Tour & Travel Guide, Get Travel Tips, Information, Discover Travel Destination | Adequate Travel.