Located in South America's northern mainland, Guyana is a sovereign nation. The top monuments in Guyana are so beautiful and worth visiting. Due to the country's close connection to the history, culture, and politics of the Caribbean countries, Guyana is included in the Caribbean Region. The country shares its border with Venezuela to the west, Brazil to the southwest and south, the Atlantic Ocean to the north and Suriname to the east. Today, Guyana is inhabited by several different ethnic groups including Africans, Indians, Amerindians, and others. The majority of this country speaks English-based creole languages, although English is the official language. Georgetown, Guyana has one major city and also the capital of the country. Here, we discuss some of the important monuments in Guyana: 
List of Monuments of Guyana
1.St George's Cathedral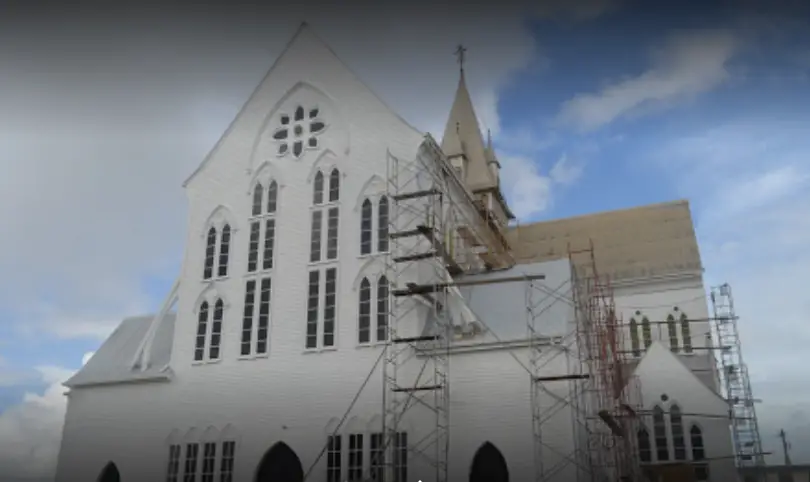 St George's Cathedral is a place not to be missed while in Georgetown with impressive architecture. St George's Cathedral or the Anglican cathedral of Guyana is a remarkable Gothic-style building. Clearly colonial in style, this cathedral is said to be the tallest wholly wooden church building in the world. The structure is a design of Sir Arthur Blomfield constructed with a native hardwood called greenheart and was completed in 1892. Inside this famous monument in Guyana, the visitors will see the beautiful Gothic arches and wooden pews supporting an astounding chandelier donated by Queen Victoria when she ascended to the throne.
Address: North Rd, Georgetown, Guyana
Read More: Famous Monuments of Colombia
2. Demerara Harbour Bridge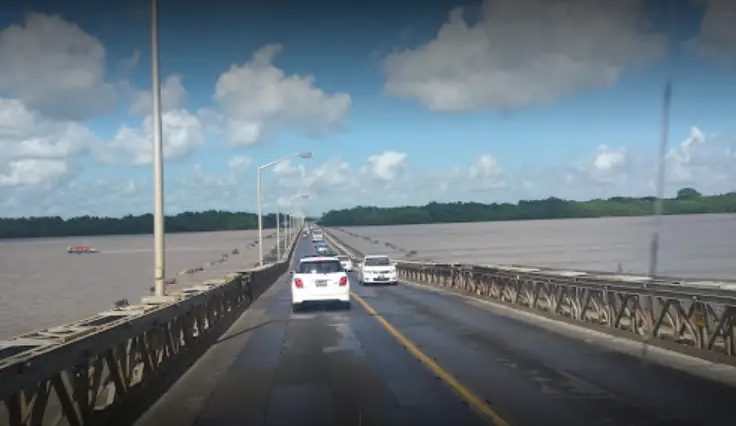 About three miles south of the Guyanese capital of Georgetown Demerara River is located there. It was the longest floating bridge in the world at the time of its construction. On July 2, 1978, the bridge was commissioned. The bridge was a vital transportation link across the Demerara River with the majority of Guyana's population living in or around Georgetown. This bridge is considered as one of the best monuments in Guyana connecting the main part of the capital with West Bank Demerara. The bridge was funded by the British Government and was designed, manufactured, and erected by Thos Storey, a bridge construction company established in Stockport, England, in the 1930s.
Address: Demerara Harbour Bridge, Georgetown, Guyana.
3. Immaculate Conception Cathedral, Georgetown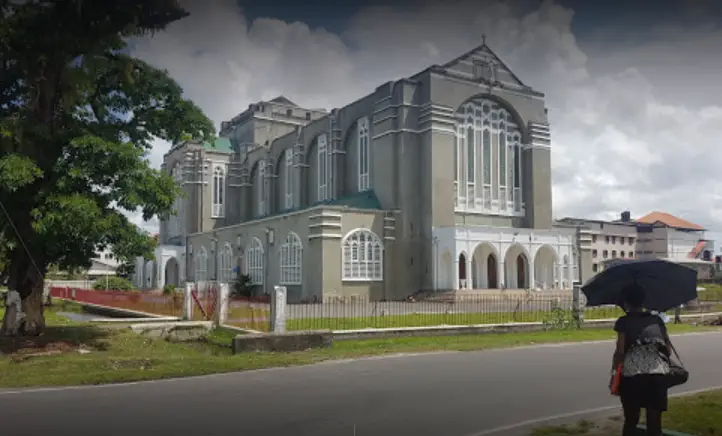 Cathedral of Immaculate Conception, more popularly known as the Brickdam Cathedral, is the Roman Catholic cathedral in Georgetown, Guyana which was Built in the 1920s. It is the leading Catholic church of the nation. Designed by Leonard Stokes, it is constructed in a Romanesque architectural style. This religious monument in Guyana is 200 feet long and 1,000 feet wide. The dome reaches 74 feet 10 inches and the centre ceiling is 60 feet 6 inches high. On 12 December 1825, Governor Sir Benjamin D'Urban laid the foundation stone of the first church. It was renamed circa in 1847 the Church of the Resurrection but initially named Christ Church. Small and plainly designed, this church built on the southern side of Camp and Hadfield Streets was replaced by the Lady Chapel. At Victoria, this chapel was soon dismantled and re-erected where it stood until 1921.
Address: Brickdam St, Georgetown, Guyana
Read More: Monuments in Mumbai
4. Parliament Buildings of Guyana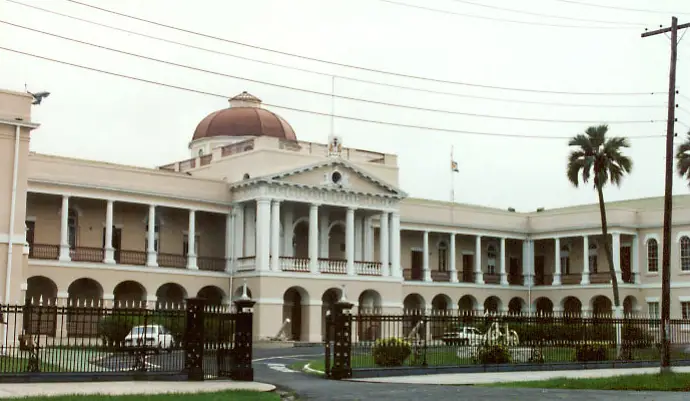 It is one of its best kept and can usually not be visited. This building may be the grandest building in George town. It is just admired from outside and from behind a tall iron fence gives picturesque views to the visitors. There is an information board placed out of the building description about it. As usual in Georgetown, it is also called  'Public Buildings.' It is the cream-coloured structure dates from 1834. On the upper floor white columns and in the middle is a portico with further back a dome, and on the ground floor are arcades. It is one of the most popular monuments in Guyana. You will find a bronze statue in the corner of it which is also representing the symbol of honor as it says on a plaque at its feet – Hubert Nathaniel Critchlow, father of Guyana's trade unionism.
Address: Hadfield Street, Georgetown Guyana.
5. Cheddi Jagan Research Centre
A lovely shingle clad building, quite grand and painted dark red, where on an information board its history was told. It now serves as 'Cheddi Jagan Research Centre', but we couldn't go inside since it is closed on weekends. The iconic monument in Guyana is dedicated to the memory of Dr.Cheddi Jagan, one of the most important figures in Guyana's recent history and after whom the country's main airport is named. Of East Indian origin and a US-trained dentist, he soon rose in politics and lived in this building during the time, when he served as Prime Minister of British Guiana.
Address: 65 66 High Street, Georgetown Guyana.
Read More: Buildings in Jaipur
6. Kissing Bridge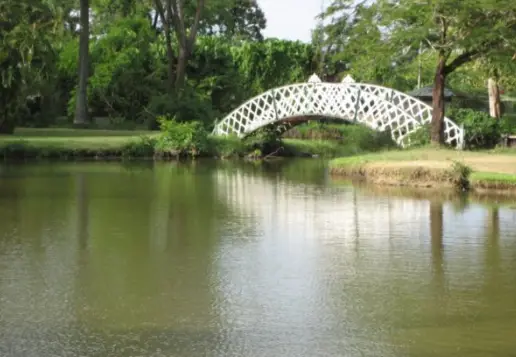 Mainly seem to act as decorative elements of Georgetown's Botanical Garden, the two similar-looking arches of these iron foot bridges. It is one of the beautiful monuments in Guyana. A traditional kiss that newly-weds used to give each other while standing on this bridge that's why the bridge is named as 'Kissing Bridge' and this tradition still continues. One bridge with dry feet can be crossed, the other ends in the middle of a pond, Quite funny. Great location for that selfie that you all love when you visit places. The surrounding is quiet and the area is simple. Maintenance can sometimes be an issue due to the weather in this part of the world but you will surely love it if you go during summer. For visitors, it is a must-see in Guyana. In the botanical gardens, there is a zoo next to it. 
Address: Kissing Bridge, Georgetown, Guyana.
7. Georgetown City Hall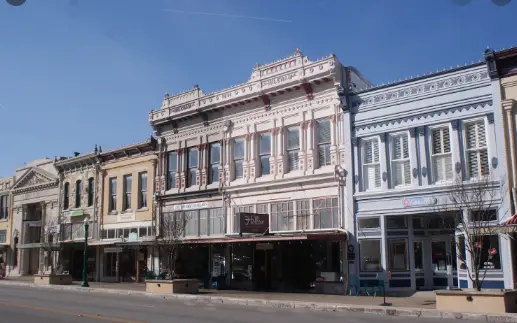 With a tower, spire, turrets, and columns, the City Hall is a fanciful piece of gothic architecture. It is definitely one of the most attractive buildings in Georgetown and one of the old monuments in Guyana. To have it restored doesn't seem to be around although included in the tentative list of UNESCO World Heritage Sites. It is a timber building, except for the cast-iron columns and the tiles of the steep roof. Its opening was in 1889. Next to it comes another attractive timber house and then the High Court, which opened two years earlier. This building, with a marble statue of Queen Victoria in front, still gets used as such and has obviously been restored.
Read More: Monuments of Chile
Address: Georgetown City Hall, Georgetown, Guyana
8. St. Andrew's Kirk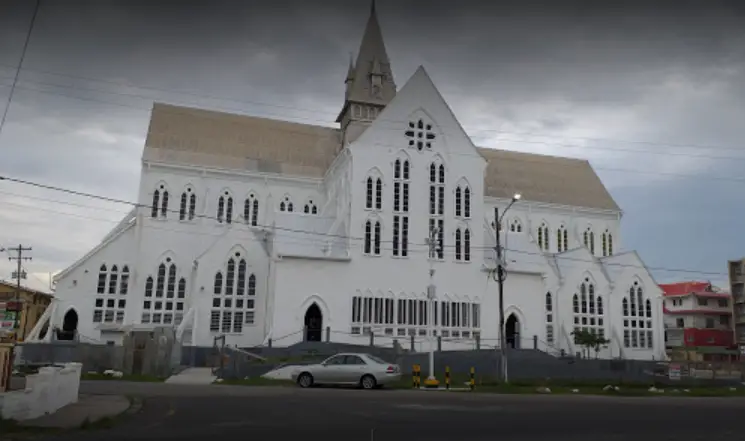 This wooden church is not as grand as the St.Georges' Cathedral located almost opposite the parliament, but it has an interesting history. It was taken over by the Scotch Presbyterian community of the town in the early 19th century and started as a Dutch Reformist Church. This most popular monument in Guyana is of historical interest due to the fact that it was the first one to allow slaves to worship in it. As it's all wooden, this Kirk us a bit different and it stands out from the local buildings. This ancient monument in Guyana looks quite impressive from the outside, inside its relatively plain and simple…what you'd expect from a church building of this faith.
Address: Avenue Of The Republic, Georgetown Guyana.
So far we have discussed the best monuments in Guyana, which contains the proper information regarding all the most visited monuments in Guyana. I hope you might have loved reading this article and if you love to know more about Guyana then kindly head to our other articles as well which will help you to get knowledge about.
The post Most Visited Monuments in Guyana l Famous Monuments in Guyana appeared first on World Tour & Travel Guide, Get Travel Tips, Information, Discover Travel Destination | Adequate Travel.