Getting around Dubai could be quite a challenge for the first-timer, especially without help. In this article, you'd learn about our route guide to reach the Burj Khalifa from your hotel room to any corner of the city. You will find various and comfortable public convenience or different means of transportation in Dubai such as Dubai Metro, the Dubai Tram, the Dubai Bus, the Dubai Taxi, the Dubai Monorail, the Dubai Trolle, etc. You could use any of the metro, bus, or taxi as well as a self-drive car to question how to reach Burj Khalifa:
Easy and Complete Route to Reach Burj Khalifa
About Burj Khalifa
The Burj Khalifa, 829 mt, or 2717 feet, is the tallest building in the world since 2009. If you are fascinated by the amazing superstructures, especially the skyscrapers, the Burj Khalifa is a must-have experience for you. As all Dubai-related projects are huge and enormous, this building is Dubai's best-known structure, redefining the super-tall term, 1,046 ft. Taller than the world's tallest building to date, Taipei 101. The Kingdom, arguably the world's most prestigious address, it is a symbol of glamor, and supreme surplus, of which Dubai is very well known. Located in the heart of Dubai's famous skyline, the needle-shaped structure attracts tourists from all over the world. This is where Hollywood's best action movies had been shot.
Ways to Reach Burj Khalifa
By Metro
Head out at the Burj Khalifa stop on the red metro line (which actually leaves you at the Dubai Mall) and you can get on the feeder bus or walk to the mall. You can take the Metro Link Bridge if you decide to walk to the Mall, which has the same operating hours as Dubai Mall: Sunday to Wednesday: 10:00 AM to 11:00 PM, Thursday to Saturday: 10:00 AM to 12:00 AM.
The Dubai metro runs from 6:00 AM to 11:00 PM (Saturday to Thursday) and 2:00 PM to 12:00 on Fridays.
Read More: what is Dubai known for
By Bus
At every 16 minutes, there are two buses serving the Dubai Mall: Route 27 which collects passengers from Deira Gold Souk Bus Station, and Route 29 from Gubaiba Station. Buses arrive and depart from the tourist exit area located in front of Grand Drive Entrance, the lower ground floor of the Dubai Mall. You can access the buses with your red Nol ticket.
By Taxi
The least economical one, you can also take a taxi to the Burj Khalifa; while it may be the fastest option. Meter fare starts from AED 1.6/kilometer. Waiting for the fare is AED 0.5/kilometer. The starting fee for regular taxis is AED 3 (6:00 AM to 10:00 PM) and AED 3.50 (10:00 PM to 6:00 AM). For pre-booked taxis, the starting fee is AED 6 (day) and AED 7 (night).
Tour: Historic Buildings in Dubai




Tickets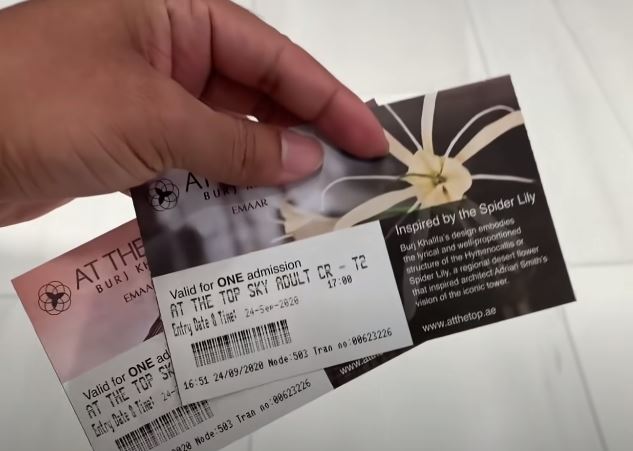 Pic Credit: MSK
At the Top SKY  (Level 148 +125 + 124)
For Non-prime Hours
For Prime Hours
At the Top (Level 125 + 124)
For Non-prime Hours
For Prime Hours
Timing: 
The timings are for Monday, Tuesday, Wednesday, Saturday, and Sunday are 10:00 am to 10:00 pm. Although that is Thursday and Friday from 10:00 am to 12:00 am. The entry time for At The Top of Burj Khalifa is from 8:00 am to 3:00 pm and from 3:30 pm to 6:00 pm. The observation deck is open Saturday and Friday from 5:30 am onwards so visitors can see the sunrise. The last entry is 45 minutes before closing. Visitors are allowed at 30-minute intervals with off-peak and peak ticket prices.
Best Time to Visit Burj Khalifa
Sunsets, as you might expect, can reward visitors with beautiful pink and orange hues and the opportunity to see the city in detail during the day and night. Waiting until after 6.30 pm you can catch the amazing night fountain sound and light show from above.You will pay premium pricing on tickets timed between 3:00 pm and 6:30 pm (remembering that you may have to queue with a lot of this until a lift is available – premium spots later in our experience will not work you until after dark so think carefully before you pay the premium).
Read About: Best Water Park in Dubai
Places Not to Miss Near Burj Khalifa
Here are some places not to be missed near Burj Khalifa include the following:
Burj Khalifa Park 

The Dubai Mall

Reel Cinemas

KidZania 

The Dubai Fountain 

Dubai Ice Rink 

Dubai Aquarium and Underwater Zoo  




Hope you received a brief and easy idea about the various routes to reach Burj Khalifa and the added duration and cost information that might have helped you, to manage your schedules and budget according to your trips. There are more engaging and helpful blogs that can help you out with a lot of on-ground basic problems so visit our website or download our Adequate Travel app to win exciting offers over various trips and tour packages that will make your journey more efficient and pocket friendly. 
The post Best Route Guide to Reach Burj Khalifa Dubai appeared first on World Tour & Travel Guide, Get Travel Tips, Information, Discover Travel Destination | Adequate Travel.