With so many fantastic hotel options, covering a range of budgets and personal desires, you're bound to find somewhere on this best hotel list near Berlin Brandenburg Airport that has everything you're looking for for a pleasant stay in the city- be it for simply a layover or an extended city visit. Almost everyone has at some point in their life experienced the mad dash to the airport on the morning of a flight, not knowing whether or not you're going to make it.  Same too when arriving, jet-lagged or simply tired from the travel, there is nothing worse than having to sort out your means of getting into the city and finding your hotel.
Hotels List Near Brandenburg Airport
1. Airporthotel Berlin Adlershof
This 3-star hotel is a fantastic option for a reasonably-priced, comfortable night's sleep, within very close to Berlin Brandenburg airport,  Along with the option of staying in a standard hotel room or an apartment, fully equipped with a kitchenette. This hotel also provides great facilities for those looking to do business, with 9 conference rooms able to hold up to 220 people. In the true Berlin gastronomic style, there is a breakfast buffet available each morning, serving up 100% bio-certified organic dishes. In this hotel you will find great public transport access makes it easy to venture into Berlins city center and see the sights in no time at all, for those simply in the city for pleasure. Convenient, comfortable and inexpensive the Airport Hotel Berlin Adlershof is perfect for a layover or extended city stay. 
Price: €93.97 per Night
Address: Rudower Chaussee 14, 12489 Berlin, Germany
Get Airporthotel Berlin Adlershof Hotel Deals
2. Steigenberger AirportHotel Berlin
This luxurious brand new 4-star hotel is situated literally right on the doorstep of Berlin Brandenburg airport. Not just a few meters from the terminal it is also near to the train station. The stunning building is filled with suites, and 322 rooms all fitted with modern and chic furnishings, get hotel close to Gendarmenmarkt. When it comes to the amenities on-site, nothing has been overlooked. For relaxation, there is a complete wellness center, boasting gymnasium, massage, and relaxation rooms, saunas and steam rooms all overlooking the airfield. Dining is also well covered, with a large restaurant, bistro and 24hour bar available. 
Price: €116.77 per Night
Address: Ella-Trebe-Straße 5, 10557 Berlin, Germany
Get Steigenberger AirportHotel Berlin Hotel Deals
3. Holiday Inn Berlin International Airport Schonefeld
The list of the hotel near Berlin Brandenburg is incomplete without this hotel. The Holiday Inn Berlin International Airport, ideal for those in the city on business. It is located just a 2-minute shuttle ride from Berlin-Schönefeld Airport. With 294 rooms and plenty of amenities, this bright and modern hotel also offers unparalleled business facilities, complete with a 24hour business center and modern and well-equipped conference rooms.  You will get here complete gymnasium, Finnish sauna, Turkish baths, and spa treatment facilities. Food and Beverage options are also well covered with Hangar 16, the hotel's restaurant, offering international cuisine and drinks. You also get shuttle service is the only one in the city that runs 24-hours by hotel authority. It eliminates the need for any pre-flight stress.
Price: €75.01 per Night
Address: Hans Grade Allee 5 Schönefeld Bei, 12529 Berlin, Germany
Get Holiday Inn Berlin International Airport Schonefeld Hotel Deals
4. Grand City Central Hotel Berlin Airport
Grand City Central Hotel Berlin Airport, a popular hotel near Berlin Brandenburg Airport. is located in the beautiful Charlottenburg, with wonderfully fast public transport connections to both Tegel Airport and Berlin's city center, just less than 20 minutes and the Grand City Central hotel makes for an inexpensive and cozy, three-star stay. The modern rooms are stylishly decorated and include an ensuite, flatscreen TV, a safe and Wifi, as well as sufficient soundproofing to guarantee you a good night's rest. On the premises, you will find amenities to ensure your total comfort, including a lounge with flatscreen TV, a dining room offering up a scrumptious buffet breakfast each morning as well as a fully equipped bar, get the Hotel near Grande Arche de la Défense, Paris. 
Price: €70.02 per Night
Address: Kogelstrasse 12-13,Berlin, Berlin 13403




5. Leonardo Airport Hotel Berlin Schonefeld
Leonardo Airport Hotel Berlin Schonefeld, a luxury hotel near Berlin Brandenburg Airport Schonefeld is situated in just 3km from Berlin Brandenburg and 1km from Berlin Schönefeld.  Providing a direct, free of charge shuttle service which can be ordered at the hotel desk in the airport or pre-arranged for convenience, travel to and from the airport is an absolute breeze, taking just a 3 or 4 minutes. Berlin city center is easily accessible too, with public transport to all the best sites estimated at approximately 30 minutes travel time. The hotel itself is bright and modern, housing a great selection of amenities to guarantee your comfort and enjoyment. On-site, you'll find restaurant, terrace and bar facilities, 6 conference rooms, copying and printing service and internet terminals with free Wi-fi as well as the new sauna, bio sauna, and steam bath facilities.
Price: €78.63 per Night
Address: Wilmersdorfer Str. 32, 10585 Berlin, Germany
Get Leonardo Airport Hotel Berlin Schonefeld Hotel Deals
Read More: Hotel near Eiffel Tower
6. Best Western Premier Airport hotel Fontane Berlin
This lavish airport hotel is located 7km from Berlin Brandenburg Airport and is ideal for families and business travelers alike. Close enough to minimize the stress involved in getting to and from the airport, yet far enough to avoid the sounds and lights of the airport skies. It certainly lives up to its 'premier' title, with the option of staying in a room, apartment or suite equipped with fitted accordingly with spacious bathrooms and kitchenettes, cable TV and free wifi as well as endless amenities, including full business facilities and fitness and spa centers.This hotel near Berlin Brandenburg Airport in Berlin is an excellent place to stay there.
Price: €69.01 per Night
Address: Jonas-Lie-Strabe 11, 15831 Blankenfelde-Mahlow, Germany
Get Best Western Premier Airport hotel Fontane Berlin Hotel Deals
7. Ibis Berlin Airport Tegel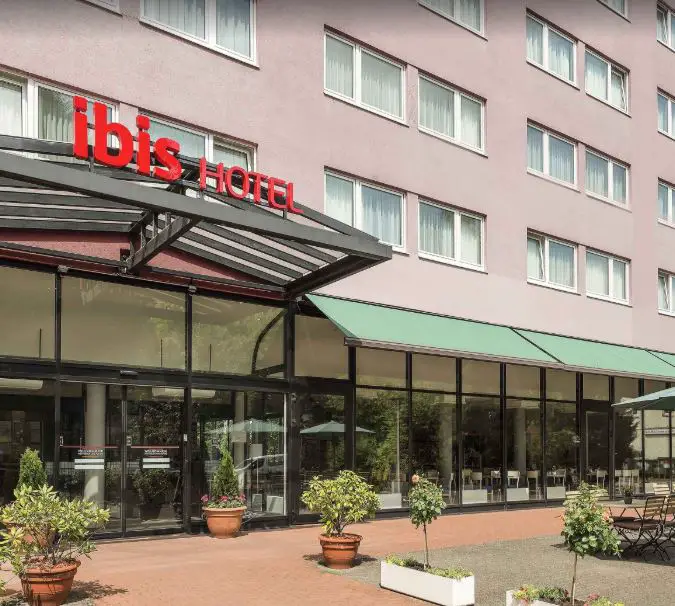 This hotel is a beautiful hotel near Berlin Brandenburg Airport. It is located just 5km from Berlin's airport and easily accessible by public transport. Within close proximity to the airport, the Ibis hotel is a great, budget-friendly option for a comfortable place to sleep. Rooms are clean and provide everything you'll need, including wifi access, satellite TV and desk space. Amenities on the premises include a heated indoor swimming pool as well as an outdoor pool, a cozy bar and a restaurant open to serve a delicious, continental buffet breakfast. Guests also have access to the Thalassotherapy institute, offering pool and sauna facilities. For those on business, there is a self-service business center as well as a number of meeting rooms.
Visit: Hotels Near Brandenburg Gate
Price: €89.13 per night
Address:Alt-Reinickendorf 4-5, 13407 Berlin, Germany
Get Ibis Berlin Airport Tegel Hotel Deals
8. Inter CityHotel Berlin-Brandenburg Airport
This intercity hotel is the best hotel near Berlin Brandenburg Airport. It is a mere 200 meters from Berlin-Brandenburg airport and thus the S-Bahn station that will take you directly into the heart of Berlin city,  is the recently opened, Intercity Hotel Berlin Brandenburg Airport. It is also ideal for those flying Berlin Brandenburg airport, with the hotel offering a shuttle service every 30minutes from 5am-11pm daily, despite the incredibly close proximity to Berlin-Brandenburg. This spacious hotel is comprised of 198 rooms, a restaurant, bistro, lounge bar, and terrace and boasts a range of amenities to ensure your comfort and enjoyment. The Intercity Hotel Brandenburg Airport is an ideal option whether you're here to spend a few leisurely days exploring the city, in town for business or even just for a brief stopover.
Price: €69.01 per night
Address: Am Seegraben 2, 12529 Schönefeld, Germany
Get Inter CityHotel Berlin-Brandenburg Airport Hotel Deals
Related Post:




So these are the best hotels near Berlin Brandenburg Airport, with respect to its price and hospitality. You can choose according to your pocket and comfort zone. You get also a cheap hotel near Berlin Brandenburg Airport as well as a luxury five-star hotel.
The post Hotel Near Berlin Brandenburg Airport | Hotel Close to Brandenburg Airport appeared first on World Tour & Travel Guide, Get Travel Tips, Information, Discover Travel Destination | Adequate Travel.