Romance in Paris is a dream of every couple and when it comes to love Paris is like nowhere else. Here is our list of romantic activities to do in Paris that will give you timeless memories. Venice, Rome and New York all lay claim to be romantic, but Paris has its own special aura because the City of Light is also the City of Love. Since ages, the magical aura of Paris lures couples. There is truly something mysterious and enticing in the air, atmosphere and architecture of the city. There are a number of special things to do in Paris that leave every honeymoon goers happy and cheerful.
Whether you're in an unknown little corner of the city or at a popular place, Paris doesn't stop hypnotizing you. Your visit to Paris with that special someone is sure to strengthen your lifelong love. Check out these beautiful romantic things to do in Paris:
List of all Romantic Things to Do in Paris
1. Take in the view from the Eiffel Tower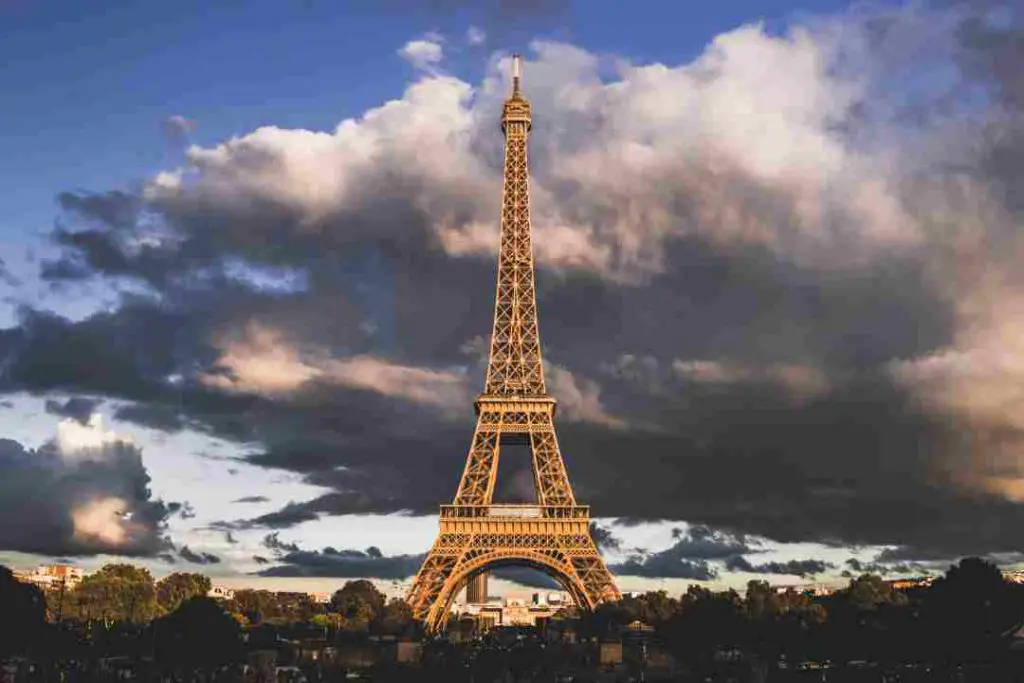 You must be knowing that Paris is known because of Eiffel Tower and the Eiffel Tower is famous for its romantic view, if you are visiting Paris for your Honeymoon then I must tell you that firstly, please try to visit Eiffel Tower.
Just buy an online ticket through which you won't waste your time, and take a night view from the top of the Eiffel Tower. It will be a great opportunity for you to make feel your partner special. Just go at the top of the Tower and have champagne in a glass and enjoy those moments with your partner.
Dinner for two: Begins at € 85
2. Propose to Your Love under the Eiffel Tower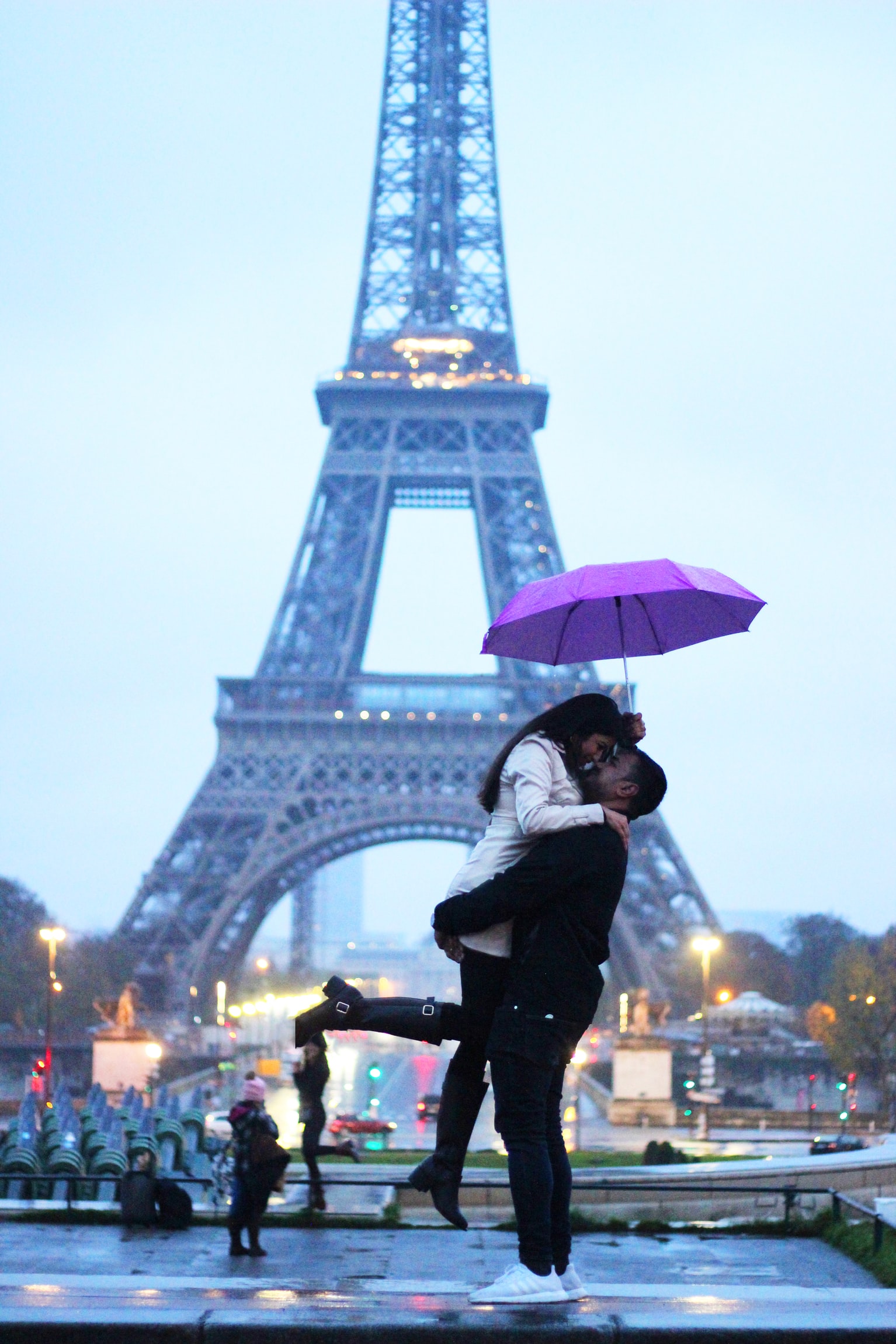 Have you ever wondered why Woody Allen made the movie 'Midnight in Paris'? It is absolutely true that Paris looks like a fairyland at night. Undoubtedly, the picture of the Eiffel Tower dominates our thoughts when we think about Paris. This Parisian icon with sweeping views of the surrounding looks irresistibly romantic.
The romantic thing to do in Paris is to propose love to your beloved under this beautiful and iconic point of interest. There is something romantic about the thousands of gold lights hugging the tower. They entice the lovers visiting this place because it sparkles every hour. You can also take her/him to a candle light dinner at the restaurants on the top of the tower.
Dinner for two: Begins at € 85
3. See an Old Movie at a Classic Parisian Cinema
This idea is best for those couples who have a great passion for watching movies together. Paris is a very nice place to spend time watching movies together. In such a way Paris has lots of fantastic places to create beautiful and romantic moments.
These cinemas help us to watch movies like old school romance, which are hard to find these days. So just try to watch these movies and create some romance because this is going to be the most romantic things to do in Paris at night.
In the summer they provide open-air screenings facility, of classic and contemporary films which can be a great moment for cuddling up on a blanket under the stars.




4. Spend Some Quality Time par Parc des Buttes Chaumont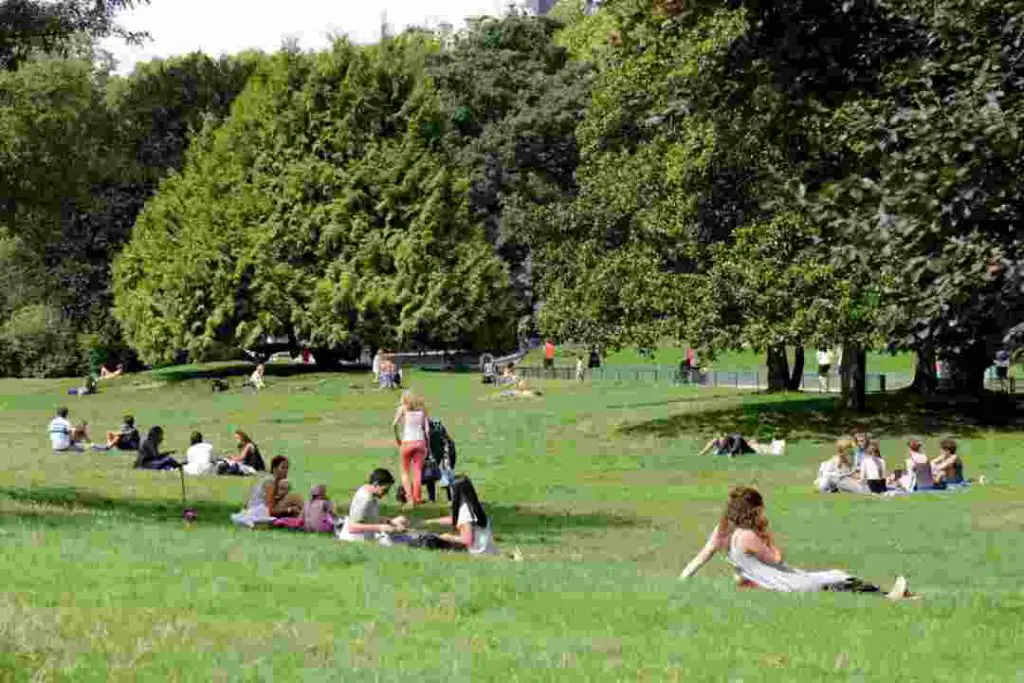 There are many parks in Paris but Parc des Buttes Chaumont is the most distinctive and one of the best places for romance in Paris a tranquil environment. It occupies 61 acres of hilly area in the northeastern reaches of Paris. This whole place was carved out of the slums and quarries with dynamites and then decorated with extremely romantic elements like a lake, waterfalls, a grotto, and a folly. This picture-perfect location is heaven for couples. You will see mostly couples inside the park.
Opening hour:  
Summer: 7:00 am to 10:00 pm and
Winter: 7:00 am to 8:00 pm
5. Take a Cruise on River Seine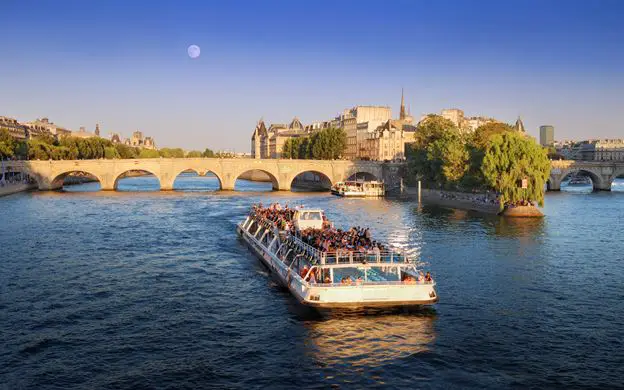 It seems that the River Seine was created for romance. While you stroll along the river, you'll be mesmerized by the gorgeous city lights. You can simply stand and gaze at the river sparkling with the reflection of a thousand lights. If you decide to go here with your partner in the evening or afternoon, then you shouldn't miss cruising on the Seine. You can also enjoy a 3-course meal on a cruise while you sail on the glittery waters. Taking a romantic cruise on the River Seine is one of the amazing romantic things to do in Paris.
 Cruise and meal charges for two: About € 100
6. Take a Sunset Cruise Along the Seine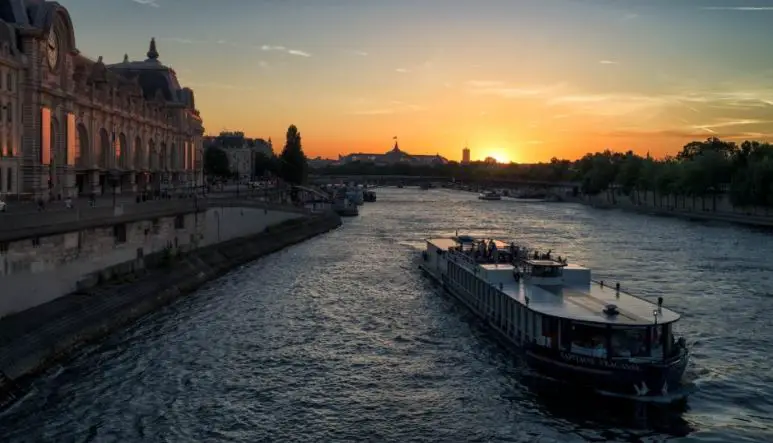 Paris is at its most magical city in Europe so grab your beloved and go for a Bateaux Mouches ride along the Seine. Hour-long open-air cruises escort guests past some of the city's most recognizable sites including the Eiffel Tower, Louvre, Notre-Dame Cathedral, Musée d'Orsay, Pont Neuf, and Pont Alexandre III. Don't forget to lean in for a kiss as you cross under Pont-Marie (one of Paris' many lover's bridges), it's tradition. If renewing your vows is in the cards, hiring a celebrant and professional photographer will make it the memory of a lifetime. Whether you exchange words by the Eiffel Tower or another central landmark is entirely up to you.
7. Picnic on Luxembourg Gardens
The Luxembourg Gardens are spread across 25 hectares in the heart of the capital. It is fully decorated with statues, a million flowers and fountains. These gardens attract many tourists. The left bank area of the garden is serene and sublime, which means, you must take a long walk hand in hand with your sweetheart. You are also going to love sitting on the velvety grass with the pleasant fragrance of flowers blowing in the wind.
Opening Times
Opens between 7.30 am and 8.15 am and closes between 4.30 pm and 9.30 pm according to season.
8. Horse and Carriage Ride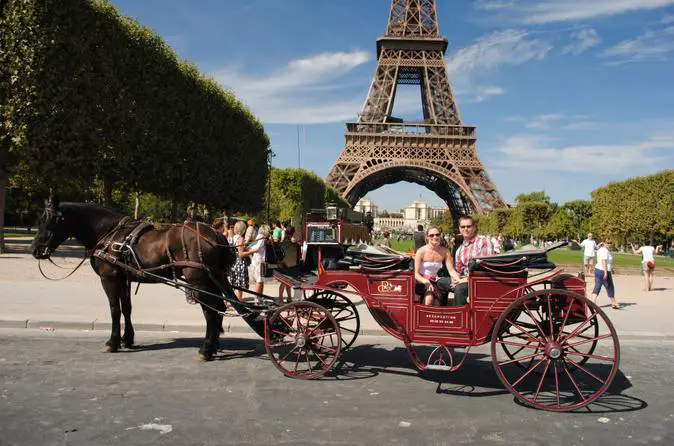 There are Few ways of exploring Paris which are more romantic, ie being pulled by horse and carriage. Simply sit back, relax and snuggle up to your loved one and explore all Paris famous landmarks.
Therefore just try to Experience one of the world's most romantic cities with a 1-hour horse and carriage ride through Paris.
9. Take a Trip to the Temple of Love
On a small island of the Parc, built-in 1778, the Temple of Love is a replica of the Bouchardon statue. Trip to the Temple of Love may be the romantic boat ride of your life with your life partner. This ride takes you to the island that is the most romantic part of the Paris trip. Couples across the world come here to renew their wedding vows. You can also go for a romantic walk through the Piece d'Eau des Suisses garden and feel the love in the air. It is believed that kissing your partner at the center of the folly strengthens your love. Won't you like to try it once?
1o. Take a Stroll through Montmartre
One significant reason to fall in love with Paris is Montmartre. It is the absolute favourite for love-birds looking for romantic getaways to Paris. Most of the people visiting this place go directly to the iconic Basilica of Sacre-Coeur. No wonder this monument played a big part in French history. But walking through the narrow alleys of Montmartre is one of a kind of experience that you cannot find anywhere.
Another major attraction is the museum of Musee de l'Erotisme which is perfect for couples to spice up their romance. Seven floors of erotic artefacts and art await! Montmartre is also dotted with small cafes where you can take your partner and sink in the magic of love.
11. Kiss at the Love Lock Bridge
When you are travelling to Paris for a honeymoon, do not miss on Pont des Arts. Popularly known as the Love Lock Bridge, it is the first metal bridge in the city and the most romantic place in Paris. Artists have a soft spot for the bridge as they draw inspiration from the spectacular views overlooking the Seine River.
Earlier lovers used to engrave locks on the bridge's railings and dropped the keys in the river. If you are traveling for the first time to Paris with your partner do not forget to kiss him/her, kissing on this bridge is one of the best romantic activities to do in Paris. Although this practice is banned now, couples are encouraged to visit this place and enjoy the pretty sight.
12. Watch Old Romantic French Cinema At Studio 28
Paris' oldest cinema screens vintage French films as well as new ones in both English and French in a beautiful space. It's a classic cinema untouched by time: buy your ticket from the retro ticket booth and sit in the dark for a few hours holding hands and trying to make out the French language and always charming storylines. If you're looking for romantic things to do in Paris at night and films in English from Hollywood's golden age, Grand Action is another good option in a similarly cute old cinema. 
When checking the program, VO means version Originale aka original version, so if it's an English film you'll get the original audio track, whilst VF means version français' aka French version, if it's an English film you'll get a dubbed French audio track over the top.
13. Explore the Love Wall in Paris
Perhaps you've heard of the Love Wall in Paris, It is situated in the charming and romantic area of Montmartre. The wall is inscribed with the phrase "I love you" 1,000 times in more than 300 languages. The Monmarte wall is at the top of many tourists' "to-do" lists, but there's a second Wall of Love in Paris situated in the 10th arrondissement, transformed to commemorate the 2016 Paris attacks. If you are living in Paris and haven't visited it yet! my friend you are missing one of the romantic things in Paris.
14. Pray Together at Sacré Coeur Basilica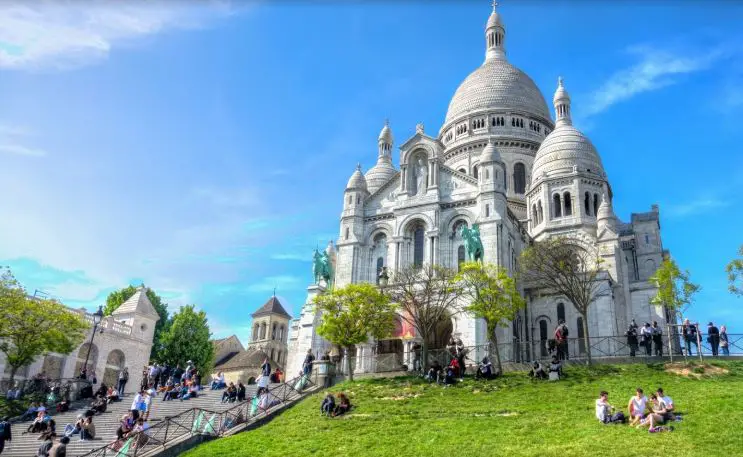 Sacré Coeur Basilica is one of the most spectacular churches in the world. Every couple planning a visit to Paris must witness the unspoiled beauty of this marvelous architecture. This Roman-style domed catholic church is located on the top of Montmartre hill. As it is the highest point of the city, the sweeping views will blow your mind away.
There are many artists near Sacred Heart Basilica, so you must get a couple of portraits; explore Dali Museum dedicated to a Spanish painter; have a typical French meal at Un zèbre à Montmartre Restaurant, and tasting vine in the vineyard of Montmartre is one of the best things to do in Paris for couples who love vine.
Entry charges Sacre Coeur Basilica is free of cost e and Opening hours: 6:00 am to 10:30 pm daily.
Here we have provided you with all the information related to romantic things to do in Paris on a budget. This blog is going to help you a lot if you are required to know about what are romantic things to do in Paris at night and if you are visiting Paris for the first time kindly go to our other blogs as well, there we have provided all the information related to travel tips for Paris.
The post Best Romantic Things to Do in Paris | Romantic Guide to Paris appeared first on World Tour & Travel Guide, Get Travel Tips, Information, Discover Travel Destination | Adequate Travel.