When it comes to Christmas, food traditions are an essential part of this celebration. Even if the foods are different from country to country but all have some Christmas food traditions in the world. For others, a holiday meal wouldn't be complete without fried chicken, fruit cake or salted cod. Depending on where you grew up, and where you live now, the seasonal delicacies that grace your table may be sweet, savory, or a little bit of everything in-between. Let's take a look at different Christmas food traditions around the world: 
Traditional Xmas Food from around the World
1. Fried Chicken, Japan
Christmas season in Japan is the most wonderful time of the year for KFC (Kentucky Fried Chicken). it is a fast-food chain. Do you know about 3.6 million Japanese families eat KFC on Christmas Eve? for this, they often need to reserve their meal up to two months in advance. We will tell you the reason why because during the 1970s, KFC put together a holiday party bucket and behind it, it was a brilliant marketing plan. At the time, Japan didn't have many Christmas traditions. KFC filled that void by telling consumers "here is something that you should do on Christmas". The trend caught on quickly. Today, the KFC Christmas bucket doesn't include just fried chicken. It also includes a Christmas cake another important food item on Japan's holiday menu and this marketing strategy become the Christmas food traditions around the world.
2. Feast of the Seven Fishes, Italy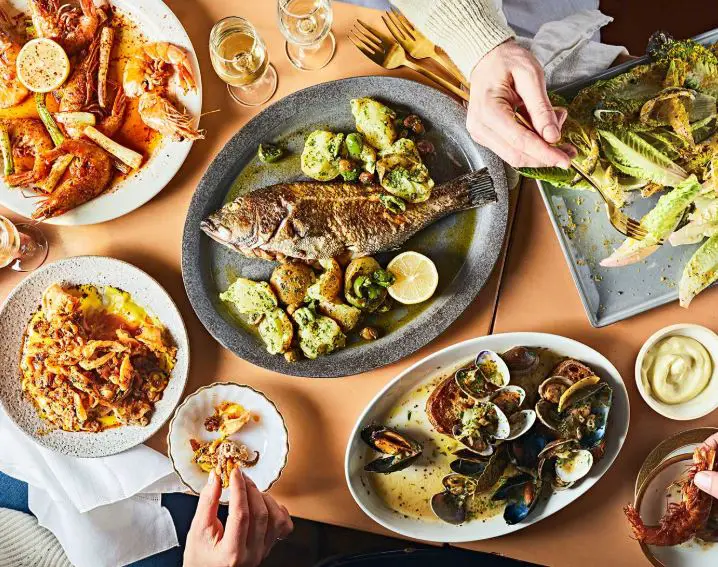 In the next traditional Christmas recipes around the world, get introduces from Italy and it is Feast of the Seven Fishes. This is a tradition that came from Southern Italy, now become even more popular for Italian-Americans. It is a combination of seven seafood dishes, symbolic of the number seven, which is the most repeated number in the bible. You also get some popular dishes are Baccala (salt cod), baked cod, fried calamari, fried shrimp, linguine with clam or lobster sauce, octopus salad, and shrimp cocktail.
Read More: Christmas Destinations In The World




3. Christmas Goose, Germany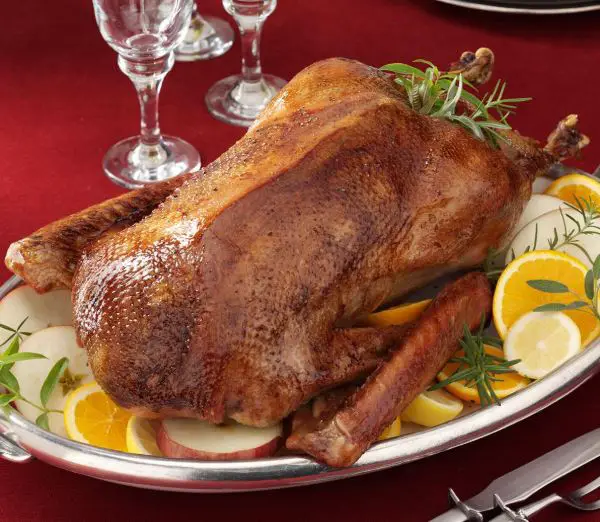 The Christmas goose is Christmas food tradition around the world dating back to the Middle Ages, eating goose was originally tied to St. Martin's Day, but now eventually became a part of the Christmas meal. This is stuffed with apples, chestnuts, onions, and prunes, then spiced with mugwort and marjoram, the goose is served alongside red cabbage, dumplings, gravy, and sauerkraut. The oldest known recipe for this dish comes from a cookbook published in 1350, named 'Das Buch von guter Speise'.
4. Yule meal, Iceland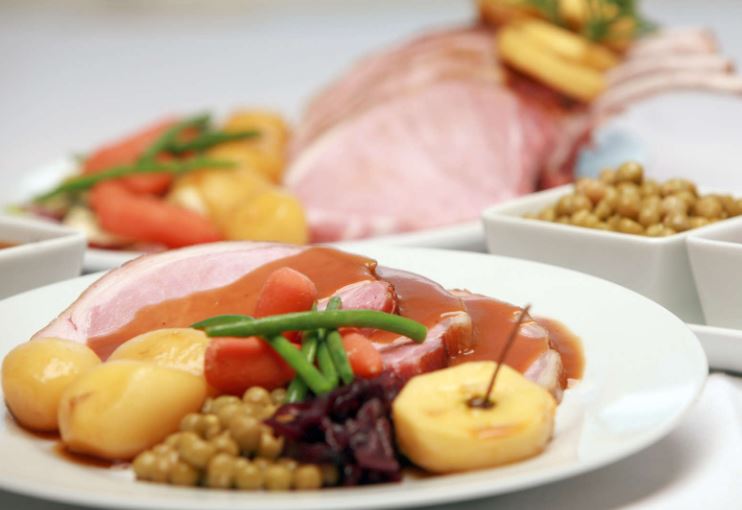 In Iceland, the main meal, which they refer to as the 'Yule meal', is traditionally a leg of roast lamb presented in the middle of the table on Christmas Day. Another specialty includes leaf bread which is made out of thin sheets of dough. The dough is cut into fragile patterns and fried just before serving.
5. Julbord, Sweden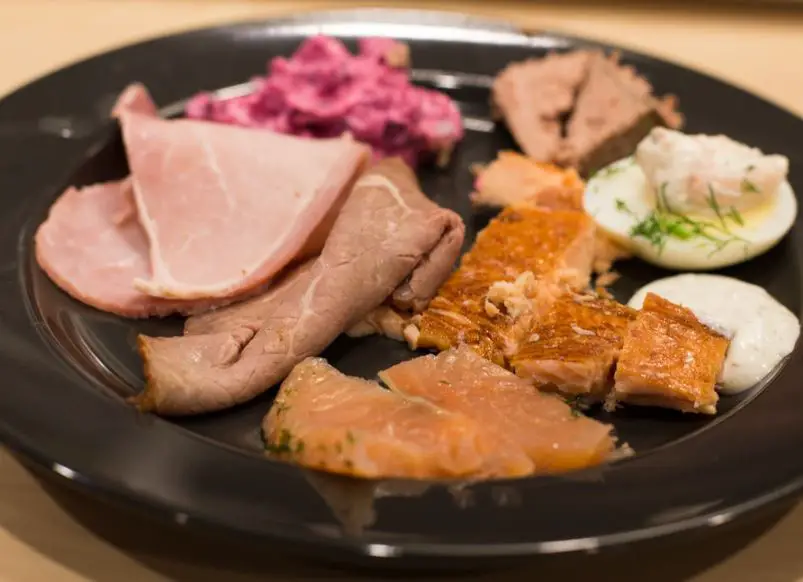 Sweden like many Nordic countries celebrates Christmas dinner smörgåsbord-style. In Sweden, this is called the julbord, and it is full of traditional dishes, including pickled herring, cured salmon and meatballs, plus additional items such as bread, liver pâté, red beet salad, cheese, and cabbage. if we talk about Christmas dinner traditions around the world, we can't let this food anyhow. All of this food on Christmas Day is supposed to be reminiscent of the celebration that came after a period of fasting from the beginning of Advent until midnight on Christmas Eve.
Also Read: Celebrate Christmas in India
6. Christmas Pudding, England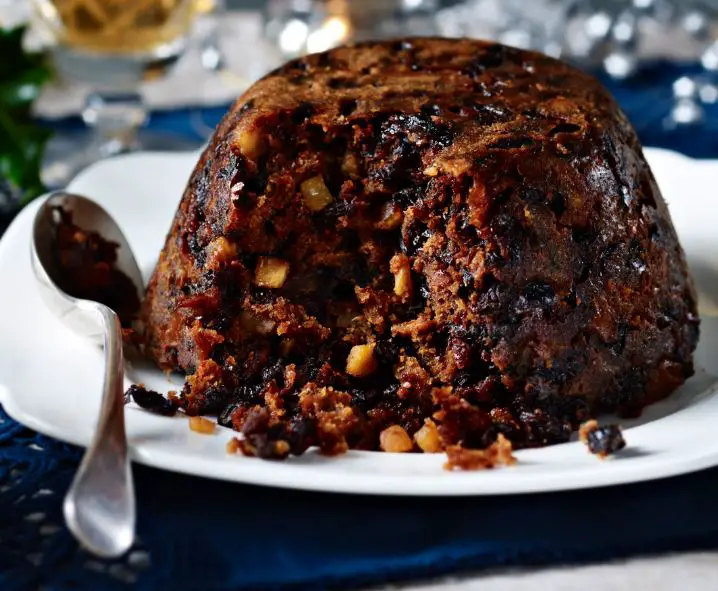 This Christmas eve food tradition around the world dish goes by many names. Whether you call it figgy pudding, plum pudding, 'pud' or Christmas pudding but this dessert is a key Christmas tradition in England. Apart from Britain, you may see it in Ireland and some parts of the US also. Dont go on its name, plum pudding doesn't actually include plums. Pre-Victorian era, 'plums' referred to what we now call raisins, and because dried fruits are an important part of this pudding, it is how it earned its name. The ingredients of this food are suet, egg, molasses, spices, and dried fruits, Christmas pudding is set alight with brandy immediately before it is served.
7. Tamales, Costa Rica
In Costa Rica, making tamales is a Christmas tradition and every family has its own 'secret' recipe. The basis of Tomales is corn dough, wrapped in a banana leaf or corn husk, and then steamed. Some are stuffed with pork, and some with beef or chicken. Other foods that may be a part of the filling are garlic, onion, potatoes, or raisins.




8. 12 Apostles, Poland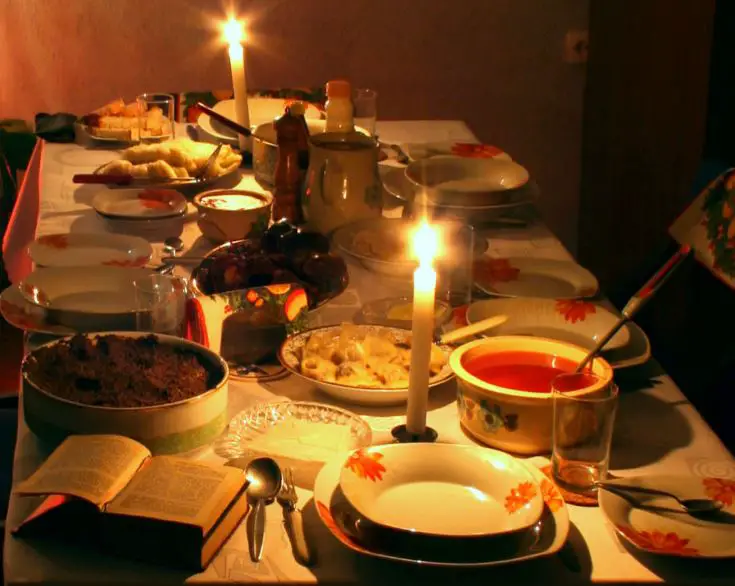 You won't see any roast beef or turkey on the table on Christmas Eve in Poland because it is Christmas eve food traditions around the world. It's actually a meat-free day. Nothing can be eaten until all the members of the family have broken the Christmas wafers together and exchanged wishes for good health and prosperity. Traditionally, 12 dishes are served for dinner, which represents the 12 apostles. These include the very popular red borscht with tiny dumplings, mushroom soup, carp, herring, pierogi, braised sauerkraut, cabbage rolls, kutia (wheat berry pudding), gingerbread, poppyseed cake, and dried fruit.
Read more: Explore Christmas in Rome
9. Mattak, Greenland
Christmas dinner in Greenland is certainly unique. Two of the country's most special dishes are whale meat and reindeer meat, and one delicacy that is almost always on the table attacks, which is strips of whale blubber encased in whale skin (they're very chewy). Kiviak is another popular dish, which is made of meat, fat, blood, herbs and berries, then wrapped in robbenbalg and preserved by freezing.




10. Bûche de Noël, France
La Bûche de Noël is a dessert that symbolically represents the Yule Log – a wood log that was traditionally carried into the home, sprinkled with wine, and then burned on Christmas Eve. In the 1940s when the practice started to disappear, this dessert took up the mantle. Often made from sponge cake and chocolate buttercream, La Bûche de Noël looks quite a bit like a real log. Other variations on the dessert, have emerged. Now you can find recipes for anything from tiramisu to cran-raspberry mascarpone, caramel cream to Meyer lemon.
11. Kolivo, Bulgaria
Kolivo, boiled wheat with sugar and walnuts, is often the first item to appear on tables come Christmas Eve in Bulgaria and known as one of the traditional Christmas food around the world. Similar to a pudding, both Russia (кутья) and Poland (kutia) have comparable dishes. Sometimes served with honey, poppyseed, other grains, rice, beans, or dried fruit, Kolivo can be prepared in many different ways. It is often connected with Orthodox traditions. In addition to Bulgaria, it also appears on tables in Serbia, Romania, Georgia, and Ukraine.
Don't miss it: Things Do in Berlin on Christmas
12. Melomakarona, Greece
Sweet orange-zest cookies soaked in honey and topped with walnut? Yes, please! This traditional Christmas food from around the world known as melomakarona, these cookies are often said to taste much like baklava. Immediately after they're baked, they are soaked in a honey-sugar water mixture and then sprinkled with walnuts. There is also a less traditional version of this recipe dipped in dark chocolate. Either way – sign me up.
13. Bacalao, Mexico
Bacalao, or salted cod, is not common in most countries during the holidays, but it's a staple dish in Mexico. Before refrigeration, salted and preserving meats and fish was necessary. Today, this is no longer the case, but the practice still exists. And when, in the case of bacalao, the fish is rehydrated and cooked, the result is tender and delicious. In Mexico, Bacalao a la Mexicana is made with tomato, ancho chiles, onions, almost, potato and olives. It's filling and it certainly warms you up!




14. Hallaca, Venezuela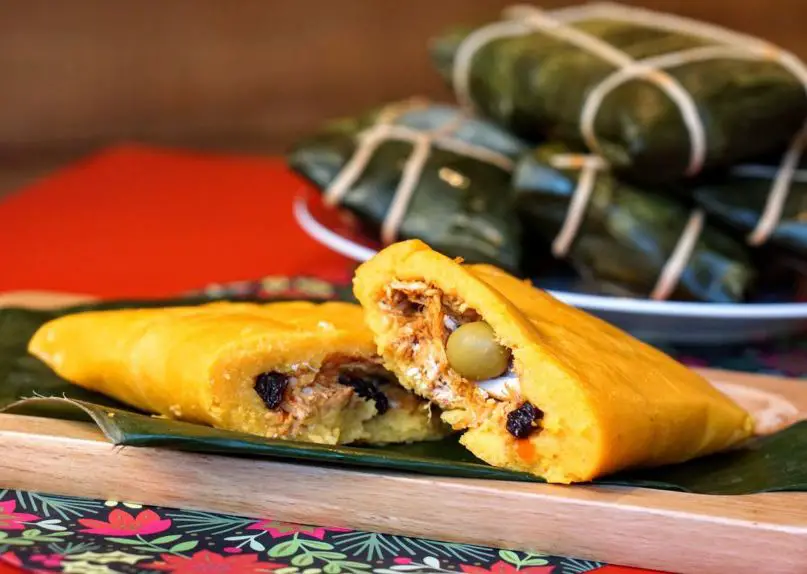 Hallaca is the most traditional Christmas food in Venezuela like traditional food in Christmas around the world, which is similar to a tamale. Preparing Hallaca takes a very long time, and it is only made during the holidays. Traditionally, family and friends start preparing the ingredients in the morning, which include pork, chicken, raisins, olives, capers, onions, and pimentos, folded into corn dough, then wrapped in a banana leaf.
Don't miss it: Christmas Things to do in Tokyo
15. Roast Suckling Pig, Peru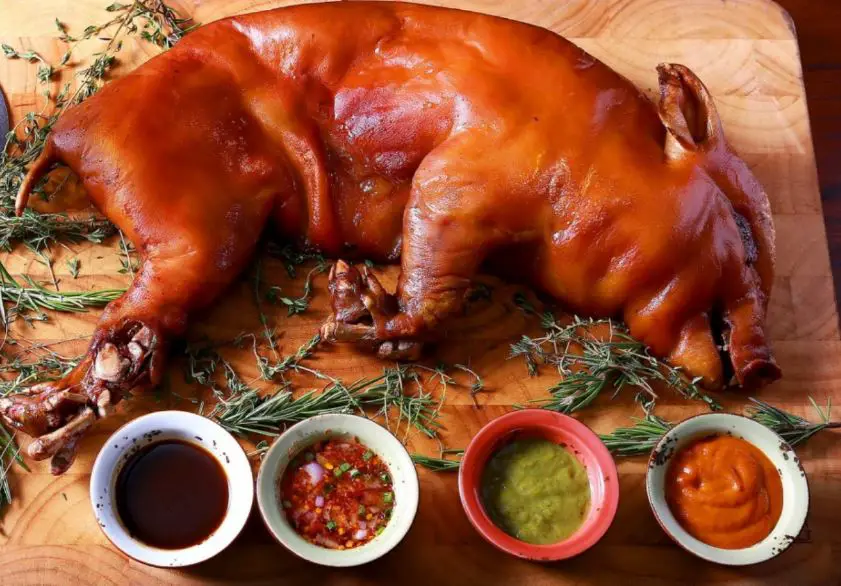 Like many other traditional Christmas food worldwide, roast suckling pig is a big part of Christmas dinner in Peru. The meal also includes things like applesauce, tamales, potato purée, and a rice dish. It is a very popular sweet dish that is panetón, a sweet bread loaf made with raisins and candied fruits. It came from Italy and became popular in the early 1900s. The month before Christmas, panetón becomes super popular and can be found all over. This is a drink made with cloves and cinnamon, which takes center stage at chocolates, social events where people get together to drink the hot chocolate.




Collecting all the Christmas food traditions from around the world in a single article is like pouring sea in a coffee mug which is impossible. So we tried the most famous traditional food at Christmas around the world here. Go through this written tour and next time planning a tour for any beautiful country make sure Christmas is near about those dates.
The post Top 15 Christmas Food Traditions in the World appeared first on World Tour & Travel Guide, Get Travel Tips, Information, Discover Travel Destination | Adequate Travel.