When you think of the best food in Rome, you probably picture pizza, pasta, and maybe gelato. But there's much more to Italian cuisine. And in beautiful Rome, there are many foods to eat in Rome that you can't find anywhere else in the country, or when you do find them they just don't taste as good. The list is too long, but we managed to narrow it down to must-try foods in Rome that you must try on your next visit to the Eternal City. Roman cuisine is loved for being most, flavorful, simple and satisfying. Here is a list of Rome food guide.
Food to Try in Rome
1. Supplì at I Supplì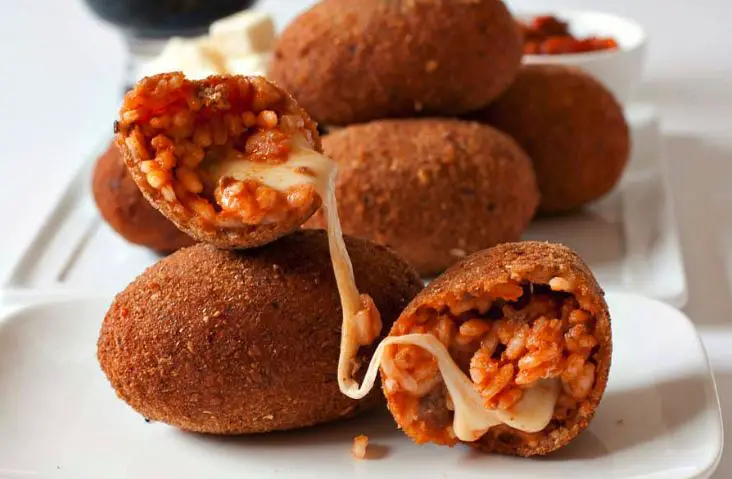 Any Roman will agree, the best way to increase your temptation, before digging into a personal pizza is with fritti: deep-fried goodies that are too tasty, comforting and oh-so-satisfying. The best food in Rome is the supplì ie, a fried rice-ball mixed with ragù and mozzarella and finely cooked to perfection. Try it at I Supplì, a takeaway joint in Trastevere that makes it a delicious variation.
Address: Via di San Francesco a Ripa 137, Rome, Italy
Phone No: +39 06 589 7110
2. Fiori di Zucca at Emma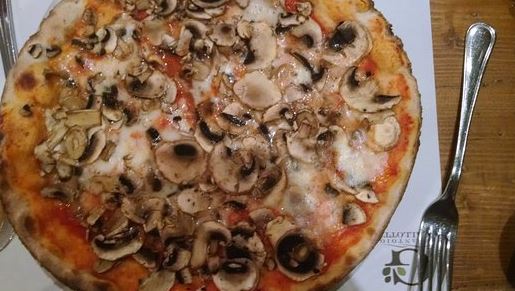 Another fried food to eat in Rome is Fiori di Zucca, battered zucchini flowers stuffed with mozzarella and anchovies. It's not only a beautiful dish but also it is extremely flavorful: picture the mozzarella oozing and the anchovies give it a nice kick. If you prefer to try sans fish though, Emma makes a delightful version with the only mozzarella.
Address: Via del Monte della Farina 28, Rome, Italy,
Phone No: +39 06 6476 0475




3. Baccalà at Dar Filettaro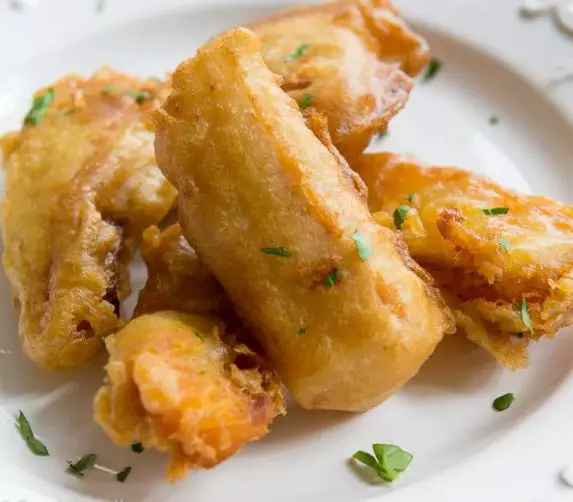 Cod is very popular in Mediterranean cuisine and is head of Roman Jewish cuisine. In Rome, you'll find the salted cod fried in an eggy batter which is served piping hot. I suggest you, taste it at Dar Filettaro, a minuscule spot with a bright sign near Campo de Fiori that has been serving up the fish to hungry protector since the 1950s.
Address: Largo dei Librari 88, Rome, Italy,
Phone No: +39 06 686 4018
4. Carciofo alla Romana at Hostaria Romana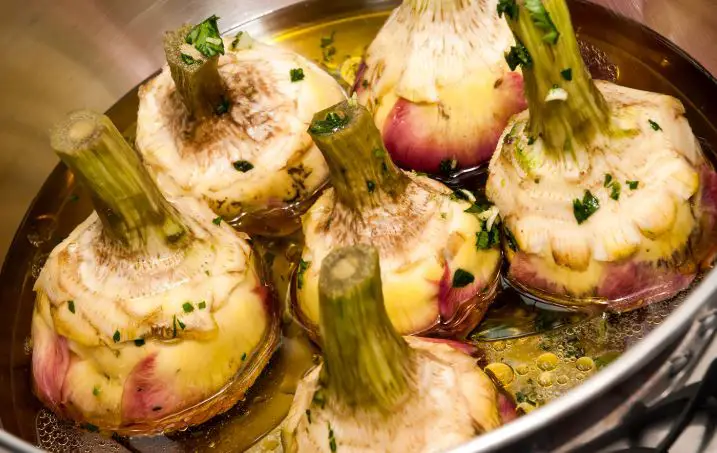 Roman artichokes are another foundation of Roman Jewish cuisine and they just change the way when you think of this vegetable. Artichokes cooked all Romana style are braised, stuffed with herbs and sprinkled with lemon until they obtain a buttery texture and melt in your mouth. They're a seasonal appetizer, therefore you'll only find artichokes on the menu in the spring and fall. Rome food guide suggests you order them at a proper trattoria such as Hosteria Romana.
Find: Best Chinese Restaurants in Rome
Address: Via del Boccaccio 1, Rome, Italy
Phone No: +39 06 474 5284



5. Pizza al Taglio at Pizzarium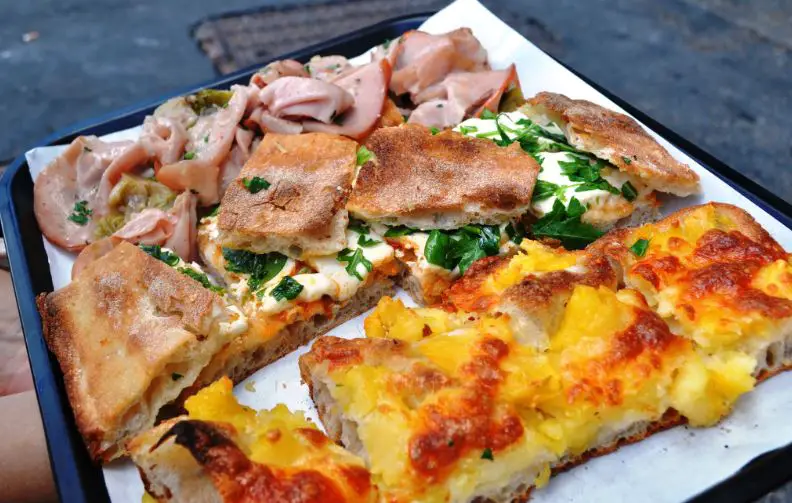 Each region of Italy has its preferred what to eat in Rome, it is certainly pizza by the slice. While Romans tend to stick to simple pairings, Gabriele Bonci has launched a whole new world of flavors at Pizzarium. Be sure to order slices for the best expérience if tempted to eat the best pizza then here we recommend you to visit these pizza restaurants in Rome.
Address:  Via della Meloria 43, Rome, Italy
Phone No: +39 06 3974 5416
6. Pizza Romana at Da Remo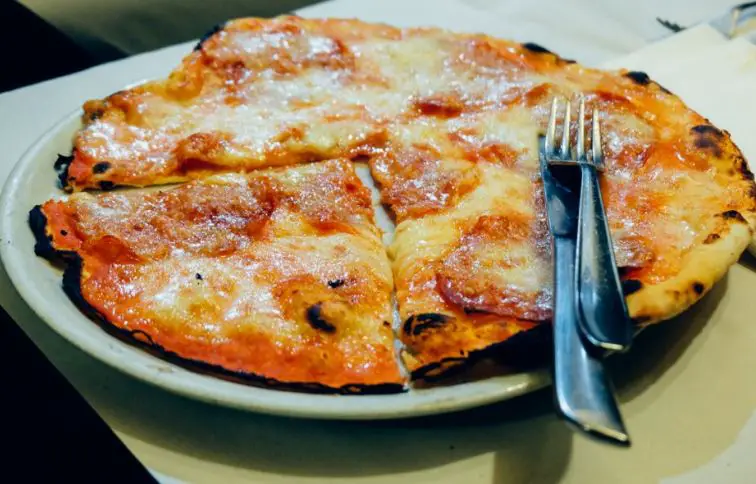 Though pizza was invented in Naples, the Roman version is quite thinner, crisper, and lighter than its Neapolitan cousin. Again, flavors tend simply: many Romans opt for a classic Margherita or add a pair of ingredients. For more flavor, order the capricciosa topped with prosciutto, mushrooms, olives and a hard-boiled egg.
Address: Piazza di Santa Maria Liberatrice 44, Rome, Italy
Phone No: +39 06 574 6270




7. Carbonara at Roscioli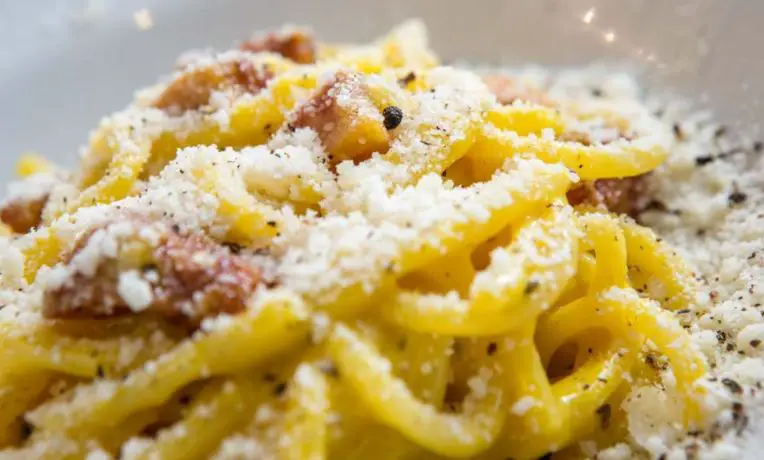 A perfect carbonara is like a cherry on top of a perfect experience in the city. This creamy egg-based sauce is dotted with pieces of pulpy guanciale and a healthy dash of black pepper to balance the flavors. Roscioli is famous for preparing one of the best versions of this dish inside its trendy deli-restaurant atmosphere.
Address: Via dei Giubbonari 21/22, Rome, Italy
Phone No: +39 06 687 5287
8. Bucatini all'Amatriciana at Da Bucatino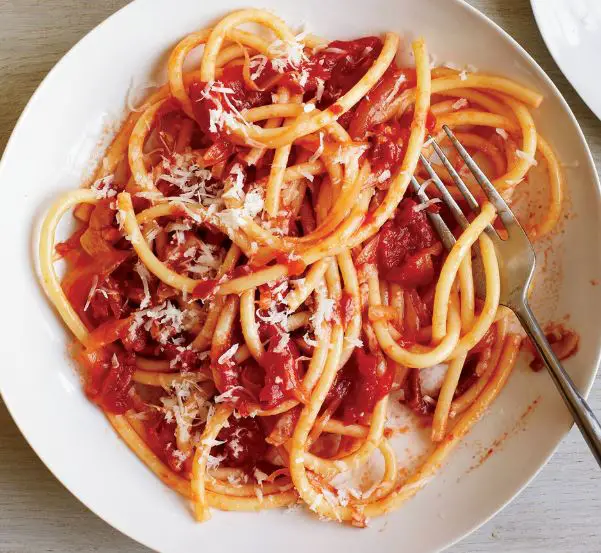 Amatriciana is another food to try in Rome, this tomato-based pasta features crispy guanciale and is typically served with bucatini noodles, which is similar to thicker, hollow spaghetti. Be careful because you can make a mess while slurping up of this dish.
Address:  Via Luca della Robbia 84, Rome, Italy
Phone No: +39 06 574 6886




9. Cacio e Pepe at Da Felice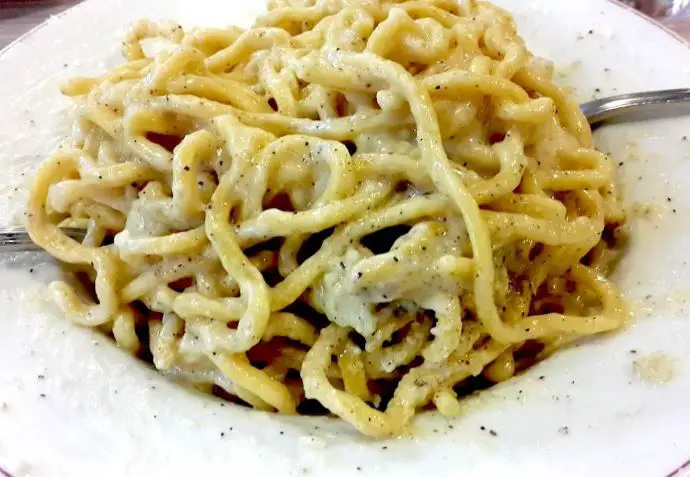 Vegetarians will be happy to see cacio e pepe on almost every menu in the city. Despite being deadly simple, only features two ingredients, this dish really packs a punch. Hand-rolled noodles are topped with salty pecorino cheese, plenty of black pepper and whisked with pasta water to create a mouthwatering creamy, cheesy and mildly spicy sauce.
Address: Via Mastro Giorgio 29, Rome, Italy
Phone No: +39 06 574 6800
10. Saltimbocca alla Romana at Da Teo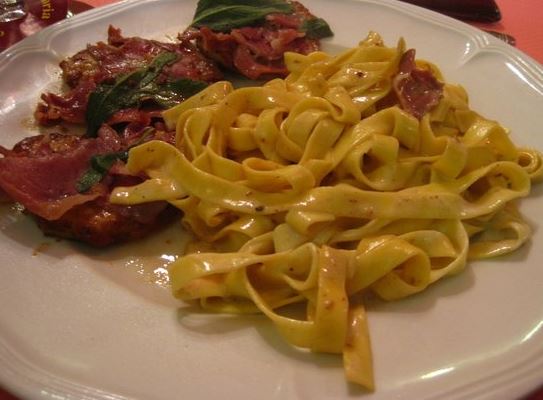 Timely named 'jump in your mouth,' this entreé is juicy and delicious. Hearty slices of veal are topped with prosciutto crudo and fresh bed, then marinated with white wine. Simple yet tasty, it is classic Roman cooking at its best.
Address: Piazza del Ponziani 7a, Rome, Italy
Phone No: +39 06 581 8355




Some related post:
So far we have seen how Rome food guide suggests what to eat in Rome, if you are planning your trip to Rome then you must not miss these foods to try in Rome. hope you like reading this article and if you are interested to know more about restaurants in Rome then kindly read on our other articles as well. Please share your views in the form de comments and please put like if you liked this article.
The post The Best Food in Rome | What to Eat in Rome appeared first on World Tour & Travel Guide, Get Travel Tips, Information, Discover Travel Destination | Adequate Travel.