Hope you all wish to know about the Paris Christmas Markets 2018. The Christmas bells will again ring for the happiness. To help you to prepare and enjoy this Year's end Holidays in Paris, we discovered Christmas Markets which are opened for this period, traditional Christmas markets are found in every corner of Paris which run from the end of November to the beginning of January. These holiday markets, now chief of the festive season which were originated in Germany during the Middle Ages and were introduced to Paris by Alsatians who settled here. Are you in Paris at Christmas 2018? then please go through the article it's going to help you a lot.  
Read also: Things to do in Paris for Christmas
Get all The Best Christmas Markets in Paris
1. Marché de Noël alsacien à la Gare de l'Est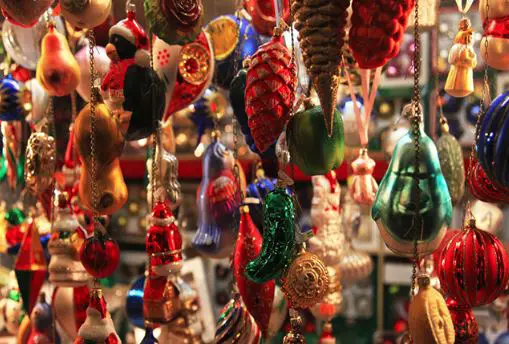 Here you can go shopping throughout December
The Alsatian Christmas market takes place on the square of the Gare de l'Est, and pedals the best of the Alsace, wine, choucroute and of course, sausages. There will also be free tastings, Christmas theatre, and storytelling with charming gifts for all your last-minute shopping needs.
Address: Gare de l'Est, Place du 11 November 1918, 75010
Metro: Gare de l'Est
2. Marché de Noël de Paris Notre-Dame
You can go shopping from 15 December – 24 December
50 artisans from the neighborhood gather to show their products in this self-proclaimed 'authentic' Christmas market, which focus on arts & crafts from France. Set in the lovely Square René Viviani which is two minutes from the Notre Dame cathedral, the market contains all kinds of handmade gifts and the usual selection of 'regional gastronomy' such as foie gras, sausages, macaroons, and chestnuts.
Address: 2 rue du Fouarre 75005
Metro: Saint-Michel




3. Village de Noël des Champs Élysées
You can go shopping at The Champs-Elysées Village de Noel Just have a look of the world-renowned avenue, string up some Christmas lights, lined up with 400 Christmas trees. Maybe the gift shopping would not be great, and the tartiflette is a bit pricey, but the ambiance would be unbeatable.
Address: De l'Arc de Triomphe à la place de la Concorde 75008
Metro: Charles de Gaulle – Étoile
4. Marché de Noël sur le Parvis de la Défense
You can go shopping within November 23 – December 28, It is one de the Paris best Christmas market, this market is spread over 10,000 square meters, the 350 stands that make up this Christmas supermarket offers everything like arts and crafts, local food produce mulled wine, games, wreaths.
Address: Parvis de la Défense 92400 Paris La Défense
Metro: Esplanade de la Défense, La Défense – Grande Arche  
5. Marché de Noël de la Gare Saint-Lazare
Here you can go shopping Throughout December In the forecourt of Saint-Lazare station, this Christmas market is composed of a collection of pop-up shops which offers original and unique productions. All with the prestigious and 'Made in France' tag. There would be a great selection of handmade gifts.
Address: 13 rue d'Amsterdam 75008
Metro: Saint-Lazare




6. Marché de Noël Italie 2
Here you can go shopping from 28 November – 31 December
A collection of 20 chalets located around Place d'Italie, the Christmas market at Italie 2 is a cozy festive attraction. From authentic foodie treats like chocolate and Pretzels, you can also buy presents for your friends and family as well as tucking into something while browsing.
Address: 30 avenue d'Italie 75013
Metro: Place d'Italie
7. Marché de Noël du Mail Branly
Here you can go shopping Throughout December
The Mail Branly Christmas market in Paris is a small but is a useful market for tapping festive cheer in a great location. Warm your hands with a cup of mulled wine or cider, and shop for artisanal wooden products and hand sewn gifts to the backdrop of the twinkling Eiffel Tower.
Address: Du Pont de l'Alma au Pont de Bir Hakeim 75007
Metro: Alma – Marceau




8. Marché de Noël à Montmartre
Is there anywhere more fitting for a Christmas market in Paris than Montmartre? We say, probably not. The village vibe is perfect for the collection of 30 wooden chalets which decorate the ground below the snowy Sacré-Coeur.
Address: Paroisse Saint-Pierre de Montmartre, 75018 Paris
Metro: Abbesses
Hope you gathered some information about which could be beneficial Paris Christmas markets, these markets include their address, name of the nearest métro station, and other useful information which could be beneficial for you to visit those Paris best Christmas market. Kindly read on our other articles as well which contains the information about Best Things to do in Paris at Christmas and Best Ways to Celebrate Christmas in Paris 2018. If you liked our article please like it, comment in the below section and share it as per your need.
The post Best Christmas Markets in Paris- Christmas Shopping At Paris appeared first on World Tour & Travel Guide, Get Travel Tips, Information, Discover Travel Destination | Adequate Travel.