Venice's ancient artistic bequest and Floating water have long attracted tourists from all over the world, but during summers, the city can find itself clogged up with them. But there are some secret gems of Venice will let you know the secret spots and unbeaten paths. The hidden gems in Venice are as enigmatic as the narrowing canals themselves. However, whether you are first time visitor or you're a seasoned visitor, secret Venice tour will let you explore these secrets in a more detailed way.  
Best-Kept Secrets in Venice
1. Cantina Do Mori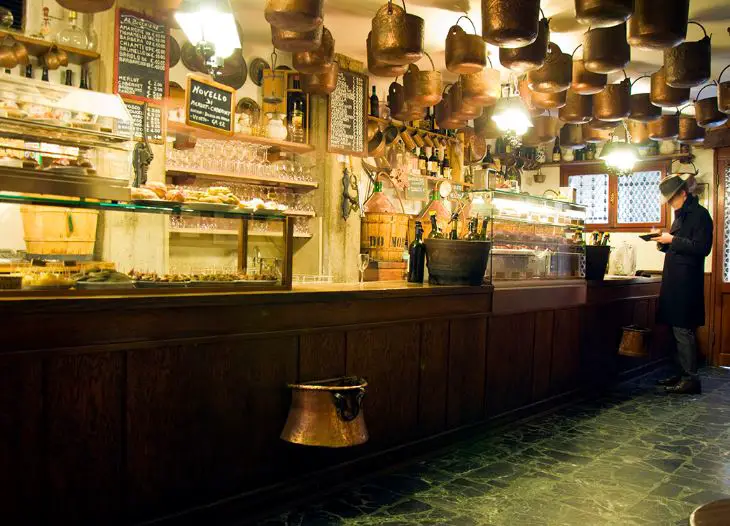 The Grand Canal is lined with a various mixture of expensive, tourist-targeting places to visit in Venice. The grand canal has several places to eat, but if you want to glimpse local life, then Catina Do Mori is for you. This traditional Venetian haunt is so local that it doesn't have tables. Food and drinks are served at the wooden bar. Locals claim that many years ago the charismatic Lothario Casanova used to extend the bar with his friends. They offer light food or cicchetti, fried artichoke hearts.
Address: Bar Do Mori, Sestiere San Polo 429, Venice, Italy
Phone No: +39 41 522 5401
2. Ca' Zappa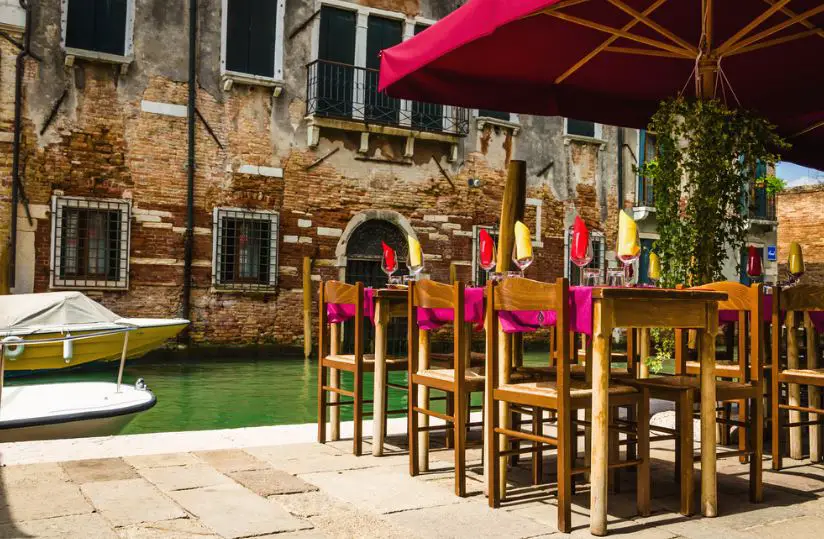 Secret Venice walking tour informs that there is a spectacular Dutch villa sits alone in the south of the lagoon. It is difficult to reach there, and you need to have or rent your own boat to get there. It was Build by a migrant from The Netherlands in 1925, the white façade has red dormer-style windows and gables, which top a colonnaded portico. It gives a fantastical, even fairytale touch to this part of the lagoon.




3. Malefatte Boutique
Malefatte Boutique is a non-profit initiative run by Rio Tera dei Pensieri, a work-in-jail cooperative which sells the products made by male and female prisoners from the jails in and around Venice. These hand-made goods range from T-shirts to stitched leather notebooks and nice canvas bags. The prices are quite low especially if you compare them to those in other Venetian boutiques, and the website claims that the items are made from torturous pasts and hopeful futures.
Read further: What to Do in Venice
Address: Malefatte Boutique, Santa Croce 495b, Venice, Italy,
Phone No: +39 41 296 0658
4. Libreria Acqua Alta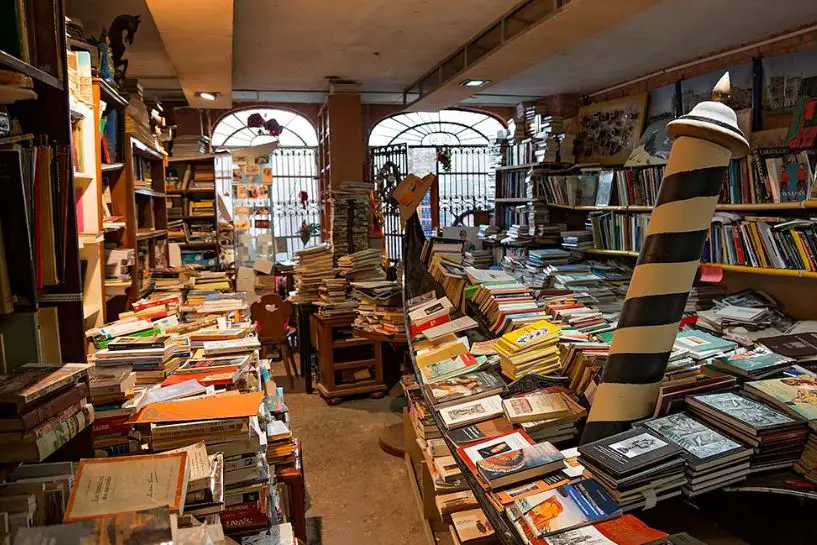 This second-hand bookshop is sheltered on the waterfront and is a secret corner of Venice, during the rainy season, it has problems with floods. Run by eccentric Venetian Luigi Frizzo, this book store is home to hundreds of books both new and used as well as a pet cat. The books are aimlessly stacked in old gondolas, canoes, bathtubs, and barrels. You could spend your happy hours sifting through the selection of Italian and international reads on offer, but take some time to step out into the garden and see the leafy plants standing beside a solid staircase made from old, colorful books.
Address:Calle Longa, Santa Maria Formosa 5176, Castello,Venice, Italy,
Phone No: + 39 41 296 0841
5. Island of Sant Andrea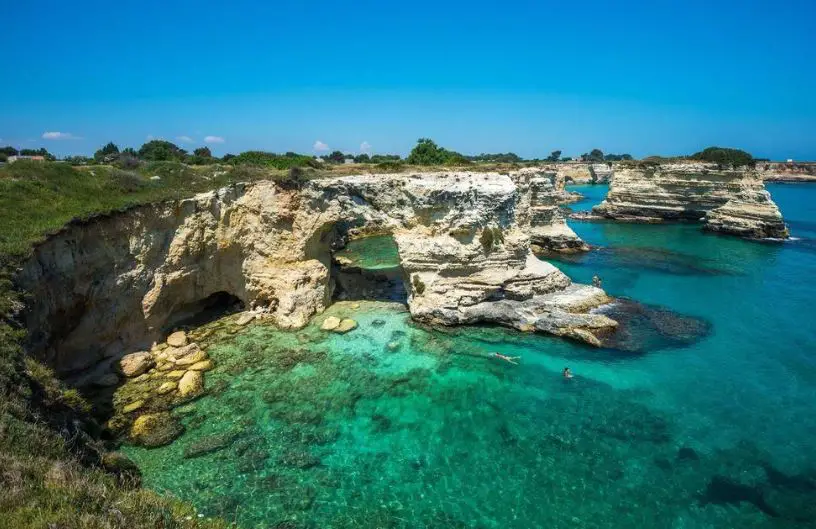 Tourists flock to Murano to see the secret gem of Venice which is a glass shop, Burano for its colorful houses, and Torcello for its nature reserve. Home to a 17th-century fort made to defend the city from its enemies, the rest of the island is overgrown and unkempt. The top of the Island's scruffy ruins makes an excellent picnic spot with unrivaled views over lagoon and city.
6. Venice's Ghost Walking Tour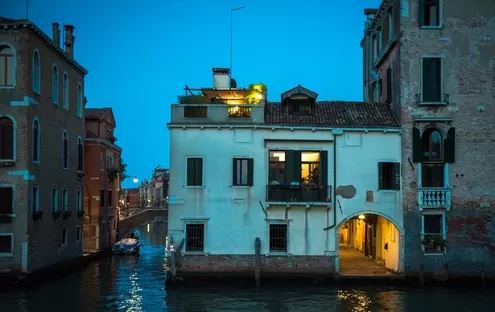 Come out at night and discover Venice secrets ghosts of the past. Gather at the Rialto Bridge and be guided through hidden gems in Venice, over silent canals and past abandoned piazzas. The guide will tell you of six captivating ghost stories and some facts about the city. You'll be taken through a labyrinth of backstreet corridors and to sites that have witnessed bloody murders
Read More: Things to See in Venice 
Hidden Gems in Venice
1. Ponte de Chiodo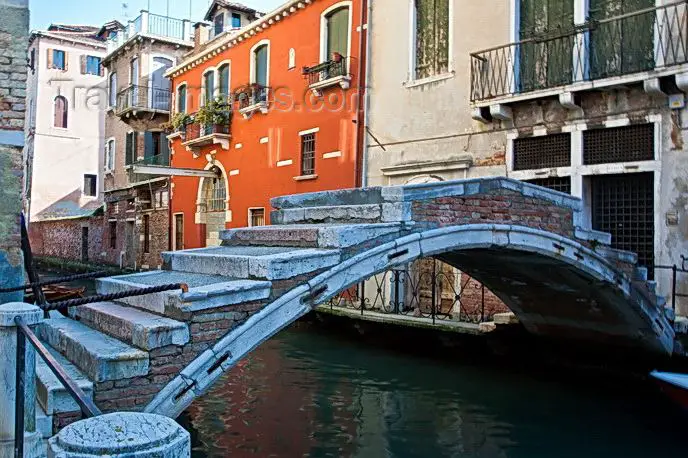 There are around 400 bridges in Venice. While they are all beautiful, they won't give an adrenalin rush as you cross.  However, Ponte de Chiodo, one of the bridges with no parapet, is the exception. There were once many of these in Venice, but today there is only Ponte de Chiodo in the local Cannaregio neighborhood and the other on the nearby Torcello island.
2. Isola di San Michele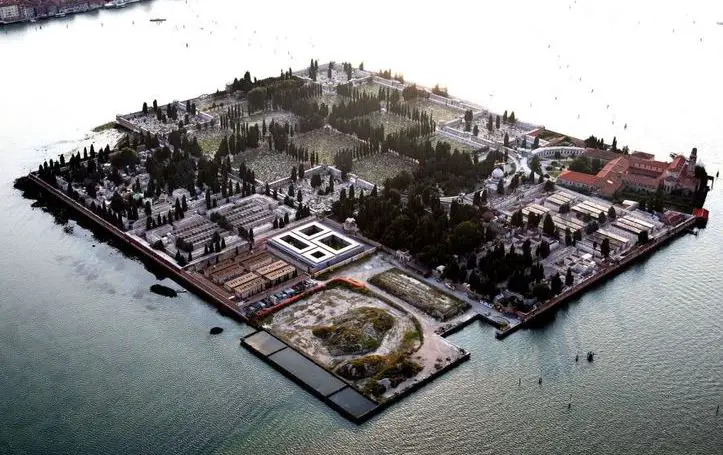 The Venice lagoon is comprised of several islands.  Most people stick to the city of Venice. Some branch out to the known Murano and Burano islands.  San Michele has served as Venice's cimitero, cemetery, since 19th century.  It is completely nonresidential and holds only churches and elegant ranks of marble tombs.  Yes, I admit that may sound awful, but, it's a very peaceful place.  Plus, it is a welcome escape from the crowds of the island. Nowadays, only rich and famous Venetians are buried here due to the high prices. While this is a wonderful secret gem of Venice, it is not a tourist attraction.  Instead, it is a sacred place where locals still come to pay their respects, the dress code is the same as a church.




Related Post:
Here secret Venice walking tour has mentioned all the list of secret corners of Venice and which let you explore the Venice secrets which might create you interest towards Venice History then refer to our other article to know further. Hope you gathered some information whatever we have explained above so please share your views and let us know your opinion in the comment section.
The post Venice Secrets | Hidden Gems in Venice appeared first on World Tour & Travel Guide, Get Travel Tips, Information, Discover Travel Destination | Adequate Travel.