Taipei is the capital of the island of Taiwan and its eponymous municipality. With a beautiful authentic culture and a unique modern style, the amazing city has long attracted tourists with unique historic monuments in Taipei, rich cultural life, and a variety of entertainment. Present Taipei is one of the most densely populated and expensive cities in the world. The permanent population of the city and its environs is more than 6 million people. A huge number of cars and the city's bustle cannot violate its traditional harmony and cheerful atmosphere. Here is one of the most popular historical monuments in Taipei:
List of Monuments of Taipei 
1. LongShan Temple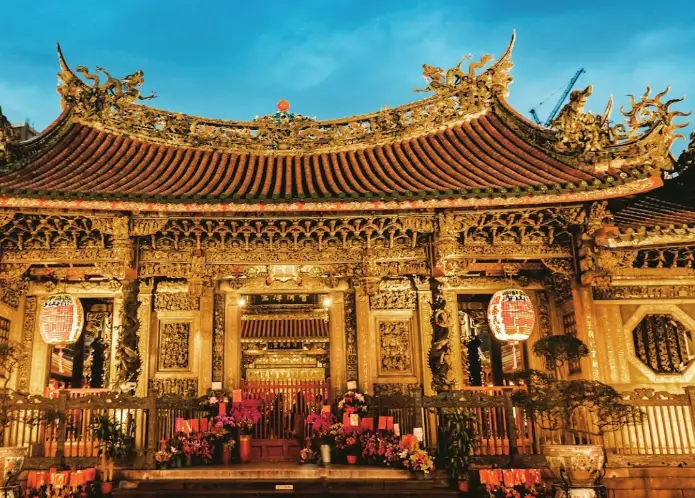 This temple has an interesting backstory. A merchant built it in 1734. It features a Guan Yin statue which miraculously survived a bombing during one of the wars. In this famous monument in Taipei, you'll find both Buddhist and Taoist gods, one of which is the 'Love God' who owns a book that is able to predict anyone's marriage destiny. Something for the singletons: you can even pray to him for a partner. Along with your ideal list of partner traits to gain approval simply throw a moonstone. Upon which, with you at all times you will receive a red string which you must keep carefully. When the string eventually disappears, it is said that the Love God is using it to bring the person to you. 
Read More: Famous Monuments of Colombia
Address:  Guangzhou Street, No. 211, Wanhua District, Taipei, Taiwan.
2. Red House in Ximending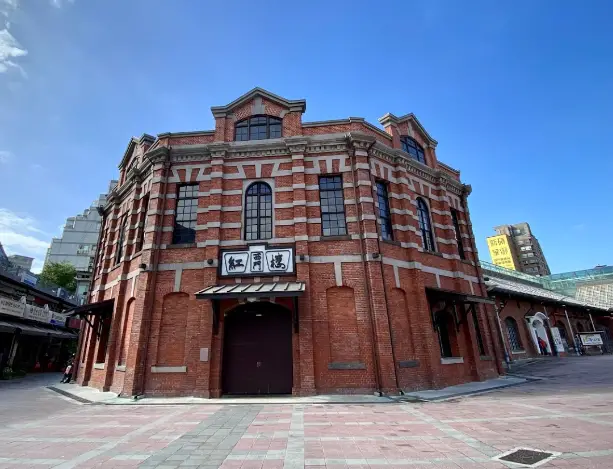 Designed and constructed in a western-inspired style by the Japanese, the Red House in Ximending was both a market as well as a neglected graveyard during the Qing dynasty. It was built in an octagonal shape in line with the Chinese belief of Eight Trigrams and the Yin/Yang philosophies to "protect" those visiting this important monument in Taipei from alleged spirits. When looked at from above, you'll also discover that the building is built in the shape of a Christian cross.  Today, you'll find a popular dating spot for Taiwan's LGBT community and also a movie theatre
Address: Chengdu Road, No. 10,  Wanhua District, Taipei City, Taiwan.
3. 228 Memorial Site
By the Chinese Nationalist Party (KMT), this peace park was built to remember those that were massacred in the 228 incident. If you want an understanding of what has shaped Taiwan to the country it is today we'll spare you the grim details. This iconic monument in Taipei is not to be missed.  Very few know that this is also another popular dating site among Taiwanese locals.
Read More: Monuments in Mumbai
Address: Zhongzheng District, Taipei City, Taiwan
4. Bopiliao Heritage Site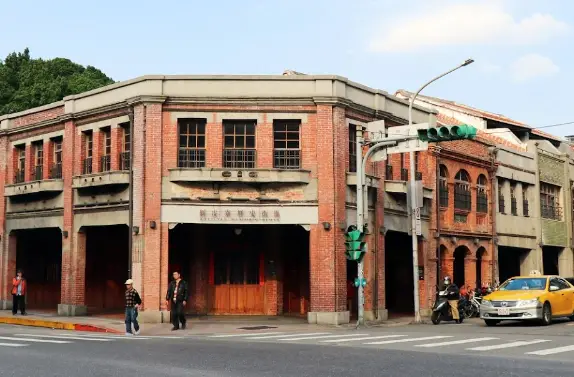 This site is often used for filming movies set in the era and was built during the Qing Dynasty. The design of this beautiful monument in Taipei bears signature styles from the many colonial periods of Taiwan. While entry is free, do note that it is closed on Mondays. Against its brick walls here, you can snap that perfect "OOTD"
Address: Kangding Road, Lane 173, Wanhua District, Taipei City, Taiwan.
5. Chiang Kai-Shek Memorial Building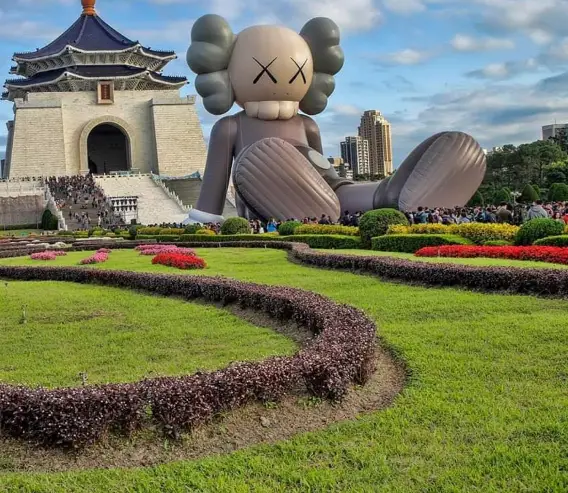 This memorial holds artefacts and was built in Victory Square that once belonged to Chiang Kai-Shek, the first President of the Republic of China. With its blue roof to see a huge bronze statue made in honor of him, ascend the 89 steps and enter the white building. At this ancient monument in Taipei, you can also catch the guards changing ceremony. Take the lift down to explore the floors to further explore the memorial, find the exhibits on the left (from entrance). You will enter a huge gallery at the bottom floor that will highlight the chronicle of key events in his life as well as a few of his prized possessions.
Read More: Buildings in Jaipur
Address: Zhongshan South Road, No. 21, Zhongzheng District, Taipei City, Taiwan.
6. Taipei 101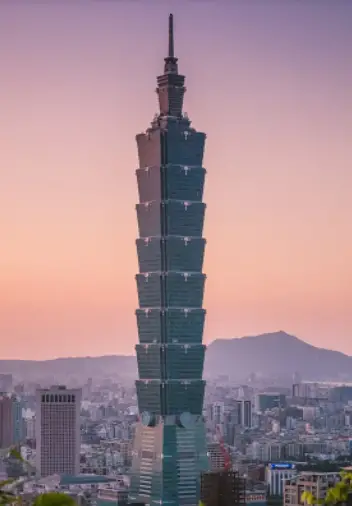 Completed in 2004, Taipei 101 held the record as the tallest building in the world for four years and was, and in fact, still is, an incredible boon to the local tourist industry. It is one of the beautiful monument in Taipei. It also once held the world record for the world's fastest elevators – they go from bottom to top in 37 seconds. From high-end boutiques to the highest Starbucks in the world, there's plenty to do and see at this former record holder
Address: 7 Section 5, Xinyi Road, Taipei City, 110, Taiwan.
7. National Concert Hall and National Theater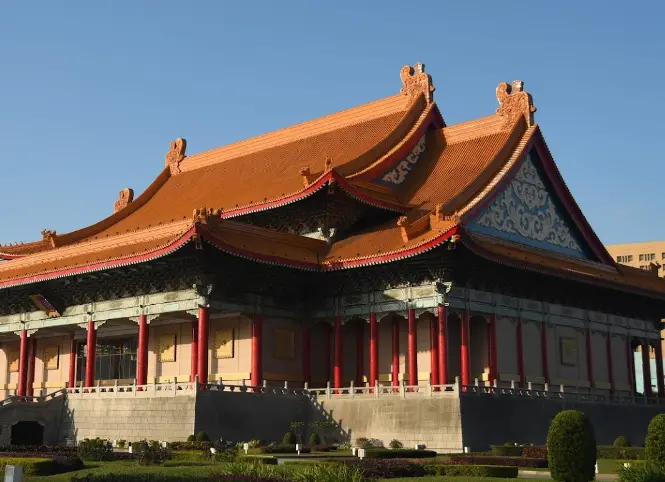 Just a few steps from C.K.S. located in Liberty Square Memorial Hall are the city's twin buildings dedicated to the performing arts. The venues are so similar in appearance that tourists often assume they are identical, completed in 1987 but there are actually quite significant differences between the two, especially with regard to the roofs. Be sure to check them out at this national monument in Taipei at night – the lights are pretty spectacular.
Read More: Monuments of Chile
Address: 21-1 號 Zhongshan South Road, Taipei City, 10048, Taiwan.
8. Sun Yat-sen Memorial Hall
Another memorial on the list and this time it's one dedicated to Dr Sun Yat-sen. He was the father of Taiwan. Here, tourists can witness the changing of an honor guard every hour and view various artifacts from Sun's life. This iconic monument in Taipei is another fine example of modern construction heavily influenced by traditional architecture and is impressive in its size and design.
Address: 505號 Section 4, Ren'ai Road, Taipei City, 110, Taiwan.
9. Tao Zhu Yin Yuan Tower
Tao Zhu Yin is a twisting eco-friendly building. To the Taipei skyline, Yuan Tower is a new addition. This residential complex is unique in design, and although it is a private property located just a stone's throw from Taipei 101. It is one of the popular monuments in Taipei. It's well worth taking a look at the exterior. Its goal is to be one of the greenest buildings in Taiwan, and as it will be eventually covered from top to bottom in trees, it's not hard to imagine it succeeding in doing so.
Read More: Monuments in Madrid
Address: Songyong Road, Taipei City, 110, Taiwan
10. National Palace Museum
The National Palace Museum is an obvious tourist hotspot and home to one of the largest collections of Chinese imperial artifacts. But what many don't realize until they reach the museum site in Shilin is that the building itself is stunning in its design and construction. It is counted in one of the most important monuments in Taipei. In fact, with many surprised that it was only built in the 1960s, it is often noted by tourists that it resembles a genuine palace.
Address: Taipei City, 111, Taiwan.
Read More: popular food in Taipei
So far we have discussed the best monuments in Taipei, which contains the proper information regarding all the So far we have discussed the best monuments in Taipei, which contains the proper information regarding all the top monuments in Taipei. I hope you might have loved reading this article and if you love to know more about Taipei then kindly head to our other articles as well which will help you to get knowledge about Taipei.
The post Most Visited Monuments in Taipei l Famous Monuments in Taipei appeared first on World Tour & Travel Guide, Get Travel Tips, Information, Discover Travel Destination | Adequate Travel.