Bahrain, like an oyster, has a rough exterior that takes some prising open, but it's worth the effort and most unique monuments in Bahrain. The storied location of the ancient Dilmun empire and home to the epicenter of the Gulf's pearling past, Bahrain has a history to reflect on with pride. Boasting its own Formula 1 Grand Prix, a growing art and foodie scene heavily cross-pollinated by Manama's huge expat population, and a wealth of activities enjoyed on the azure waters surrounding this collection of islands, Bahrain will appeal to travelers who seek an unpretentious, yet confident country bearing all the hallmarks of a modern, wealthy Gulf nation. This multicultural destination is often overlooked by tourists, so you'll probably have the place all to yourself.
Bahrain Monuments List
1. Bahrain National Museum
Bahrain National Museum deservedly is the most important monuments in Bahrain. If you want to know the history of Bahrain, it is an outstanding introduction to Bahrain's history, with signage in Arabic and English. It's housed in a  lower floor displays the archaeological finds of ancient Dilmunpost and modern building on the waterfront, the Hall of Graves and Bahrain's customs and traditions, where you see the south Asian impact on clothing is remarkably apparent. Upstairs, there are exhibits on the Tylos and Islamic periods, historic manuscripts and a delightful reproduction of a traditional souq.
Visit: Monuments in Bahamas
2. Beit Sheikh Isa Bin Ali Al Khalifa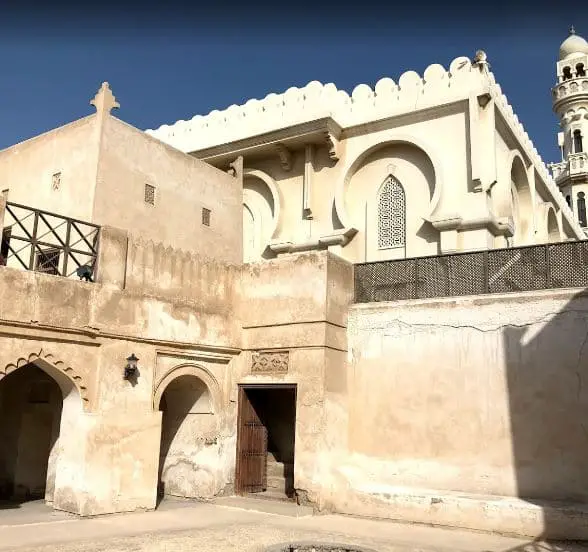 This monument in Bahrain Offers a fascinating look at pre-oil life in Bahrain. This building is one of the finest examples of a traditional house anywhere in the Gulf and was constructed around 1800. The chief sitting room downstairs by the downdraft from the Badqeer (wind tower) was kept cool in summer.  The shutters on which could be closed in winter – stand beneath it to see how effective this system of natural air conditioning really is. There are fine gypsum and wood carving throughout. Its importance is reflected in the four different sections like Sheikh, family, guests, and servants.




3. Riffa Fort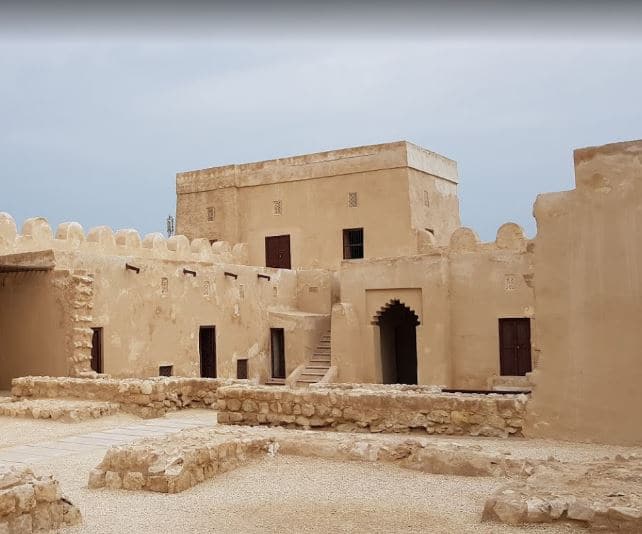 The completely restored Riffa Fort by Sheikh Salman Bin Ahmad Al Fatih in 1812, the 19th-century ruler of Bahrain. A classic piece of Bahraini fortification and most important medieval sites in Bahrain, it now boasts a small museum with raised walkways leading through a series of interactive spaces that really enhance the visitor experience. A late-afternoon visit is particularly is the best time to visit this beautiful fort, you must visit these monuments in Armenia.
 If you have the time, just go into the fort's mosque near the northern corner. This is usually left open outside of prayer times and was once part of the original complex, as alluded to by the restored architectural style. Riffa Fort is in the east of Riffa and is well signposted.
4. Manama Souq
Manama Souq, historical monuments in Bahrain is an alleyway emanating and the warren of the narrow street south from Bab Al Bahrain. Here you can pick up everything from shisha pipes and bargain t-shirts to spices and electronic goods. But the real reason to visit is to wander through the bustling streets of a market that still evokes the atmosphere of an ancient Bahrain.




5. Bahrain Fort & Museum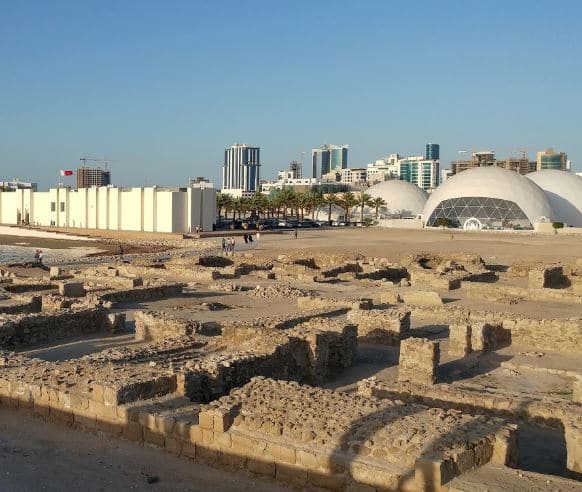 If you take a 10-minute drive west of Manama, You will reach on ancient tell that mound created by centuries of urban rebuilding, the majestic Bahrain Fort stares out across the Gulf. It is part of the Unesco World Heritage site, built by the Portuguese in the 16th century, believed to have been the capital of the ancient Dilmun Empire. It is the most visited monuments in Bahrain.  As you wander the atmospheric excavations of residential, commercial, public, military and religious buildings, contemplate this: humans have continuously inhabited this site since 2300 BC.
Read about: Famous monuments in Antigua and Barbuda
6. Sheikh Ebrahim Bin Mohammed Al Khalifa Centre for Culture & Research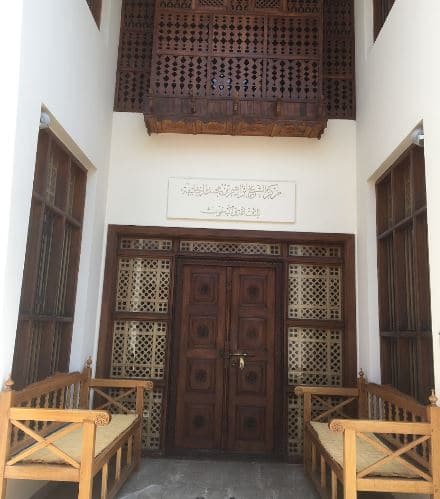 This most important historical sites in Bahrain was inspired by the early-20th-century intellectual of the same name, this elegant center hosts recitals, lectures and exhibitions throughout the year. It also delivers a summary of Bahrain's history and heritage through an amazing giant electronic book, where a mere wave of the hand turns the pages on Dilmun, pearling and the Tree of Life.




7. Beit Al Quran, Museum in Manama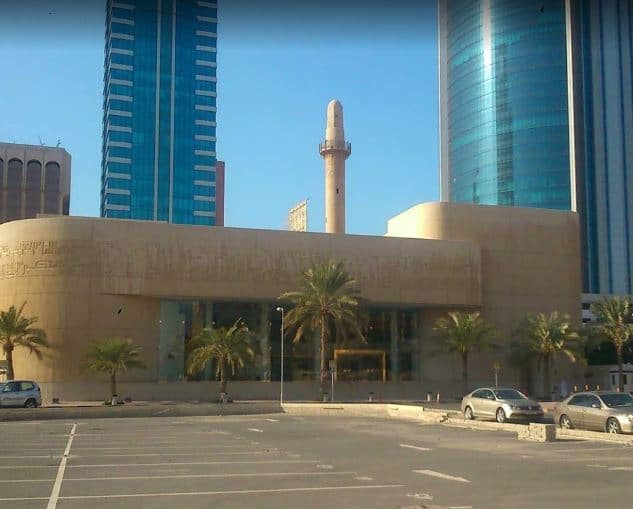 Beit Al Quran, Museum in Bahrain is the finest collection of ancient Qurans in the region. This wonderful and famous monuments in Bahrain is an homage to Islam's holiest book displays Qurans from almost every century since the advent of Islam in 610, as well as some of the earliest translations into European languages. This includes the English translation by George Sale, published in London in the 18th century, a copy of which was bought by US founding father and president Thomas Jefferson.
Tour: Top monuments in Angola
8. Al Fatih Mosque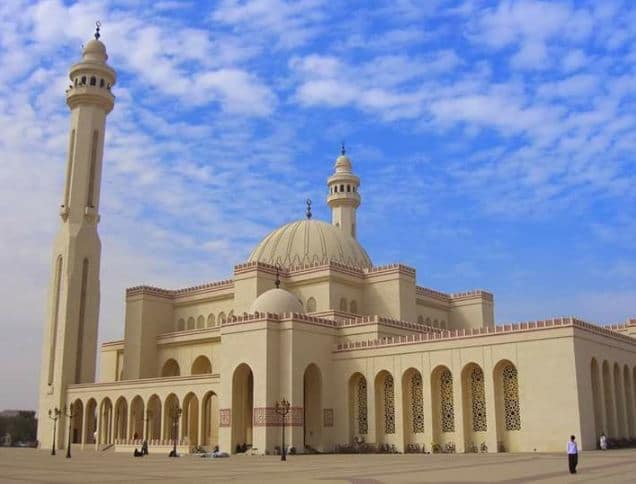 This is considered one of Bahrain's grand mosque. It was built as a grand statement in honor of the founder of modern Bahrain, Sheikh Ahmed Bin Muhammad Bin Khalifa. He was also known as 'Al Fatih' means the conqueror. His direct descendant laid the mosque's foundation stone. Built at a cost of US$20 million, it is the most sumptuous mosque in the country. It is considered in the top historical monuments in Bahrain. Marble was brought over from Italy to adorn the floor, glass from Austria was put into the windows and teak from India was carved locally to make the majestic 6m-high doors. Al Fatih has an air of majesty unmatched by other mosques in Bahrain and is the only one actively able to accommodate visitors, able to hold up to 7000 worshippers.




9. A'Ali Royal Burial Mounds
 That A'Ali was an important place and most interesting architectural sites in Bahrain in antiquity is evident from the 17 royal mounds constructed nearly 4000 years ago, the most impressive of which is royal mound 8,  visit the popular monuments in Algeria. At 12m high and 50m across, and housing five separate chambers, it still commands the regal awe it originally inspired. Visit in the late afternoon when it is cool enough to wander around the neighboring streets and see how many more of the royal mounds you can find. This isn't that difficult the gigantic cone-shaped mounds of earth are everywhere.
10. Barbar Temples
The Barbar Temple is an archaeological site and important monuments in Bahrain located in the village of Barbar, Bahrain.  Barber Temple considered being part of the Dilmun culture. Believed to have been carved out from Jidda Island, the temples were built of limestone blocks. The three temples were built atop one another with the second built approximately 500 years later and the third added between 2100 BC and 2000 BC.
Related Post:




So far we have discussed the famous monuments in Bahrain, which contains the proper information regarding all the top monuments in Bahrain. I hope you might have loved reading this article and if you love to know more about Bahrain then kindly head to our other articles as well which will help you to get knowledge about Bahrain.
The post Famous Monuments in Bahrain | Most Visited Monuments in Bahrain  appeared first on World Tour & Travel Guide, Get Travel Tips, Information, Discover Travel Destination | Adequate Travel.